Here are the five best natural foundations made with clean, organic ingredients that provide complexion perfection. Only the most natural and safest non toxic foundations available have been included in this post. If it's going to covering your entire face, it better be healthy ingredients that nourish and improve your skin. So many people focus on covering up imperfections with conventional makeup filled with microplastics, harmful synthetics, petroleum derived ingredients and toxins and wonder why their skin isn't glowing. It's 2022 and it's easier than ever to switch to organic foundations that are clean and non toxic. There's a lot of bad advice floating around the web about natural foundations (I'm looking at you Cosmopolitan – Chanel is most definitely not a clean beauty brand.) All products in this post are made by true clean makeup brands who use majority certified organic ingredients. So toss aside your BareMinerals and Estée Lauder foundations, and check out the best non toxic foundations for your healthiest complexion ever.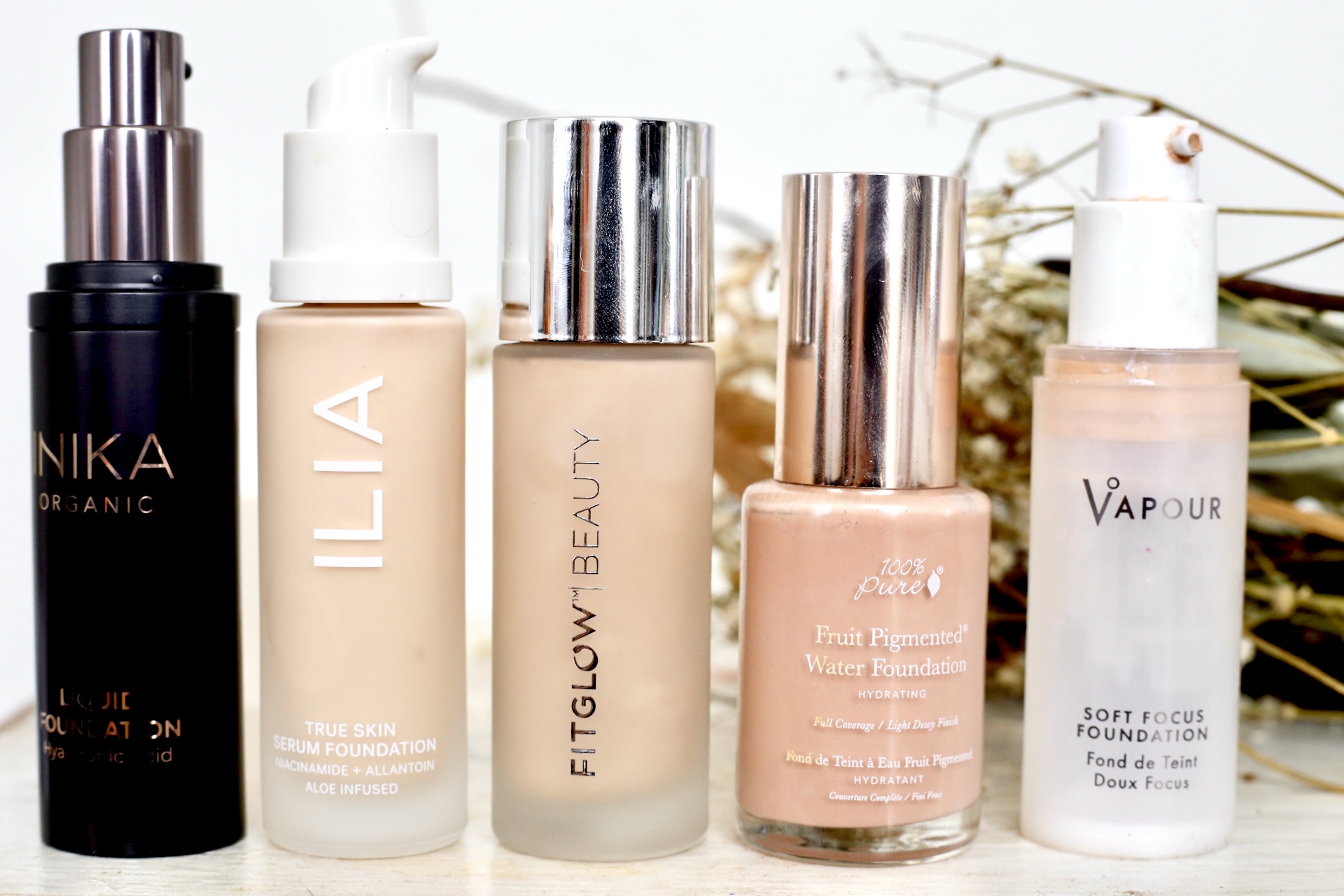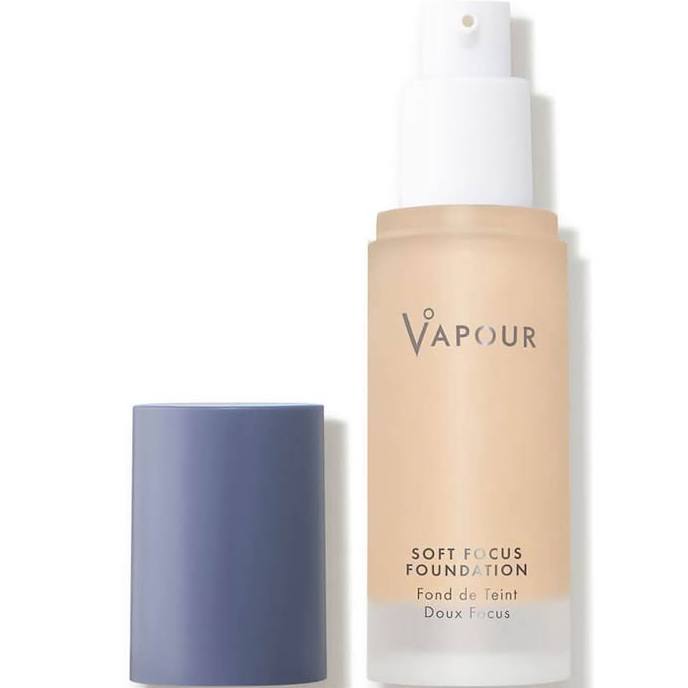 Vapour Beauty's Soft Focus Foundation is easily my favorite Vapour makeup product. This silky liquid foundation works beautifully for my dry skin and it lasts all day! There's so much that I love about the Vapour Beauty foundation, I've broken it down into easily digestable bullet points:
Super silky and smooth texture
Satin finish that isn't overly dewy or matte
Weightless and feels like I've got nothing on my skin
Keeps my dry skin feeling hydrated and nourished
Light to Medium coverage
Buildable without turning cakey
Stays put throughout the day
Practically a 2-in-1 skincare and makeup product with Frankincense, Myrrh and Lotus in a base of Organic Camellia, Sunflower and Castor seed oils
Vapour Soft Focus Foundation is formulated WITHOUT silicone, dimethicone, polyacrylamide, ethanolamine, FD&C pigments, parabens, nanoparticles, fillers, irradiated pigments. Like the other clean foundations in this post, Vapour Foundation is one of the most natural foundations on the market.
Goodbye Sale: 50% off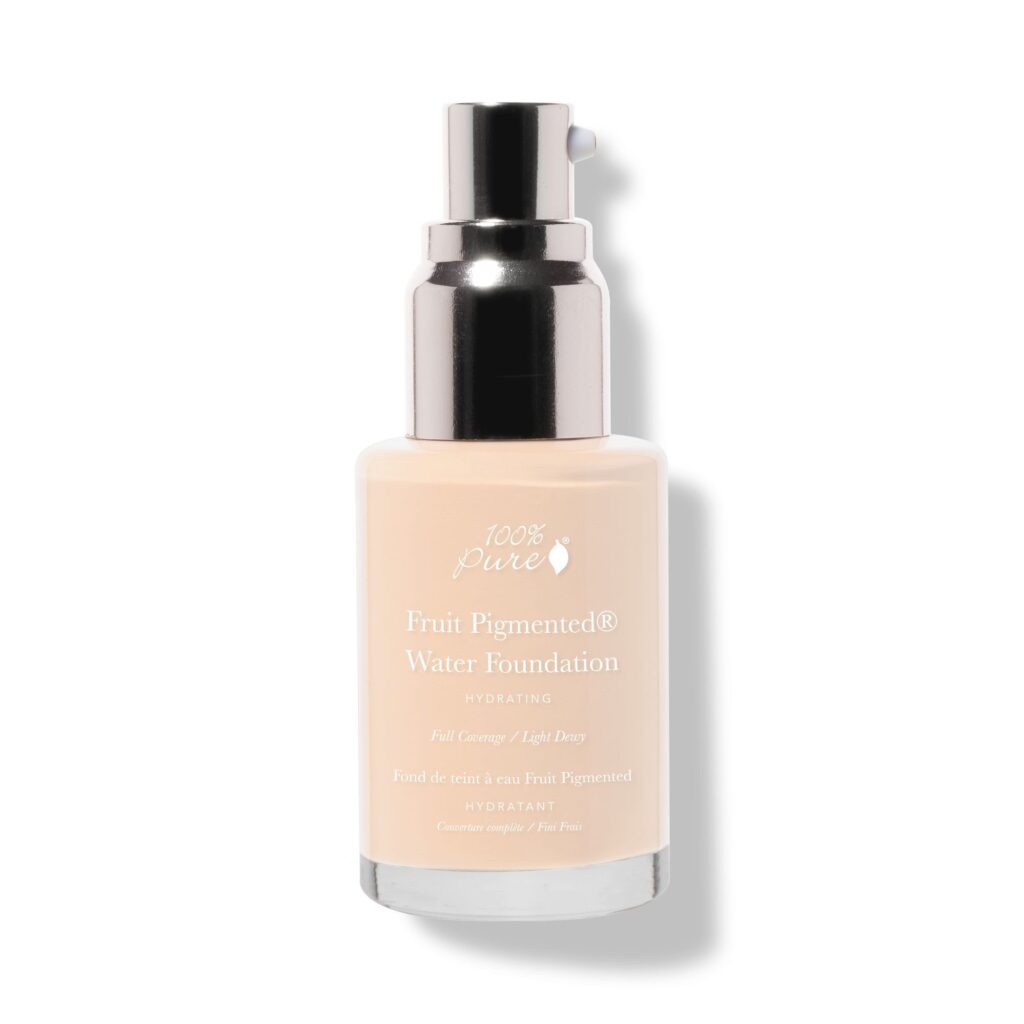 For a non toxic full coverage foundation, 100% Pure Full Coverage Water Foundation is a top pick. (Save 40% on all 100% Pure Foundations (except Healthy Skin) during their Semi-Annual Sale right now in July.)
100% Pure has the most organic Foundation options that are truly all natural and is a great makeup brand to start your clean beauty journey with. They offer a handful of different kinds of face foundations to suit different skin types and coverage needs. Besides four different kinds of foundations, 100% Pure also has a BB cream and tinted moisturizer.
For: Dry Skin
Finish: The 100% Pure website says dewy but I found this to be more off a matte finish for me, similar to Healthy Skin Foundation's finish
Coverage: Medium to Full
Number of Shades: 19
Wear: Long lasting
The 100% Pure Water Foundation offers the most inclusive shade range of 19 different shades, provides the most coverage out of all the 100% Pure foundations, and while thick doesn't feel overly heavy on the skin. If you're looking for an organic foundation that also provides lots of coverage, 100% Pure's Water Foundation is it. This would be one of my top picks out of all the foundations, my other being the Healthy Foundation if you're not looking for substantial coverage and would like your skin to look like your skin. And lastly, 2nd Skin Foundation if you love an oil serum foundation.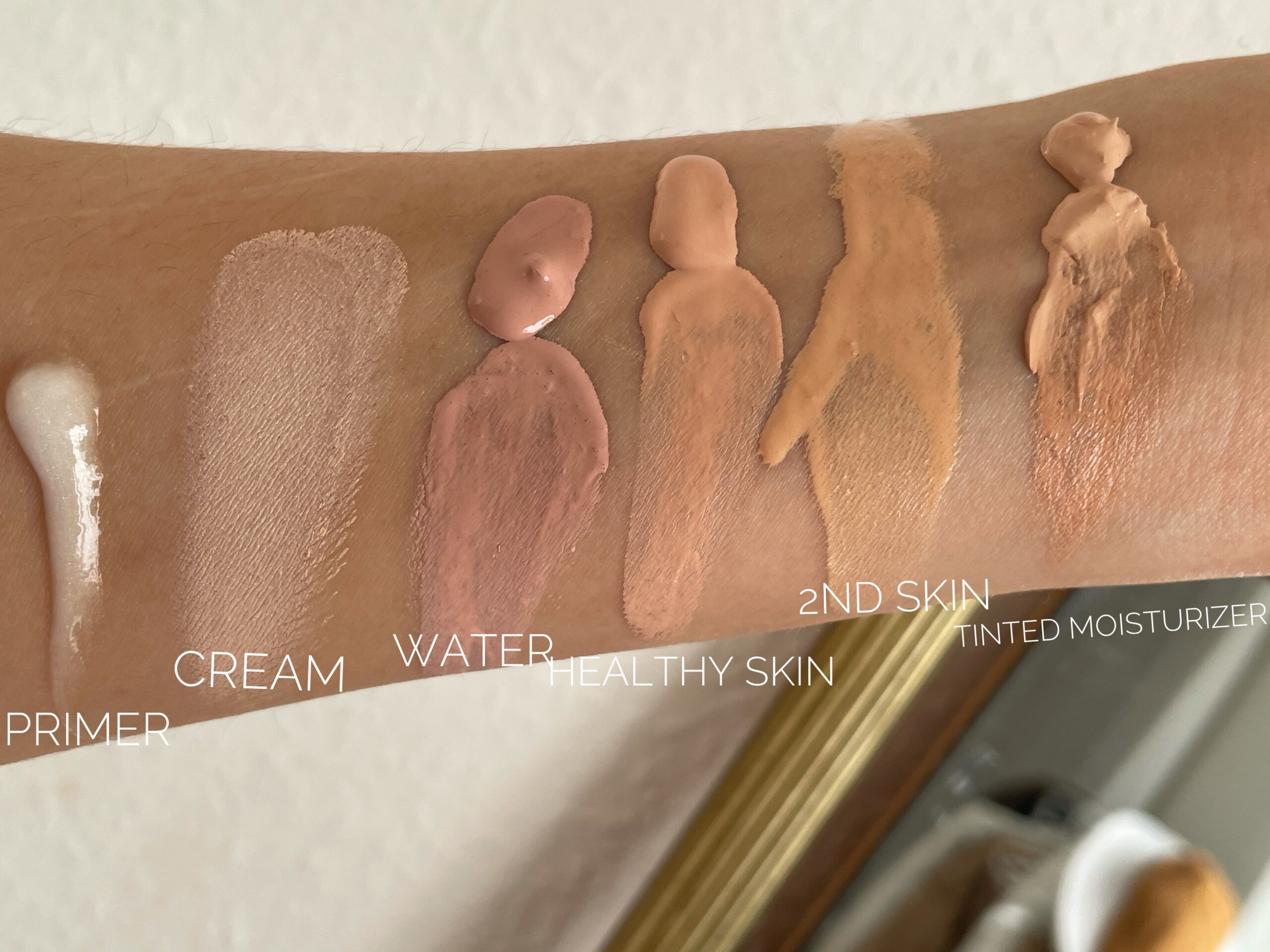 Whie it says on the bottle and site that the finish is dewy, I find the 100% Pure Water Foundation finish is matte on my dry skin. One layer is all I need for good coverage. Any more and I feel the foundation would look too cakey. Instead of plastics, synthetics and possible toxins, 100% Pure Water Foundation begins in an organic Aloe Juice base and is enriched with fruit extracts, oils from Acai and Pomegranate, and skincare ingredients like Red Wine Resveratrol and Alpha Lipoic Acid.
Aloe Barbadensis Leaf (Organic Aloe Juice)*, Rice Starch, Extracts of Prunus Persica (Peach) Fruit, Prunus Armeniaca (Apricot) Fruit, Daucus Carota (Carrot) Sativa Root Punica Granatum (Pomegranate), Theobroma Cacao (Cocoa Bean) and Solanum Lycopersicum (Tomato) Fruit/Leaf/Stem, Zinc Oxide, Plant Cellulose, Coffee Bean, Sunflower Lecithin, Euterpe Oleracea Pulp (Acai) Oil, Punica Granatum (Pomegranate) Seed Oil, Resveratrol (Red Wine Resveratrol), Alpha Lipoic Acid, Tocopherol (Vitamin E), Camellia Sinensis (Green Tea) Leaf Extract, Euphorbia Cerifera (Candelilla) Wax, Extracts of Rosmarinus (Rosemary) Officinalis Leaf, Origanum Vulgare (Oregano) Leaf, Thymus Vulgaris (Thymus) Flower/Leaf Extract, Vegetable Glycerin, Lonicera Caprifolium (Japanese Honeysuckle), Silica, Turmeric, Bamboo Charcoal, Indigo Oil * Certified Organic

The Fitglow Beauty foundation is truly skincare that acts as a foundation. It's 98% Organic, 95% Whole Food Based and contains Vitamin C, Botanical Hyaluronic Acid,Seaweed Brighteners and Beta-Carotene to increase collagen production and boost skins ability to diminish spots, freckles, hyper-pigmentation, sun damage plus improve elasticity. The Fitglow Beauty Foundation makes your skin look like your skin, but more beautiful and airbrushed.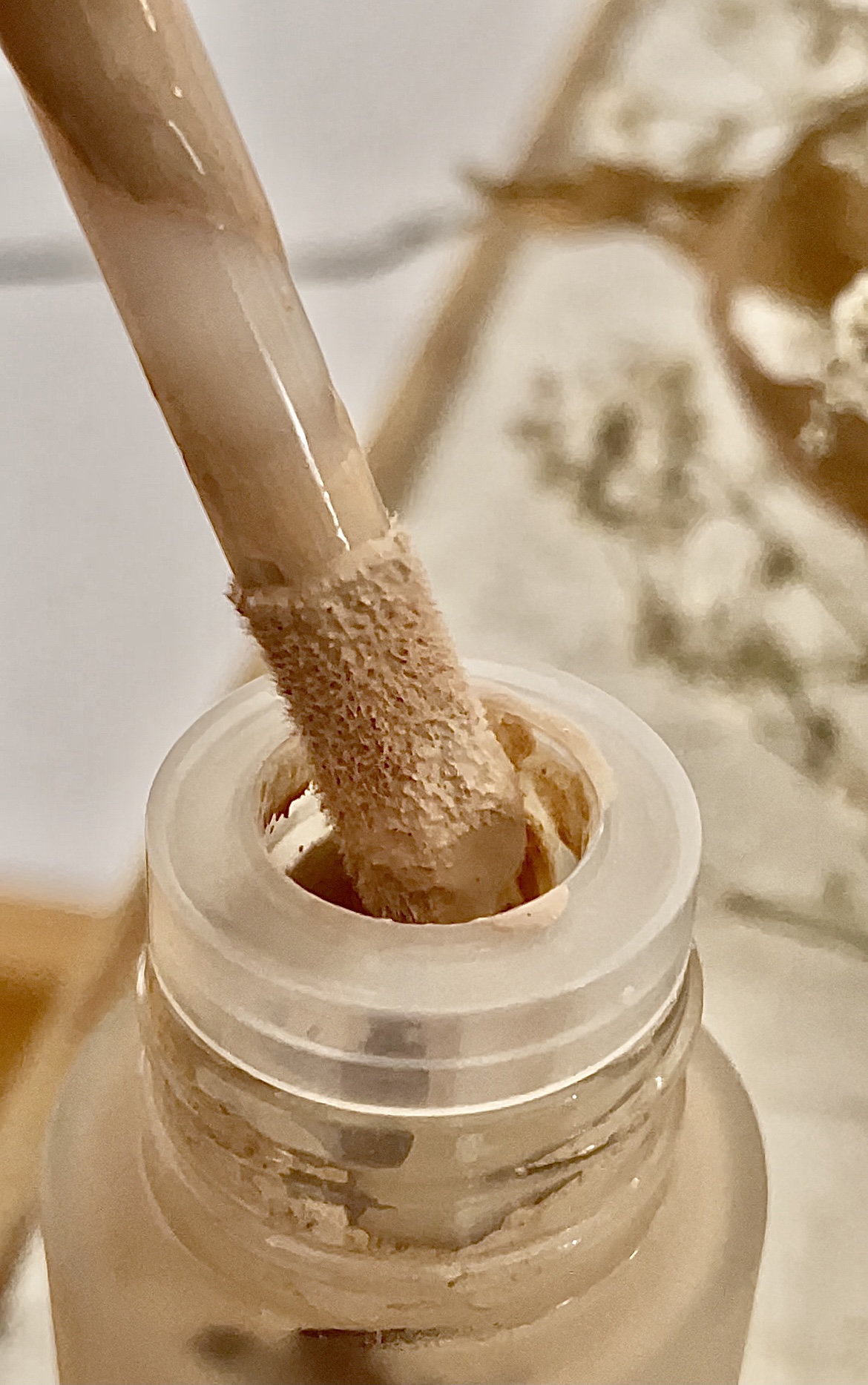 Fitglow's foundation is very light with a silky smooth consistency and provides light to medium coverage for me. It applies flawlessly and simply feels fantastic on the skin, neither heavy nor drying. The wand applicator may or may not be an application you'd enjoy though.
While Fitglow Foundation works for all skin types, this is a fantastic organic foundation for mature skin and oily skin types as it has the most skincare-like formulation and a natural finish.
Coverage: Light to Medium
Finish: Natural, satin finish
Black Friday: 25% off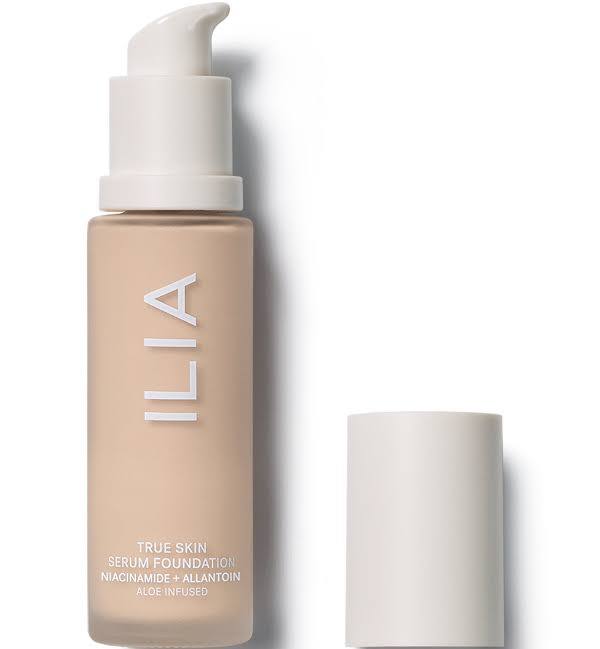 ILIA Beauty uses both natural and synthetic ingredients in their makeup, so you will find dimethicone in their foundation.
The new ILIA True Skin Serum Foundation is an improved version of their original True Skin Foundation and comes in 40 inclusive shades. It performs identically providing light to medium coverage and a natural, satin finish but True Skin Serum Foundation is supercharged with more skin-beneficial ingredients. The new formula has added mastic gum, which helps fight oil production, and active levels of Niacinamide and Allantoin to improve skin barrier health, soothe inflammation and increase your skin's ability to retain moisture.
Just like the True Skin Foundation, True Skin Serum Foundation is silky and smooth, feels lightweight and wears well throughout the day. Note that ILIA True Skin Serum Foundation does contain the silicone Dimethicone, which lends to its silkiness factor. If silicones cause you to break out I would proceed with caution.
True Skin Serum Foundation leaves a beautiful natural, satin-y finish that gives skin a filtered look. Depending on the condition of your skin, True Skin Serum Foundation may give you somewhere between light to medium coverage.
Unlike the Super Serum Skin Tint and C Beyond Triple Serum, ILIA's True Skin Serum foundation does not have a greasy or cakey factor to it.
Black Friday: 20% off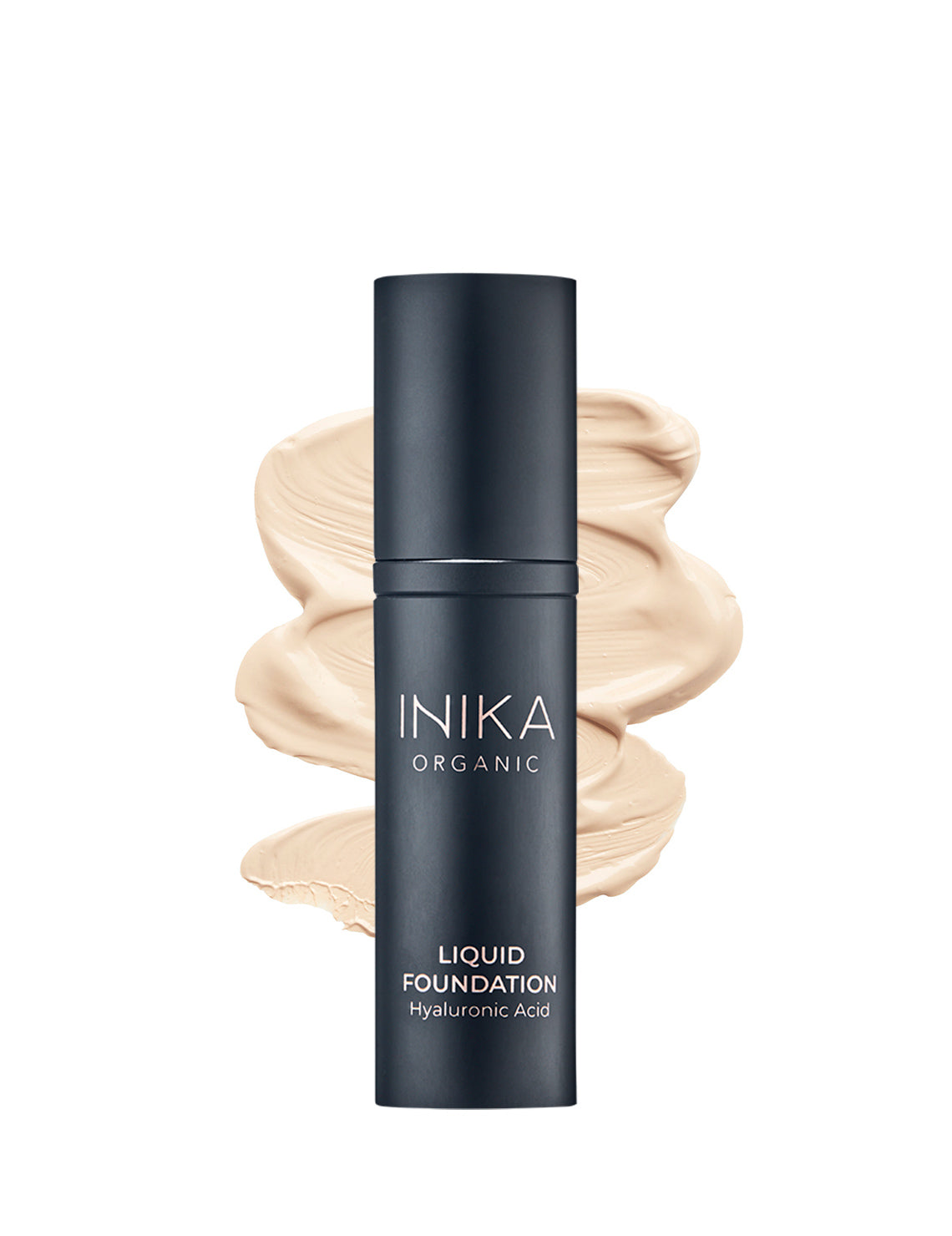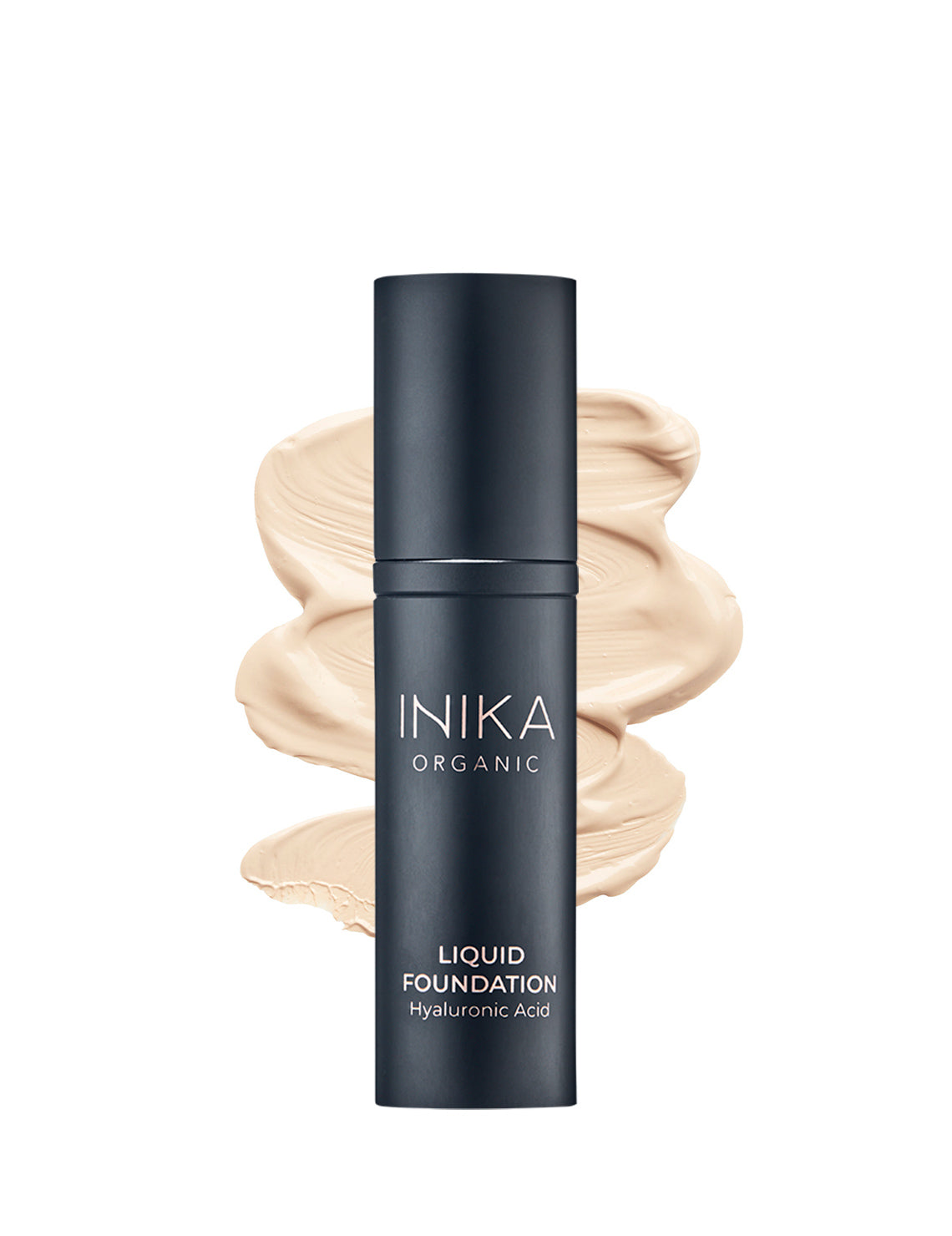 100% of the ingredients used by Inika Organic are ethically sourced, natural and derived from botanicals or minerals. If that isn't impressive enough, Inika makeup is also certified organic and natural by multiple organizations, so you can be certain that 70%+ of the ingredients in each product is organic.
Inika Makeup has some of the highest standards when it comes to organic and vegan makeup. A true green beauty brand, Inika's pots and tubes are made of recycled materials and all packaging is recyclable.
Inika foundation seems to have more of a drier, thicker formula though its formula is focused on hydrating with all natural and organic ingredients like Hyaluronic Acid, Aloe Vera Leaf Juice and a blend of oils.
Inika Liquid Foundation gives a little bit more coverage than their BB cream, but I would still consider the coverage to be light and maybe medium for some skin. The formula dries very quickly and leaves a matte finish.
If you're looking for a majority organic and all natural (73% organic) product, Inika's foundation is an option to look into. If you're unsure and are looking to try a few of their foundations and primer, Inika offers foundation samples in the form of an introductory trial kit directly on their website
INIKA Foundation is a great non toxic foundation for mature skin and oily skin types.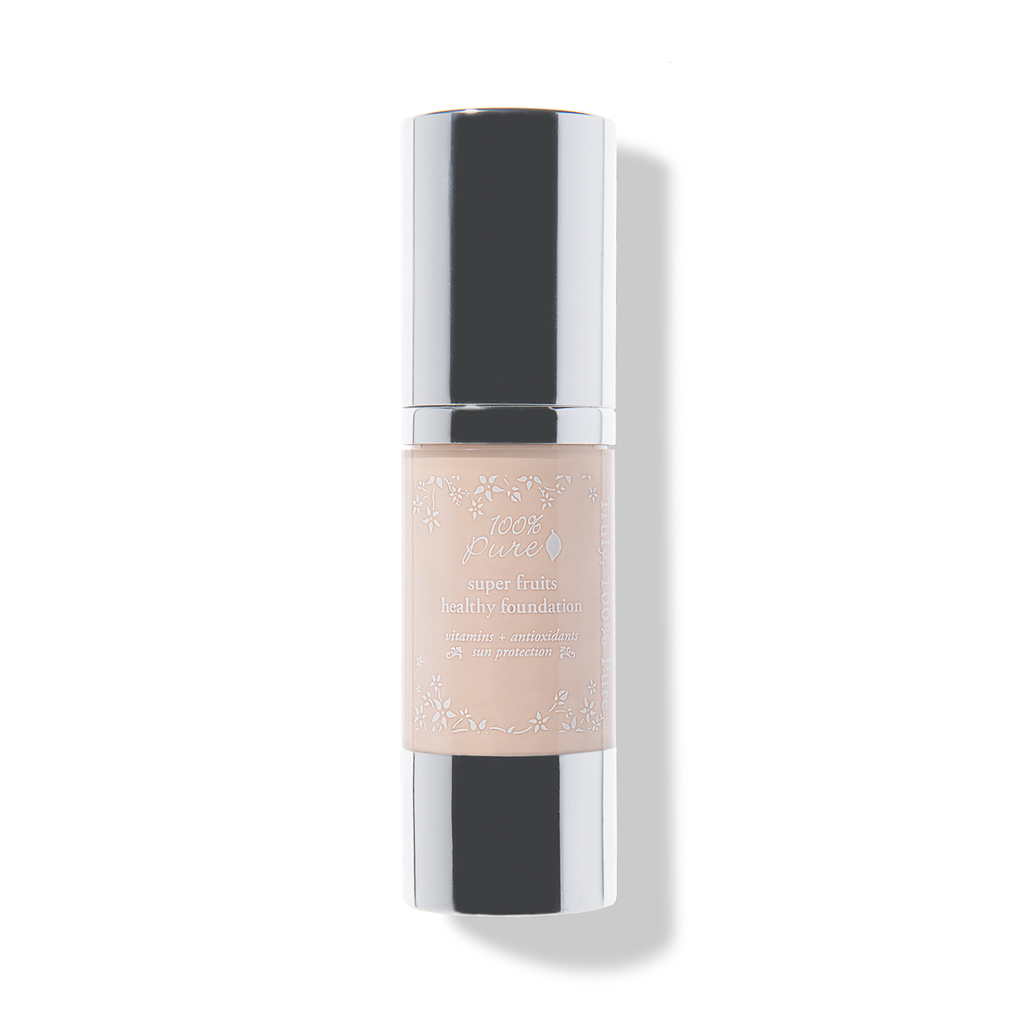 For: Oily, Combination and Normal Skin
Finish: Matte
Number of Shades: 9
Coverage:  Light to medium
Wear: Long lasting
If you're looking for a foundation that allows your skin to still look like your skin but is buildable to provide more coverage when needed, 100% Pure Healthy Foundation is a great option to consider. This is one of the cleanest foundations on the market, made mainly of 100% Pure's signature base of Organic Aloe Leaf Juice, Rice Starch and fruit extracts and supercharged with Maqui Berry, Coffee Cherry, Muscadine Grape, and Mangosteen.
100% Pure Healthy Foundation is an all around great clean and natural foundation for skin of all ages and skin types.
Best Natural SPF Foundations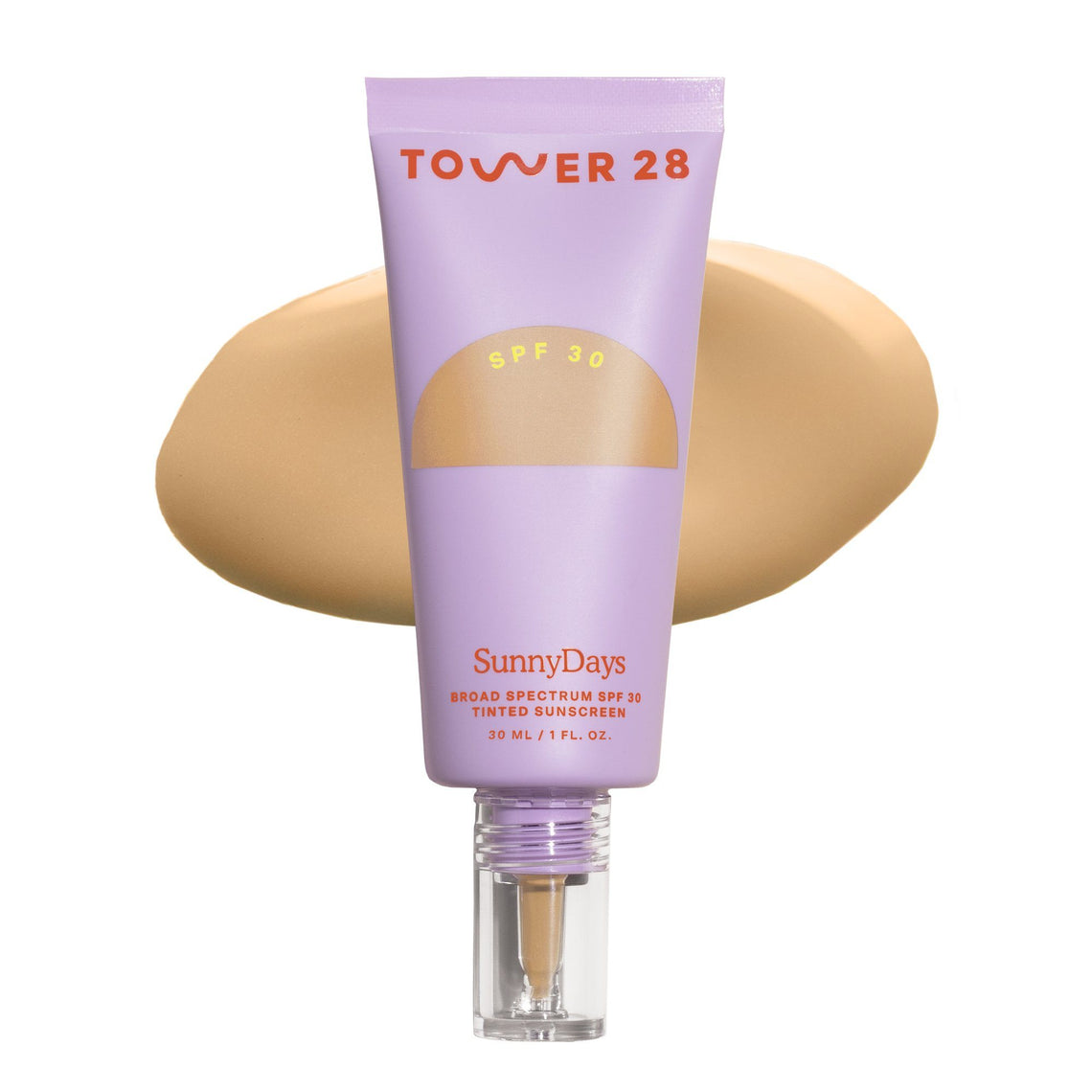 SPF 30 sunscreen foundation in one

Great for sensitive, red or problematic skin

Alcohol-free, fragrance-free, + safe for sensitive/problem skin. Dermatologist tested, non-comedogenic, gluten-free, vegan + cruelty-free.

14 shades available

light-medium buildable coverage

Natural finish
Contains Prickly Pear Seed, White Sage and Aloe
Check out the newest posts: