An Honest ILIA Super Serum Skin Tint Review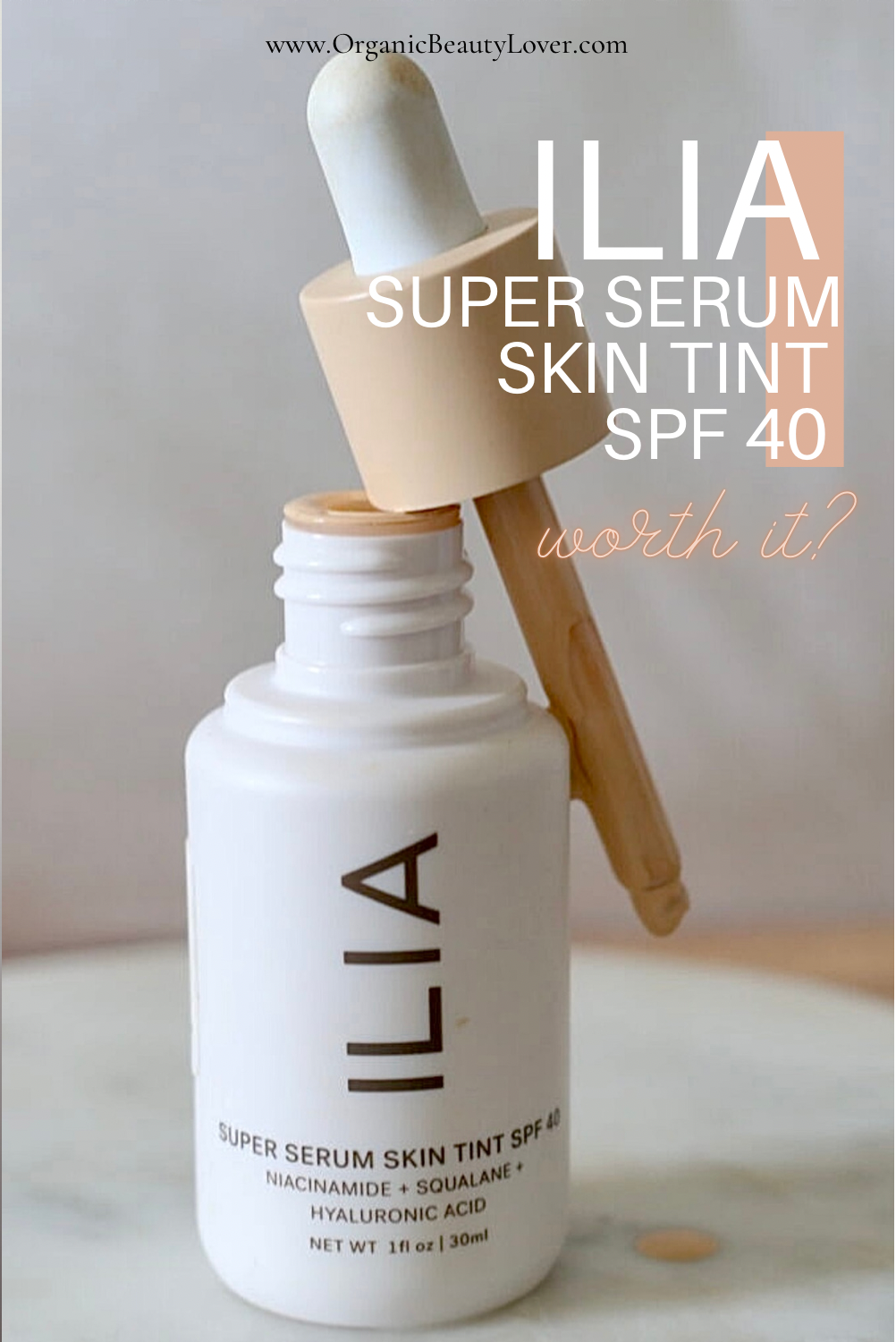 Started by Canadian entrepreneur Sasha Plasvic, ILIA is a wildly popular clean makeup brand sold everywhere from Sephora to Nordstrom. Here's the lowdown on ILIA Beauty. The brand started off as an all-natural makeup brand, but later switched to include synthetics so they could appeal to the masses. And it worked! In 2022 ILIA was acquired by a major corp. In 2020 ILIA dropped a new product called the Super Serum Skin Tint SPF 40 and I immediately grabbed it. Two years later, the ILIA Super Serum Skin Tint 40 remains a controversial product – people either love it or hate it. The skin-forward product combines not only skincare and suncare but also makeup for a 3-in-1 beauty product that fights the sun's UV rays, repairs skin underneath and provides makeup coverage. But is it right for you? Read on for my honest review of the ILIA Super Serum Skin Tint SPF 40. 
Save 20% until June 12, 2022 with code ILIA20.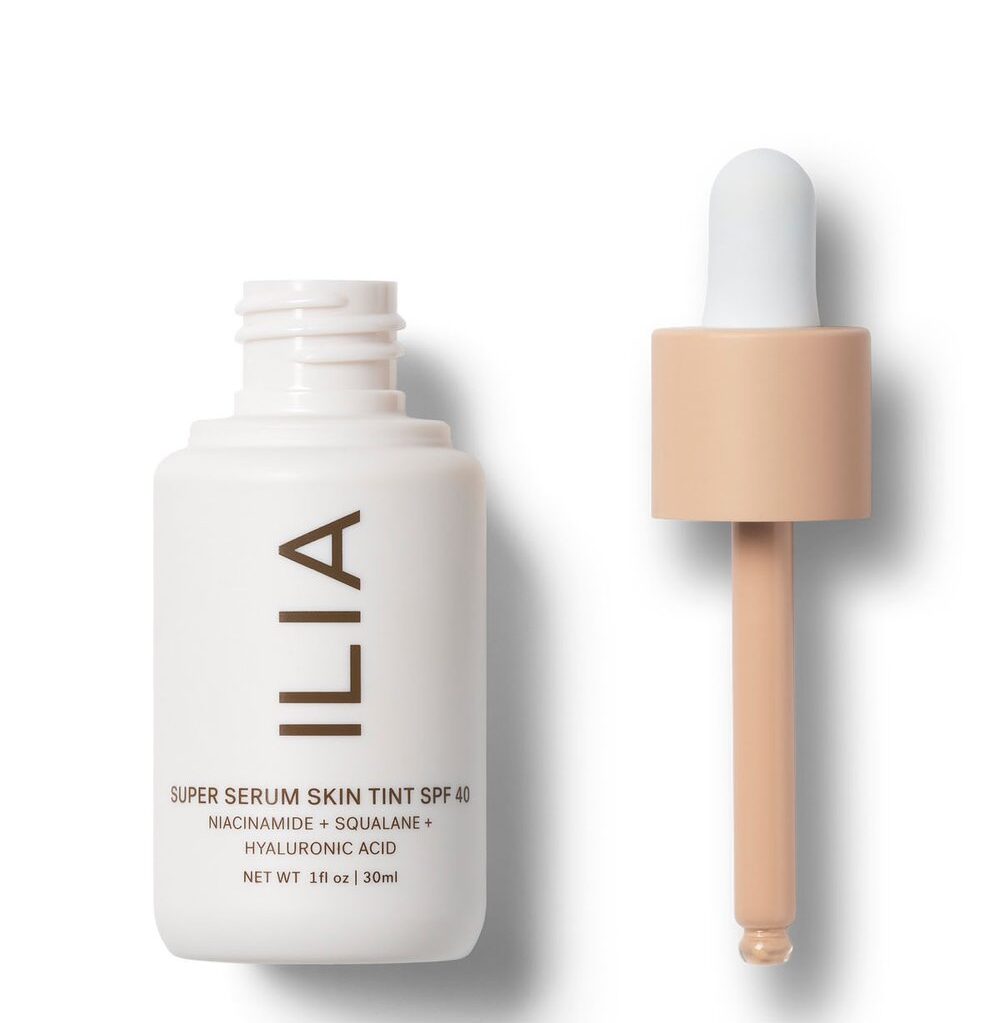 What is the ILIA Super Serum Skin Tint SPF 40?
Skincare serum and
Foundation and
SPF 40 sunscreen
The ILIA Super Serum Skin Tint's vegan formula uses non-nano Zinc Oxide and contains no silicones or fragrance making it great for all skin types including sensitive.
When I purchased this foundation from Sephora I had the toughest time trying to figure out what shade I was, because the ILIA Super Serum Skin Tint comes in 18 different shades. I chose ST2 but it ended up being a tad too light for me. I reached out to ILIA HQ and their customer service team mailed me a few sample shades so that I could swatch them for you and hopefully help you to choose the right shade. Check out the ILIA Super Serum Skin Tint swatches below:


Does ILIA's Serum Foundation actually provide SPF 40?
First off, I appreciate that the foundation has SPF 40 instead of the usual SPF 30. But it's now 2022 and SPF 50 is now the norm for all new sunscreens launching this year.
I am no chemist, but I noticed that the formula only contains 12% Zinc Oxide as the active ingredient, so I'm not totally convinced this product actually provides SPF 40. My other sunscreens contain 20% or 25% Zinc Oxide and provide SPF 30 so mathematically speaking I'm not sure how half that amount with no added titanium dioxide can provide more spf.
I also doubt that people are putting on as much foundation as they are regular sunscreen. If you're only applying one dropper of ILIA foundation you're not going to be getting SPF 40 protection.
I like to add my own high quality non-nano zinc powder product (Earthwise Beauty Farizad's Veil) whenever I suspect the sun protection factor isn't as stated.
Because ILIA Super Serum Skin Tint is a liquid formula, you need to make sure to shake the bottle well before each use. Please, do not have the dropper touch your face! I see this happening all the time and droppers should not be touching your face. It can cause cross contamination of products and bacteria, so please apply hovering just above your skin not touching it or onto your fingers or beauty sponge.
1. Surprisingly Thick?
Moving forward, interestingly, it's a pretty thick liquid and not as light as I expected it would be. When you apply it through squeezing the dropper it doesn't run down the face immediately but in slo-mo. It applies and absorbs well so no issues there but over the day it does oxidize and separate around the nose area.
3. Too dewy and not buildable
The ILIA Super Serum Skin Tint gives skin a smooth dewy look and though it's buildable, 2 layers gives me a little too much of a dewy sheen. It helps blur skin and gives light to medium coverage. I don't need to wear foundation after applying this, but I wouldn't consider this a true replacement of my actual foundations. I would still categorize it as a tinted sunscreen rather than a foundation.
4. Oily skin types beware
I'm not sure how the Super Serum Skin Tint would work on oily skin types, and my initial guess would be not so well. It's a rather heavy liquid even though it's described as being lightweight. You do feel it sitting on the skin, but I quickly forget about it soon after applying.
ILIA Super Serum Skin Tint Dupe
For an affordable ILIA Super Serum Skin Tint dupe, I recommend checking out Mychelle Sun Shield Liquid SPF 50.
The sunscreen foundation has some fabulous skincare ingredients like Niacinamide and Hyaluronic Acid. From their Instagram:
SQUALANE: Sugar based fatty ester that is non-comedogenic and provides skin quenching moisture, while restoring skin elasticity.
HYALURONIC ACIDS: A macro and micro HA, hydrates and helps retain moisture, making skin plump and supple.
NIACINAMIDE: Vitamin B3 is a super healer. Smoothes, firms, evens texture, minimizes fine lines—can even help reduce inflammation in skin issues like rosacea and acne
Note that ILIA is a clean makeup brand that combines synthetics with natural ingredients. They are not a 100% natural product line.
ILIA is sold on their site, Sephora, Naturisimo (worldwide shipping) and Credo Beauty.
Save 20% until June 12, 2022 with code ILIA20.
What are the OBL Community's Opinion?
It's always great to have different perspectives and here is what user theecoaesthetic says about the ILIA Super Serum Skin Tint.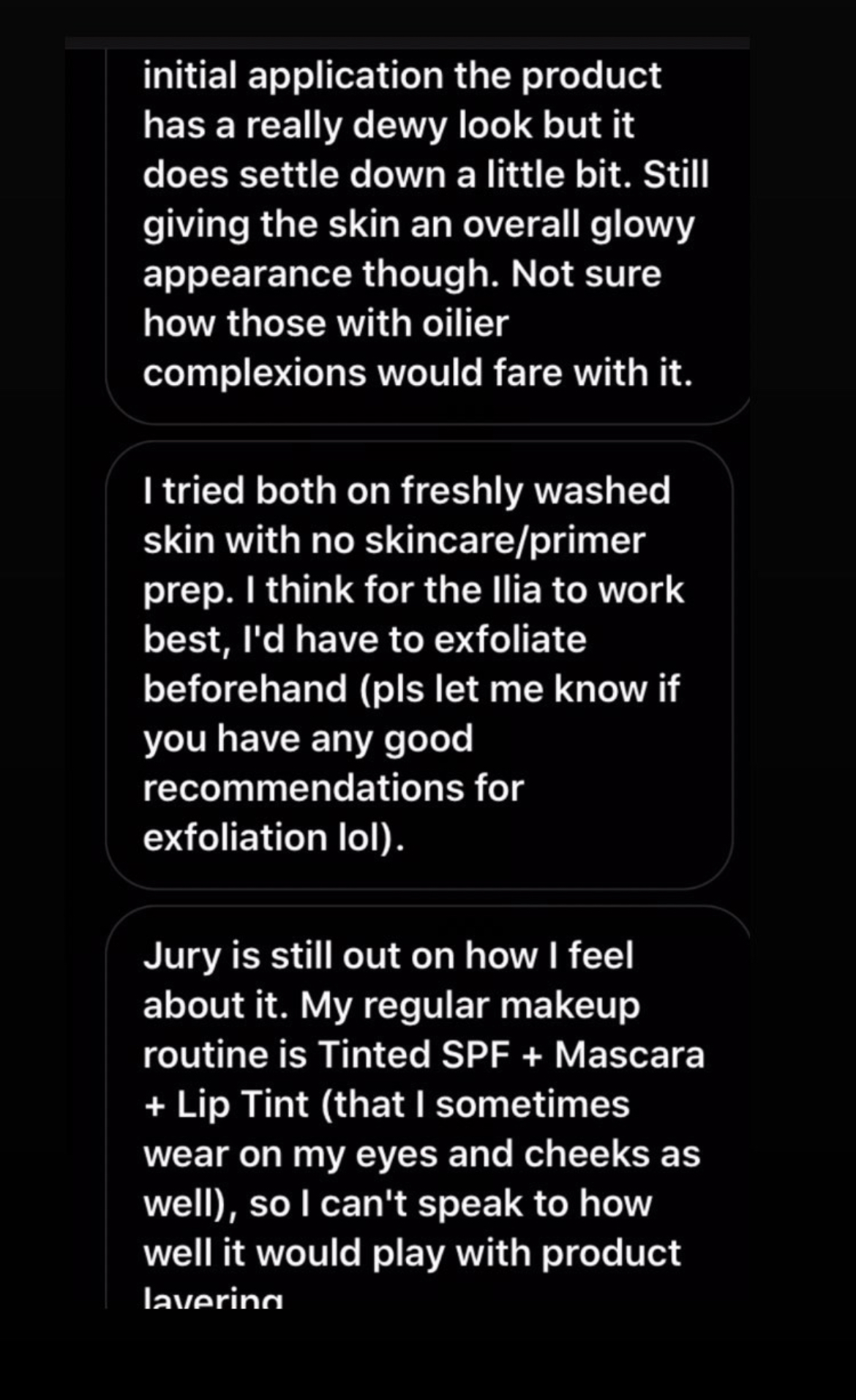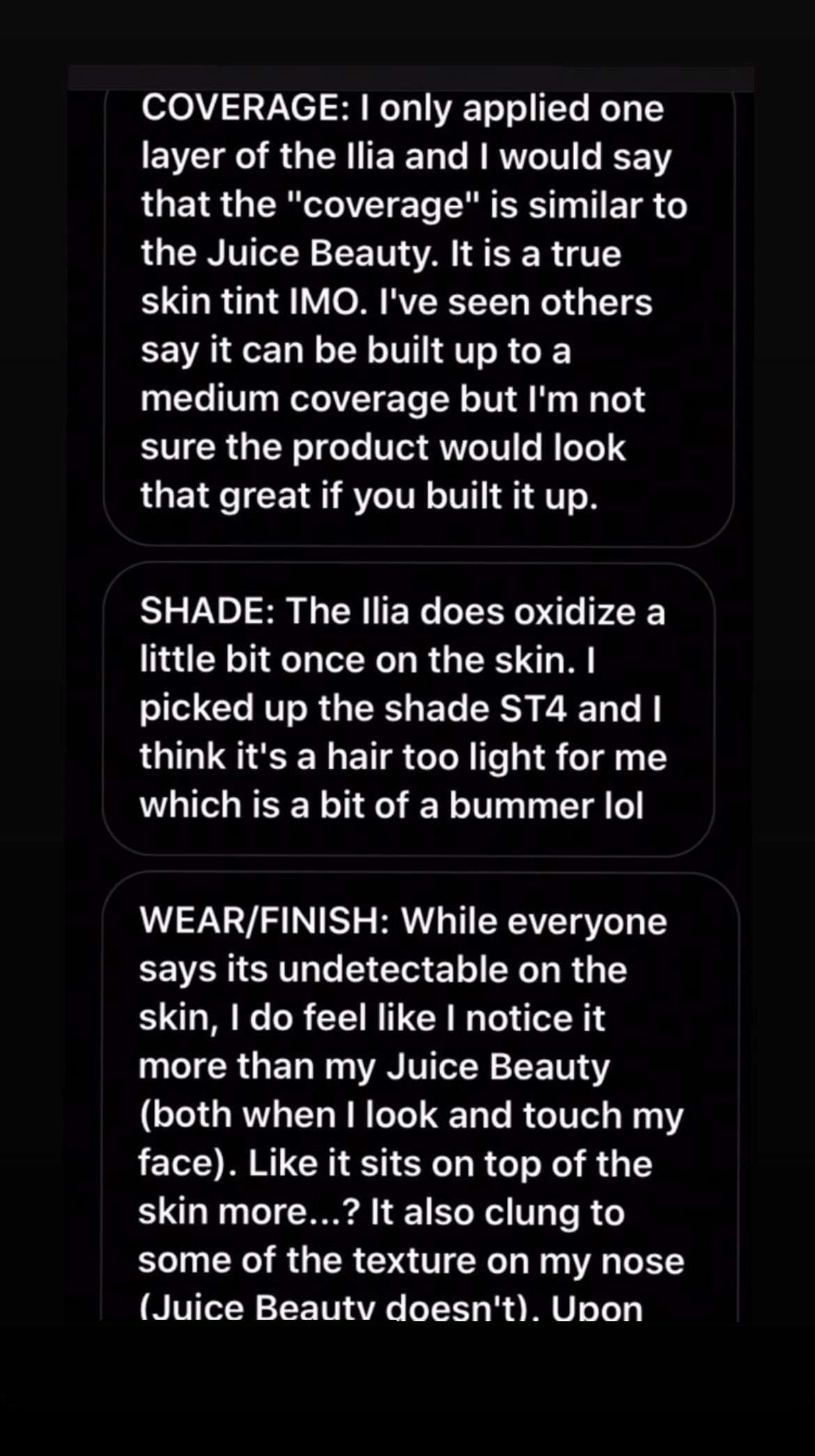 Ingredients: Active Ingredients: Zinc Oxide 12.0% Aqua/Water/Eau, Squalane, Shea Butter Ethyl Esters, Isoamyl Laurate, Polyglyceryl-3 Ricinoleate, Butyloctyl Salicylate, Propanediol, Isopropyl Isostearate, Polyglyceryl-3 Diisostearate, Methylpropanediol, Niacinamide, Sodium Chloride, Lecithin, Caprylyl Glycol, Silica, Aloe Barbadensis Leaf Juice Powder, Bisabolol, Hydrolyzed Sodium Hyaluronate, Allantoin, Phenylpropanol, Sodium Myristoyl Glutamate, Sodium Hyaluronate, Tetrasodium Glutamate Diacetate, Aluminum Hydroxide, Polyhydroxystearic Acid. May Contain/Peut Contenir (±): CI 77491, CI 77492, CI 77499 (Iron Oxides), CI 77891 (Titanium Dioxide).