Babo Botanicals makes natural and organic sunscreen (and skincare) for babies, kids and sensitive skin adults. Babo's mineral sunscreens are very affordable (most are under $20) and are sold at Ulta and Target. Founded in 2020 by lifelong beekeeper Kate Solomon after her baby was born, Babo Botanicals is a B Corp certified and socially and environmentally responsible company with an affordable range of sensitive skin safe products. It's easy to dismiss Babo Botanicals because they're a brand made for babies, but Babo sunscreen products are also great for adults, especially if you need scent free and sensitive skin friendly products! I've tried many of Babo Botanicals' mineral sunscreens over the last few years and am sharing my honest thoughts in this Babo Botanicals review.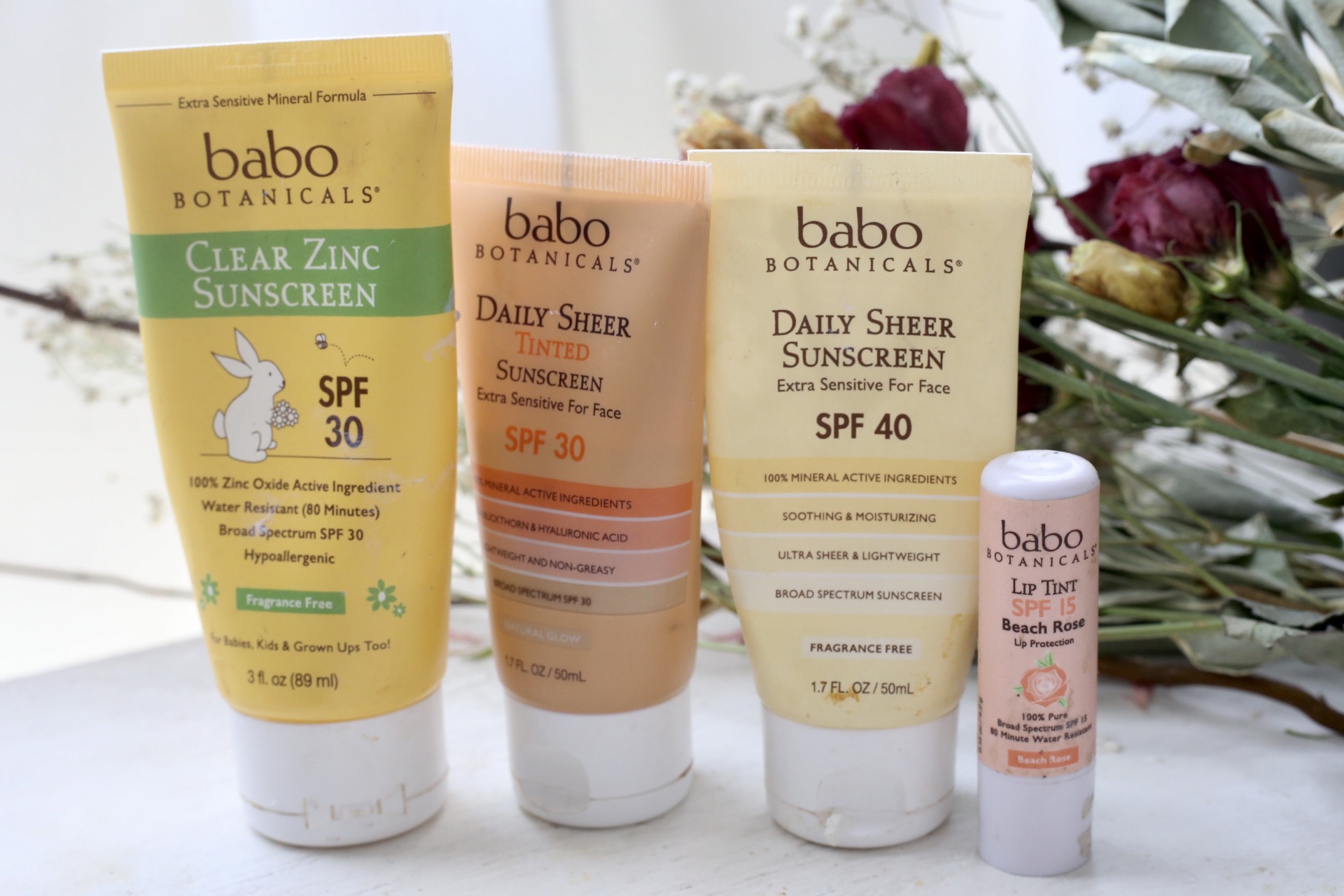 Babo Botanicals strives to act responsibly in every aspect of their company, such as:
working with independent farmers to source their botanical ingredients
joining forces with non-profit organizations like EWG and Peta to find solutions to make the products in our industry safer and more respectful of our planet and its living ecosystems
supporting farms that use their activity to create safe habitats for local living ecosystems like Honeybees or Koalas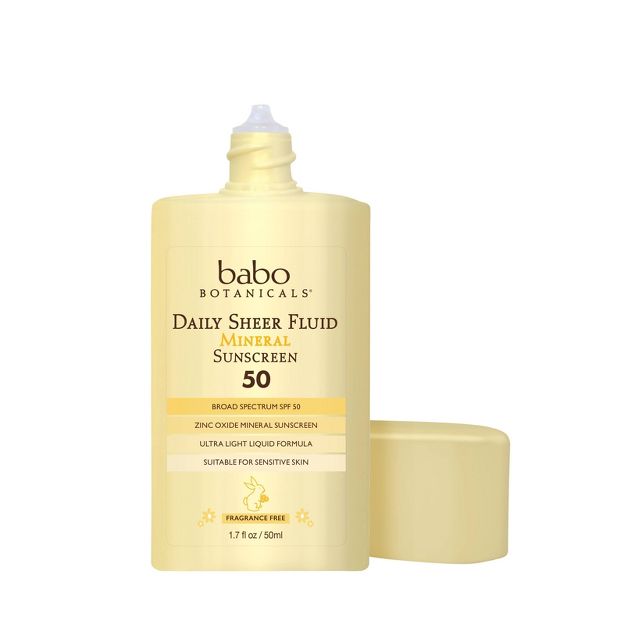 Babo Botanicals newest sunscreen product of summer 2022 is their Daily Sheer Fluid Mineral Sunscreen SPF 50. It's a very thin, liquid fluid formulated for extra sensitive skin and comes in a non-tinted and tinted version. There is no scent and the non-tinted version has a pale yellow hue to offset the white cast that would come from SPF 50.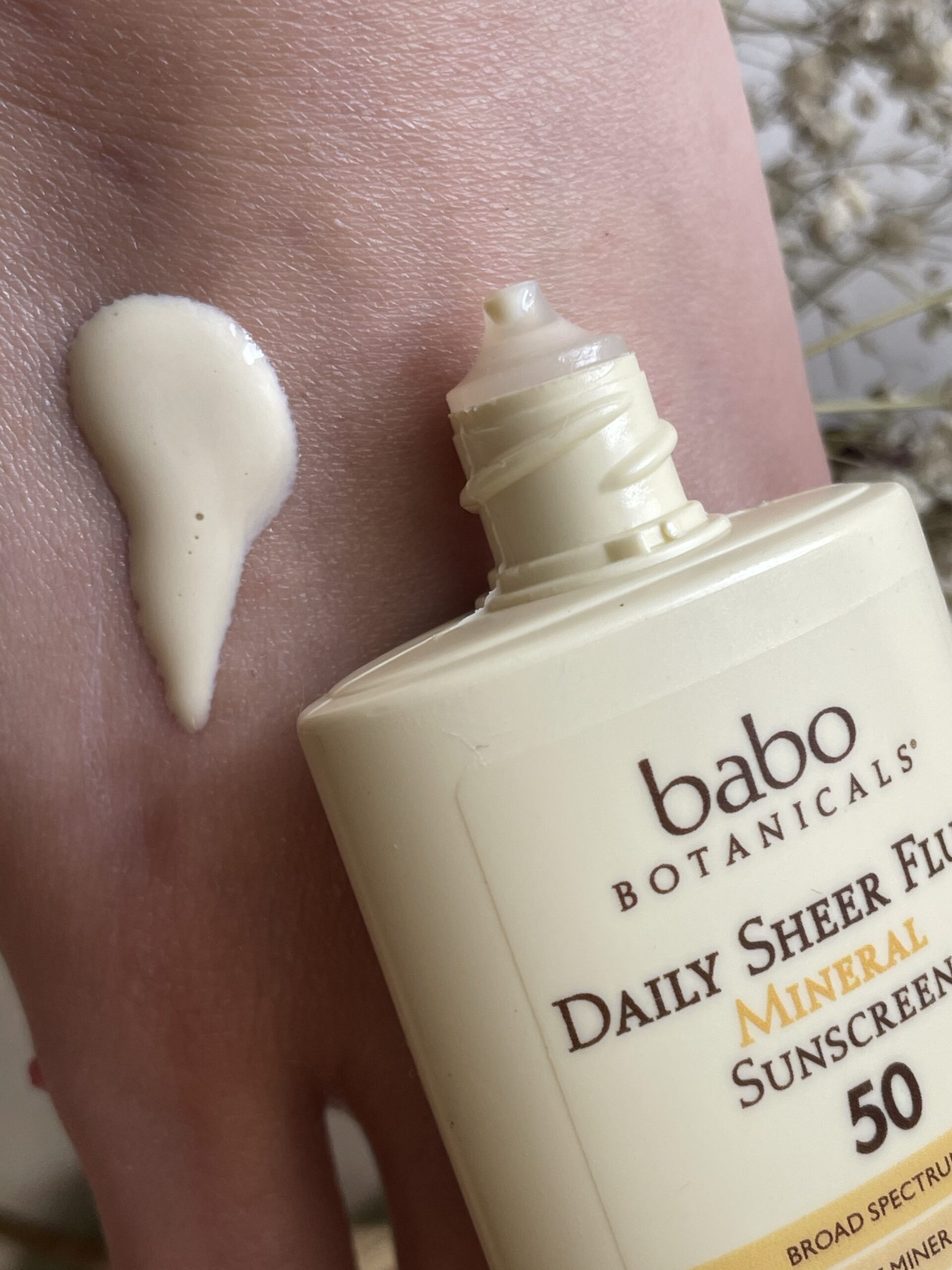 I'm new to using this, so will update my Babo review later in the summer! So far it's been impressive and non-clean beauty friends (aka muggle friends) loved it too.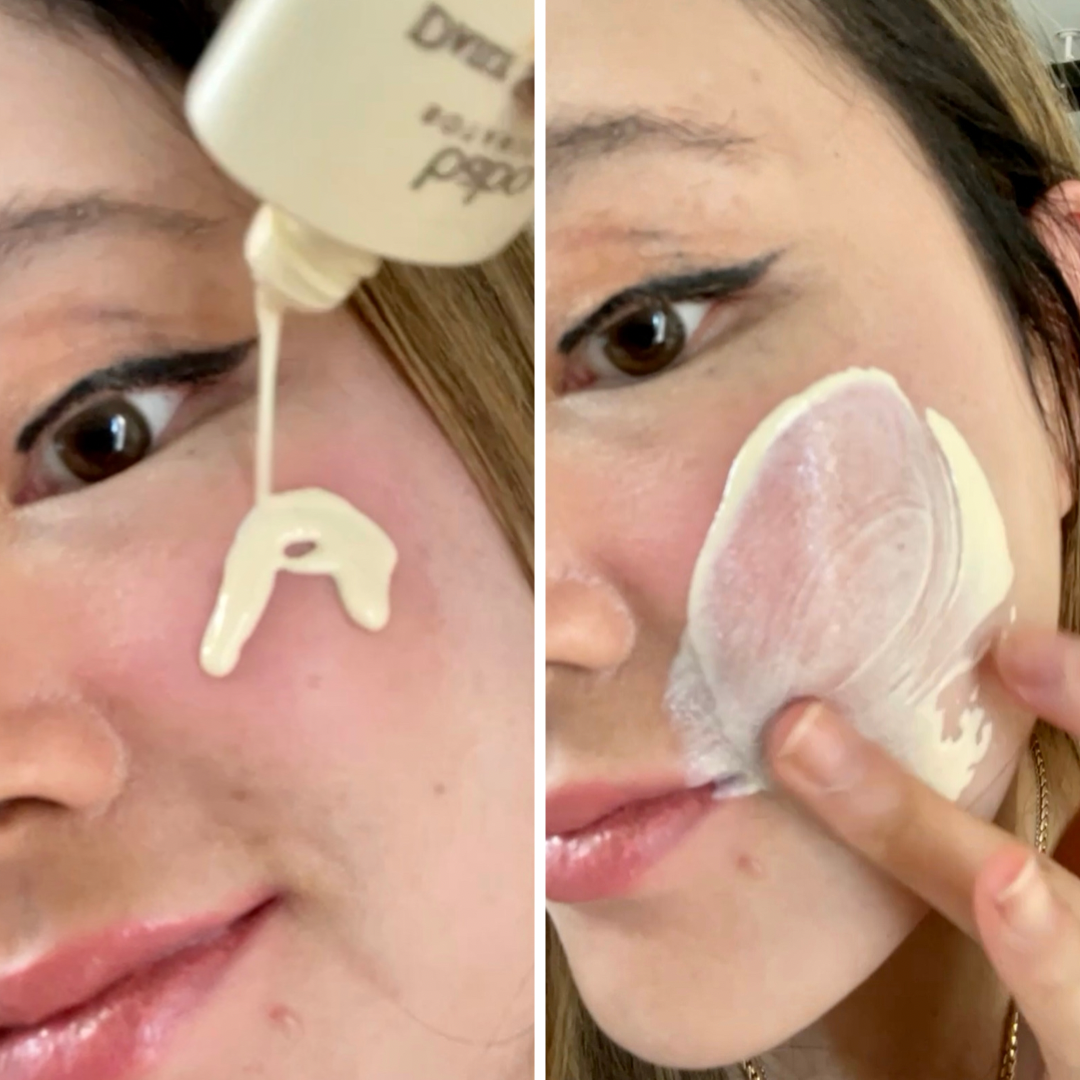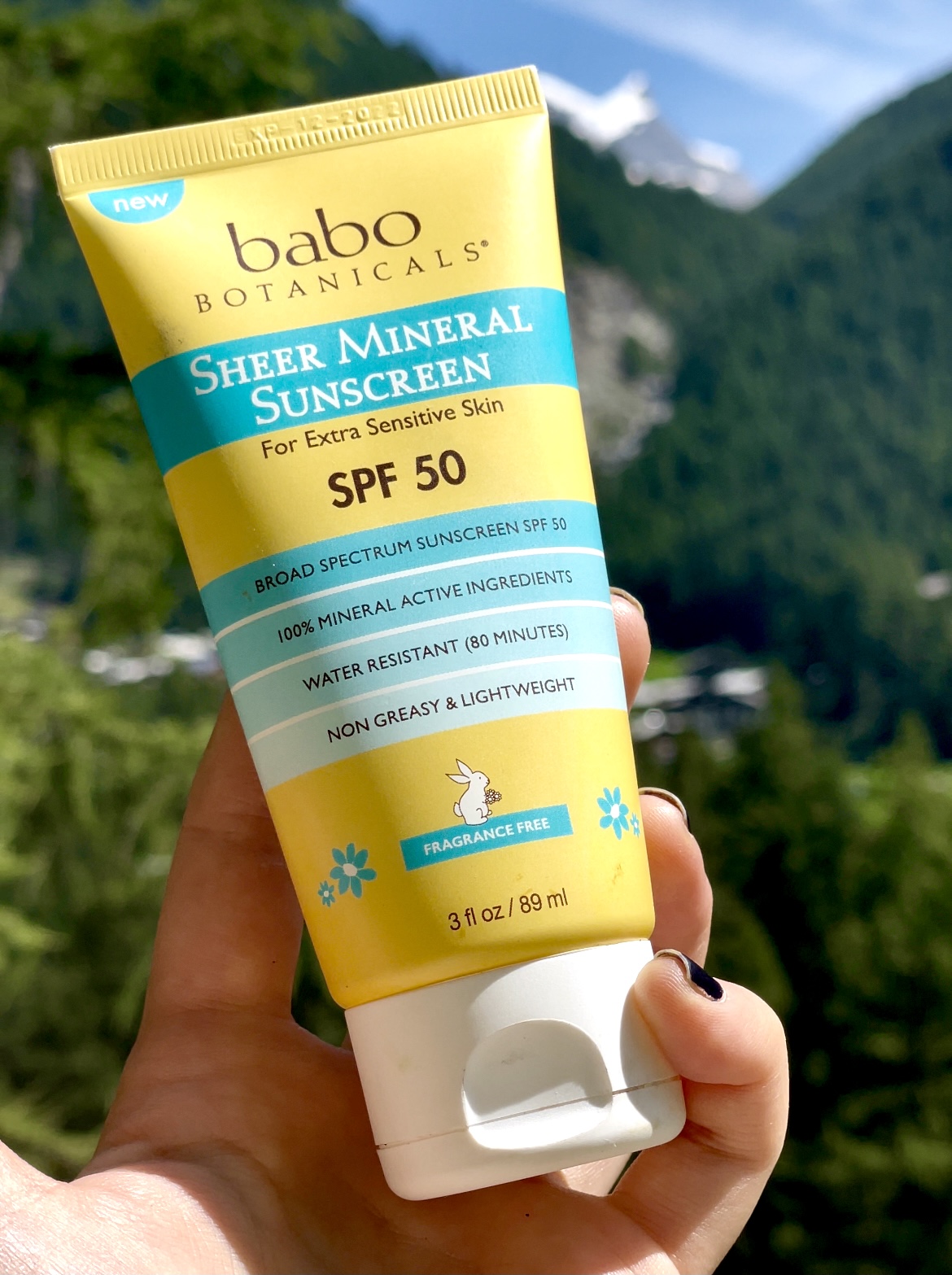 Babo Sheer Mineral Sunscreen
All Babo Botanicals mineral sunscreens:
Contain no oxybenzone or octinoxate
Contain non-nano zinc oxide
Are reef safe
Have zero scent or fragrance
Are formulated for extra sensitive skin
Babo Botanicals mineral sunscreens come in sprays, lotions and sticks with tinted and non-tinted versions. There are SPF 30, 40 and 50 options.
Babo Botanicals sunscreens all (except the sheer sunscreens) have the same lightweight lotion like consistency. If you find mineral sunscreens tend to dry you out then I would say it's likely that Babo may do the same. While Babo sunscreens feel hydrating when applied they tend to be on the "drier" side. Naturally, they are an oily or acneic skin person's dream. Or if you find mineral sunscreens too rich or greasy, Babo Botanicals is probably a sunscreen brand you would like.
The Babo Botanicals Daily Sheer Tinted Sunscreen SPF 30 is so lightweight it's almost a liquid. With a super thin and fluid consistency the Babo tinted sunscreen is great for those looking for a non-greasy, lightweight lotion. Warning! You need to be careful when dispensing the product because it likes to gush out! It would almost be more suitable for the product to be packaged in a bottle with glass dropper because of how liquid-like it is.
The Babo Botanicals Daily Sheer Tinted Sunscreen uses a mix of 6% zinc oxide and 6% titanium dioxide as UV filters. It begins in an organic aloe vera gel and water base and is infused with skin nourishing ingredients like:
Rosehip, Kahai and Argan Oil
Hyaluronic acid
Green tea and cucumber extracts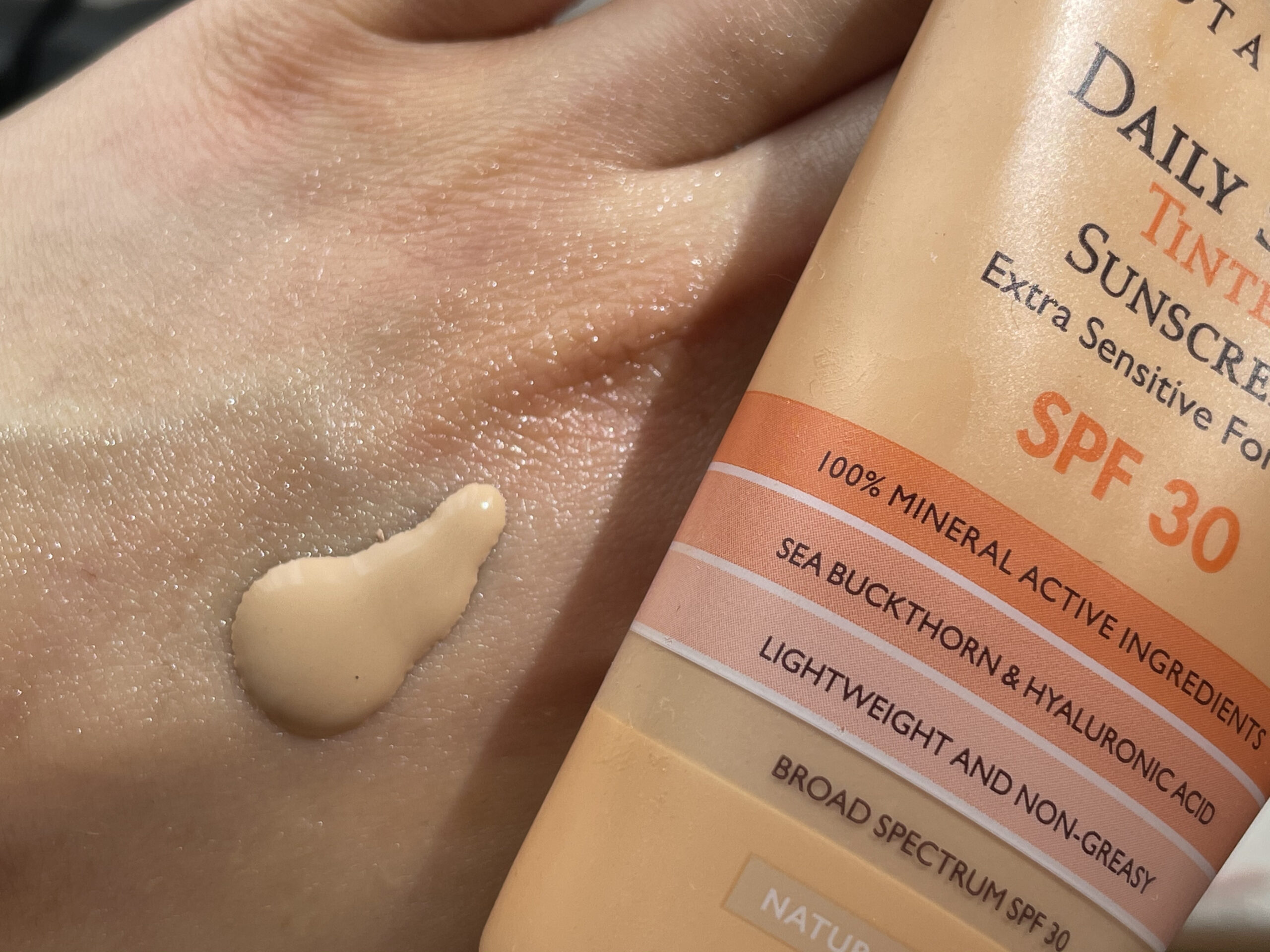 The tint is quite natural looking and helps provide skin a blurring effect.
Babo Botanicals Tinted Sunscreen Ingredients:
Active Ingredients: Titanium Dioxide 6.00% Sunscreen, Zinc Oxide 6.00% Sunscreen
Inactive Ingredients: Aloe Barbadensis Leaf (Aloe Vera Gel) Juice*, Aqua (Deionized Water), Argania Spinosa (Argan) Oil, Beeswax*, Organic Butyrospermum Parkii (Shea) Butter*, C13-14 Alkyls Benzoate, OrganicCamellia Sinensis (Green Tea) Extract*, Caryodendron Orinocense (Kahai) Oil, Caprylic/Capric Triglyceride, Organic Cocos Nucifera (Coconut) Oil*, Cucumis Sativus (Cucumber) Extract, Decyl Glucoside, Glycerin*, Glyceryl Caprylate, Glyceryl Stearate Citrate, Glyceryl Stearate, Glyceryl Undecylenate, Organic Helianthus Annuus (Sunflower) Oil*, Hippophae Rhamnoides (Sea Buckthorn) Oil, Hyaluronic Acid, Iron Oxides, Lecithin, Mangifera Indica (Mango) Butter, Organic Punica Granatum (Pomegranate) Extract*, Organic Rosmarinus Officinalis (Rosemary) Oil*, Saccharide Isomerate, Sodium Polyacrylate, Stearic Acid, Tocopherol (Vitamin E), Xanthan Gum, Zemea (Corn) Propanediol.
*Certified Organic Ingredients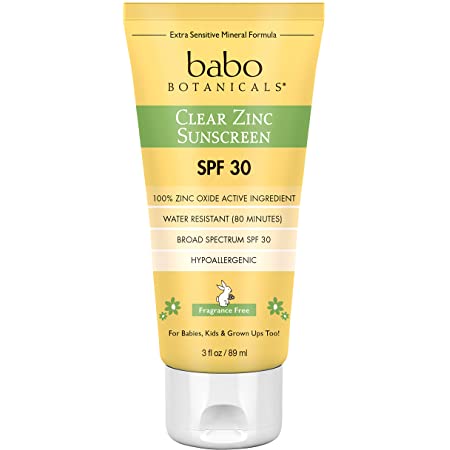 The Babo Botanicals Clear Zinc sunscreen SPF 30 is a lightweight lotion that's not at all rich, greasy or emollient. If you love Badger sunscreens but find them too greasy, Babo is a great alternative. The Babo Clear Zinc sunscreen contains 16% zinc oxide and does leave some white cast. The technology for "clear zinc" isn't quite there yet despite the misleading name, so if you're expecting this sunscreen to be completely transparent that's not going to be the case.
There is no scent to the sunscreen other than a slight natural scent from the ingredients.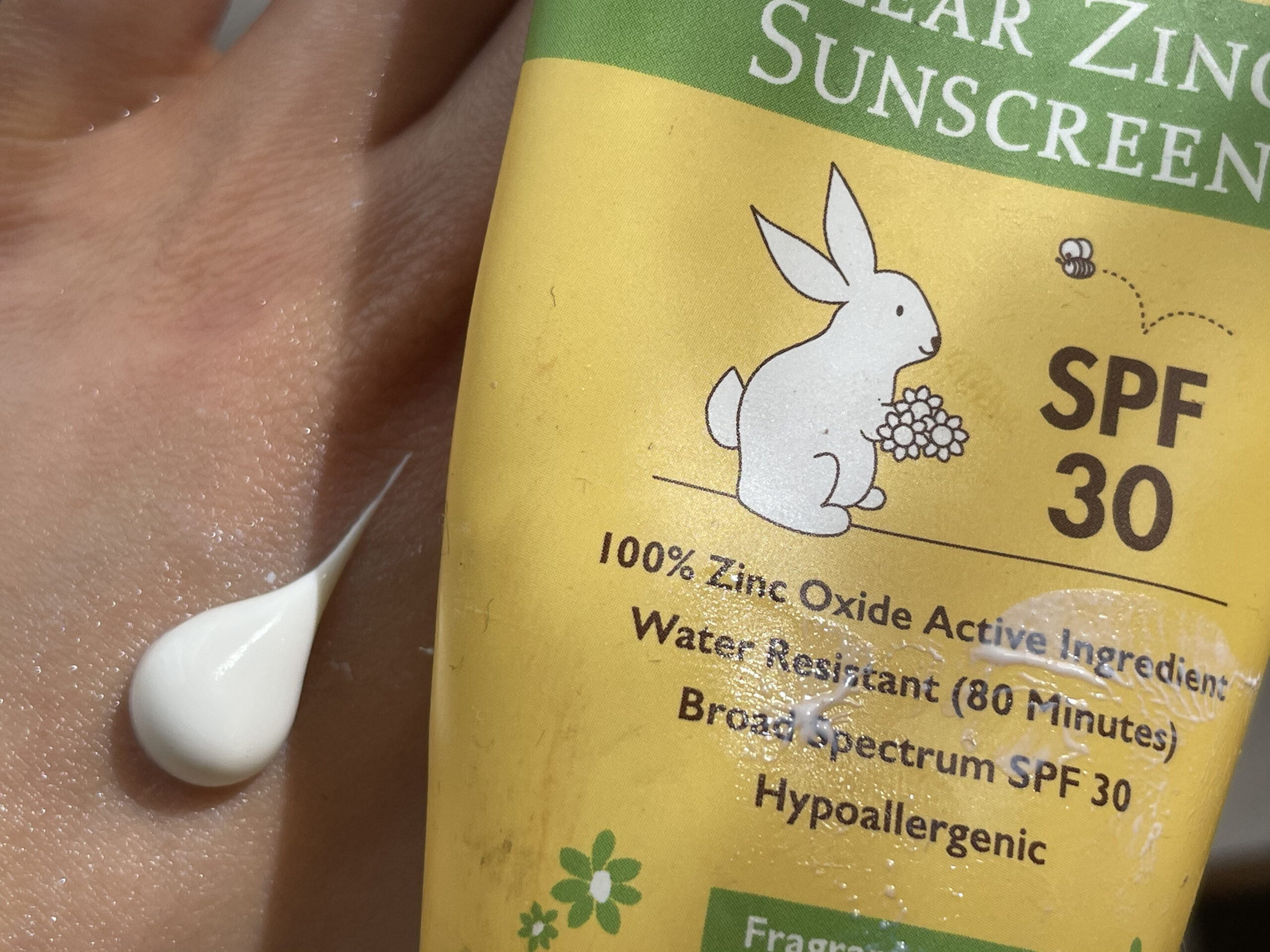 Active Ingredients: Zinc Oxide 16% Ingredients: Arachidyl Alcohol, Arachidyl Glucoside, Behenyl Alcohol, Bisabolol*, Butyloctyl Salicylate, Butyrospermum Parkii (Shea Butter), Calendula Officinalis Flower Extract*, Caprylhydroxamic Acid, Caprylyl Glycol, Carthamus Tinctorius (Safflower) Seed Oil, Cellulose Gum, Cetearyl Alcohol, Cetyl Alcohol, Chamomilla Recutita (Matricaria) Flower Extract*, Citric Acid, Coco-Glucoside, Cocos Nucifera (Coconut) Oil, Glycerin, Helianthus Annuus (Sunflower) Seed Oil, Methyl Dihydroabietate, Microcrystalline Cellulose, Nasturtium Officinale Flower/Leaf Extract*, Polyhydroxystearic Acid, Pueraria Lobata Root Extract*, Sodium Gluconate, Sodium Hyaluronate, Sodium Stearoyl Glutamate, Spiraea Ulmaria Flower Extract*, Theobroma Cacao (Cocoa) Seed Butter*, Tocopherol, Water (Aqua). * Certified Organic Ingredients
Babo Botanicals sunscreen lotions that come in tubes are all almost identical in the way they feel, apply and absorb into skin.
The Babo Daily Sheer Facial Sunscreen SPF 40 I would be very hesitant to recommend due to the strong white cast and tendency to turn chalky throughout the day.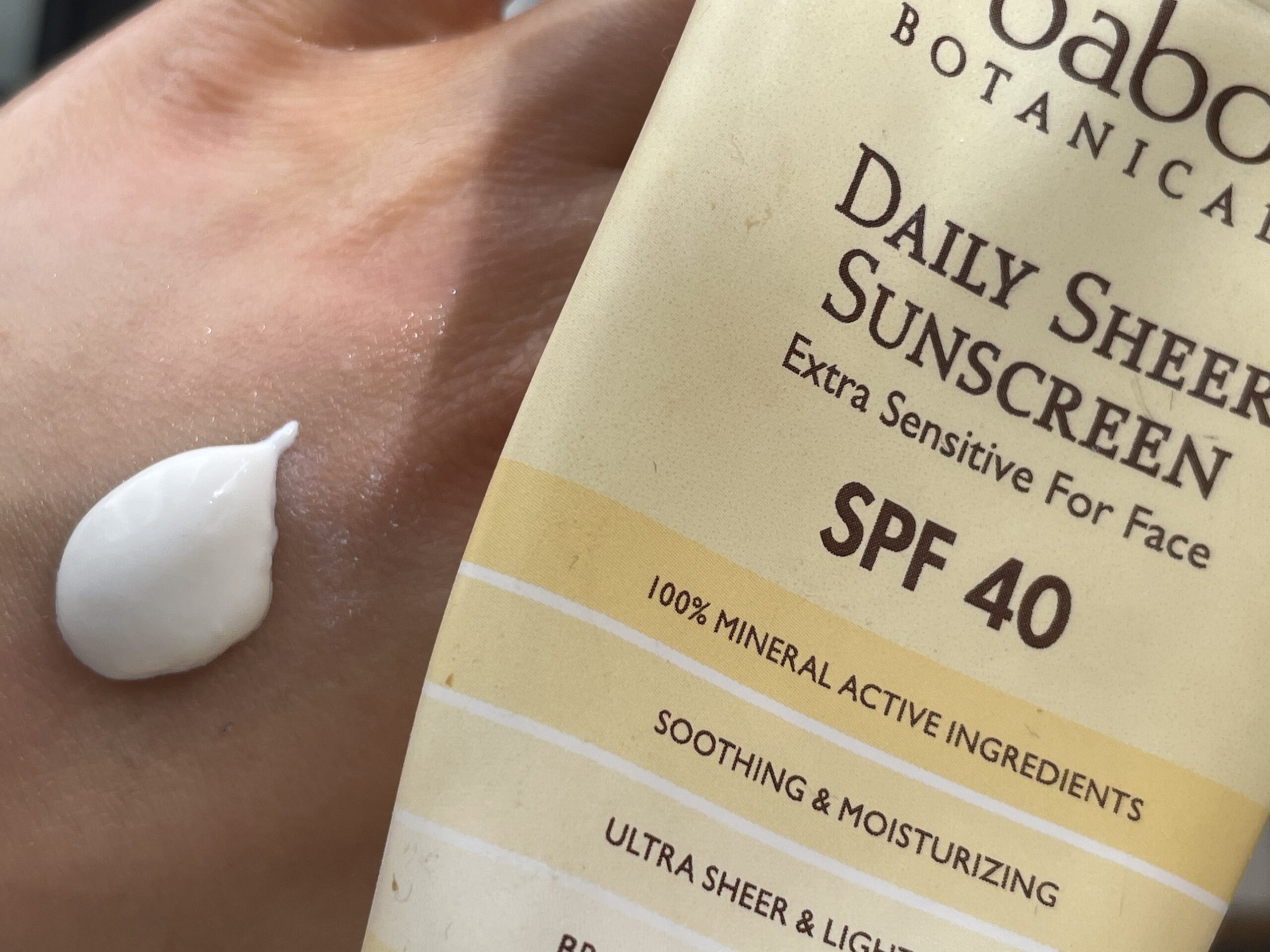 Is there a White Cast?
The SPF 40 Facial Sunscreen does have a strong white cast.
I would say that the SPF 40 Daily Sheer Sunscreen and SPF 50 sunscreen leave a stronger white cast than the SPF 30. Because they're 100% zinc oxide sunscreen that's to be expected.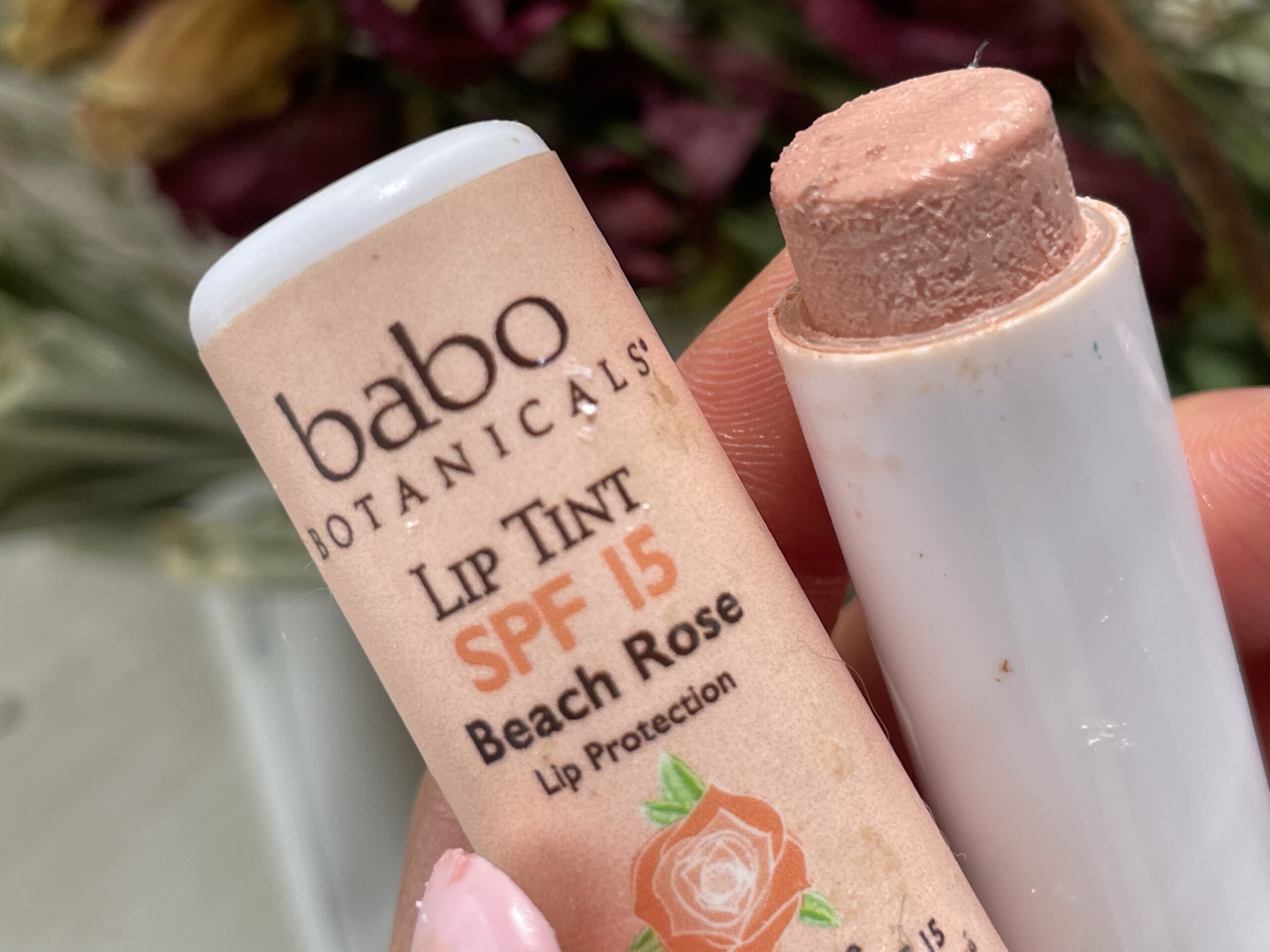 Babo Botanicals Lip Tint SPF 15
I tried the Babo Botanicals spf lip balm in the shade Beach Rose which is a peachy nude color. I found this lip balm to be a great consistency, not too greasy and not too dry. The Babo Lip Tint also stays intact during the hottest summer months and doesn't lose its structure. Feels moisturizing and also has a lot of pigment. Lips also need to be protected from the sun's damaging rays.