Founder Daisy Jing created her own skincare line Banish, because of her personal struggle with severe cystic acne. Even if you don't suffer from acne, it's often these highly targeted skincare lines that serve to solve a problem that are truly formulated to be efficacious. Banish Acne Scars is a brand on a mission to banish much more than just acne scars but to also banish the self-doubt, self-loathing and sense of unworthiness that too often comes with "bad skin." Read on for my Banish Acne Scars review on the Banisher 2.0, Banish Serum and Defender SPF 50 sunscreen! This post is sponsored by Banish but all thoughts are my own.
Banish Acne Scars products are small batch, all-natural and organic, using fresh natural ingredients sourced from the US West Coast. Banish's custom formulas are based off what worked for the founder through her cystic acne journey and get to the root of problems, not just covering them up temporarily. They're also based in Pasadena, California and ship directly from their office to all over the world.
Banish reached out to have me try out the Banish Acne Scars Kit including their hero product the Banisher 2.0, a 24k gold-plated microneedling tool. While the Banish microneedling tool is particularly effective for pitted scars and seems to show the most dramatic results for cystic acne, the Banisher 2.0 is also great for marks left over from regular breakouts that affect many of us.
I've often found microneedling rollers to be too painful and unpleasant to use for me personally. The reason I much prefer the Banisher 2.0 is that it's a stamp instead of a roller, which allows for even pressure at a perpendicular angle instead of the varied, angled pressure of a roller. There's also some reprieve between each "stamp" rather than the continuous painful rolling from a roller.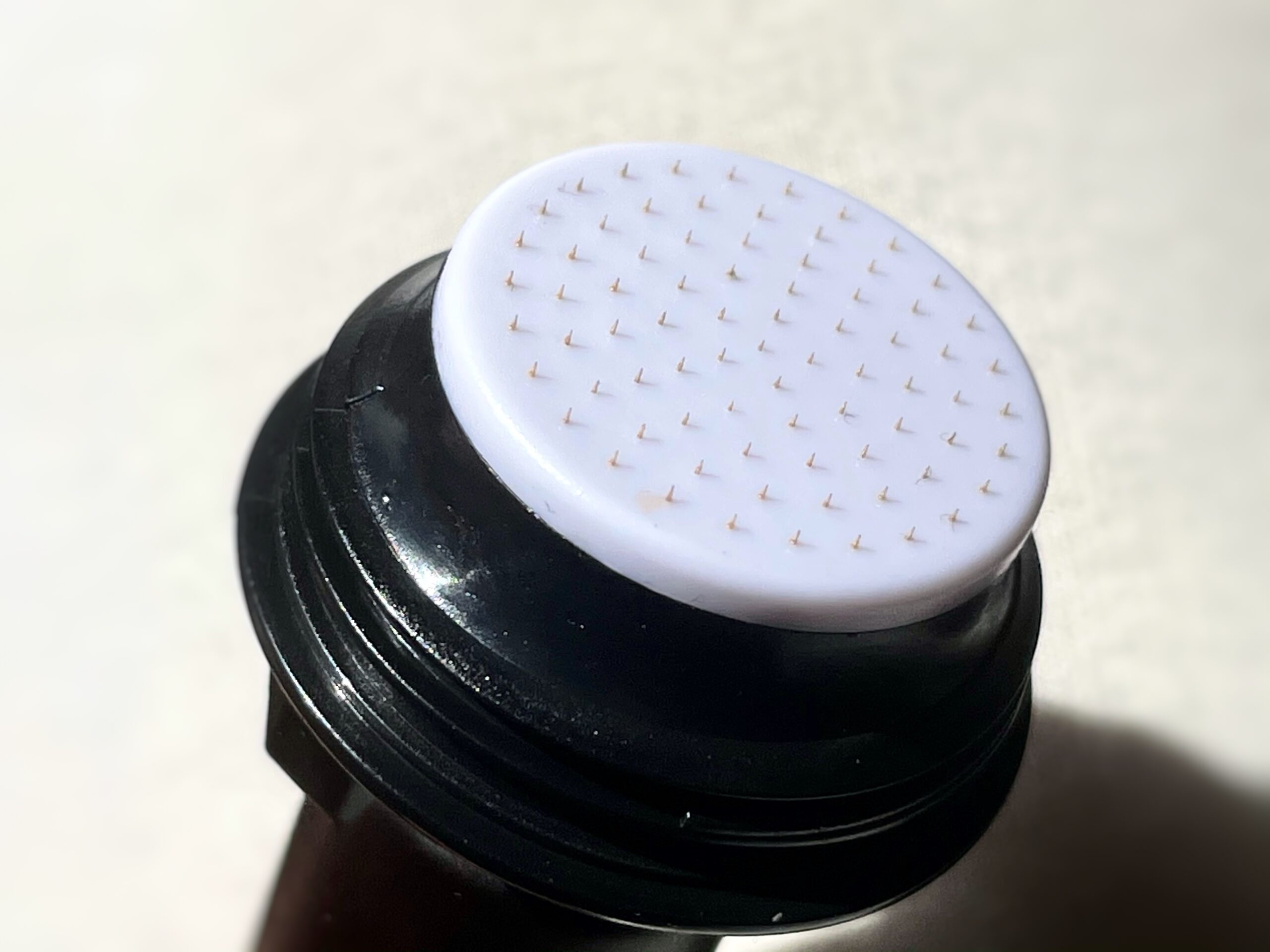 Microneedling is a hot topic in the skincare world and people seem to either love it or hate it. Microneedling essentially pricks the skin to stimulate the skin to heal itself. Some believe that microneedling should only be done by a professional in an office, but microneedling at home has become hugely popular to reap similar benefits. Others say that the spa industry simply doesn't want their income to take a hit. As long as you are using the tool properly, many believe you can safely practice microneedling at home.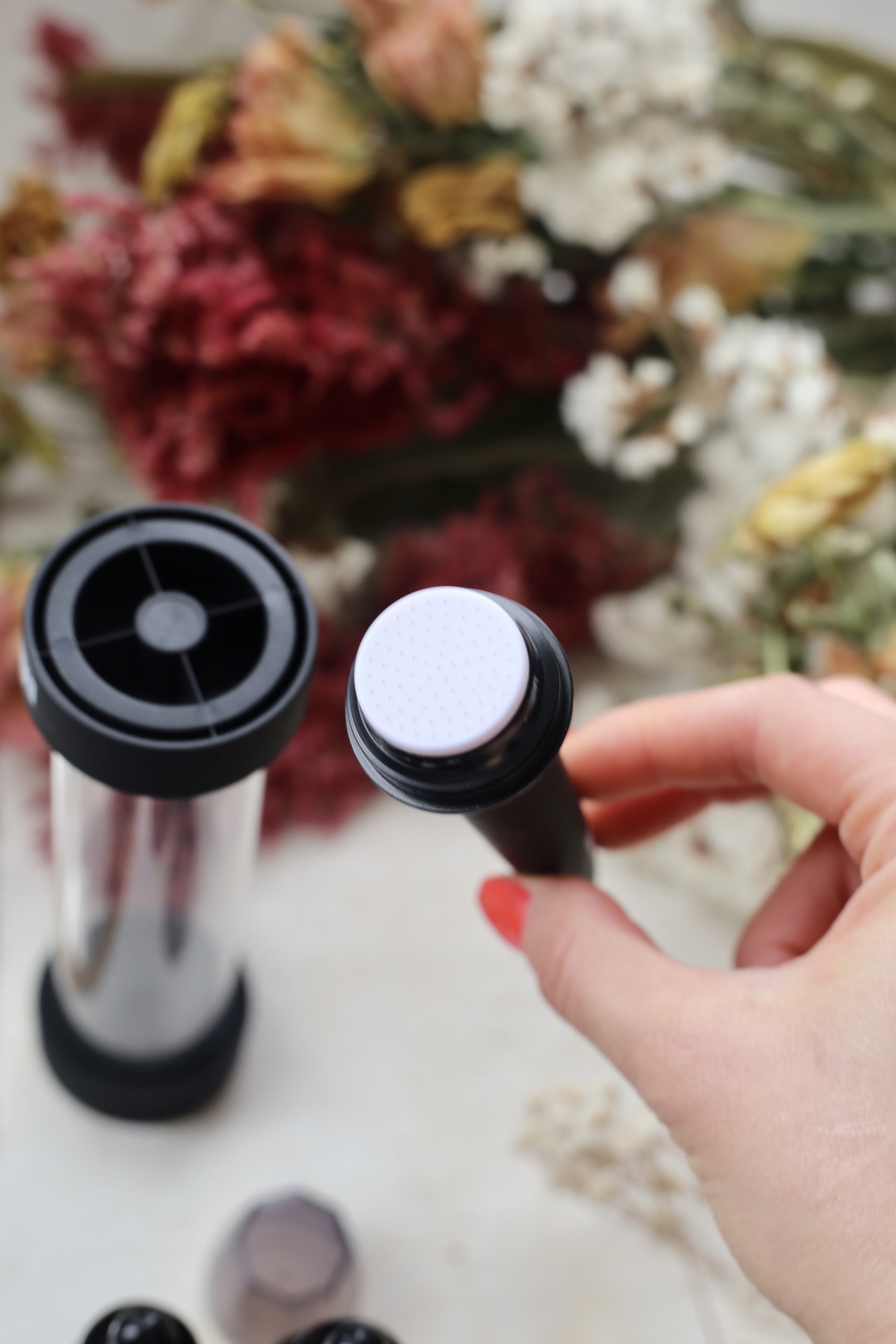 What makes the Banisher 2.0 different from other microneedling tools is:
24k Gold plated titanium bristles promotes collagen and gold has antibacterial properties
Presses down with even pressure
Stamping action instead of rolling action
Finer and sharper bristles create less irritation
Microneedling Benefits
Improves the appearance of acne scars and dark marks
Reduces fine lines
Naturally promotes skin renewal
Combined use with Vitamin C promotes collagen synthesis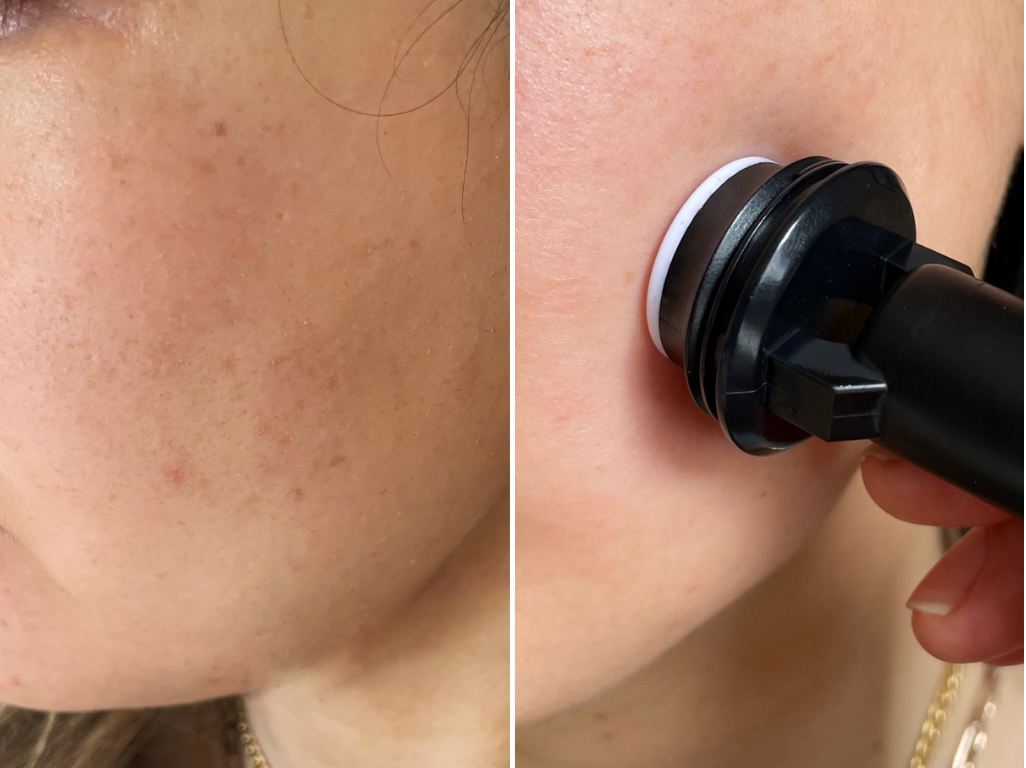 I recommend using the Banisher 2.0 for two minutes and every other day. I first apply the Banish Serum then stamp the microneedling tool with light to medium pressure, focusing on the areas that I'd like to work most on. The prickly feeling is much more bearable for me than a traditional microneedling tool because the stamping action allows for me to give my skin a pause between each "stamp".
My skin looks tomato flushed after a few minutes of microneedling and subsides quickly after. Microneedling requires no downtime and should not be used on active breakouts.
After a few weeks of consistent use I did notice improvement in the marks left by old and recent breakouts. It's such a great way to also allow your skincare to penetrate deeper. The hardest part, as always with devices and tools, is sticking to them and using them consistently.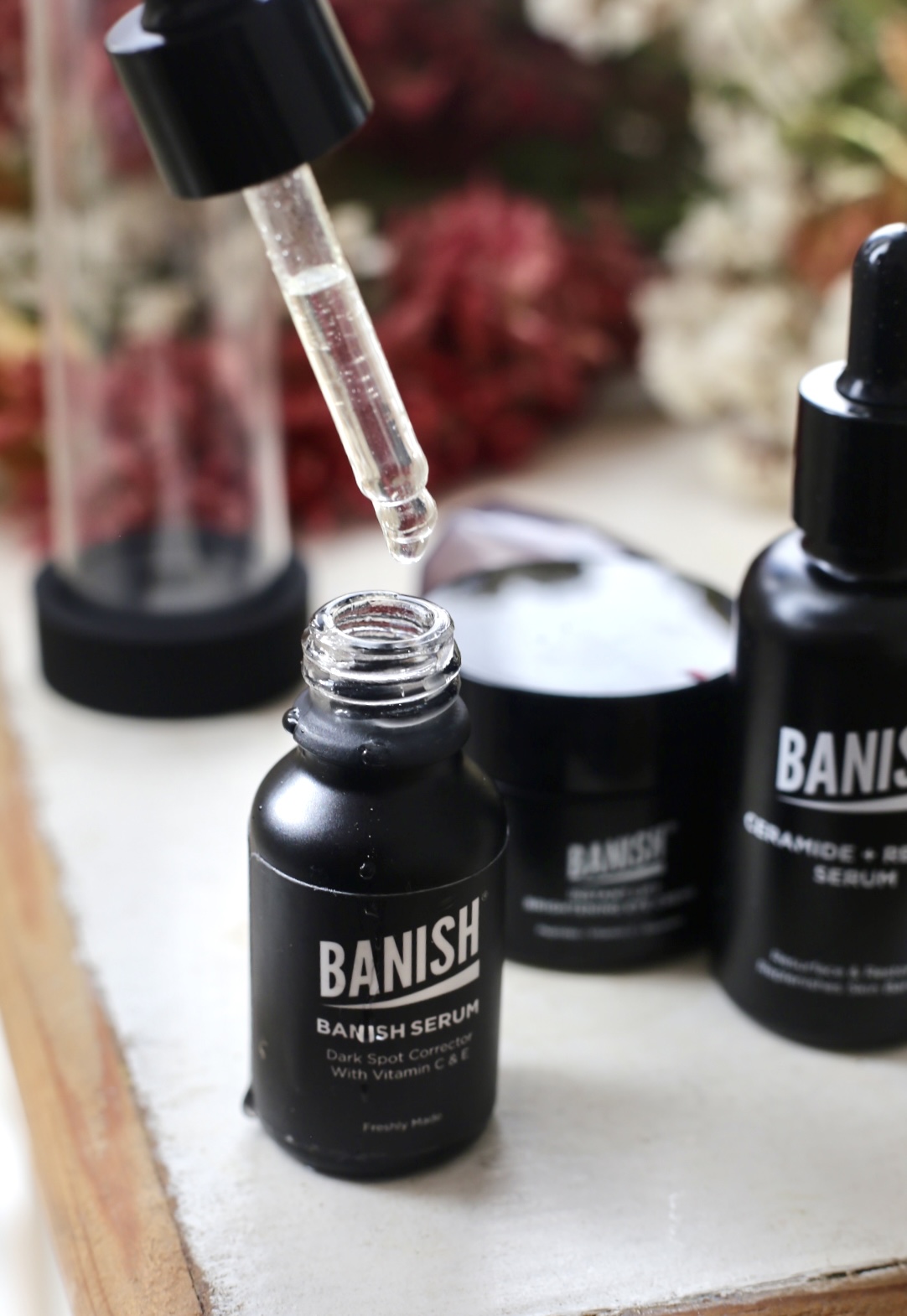 The Banish Serum is a Vitamin C serum with a base of vegetable glycerin that makes it feel hydrating, the most effective form of Vitamin C L-Ascorbic Acid, Ferulic Acid and Vitamin E. It has the golden trifecta of ingredients needed for a Vitamin C serum that can work to combat hyperpigmentation and dark spots. It's also very fresh and has a shelf life of only 6 months, so I recommend storing it in the fridge. Using the Banish Serum right after using the Banisher 2.0 is going to help those active ingredients really penetrate and reach deeper into the dermal layers. The increased blood circulation is also going to help transport the nutrients where they need to go.
Ingredients: Vegetable Glycerin, Aqua, Hamamelis virginiana (witch hazel) extract, 100% L-Ascorbic acid, ferulic acid, natural rose extract, mixed tocopherols 95% (natural Vitamin E), Simmondsia chinensis (Jojoba) seed oil, Rosa damascena (Rose) absolute, sodium benzoate, benzoic acid
Banish The Defender Sunscreen SPF 50
Banish's new sunscreen is a mineral SPF 50 sunscreen made with an organic aloe vera juice base and enriched with organic cucumber fruit extract, blue passionflower and peptides. The ingredients are clean and simple, and the consistency is that of a very light lotion.
The Defender Sunscreen is specifically suited for oily and acne-prone skin. If you have dry skin, you will need to adequately prep skin before using this sunscreen with some kind of emollient product – a couple drops of face oil will do.
On lighter skin tones you won't notice a real white cast though there may be the slightest whitening effect. I would consider this on the transparent side for a mineral sunscreen. The UV filters used are 7% titanium dioxide, 7% zinc oxide and a bit of mica. I doubt this would be suitable for darker skin tones.
Active Ingredients: Titanium Dioxide 7%, Zinc Oxide 7%, Mica 3%
Other Ingredients: Organic Aloe Barbadensis (Aloe Vera) Leaf Juice, Organic Aloe Barbadensis (Aloe Vera) Leaf Gel, Organic Vegetable Glycerin, Organic Cucumis Sativus (Cucumber) Fruit Extract, Passiflora Caerulea (Blue Passionflower), Palmitoyl Oligopeptide, Hydroxysuccinimide, Palmitoyl Tetrapeptide-7, Palmitoyl Pentapeptide-3, Persea Gratissima (Avocado) Seed Oil, Simmondsia Chinensis (Jojoba) Seed Oil, Vitis VinIfera (Grape) Seed Oil, Organic Vegetable Glycerin, Capric/Caprylic Triglycerides, Organic Butyrospermum Parkii (Shea) Butter, Stearic Acid (Vegan), Glyceryl Monostearate, Silica, Tocopheryl (Vitamin E), Cetyl Alcohol (Plant Extract), Mica.