If you're wondering what the best organic sheet masks are, I'm sharing the 5 best options available in clean beauty. These organic and vegan sheet masks are made with high quality materials for the mask and ingredients for the essence. A Korean invention, sheet masks allow your skin to continuously absorb ingredients for a surge of nutrients and hydration. You should only be using a sheet mask for the time instructed, usually 15-30 minutes. Read on for my roundup of the clean beauty industry's 5 best organic sheet masks.

I've never come across a sheet mask as luxurious and special as the Yina Bio Cellulose Mask. This sheet mask is loaded with tons of Chinese Medicine herbs and skin plumping peptides and packaged in the highest quality materials. Most sheet masks are around $5 per for a decent quality one, but YINA's bio cellulose masks are $20. The good thing is, if you must have these masks and no other, YINA offers 5 mask and 20 mask bundles with built in savings.
But YINA masks are a magical experience that make it hard to go back to generic sheet masks. A facial treatment in and of itself, each sheet goes through 21-days of fermentation and is infused with Chinese medicinal herbs like Ginseng, Centella, Jujube Fruit, Mung Bean, Chuan Xiong, Hyacinth Orchid Root, Chinese Cucumber Root, and Job's Tears to stimulate your skin's natural process of rejuvenation.
My skin is intensely hydrated after using these masks.
Ingredients: Aqua, 1,3 Butylene Glycol, Glycerin, Acetyl Hexapeptide-8, Caprylyl Glycol, Pentapeptide-18, Xanthan Gum, Sodium Hyaluronate, Sodium Levulinate, Sodium Anisate, Allantoin, Panax ginseng (Ginseng Root) Extract, Dipotassium Glycyrrhizate, Centella asiatica (Gotu Kola) Extract, Hydrolyzed Rice Extract, Evening Primrose Oil, Zingiber officinale (Ginger Root) Extract, Zizyphus jujuba (Jujube Fruit) Extract, Glycyrrhiza glabra (Licorice Root) Extract, Eugenia caryophyllus (Clove Flower) Extract, Prunus mume (Plum Fruit) Extract, Ligusticum striatum (Chuan Xiong) Extract, Angelica acutiloba (Angelica Root) Extract, Phaseolus radiatus (Mung Bean) Extract, Coix lacryma-jobi (Job's Tears) Extract, Bletilla striata (Hyacinth Orchid Root) Extract, Trichosanthes kirilowii (Chinese Cucumber Root) Extract, Cimicifuga racemosa (Black Cohosh Root) Extract, Paeonia albiflora (White Peony Root) Extract, Rubus coreanus (Black Raspberry) Extract, Pogostemon cablin (Geranium Leaf) Extract, Ginkgo biloba (Ginkgo Leaf) Extract, Lycium barbarum (Goji Berry) Extract, Erythritol, Hibiscus sabdariffa (Roselle Fruit) Extract, Hydrolyzed Pearl, Whey Protein, Chenopodium quinoa (Quinoa Seed) Extract.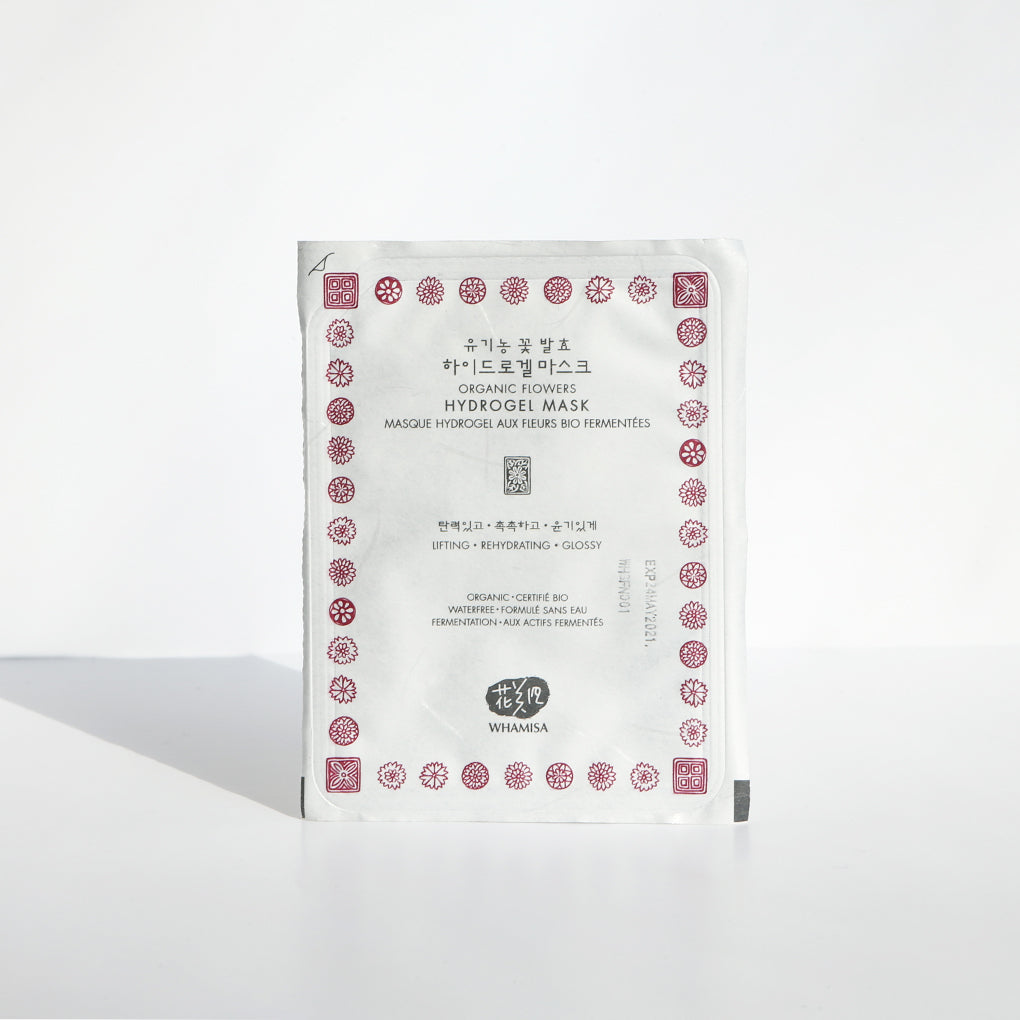 Made with organic ingredients and jelly-like hydrogel material, the Whamisa Organic Flowers Mask is my next top choice for an organic sheet mask – and it's only $6 ($4.80 with Whamisa discount code ORGANICBEAUTYLOVER).
What's special about the material used is it's invented by Whamisa's own labs. The jelly sheet mask was developed by Whamisa's patent technology using just gum, polysaccharides, and monosaccharides from organic fermented filtrates. The Whamisa mask material feels like a thin jelly layer that feels slippery and cooling on the skin.
The mask essence contains Whamisa's signature 'Natural Fermentation Technology' using fermentation filtrates of organic flowers, such as chrysanthemum, lotus, dandelion with Lacto-fermentation — something unique to Whamisa that can't be found on any other brand. What's special about this is that these flower fermentation filtrates provide an enhanced level of readily-available beta-carotene, vitamins, and minerals to nourish skin.
SAVE: 20% with code ORGANICBEAUTYLOVER at Whamisa
Black Friday: 30% off
Ingredients:
*Aloe Barbadensis Leaf Extract(35%), 
Ceratonia Siliqua (Carob) Gum, *Lactobacillus/Aloe Barbadensis Ferment Filtrate(0.1%), Xanthan Gum, ***Scutellaria Baicalensis Root Extract,
***Paeonia Suffruticosa Root Extract, 
***Glycyrrhiza Glabra (Licorice) Root Extract.
<Essence>
*Aloe Barbadensis Leaf Extract(92.06%), 
*Artemisia Annua Extract(2%),
*Olea Europaea (Olive) Fruit Oil(2%),
*Avena Sativa (Oat) Kernel Extract(1%), *Lactobacillus/Chrysanthemum Sinense Flower Ferment Filtrate(0.1%),
*Lactobacillus/Taraxacum Officinale (Dandelion) Rhizome/Root Ferment Filtrate(0.1%),
*Lactobacillus/Nelumbo Nucifera Flower Ferment Filtrate(0.1%), *Helichrysum Arenarium Extract(0.1%), *Rhodiola Rosea Root Extract(0.1%), Xanthan Gum,
Betaine, Gluconolactone, ***Scutellaria Baicalensis Root Extract, ***Paeonia Suffruticosa Root Extract, ***Glycyrrhiza Glabra (Licorice) Root Extract, 
Aniba Rosodora (Rosewood) Wood Oil, 
Citrus Aurantium, Bergamia (Bergamot) Fruit Oil, 
Cymbopogon Schoenanthus Oil, 
**Fragrance, Citral, Linalool
*Certified Organically Grown 

***Naturally derived extract in Preservative function

Bergamot Oil Bergaptene Free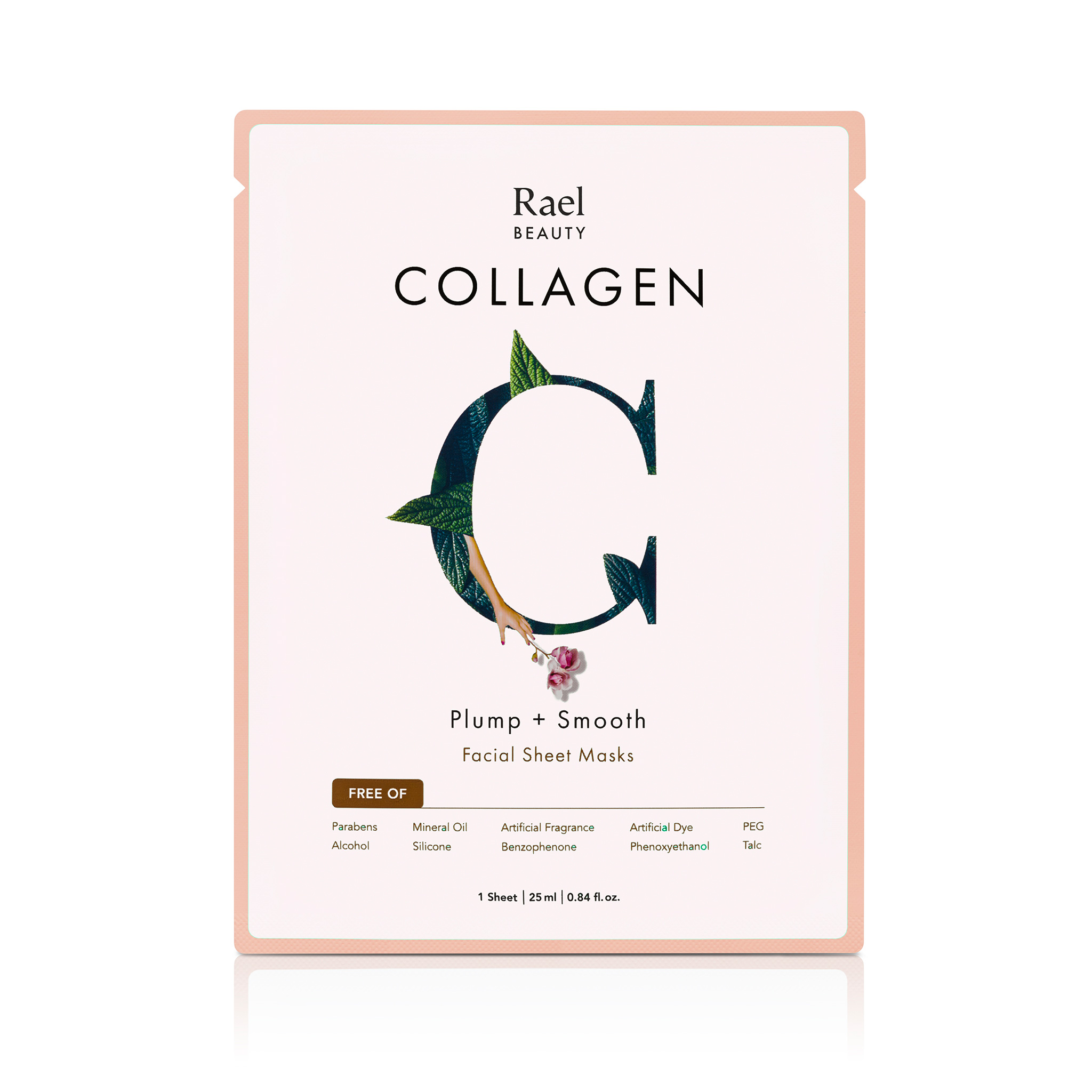 RAEL sheet masks are made with a bamboo yarn material and clean botanical ingredients. There are different masks formulated for each part of your menstruation cycle (RAEL makes great organic period care products too). The sheet masks are sold in a set of 5 masks for $15, making them $5 each. The RAEL masks feel soft as a pillow on your skin (I don't like sheet masks that just feel rough and uncomfortable!).
The RAEL Collagen Sheet masks are loaded with Botanicals and plumping Hydrolyzed Collagen, hydrating Wheat Amino Acids, and smoothing Licorice Root. Plus the three RAEL founders are all originally from South Korea, so I'm sure they know exactly what a good sheet mask is supposed to be. RAEL's products combine high quality organic materials in the US with South Korea's cutting-edge manufacturing technology.
Ingredients: ater, Glycerin, Butylene Glycol, Sodium Hyaluronate, 1,2-Hexanediol, Hydrolyzed Collagen, Carbomer, Arginine, Xanthan Gum, Betaine, Trehalose, Allantoin, Panthenol, Polysorbate 80, Caprylyl Glycol, Ethylhexylglycerin, Adenosine, Portulaca Oleracea Extract, Beta-Glucan, Wheat Amino Acid, Copper Tripeptide-1, Palmitoyl Pentapeptide-4, Acetyl Hexapeptide-8, Glycyrrhiza Glabra (Licorice) Root Extract, Cimicifuga Racemosa Root Extract Polygonum Multiflorum Root Extract, Sesamum Indicum (Sesame) Seed Extract, Phellinus Linteus Extract, Angelica Gigas Root Extract, Morus Alba Bark Extract, Paeonia Lactiflora Root Extract, Sophora Flavescens Root Extract, Scutellaria Baicalensis Root Extract, Citrus Aurantium Bergamia (Bergamot) Fruit Oil, Limonene, Linalool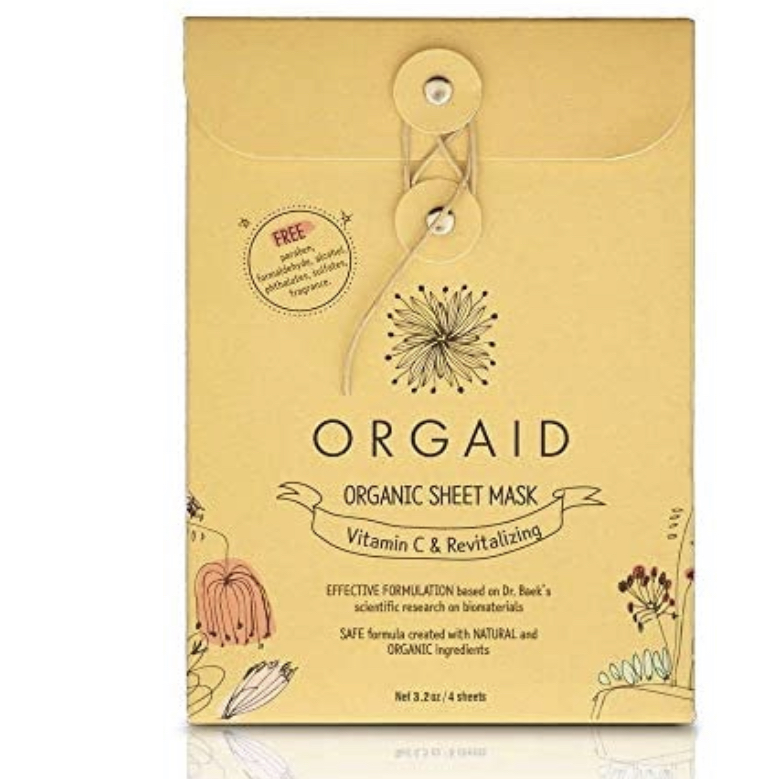 Over 70% organic, ORGAID's organic sheet masks are made with the newest generation of fabric technology called Ecoderma, a hybrid of fabric and hydrogel. ORGAID sheet masks come in a pack of 4 for $24, making each one $6. The mask comes loaded with essence including plenty of extra essence so you can get the most of your special ecoderma sheet mask. ORGAID offers a Greek yogurt, Vitamin C and Anti-aging mask.
Ingredients: Water, Organic Lemon Distillate, Kosher Vegetable Glycerin, Sodium Ascorbyl Phosphate (Vitamin C), Lactobacillus Ferment, Hyaluronic Acid, Maltodextrin, Xanthan Gum, Honeysuckle Flower Extract, Organic Orange Peel Extract, Organic Pomegranate Extract, Organic Rosehip Extract, Organic Lavender Extract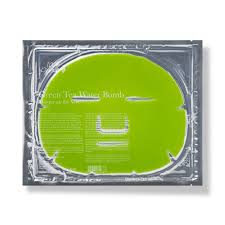 100% Pure Water Bomb masks are thick hydrogel masks that come in caffeine, green tea and turmeric. I'm often wearing the green tea one, but my favorite is the turmeric for its brightening effect. I love the way these hydrogel masks feel. The 100% Pure masks are made with 95% aloe hydrogel material and infused with mainly Organic Aloe Juice along with plenty of skin nourishing ingredients like Green Coffee Extract, Seaweed Collagen, Yerba Mate and Hyaluronic Acid.
Ingredients: Aloe Barbadensis (Organic Aloe Juice)*, Coffea Arabica (Green Coffee) Extract, Sodium Hyaluronate (Hyaluronic Acid), Arbutin Extract (from Bearberry), Camellia Sinensis (Organic Green Tea) Extract*, Fucus Vesiculosus (Seaweed) Collagen, Sodium Ascorbate (Vitamin C), Ilex Paraguariensis (Yerba Mate) Extract, Plant Cellulose, Vegetable Glycerin * Certified Organic
Pin if You Liked this!