Thanks to Bloomeffects, a clean skincare line that hails from Amsterdam, we can now experience the beautifying effects of The Netherland's famous tulips. Bloomeffects most popular product, the Royal Tulip Nectar, harnesses the collagen-boosting power of upcycled Dutch tulips, and it's the perfect "slugging" product to use as your final skincare step before bed. Bloomeffects also launched their new Black Tulip line featuring retinoid that I'm excited to review soon. Read on for my honest thoughts in this Bloomeffects review.
Save 30% sitewide until Nov 29, 2022.

The Bloomeffects Royal Tulip Nectar doesn't fit neatly into any particular skincare category. It's not a moisturizer or serum and might be a confusing product for skincare beginners. I'd call it a "jelly balm."
While the Royal Tulip Nectar looks like orange jam from the outside, there's a lot going on inside this beautiful blue glass bottle. The Bloomeffects starts with a moisturizing glycerin base and is infused with hyaluronic acid, vitamin C, and the brand's proprietary Dutch Tulip Complex, which is made by extracting antioxidant-rich, collagen-building amino acids from upcycled tulip bulbs.
Bloomeffects works with Dutch farmers who grow their tulips with organic pesticides. While the brand is not organic, they carefully formulate clean products without harmful ingredients.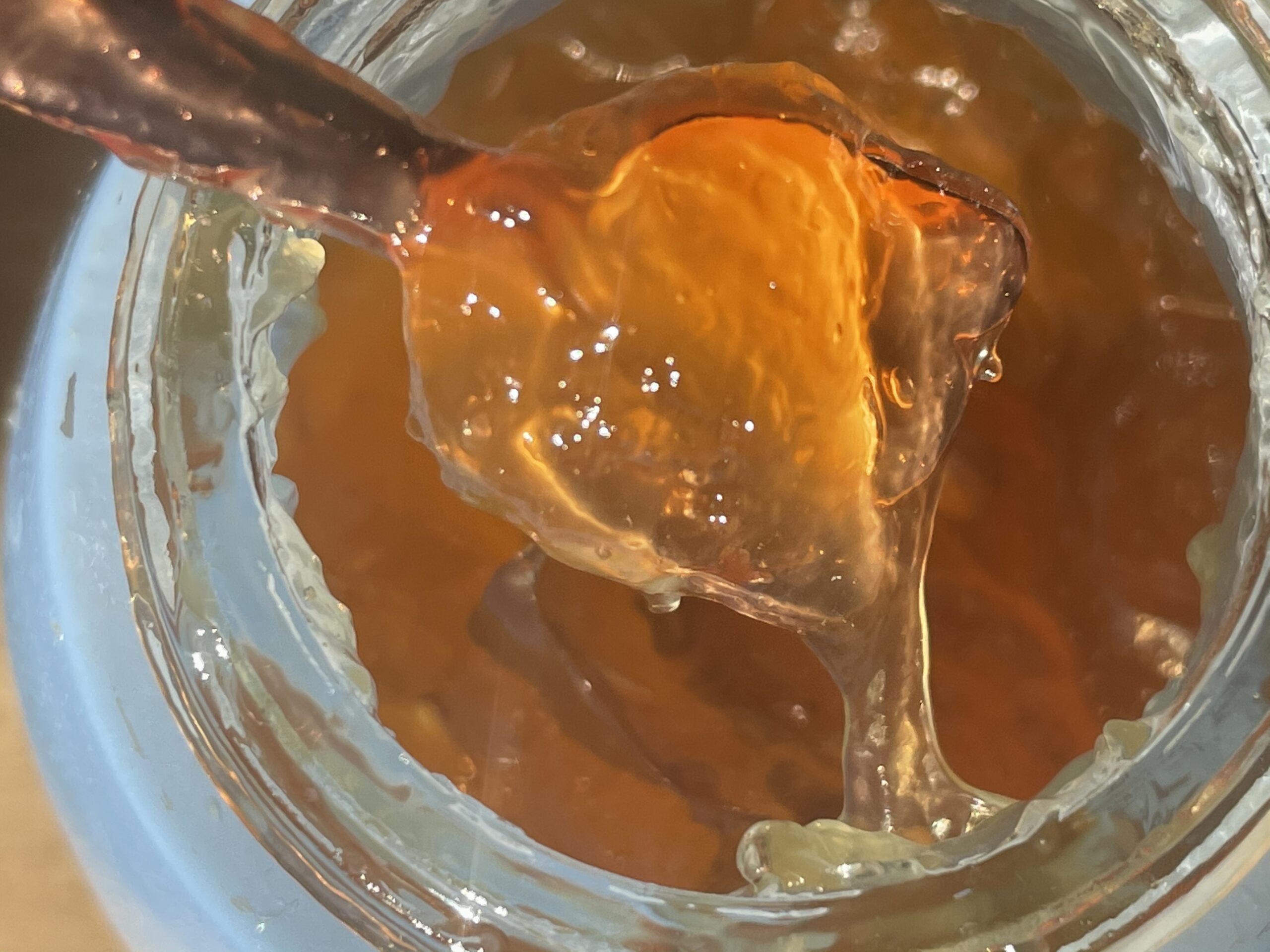 Bloomeffects calls the Royal Tulip Nectar an "ointment to serum" that can be used as a serum or overnight mask. This is actually misleading, because the product is far too thick to be considered a serum. A more accurate term to describe it would be "ointment balm" that can be used as final step after your moisturizer and face oils. Using it as an overnight mask would imply that you would use the Royal Tulip Nectar as a standalone product, when it really works best as a "slugging" product (or in the green beauty world, a balm) to create a thick, occlusive barrier that prevents moisture from escaping.
Bloomeffects Royal Tulip Nectar is the perfect alternative to petroleum jelly for "slugging." But because this is such an out-of-the-box skincare product, I know it may not be everyone's cup of tea, might take some getting used to, or may just not agree with your skin because of how thick it is.

Scent
Fragrance free, though there is a slight scent from its natural ingredients.
Consistency
A combination of thick, gooey, greasy, bouncy, and sticky
A little goes a long way. If you use too much, the Bloomeffects Royal Tulip Nectar will feel much too heavy and greasy, even for dry skin like mine.
Use just a pea sized amount as your final skincare step.
There is a warming sensation after applying.
My Personal Experience
The Bloomeffects Royal Tulip Nectar has been an amazing product during the winter when the indoor heating in my building is on blast. I do need to be careful to not bury my head in the pillow at night, as is always the case when using face balms. When I wake up, my skin feels softer and more supple and velvety.
On occasion I've applied too much and this actually made it uncomfortable and difficult to sleep at night because of how heavy it felt. With trial and error you'll find what works best for you.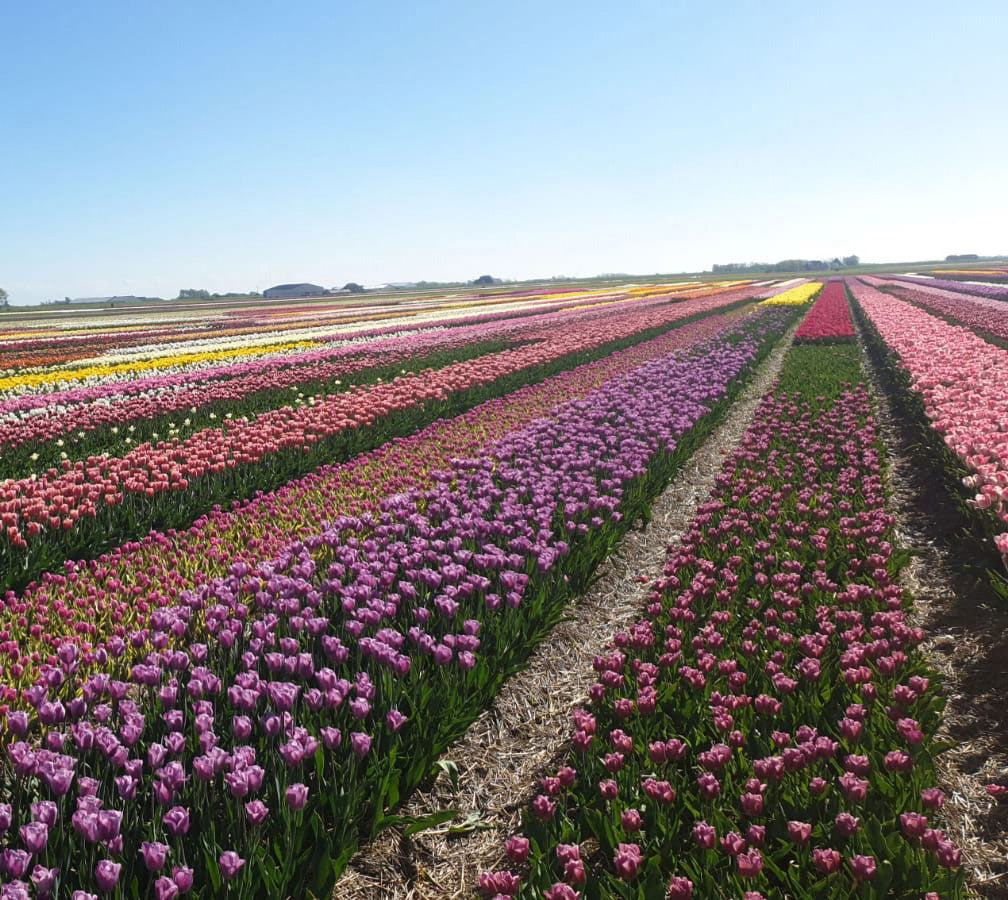 Benefits of Tulip Skincare
What's so special about using tulips in skincare anyways? The reason Bloomeffects founder Kim Jensen chose tulips is because they promote cellular growth, collagen and water retention.
Tulips are the only flowers that continue to grow after being cut, up to an inch or more. The cells in their stems are particularly responsive to the plant hormone auxin, which causes them to elongate.
This auxin are important in cellular growth and development of plant tissues. For skin, they promote regeneration and can be used for the repair and growth of tissues throughout the body and are required for the production of collagen.
A tulip can hold up to its entire body weight in water
Bloomeffects combines tulips with other innovative ingredients which they call their proprietary Dutch Tulip complex. You'll also find Matrixyl MS6 peptides, Matrixyl MM peptides Prickly Pear Enzyme, Neodermyl and TYROSTAT Rumex Plant Extract in their products.
Bloomeffects Royal Tulip Nectar Ingredients
glycerin, propanediol, caprylic/capric triglyceride, sodium acrylates copolymer, hydrogenated polyisobutene, aqua (water), panthenol (d), phospholipids, leuconostoc/radish root ferment filtrate, helianthus annuus (sunflower) seed oil, polyglyceryl-10 stearate, 3-o-ethyl ascorbic acid, isosorbide dicaprylate, benzyl alcohol, cocodimonium hydroxypropyl silk amino acids, marrubium vulgare meristem cell culture, butylene glycol, caprylhydroxamic acid, hydrolyzed verbascum thapsus flower, tulipa hybrid meristem cell extract, sodium gluconate, sodium lactate, rumex occidentalis extract, nonapeptide-1, dextran, xanthan gum, sodium hyaluronate (l), phenethyl alcohol, potassium sorbate, caprylyl glycol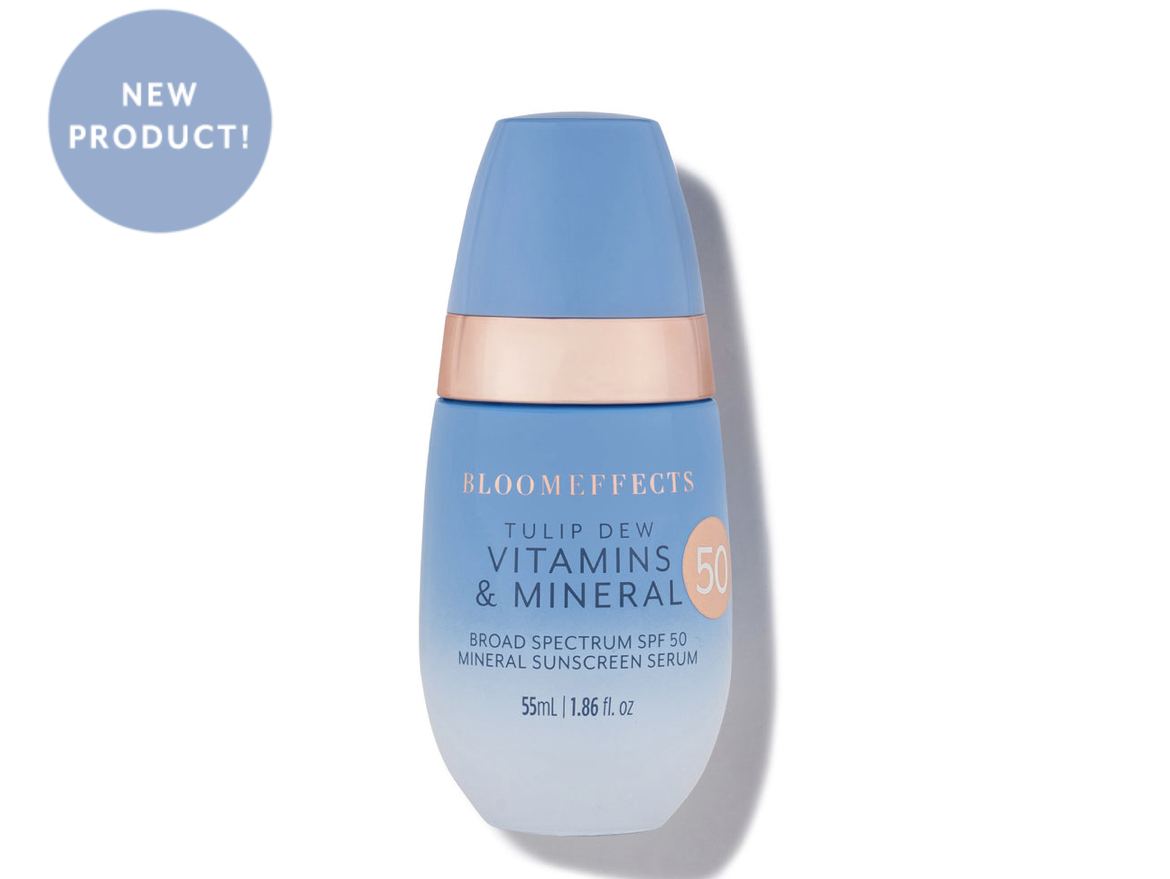 The gorgeous new Bloomeffects Tulip Dew Sunscreen Serum is a liquid serum that 100% mineral sunscreen that uses zinc oxide, but doesn't have any white cast due to a slight tint. The light beige tint is not designed to provide any sort of coverage and helps eliminate the white cast issue of zinc oxide sunscreens.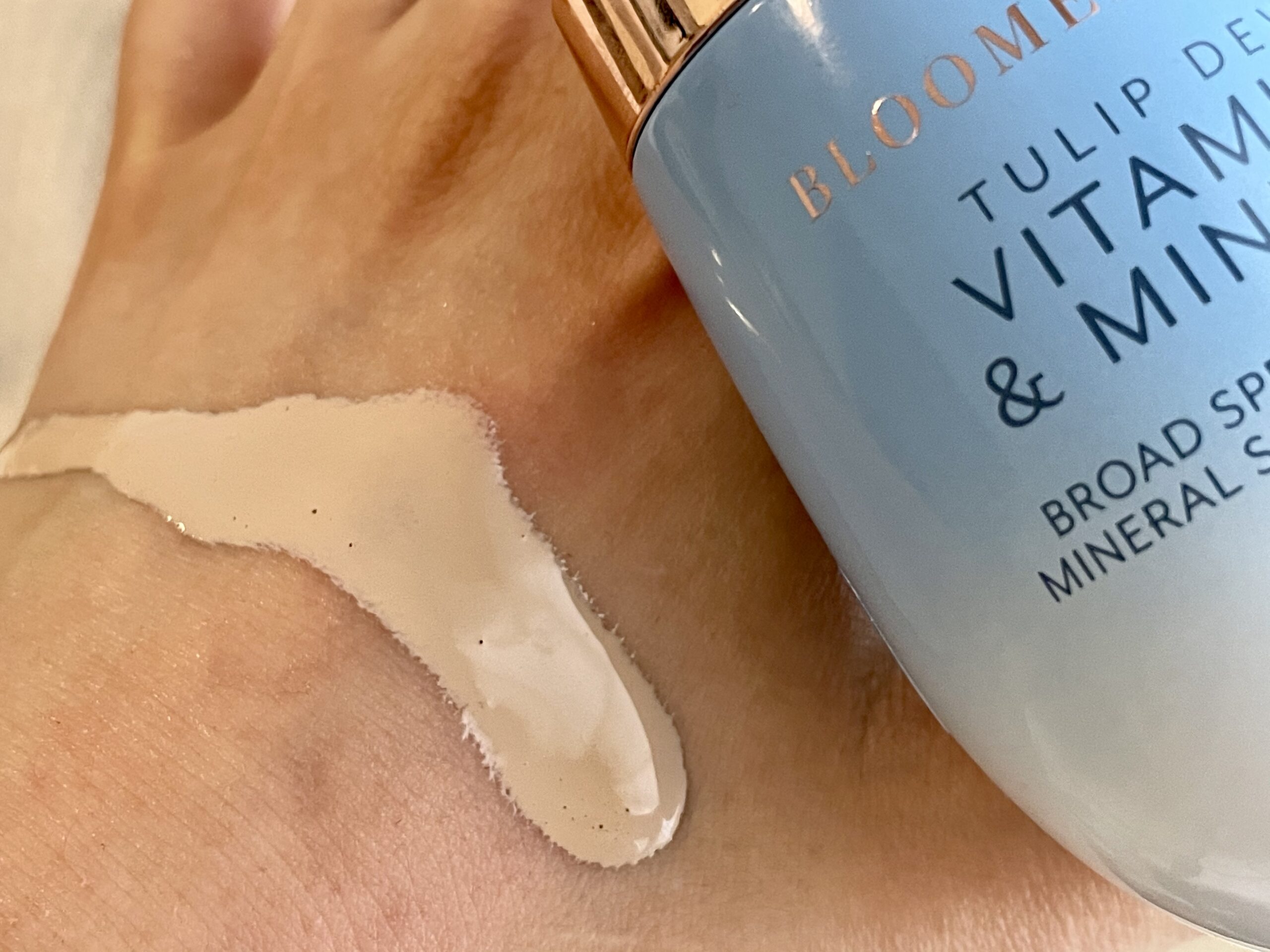 The Tulip Dew Sunscreen provides protection against UVA & UVB rays, pollution, blue light and free radicals. It has a subtle floral oat scent from the natural ingredients.
This serum sunscreen is on the viscous side and has a lot of grip. It's very similar in consistency to Solara Suncare and Odacite's sunscreen serums. If you don't like a dewy finish I recommend skipping the Bloomeffects sunscreen.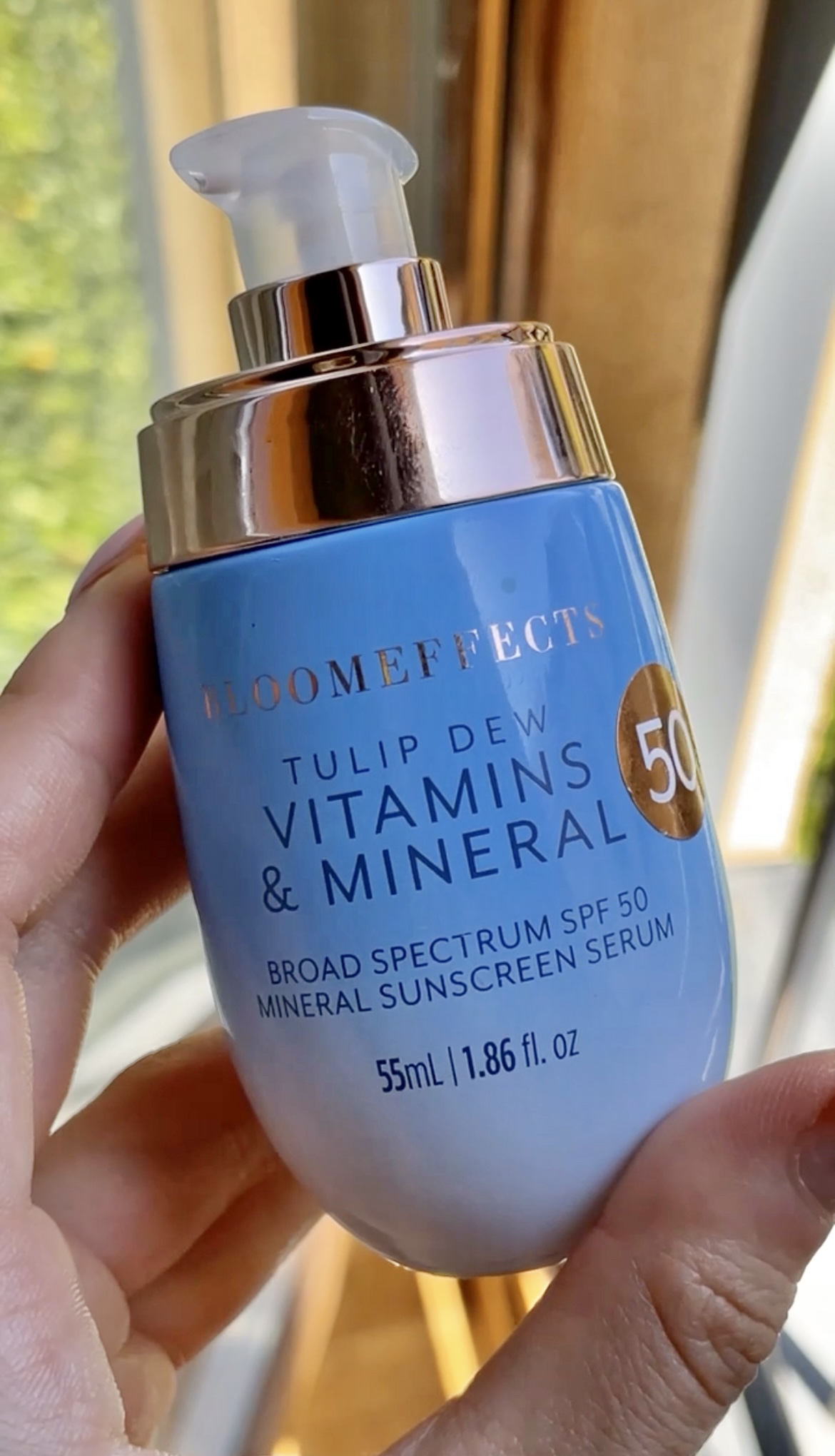 Bloomeffects Tulip Dew contains 12% zinc oxide and plenty of skin nourishing ingredients like niacinamide, Kakadu plum (vitamin C), shitake mushroom (vitamin D), vitamin E & sodium hyaluronate.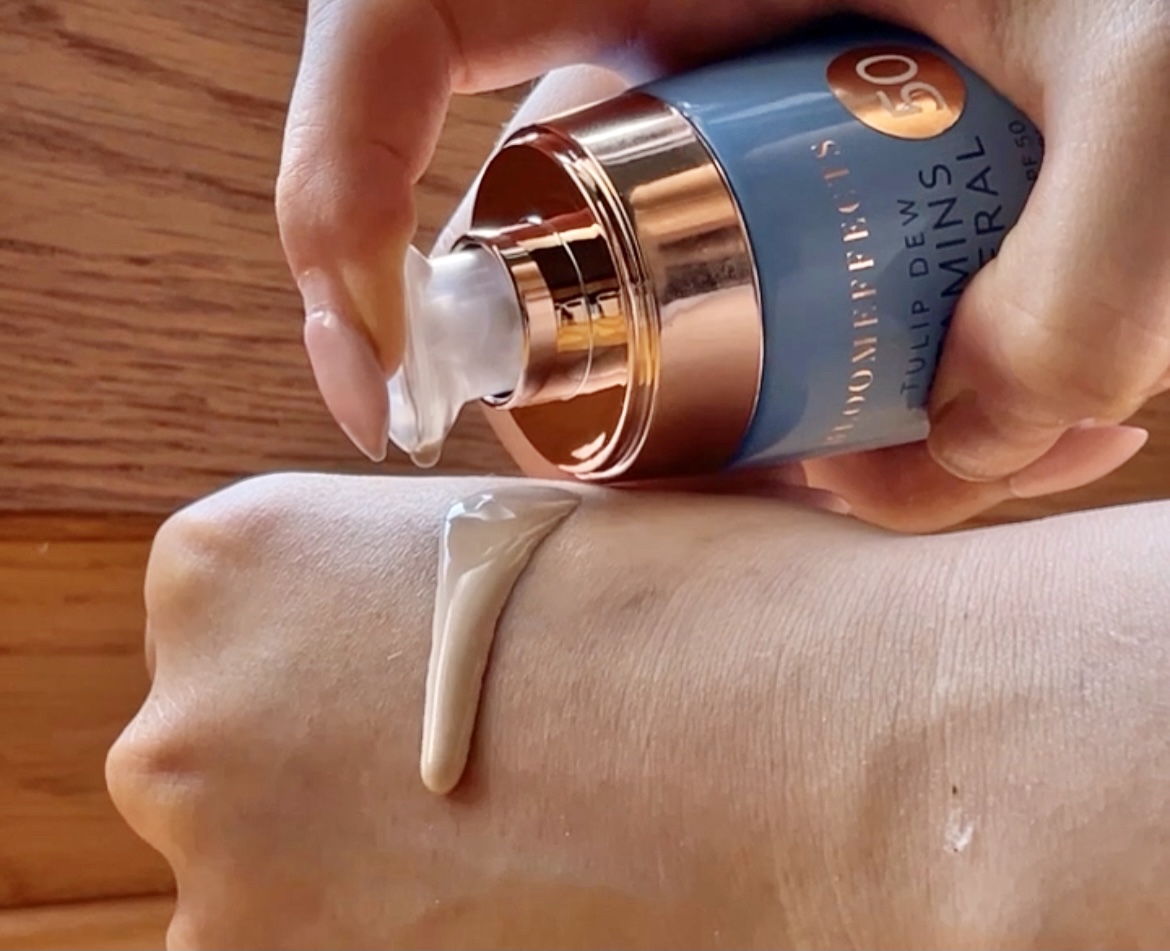 I'm a tad skeptical as per usual that the sun protection factor is accurate since there's only 12% zinc oxide and no added titanium dioxide or other UV filters.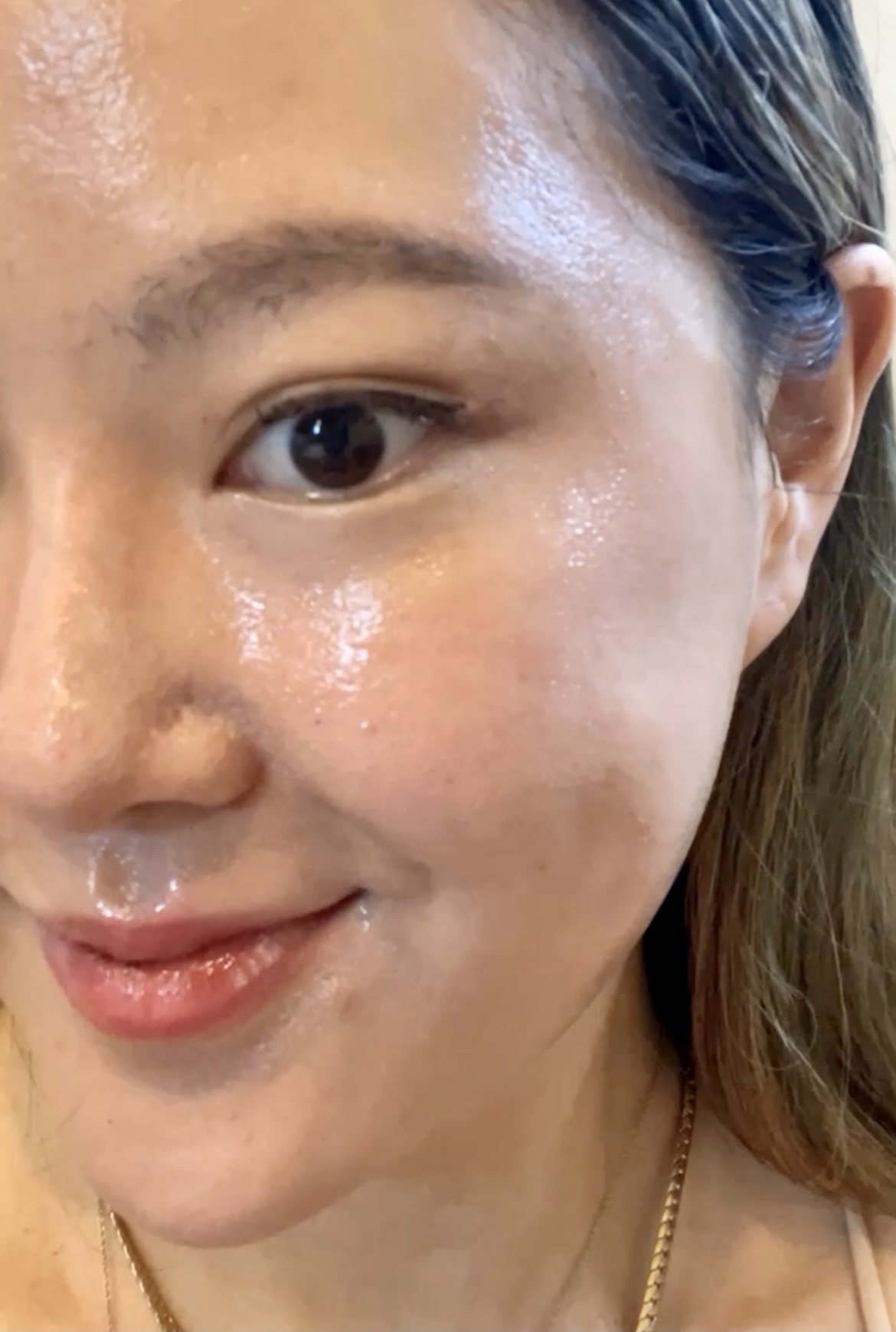 Upon application the look is quite dewy but it dries into more of a satin finish. There is zero white cast and a slight hint of a blurring effect from the tint, which is very sheer.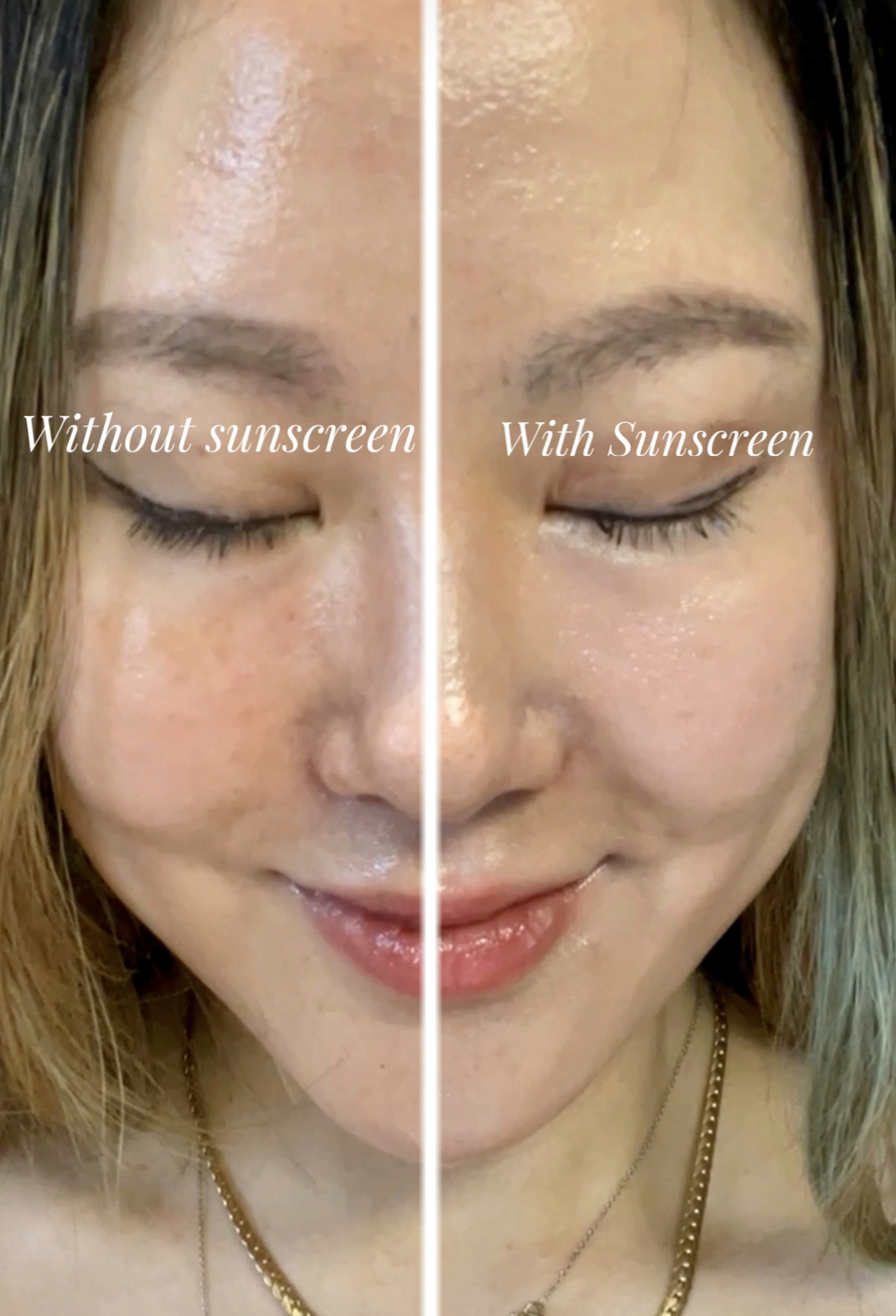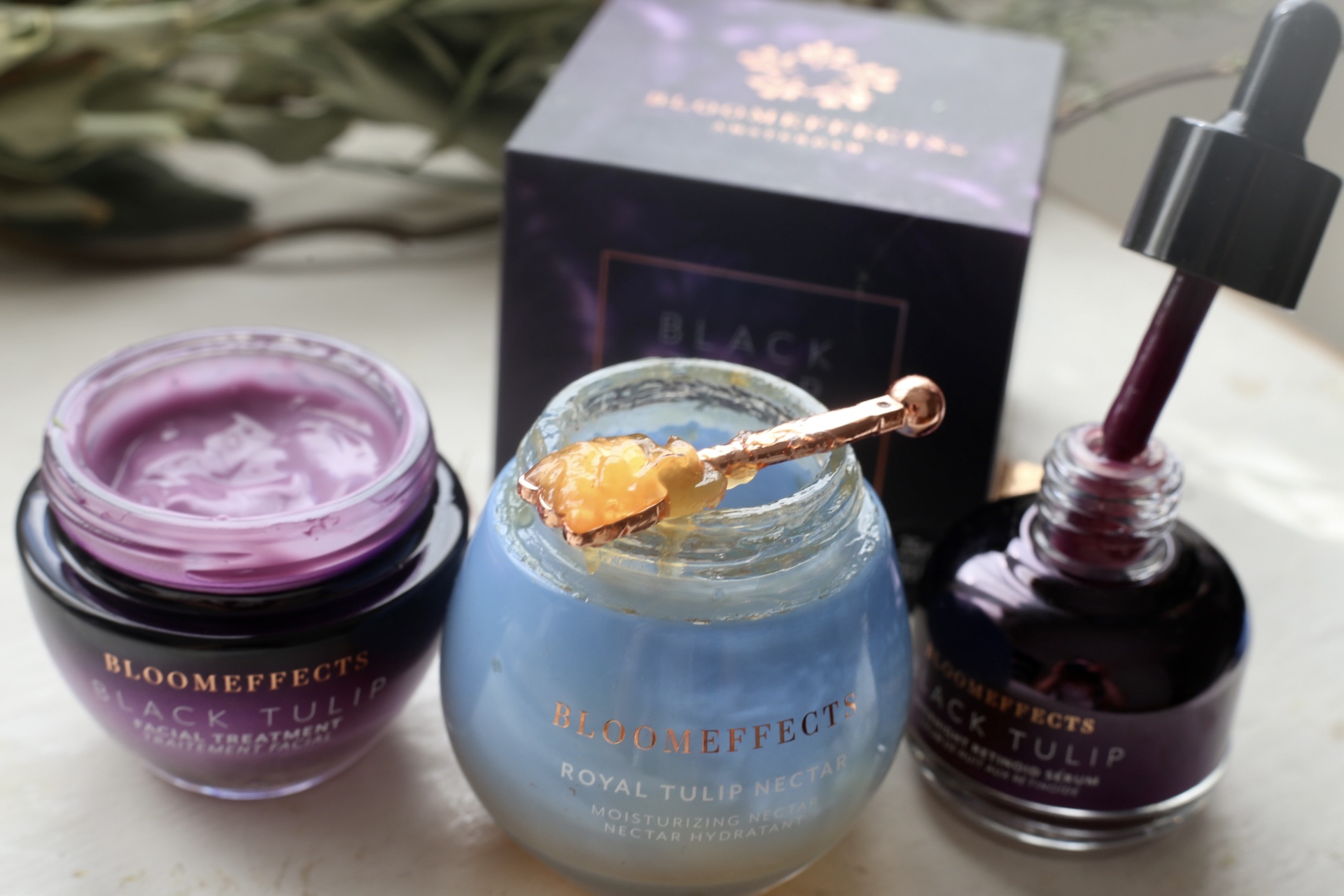 The new Bloomeffects Black Tulip line features up cycled black tulips from their 115 year old Dutch farm. These deep dark tulip contains the highest flavonoid count, which features high antioxidant properties that protect against free radical damage. Bloomeffects is the first brand to feature black tulips in a skincare product ever.
The Bloomeffects Black Tulip collection is meant for nighttime use, with an eye treatment, retinol serum and facial treatment that doubles as an overnight mask. I tried the Bloomeffects Overnight Retinoid Serum and Facial Treatment and am excited to share my Black Tulip review.
As you can see above, the Bloomeffects Black Tulip collection comes in the most luxe packaging ever with a black silk interior and beautiful tulip designed box with metallic accents. I don't know what to do with the box because it's too beautiful to throw out! I wish there was a way to take off the branded text so I could repurpose this as a gift box. I also love that the packaging is made of recycled materials.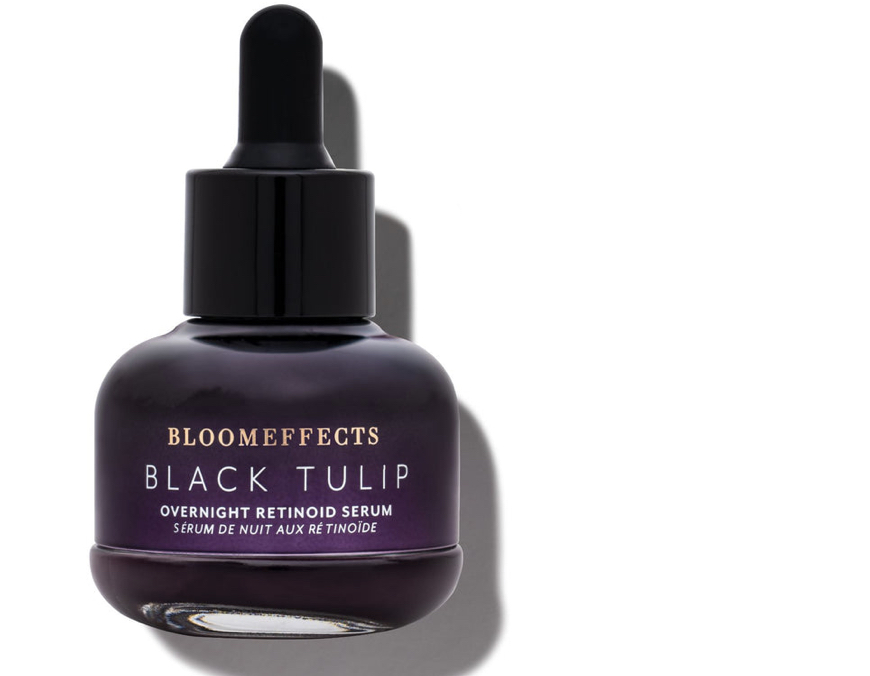 The Bloomeffects Black Tulip Retinoid Serum is a vibrant deep purple-hued serum and formulated to target fine lines & wrinkles dryness, dullness, uneven texture, and uneven skin tone.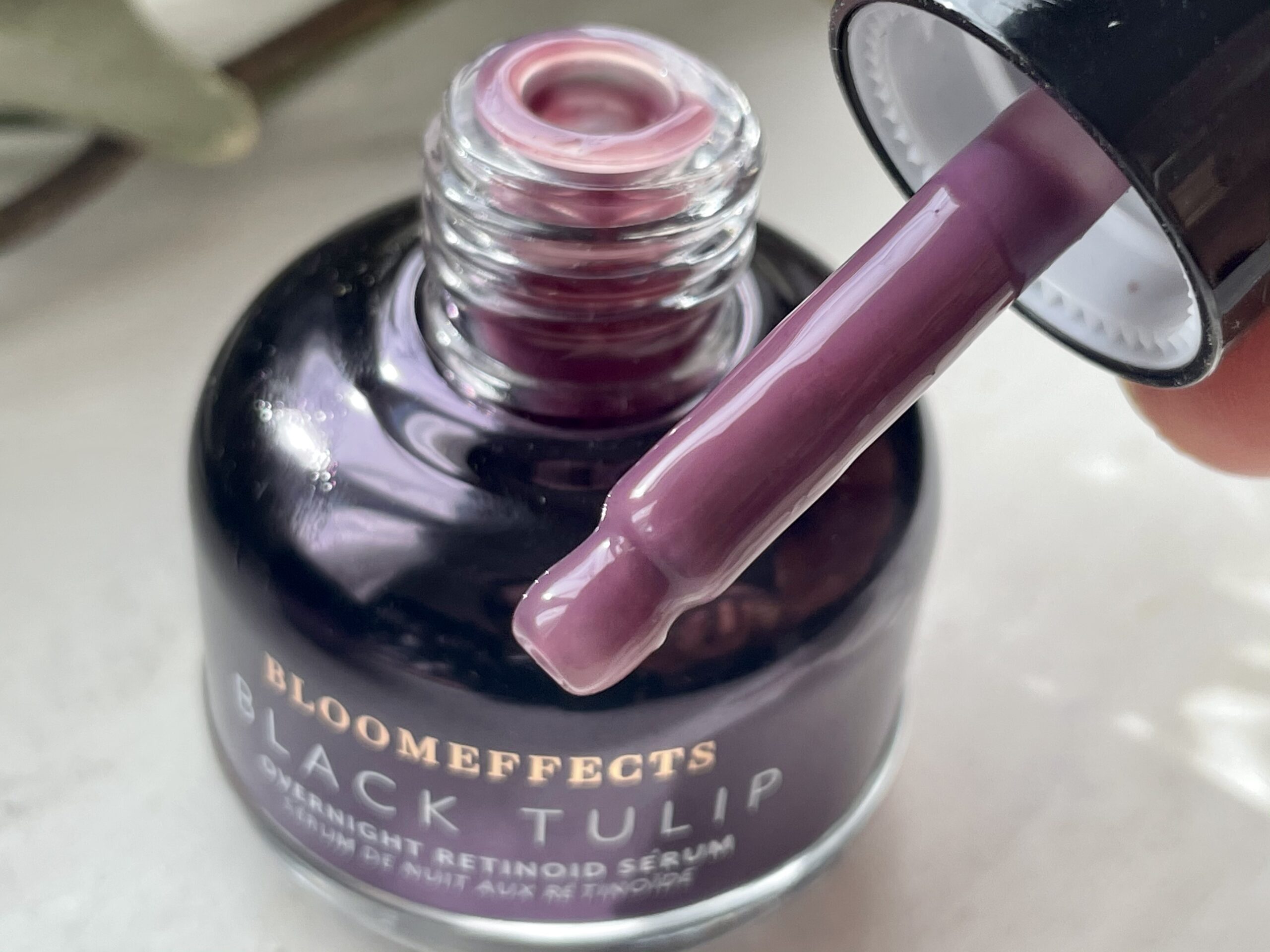 For those who want a clean beauty retinol serum but need something stronger than just natural retinol alternatives, the Bloomeffects Retinoid Serum contains actual Retinoid. So far I'm impressed by the ingredients, which features a next-generation retinoid active called Granactive Retinoid along with the popular natural retinol alternative Bakuchiol. The Granactive Retinoid helps to promote skin turnover and reduce fine lines and wrinkles, without redness or irritation. The Bloomeffects Serum is jam packed with 37 botantical extracts including Centella Asiatica Extract, Bisabolol, Niacinamide, Hemp Seed Oil Complex, Lingonberry and Saponaria Pumila Stem Cells.
The Bloomeffects Black Tulip Retinoid Serum has no added fragrance and a barely detectable scent from its natural ingredients. Because of its deep purple shade, it does add hints of purple streaks to skin. Not a concern since this retinoid Serum is meant for night use only. It feels hydrating and I can almost feel it getting to work immediately. It's hard to explain the sensation as it's subtle, but it almost feels like a tightening sensation. Even though the Bloomeffects Overnight Serum's hero ingredient is retinoid, niacinamide is even higher up on the ingredients list and further down you'll even find hyaluronic acid. I love that this Serum is so well-rounded and tackles many skin issues at once.
I would be careful in not using too much of the Bloomeffects serum at a time because it will start pilling.
Bloomeffects Black Tulip Facial Treatment
The Bloomeffects Black Tulip is a versatile product that was designed to work with the Retinoid serum. It can be used as a:
Face mask
Day cream
Night cream

The Bloomeffects Facial Treatment feels like a light pudding and immediately hydrates my skin.  It contains an impressive 31 extracts, Malic and Lactic Acids, Pomegranate Enzymes to help brighten and even skin tone along with Squalane, Niacinamide, Peptides and Saponaria Pumila and Orchid Stem Cells to seal in moisture, plump skin and smooth fine lines.
I like to use the Booomeffects Facial Treatment as an overnight mask but this eventually dries in the middle of the night and dried pieces transfer onto my pillowcase, so that's something to be aware of. Both the Bloomeffects Black Tulip products are a deep purple sheet so you will have some dark residue left over on your skin in the morning.
Save 30% until Nov 29, 2022 sitewide.
International customers: Shop Bloomeffects directly via their website for international shipping options. Bloomeffects ships with FEDEX to Canada, United Kingdom, The Netherlands, France, and Australia (free standard shipping to CA & AUS on international $100+ orders and free standard shipping to the UK, The Netherlands and France on $150 orders.)