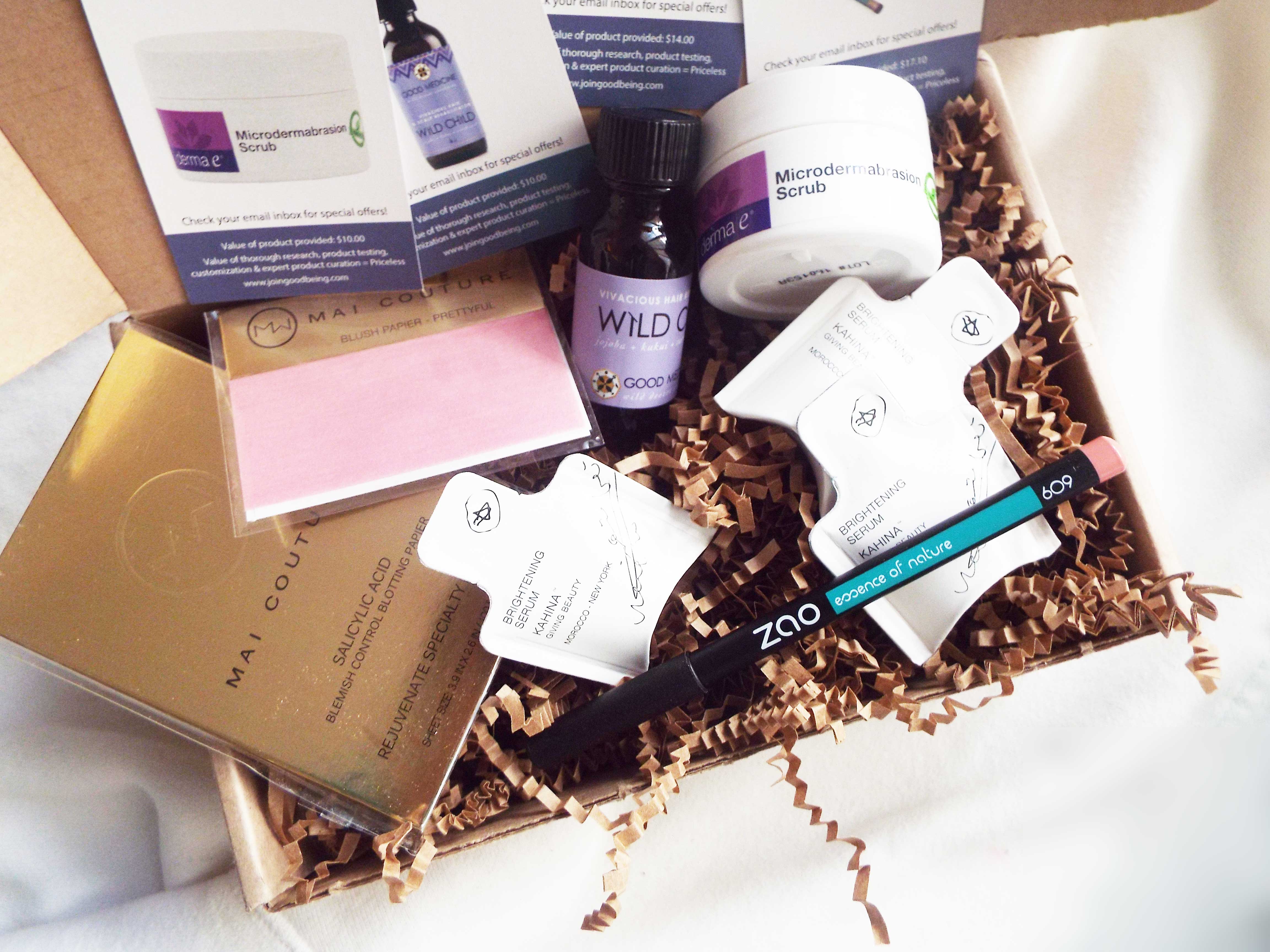 Very late but here goes – July's Goodbeing box is full of well-known brands in the green beauty world & is a $75 value for $21. Here's what I received:
derma e Microdermabrasian Scrub ($10 value)
The derma e Microdermabrasian Scrub definitely reminds me of traditional microdermabrasian scrubs. It's got Dead Sea Salt & Volcanic Sand to buff away dead skin cells and help to retexturize dull skin. I'm an advocate of frequent exfoliation so that your skincare products can get to work rather than sit outside on a layer of dead skin cells. The creaminess of this scrub also makes it a pleasant scrubbing experience that also nourishes skin.
Good Medicine Beauty Lab Wild Child Vivacious Hair & Scalp Rehabilitator ($10 value)
This hair oil detoxifieshair, stimulates the scalp, and hydrates hair with a blend of Organic olive oil, avocado oil, sweet almond oil, kukui nut oil, jojoba oil, macadamia nut oil, walnut oil, hazelnut oil, wheat germ oil, sesame oil, castor oil, neem oil, argon oil, carrot seed oil and vitamin E & pure essential oils of juniper berry and rosemary.I love using all kinds of hair oils and this one has got a results-driven blend of them.
ZAO Lip Pencil ($17.10 value)
My favorite item out of all these is the ZAO Lip Pencil. It's in light pink which is the kind of shade I adore and I've always been wanting to try a 100% natural lip pencil. This pencil is creamy, gives beautiful coverage and the shade is natural looking.
Kahina Giving Beauty Brightening Facial Serum ($24 value)
I was also excited to try out Kahina Giving Beauty which is a luxurious oganic beauty brand. The brightening facial serum has rare white lily, Japanese wakame seaweed, maritime pine, and green tea to reduce hyperpigmentation & dark marks which I have a lot of around my chin area and brighten skin tone. I like the light texture of this serum, but of course can't say what the results are after using just a few samples.
Mai Couture Salicylic Acid Blotting Papers ($14 value)
(Additional Mai Couture Blush Papier Sample)
If you have oily skin these Mai Couture Blotting Papers are a great natural alternative. Their Talc and Paraben free and work to remove oil & dirt. These are handy to carry in your bag and touch up your skin on-the-go.
If you're interested in trying out this box, this is my affiliate referral link here.

You also receive 1 free BONUS ITEM with your 1st box.
Goodbeing also ships internationally to Canada, the UK, Ireland, Australia and New Zealand. (additional $9.00/EUR 7.90/ 6.22 GBP/ 11.50 CAD / 12.20 AUD / 13 NZD)
Goodbeing is a discovery box with 4-5 trial size products delivered monthly to your door featuring
Healthy beauty products
Non-toxic cosmetics
Natural wellness
Sustainable, toxin-free living goods.