One of the OG green beauty brands, MUN is a minimalist luxury skincare line that has built a cult following over the years. MUN Skincare was founded by Munemi Imai, a celebrity makeup artist with decades of working with women around the globe. While most brands launch multiple new products a year, MUN has remained the same line for many years with the addition of just a couple new products in the last decade. MUN focuses on botanicals grown under pristine conditions that protect the soil's complex ecosystem to retain the highest concentration of rich nutrients and potent bioactives. They're also partnered with women's co-operatives in Morocco, made up of primarily Berber women, who produce the Argan, Prickly Pear Seed and Olive oils used in MUN products. Read on for my MUN skincare review and use discount code OBL to save 15% at MUN. (Until June 21, 2022 all orders of 1 full sized product will automatically receive a free full size ANAROSE Toner ($70 value).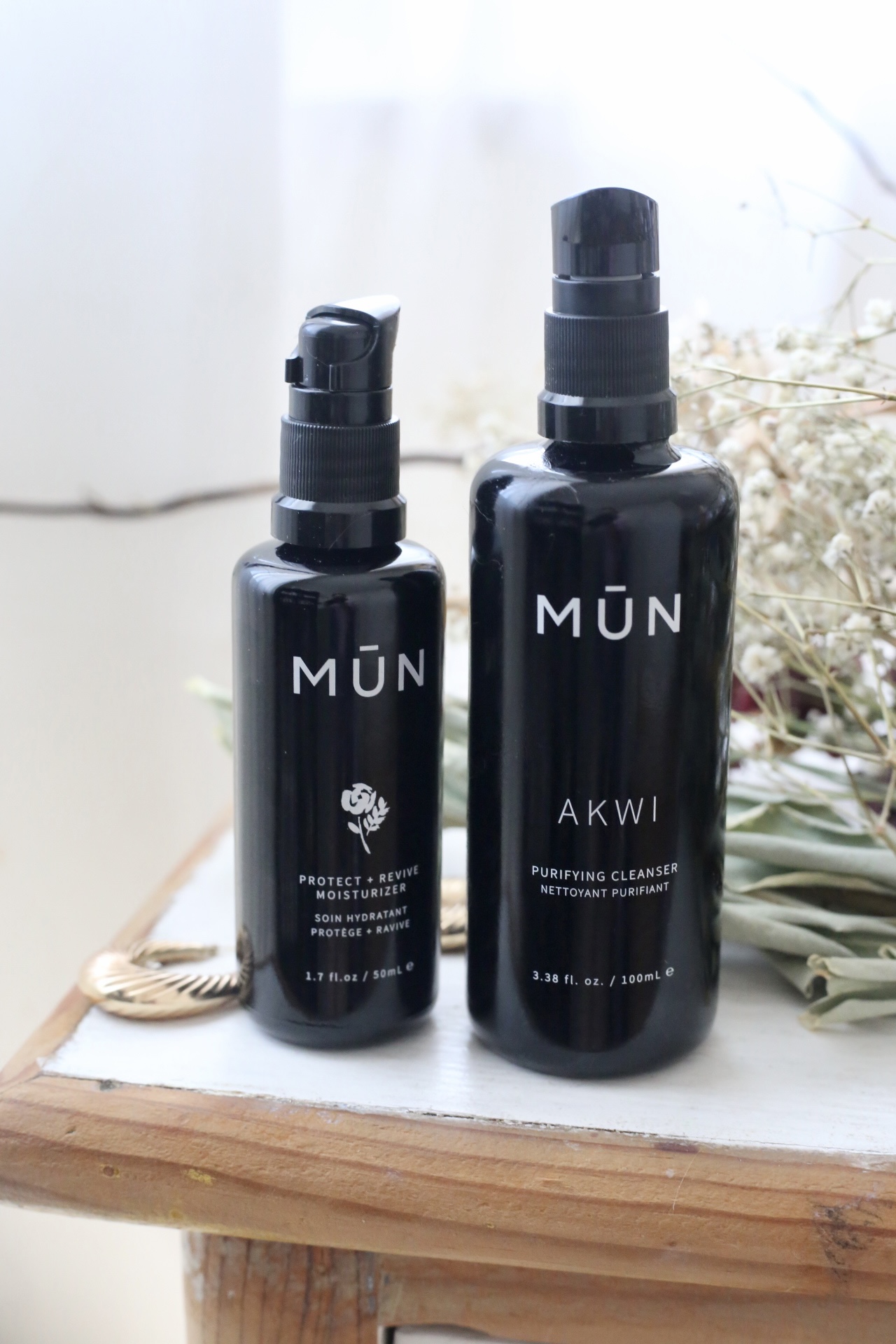 MUN Skincare Review
The MUN Skincare line is made of AKNARI Brightening Youth Serum, ANAROSE Hydrating Toner, AKWI Purifying Cleanser, and Protect + Revive Moisturizer.
To honor their partnership with Berber women's co-ops, each MUN skincare product is named after a Berber word:
AKNARI = Prickly pear
ANAROSE = Hope
AYOUR = Moon
AKWI = Awakening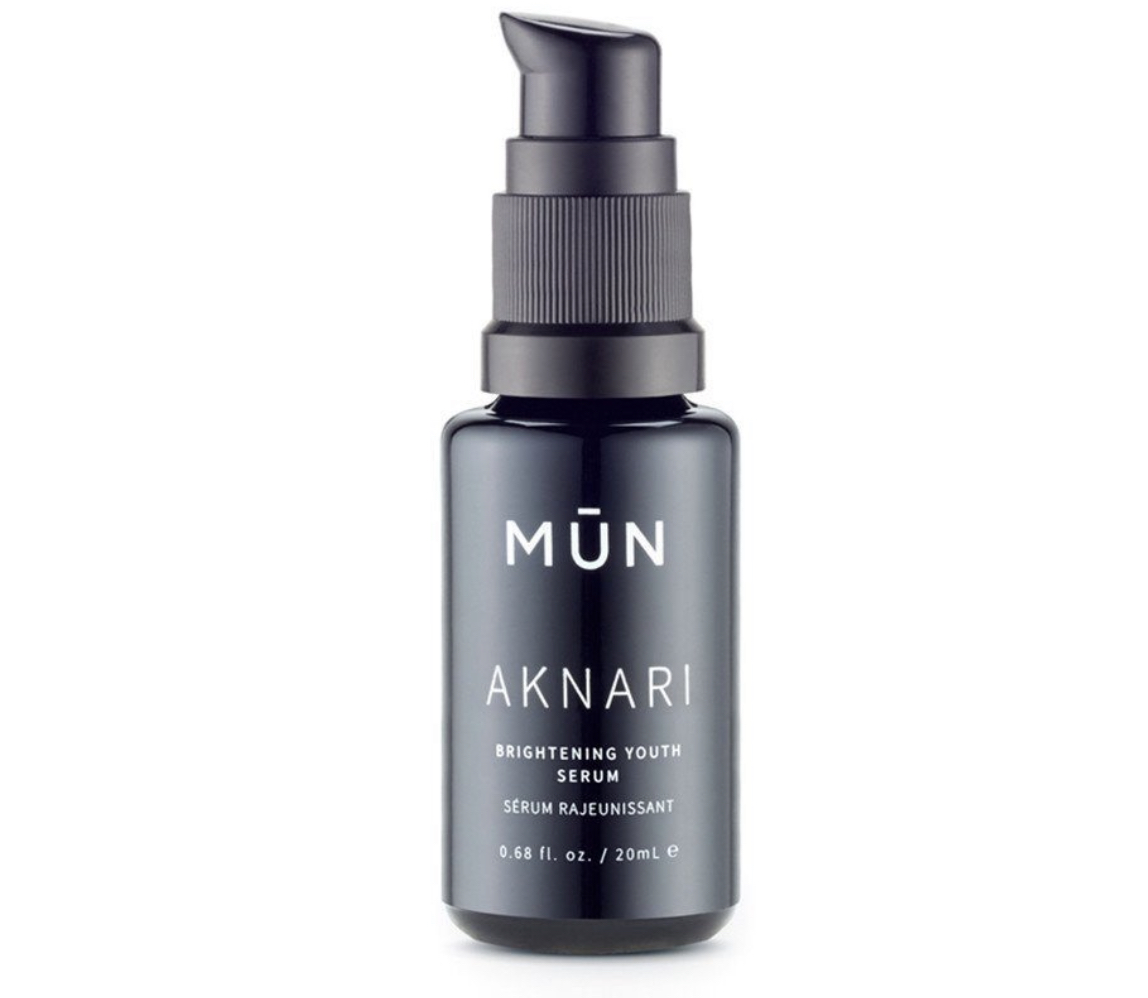 The MUN AKNARI Brightening Youth Serum is actually a face oil made of Prickly Pear Seed Oil, also known as Barbary Fig Oil. Prickly Pear Seed Oil is one of my favorite face oils, because it's one of the stronger anti-aging oils that helps smooth wrinkles, repair sun damage, boost collagen production and lighten dark spots. Prickly Pear Seed oil is extremely rich in Linoleic Acid and super antioxidant Vitamin E. MUN AKNARI also contains Rose Essential Oil refines skin texture and lend the product its gorgeous rose scent. This is a lightweight oil that the skin loves to drink up and my skin looks healthy and brighter in the morning.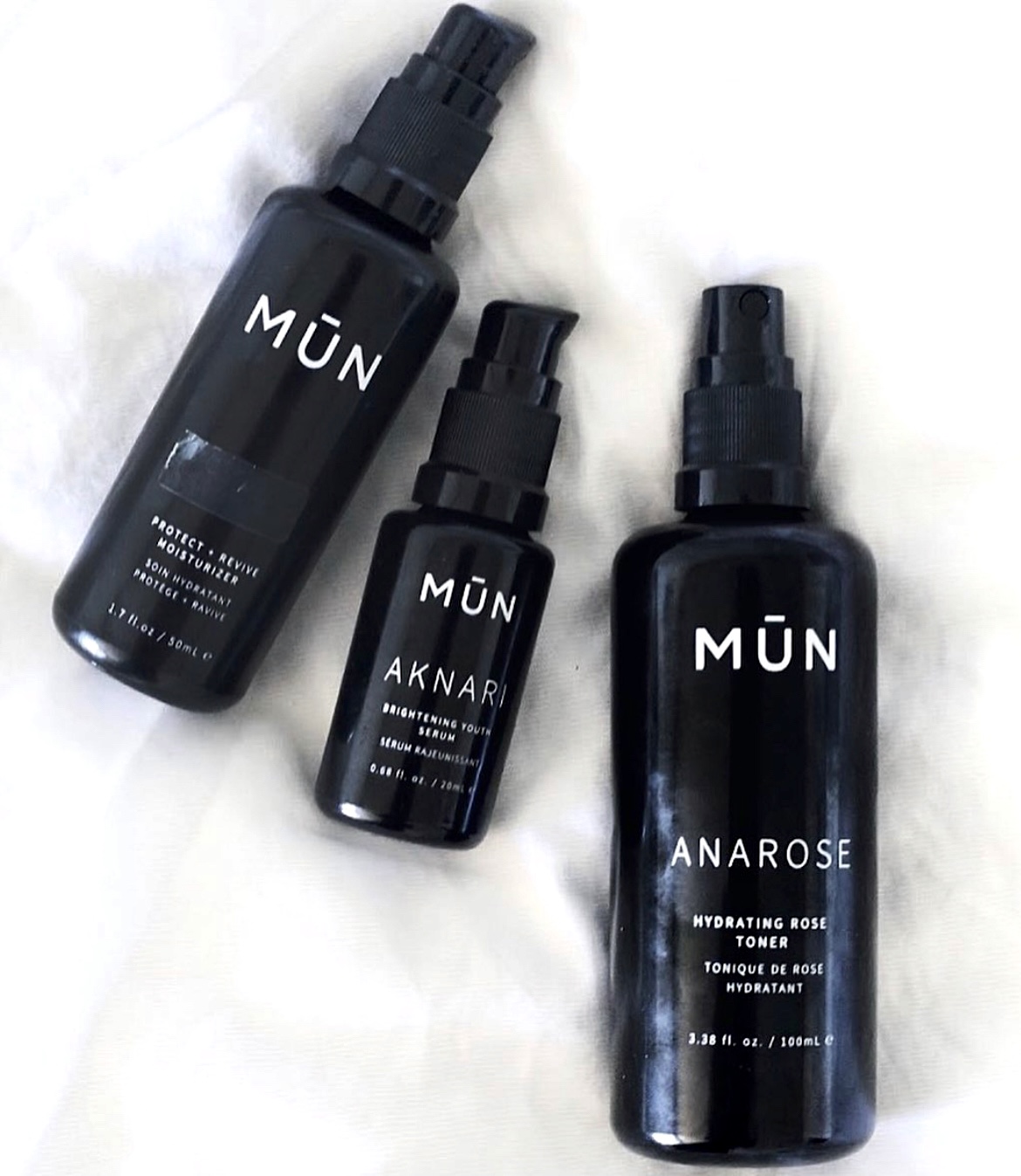 Note from the founder June 2022
Aknari is now back in stock with a new supplier's rose oil! I wanted to tell you a little background story on this new batch, as I am especially excited to share it with you because it is made with a new source of pure rose essential oil from Turkey.

This new source was introduced to me by our trusted essential oils supplier who travels and hand pick his offerings, and he had this to say about them: "I like the company's small footprint and commitment to sustainability and ecology in tending the land, and that all the oils they distill are wild-crafted and handcrafted." My love for this new rose grew even stronger upon learning about this producer's business ethics.

The scent note of this new rose is deeply rich and grounding, yet uplifting, and even feels a bit sexy compared to the previous source we have used for the past few years (also from Turkey), which leaned more flowery and sweet. Essential oils are truly a storyteller of the soils and climates they grow in, and even if it's the same species, depending on the location, soil condition, weather, and producer, it comes out differently.

We continue to look for the best source of essential oils at any given time based on the availability of the sources and their quality. And we make sure that our rose is always being sent upon our order, straight from the producer, and never from a middle man's stock.
This new Aknari blend with the new rose has exceeded my expectations – it's so beautiful and transports the mind, while transforming your skin from lifeless to luminous.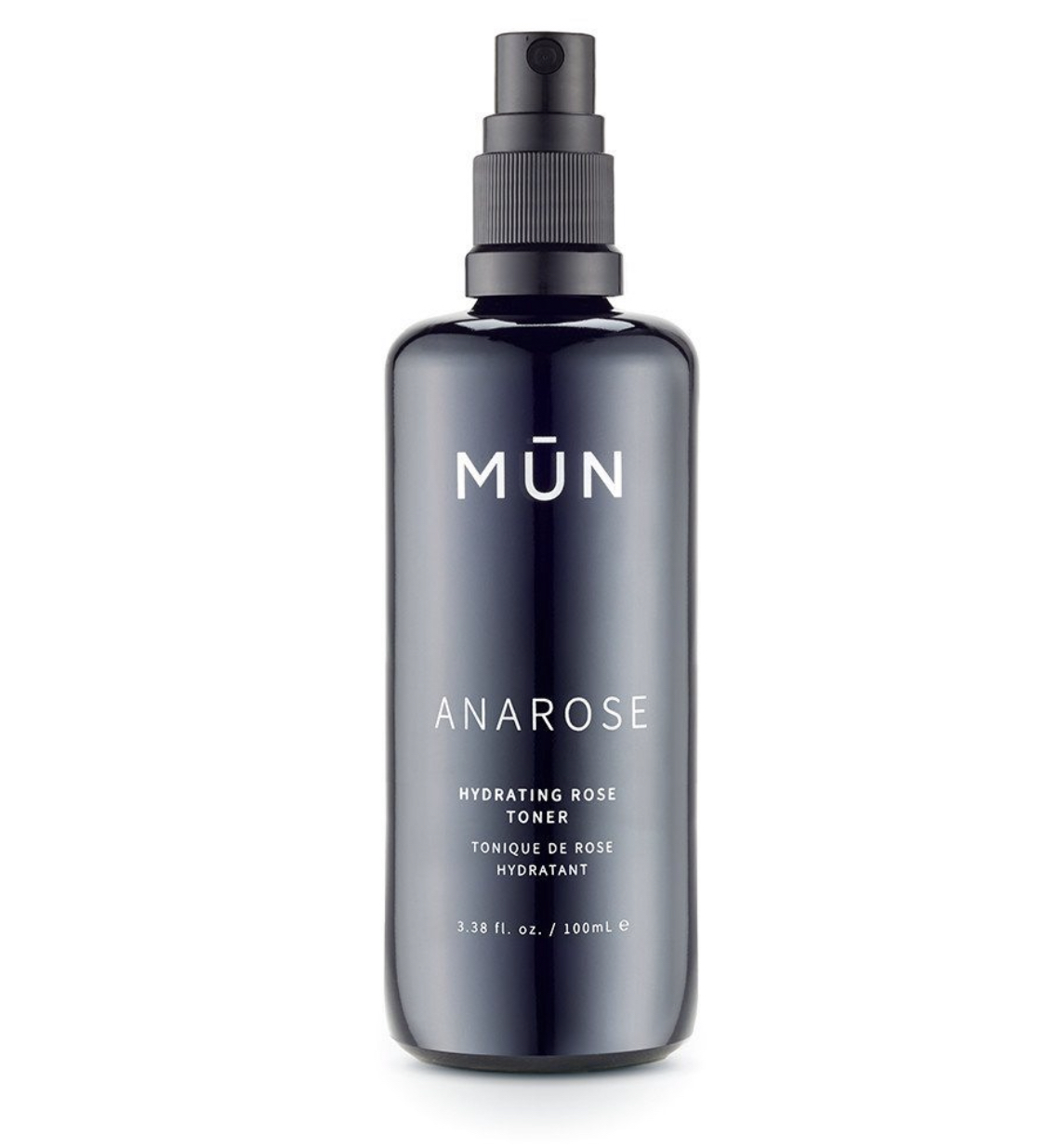 A luxury toner packed with beautiful ingredients, the MUN toner comes out as a fine, delicate mist and smells of rose and jasmine. It has a pH of 4.4-4.5 and contains Bulgarian Rosewater to soothe sensitive skin, Hyaluronic acid for hydration, Willow Bark Extract to exfoliate dead cells, Goji Berry Extract helps reduce free radical damage and a blend of Prickly Pear Stem, Rose, Jasmine and Daisy Extracts. ANAROSE is a treat for the skin and if you love a sophisticated rose scent, MUN's toner is such a beautifully formulated and sleek-looking product.

MUN AKWI cleanser is a hybrid of cream, gel and oil. While it dispenses as a creamy gel, when applied AKWI feels like a silky oil. I love that the scent is of yuzu, an Asian fruit that's sweet and uplifting in scent. This cleanser is effective at removing grime, sunscreen and makeup thanks to its oil content of castor seed oil, camellia seed oil, rice bran oil and argan oil.
If you're looking for something other than a full on gel cleanser or oil cleanser, MUN's AKWI cleanser hits the sweet spot somewhere in between. It's made of 80% plant oils, but also contains cleansing agents derived from coconut to act as a regular cleanser too. My skin feels moisturized and soft after using AKWI.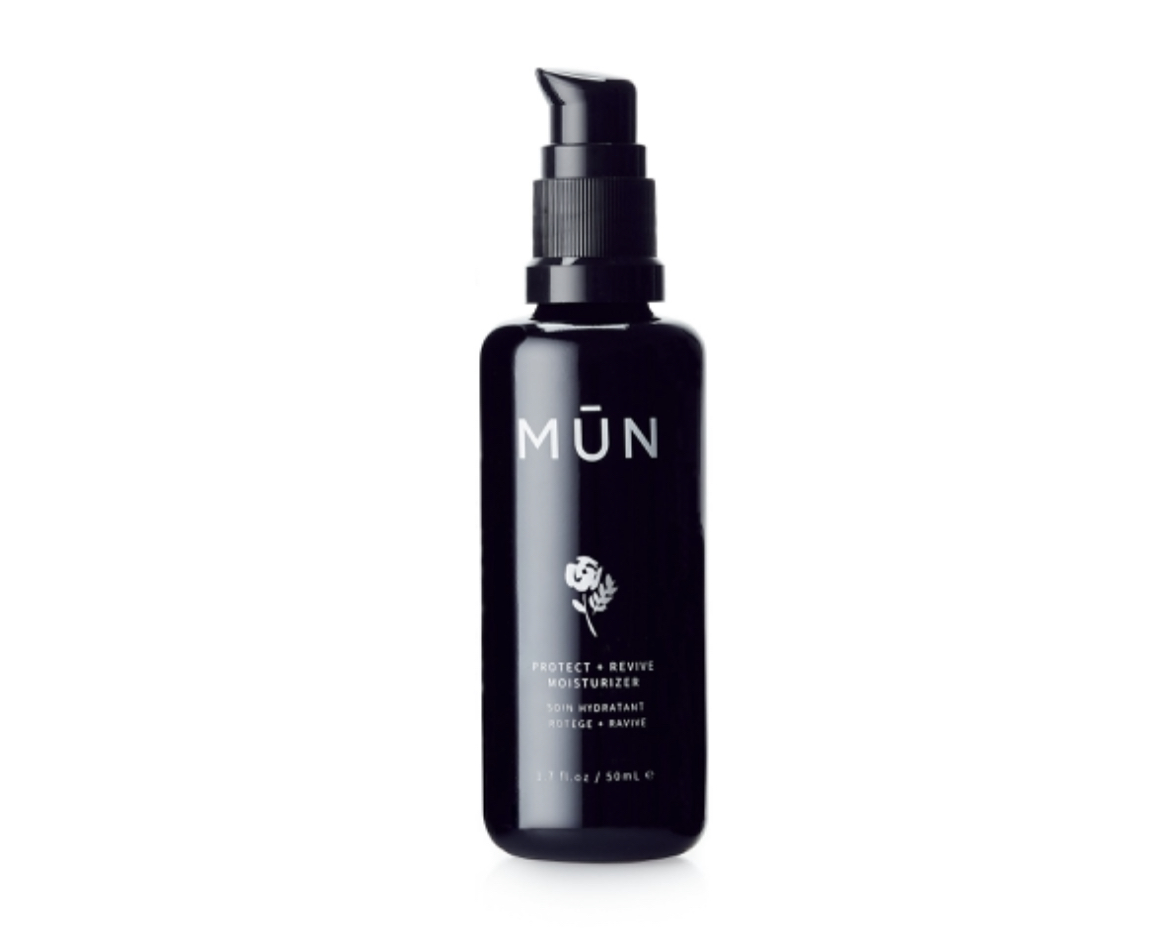 MUN's newest product launch was their Protect + Revive Moisturizer which was back in 2019. You can see just how rare and intentional each MUN product launch is, if there is one!

The MUN Protect + Revive Moisturizer is formulated with Niacinamide, powerful oils pike Prickly Pear Seed Oil and Kalahari Melon Seed Oil, along with Australian desert fruit extracts. This silky lightweight lotion helps improve the skin barrier, increases moisture, brighten, and provide anti-pollution benefits. MUN's moisturizer also contains postbiotics like Lactobacillus Ferment, Lactobacillus & Coconut Fruit Extract to support a healthy microbiome, which strengthens skin's ability to defend itself.
I'm surprised that the MUN moisturizer ($65) is priced lower than the ANAROSE Hydrating Toner ($70) and the same price as the AKWI Cleanser ($65). It almost feels like a steal, because I would think the moisturizer should cost a lot more than the line's cleanser.
The MUN Protect + Revive Moisturizer reminds me of the Odacite Oleosomes Time Release Delivery Creme in terms of consistency and texture – silky, medium weight and effortlessly sinks in. All of MUN's skincare products work beautifully together if you want an uncomplicated, luxurious skincare regimen from one brand.
Shop the entire MUN line at www.munskin.com and save 15% with my affiliate code OBL.
For international customers: shop MUN with free global shipping at online green beauty store Boxwalla.
Until June 21, 2022 all orders of 1 full sized product will automatically receive a free full size ANAROSE TONER ($70 value).