Founded in 1999 in New York City, Red Flower is a natural and organic beauty brand rooted in holistic medicine, flower power and old world traditions. Red Flower aromatherapy-focused bath and body products are vegan, cruelty free, biodegradable, biocompatible and all-natural. Each of Red Flower's washes, oils, clays, polishes, scrubs, buffs, mists and creams is formulated with layers of flowers, herbs, minerals, plant extracts, and mushrooms. While much of the Red Flower line is focused on body care, they also have a range of organic skincare, hair care and home products that will elevate your beauty routine. Read on for my Red Flower review and save 20% with Red Flower discount code OBL at www.redflower.com.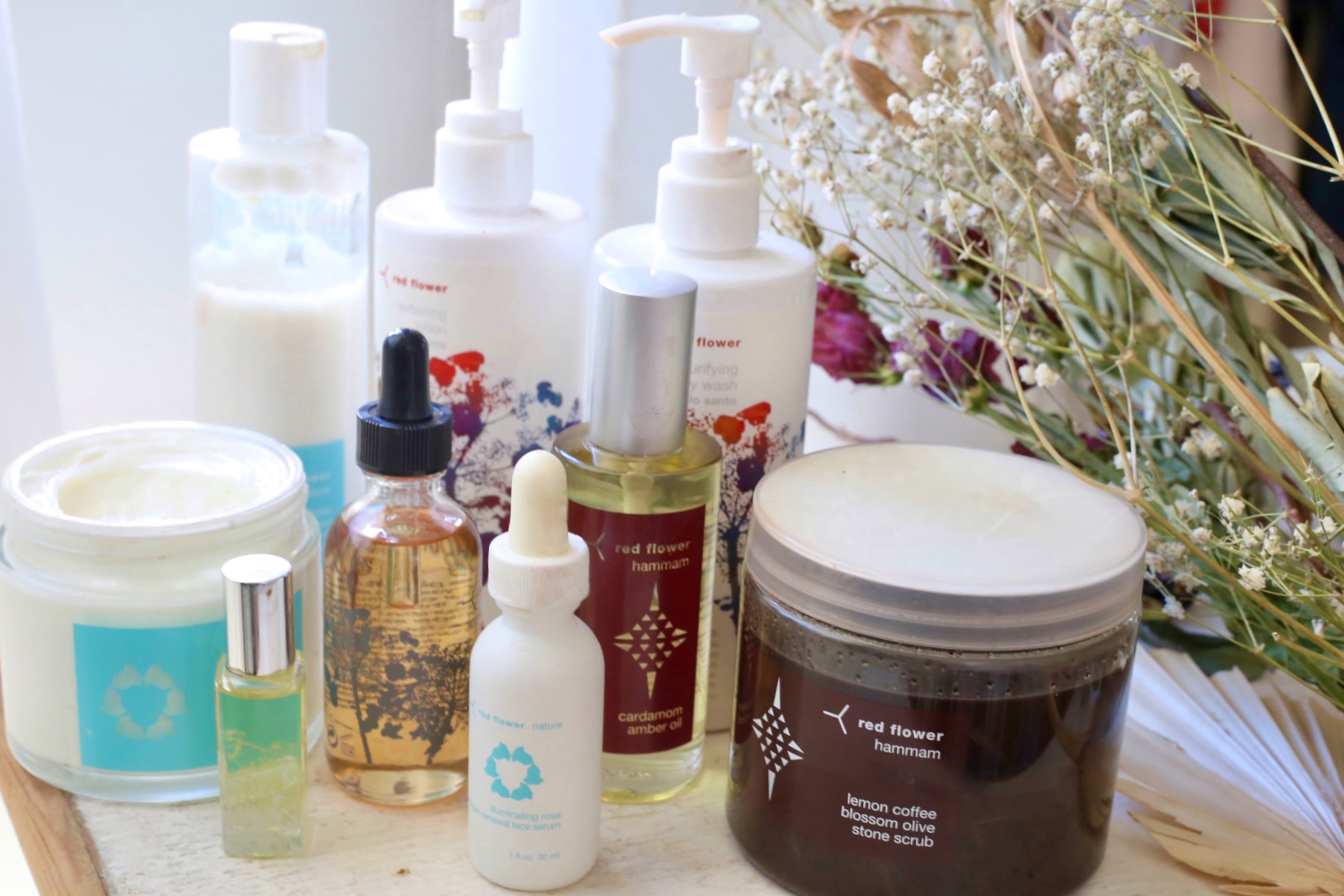 The story of Red Flower begins in 1999 with their New York City boutique opening in 2000. Red Flower is now carried at some of the most prestigious hotels and spas. There's a rich history and mission behind the brand. To know the Red Flower story is to know the founder Yael Alkalay.  The Red Flower founder descends from eight generations of Turkish grand rabbis, Kiev musicians, Argentinian pampas farmers, and her grandfather was the first dermatologist in Bulgaria. Her global roots inspired her pursuit of botanical practices in college after which she worked as Creative Director at Shiseido. It was only after Yael experienced an intensive stroke while skiing on vacation did she embrace living life consciously to its fullest potential and Red Flower was born.
The Red Flower Purifying Body Wash in Palo Santo is a unctuous body wash that feels nourishing and creates an excellent lather. It has a musky, earthy scent from the palo santo and simply smells amazing with the warm steam of the shower.
Red Flower offers three types of washes:
Body wash
Therapeutic wash
Hand wash
The Red Flower body washes come in six scents and various sizes including Wanderlust, Italian Blood Orange, Icelandic Moonflower, Ocean, Palo Santo and French Lavender. Amber Wood is a new scent soon to be launched.
Each Red Flower body wash is made of a blend of certified organic fruit, flowers and leaves. They use concentrated extracts certified organic cucumber, apple, chamomile, green tea and ginger that stimulates, repairs and vitalizes as well as essential oils that lend it its sensorial factor.
The Therapeutic Body Washes sound extra divine and come in Active Organic Milk Forest, Yuzu Mimosa Sea Algae, and Moroccan Mint Tea Silt. The Red Flower hand washes come in two scents (Italian Blood Orange and Wanderlust).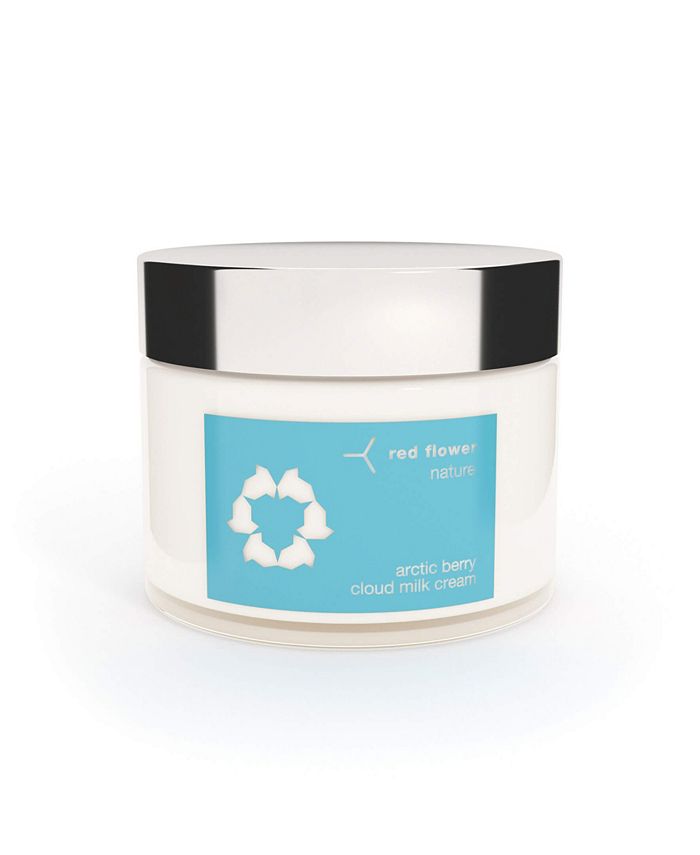 The luxurious Red Flower Arctic Berry Cloud Cream is a light hydrating cream with a supremely elegant formula that makes it feel as fluffy and soft as you'd imagine a cloud. The star ingredient cloudberry fights free-radical damage with vital omega 3 and 6, linoleic and alpha-linolenic acid, and antioxidants and works to improve moisture retention and skin tone, diminish age spots and reduce inflammation. Instead of a pump bottle, the Red Flower Arctic Berry Cloud Cream comes in a large glass jar.
The star ingredient is Cloudberry, a 20 to 40 time more concentrated source of antioxidants than the most commonly used source, vitamin E. Arctic Berry Cloud Cream also contains the powerful antioxidant found in strawberries, ellagic acid, which works to prevent the drying effects of hormonal imbalances and environmental exposure.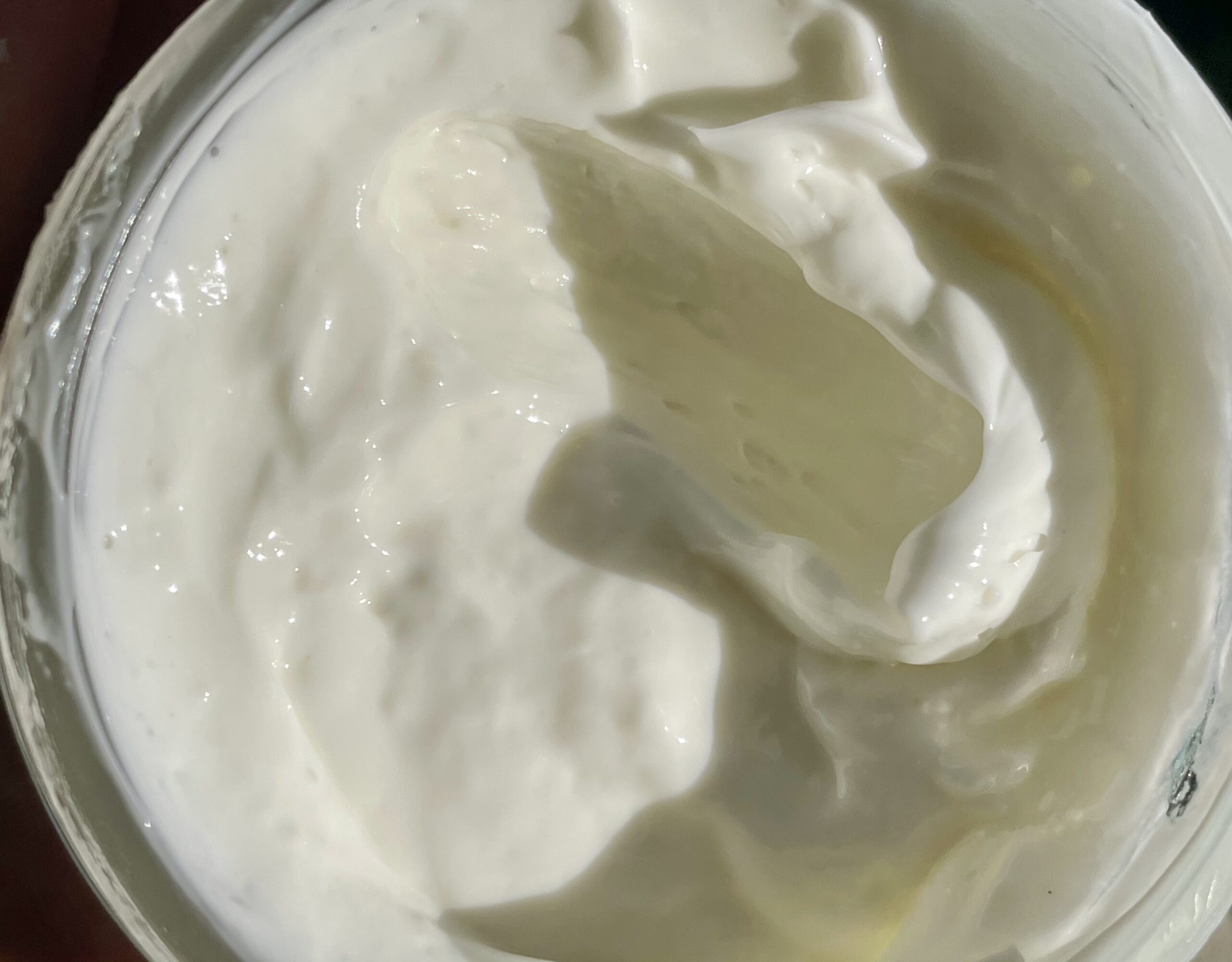 The Red Flower Arctic Berry Cloud Cream is truly an exceptional body cream if you love a beautiful lightweight, whipped cream.
Consistency: Light, whipped, soft, fluffy like a cloud
Scent: Palmarosa, Moroccan rose and Rose Damascena
The Red Flower body lotion is a lightweight and hydrating lotion that sinks in well and has an intoxicating scent. Palo Santo is such an amazing spiritual scent and I could not be more excited that there's a brand making beautiful Palo Santo products that are all natural. The addition of Copaiba and White Birch along with sandalwood and juniper make for a rich multi-layered Palo Santo scent unlike any other.
Red Flower also has a pretty extensive range of 100% botanically based skincare including cleansers, mists, serums, moisturizers, oils and masks.
This creamy lotion-like cleanser is made of vitamin-rich marine plants, arctic white peat, organic mushrooms and sun-filled berries for a complete therapeutic experience. It only provides a gentle cleanse using a blend of aloe and sea algae that balances and repairs environmentally damaged skin. The Red Flower cleanser can also be used as a hydrating mask so you can leave the product on your face longer and allow all those nourishing ingredients to sink in. It feels very soothing and hydrating and has an uplifting therapeutic scent.
Ingredients: algae extract, aloe barbadensis (aloe) leaf juice, chaga mushroom certified organic, citric acid, grape seed oil, helichrysum oil, juniper berry oil, lemon oil, maitake mushroom certified organic, pink grapefruit oil, reishi mushroom certified organic, tangerine oil, vegetable glycerin, vegetable-derived emulsifying wax, water, white peat extract
The Red Flower Illuminating Rose Collagen Renewal Face Serum contains the whole essential oil of 45 kg of rose damascena petals and 10,000 cold-pressed cloudberry and raspberry seeds in every bottle. It utilizes methods of steam distillation, cold-pressing and raw extraction for potency and freshness.
This is an oil serum of medium consistency with a beautiful and elegant rose scent.
The Red Flower Illuminating Rose Collagen Renewal Face Serum feels very silky and sinks into skin without leaving a greasy or filmy feeling.
Red Flower NYC Organic Perfume
Red Flower also makes organic and all natural perfumes without any synthetics. I tried the Red Flower Gauaic Perfume Oil Roll-on which features the South American tree Gauaic. It can best be described as guava punch. Red Flower perfumes come in full sized spray bottles and smaller oil roll-one.
Because this is an organic perfume it doesn't have the same performance or projection as a synthetic perfume. The oil roll-on lays close to the skin, so only if someone were to be smelling you directly would they be able to detect any scent.
Red Flower perfumes are composed of essential oils and organic plants like flower distillations, dark-tree resins, fresh herbs and ripe fruit extractions.
Use Red Flower discount code OBL to save 20% on all Red Flower NYC products.