REN Skincare is a UK clean beauty brand started over 20 years ago in 2000 and that's now owned by corporate giant Unilever. REN to me is mass manufactured clean beauty on the biggest scale possible. Even though REN isn't 100% natural or organic, I've tried a lot of REN products over the years as they're such a well-known established brand. Most of their products aren't particularly impressive to me, though they are decent. Keep in mind that REN was originally created for sensitive skin, and many of their collections have gentle formulations. REN's standout product , in my opinion, is their Ready Steady Glow Daily AHA Tonic. Read on for my REN skincare review.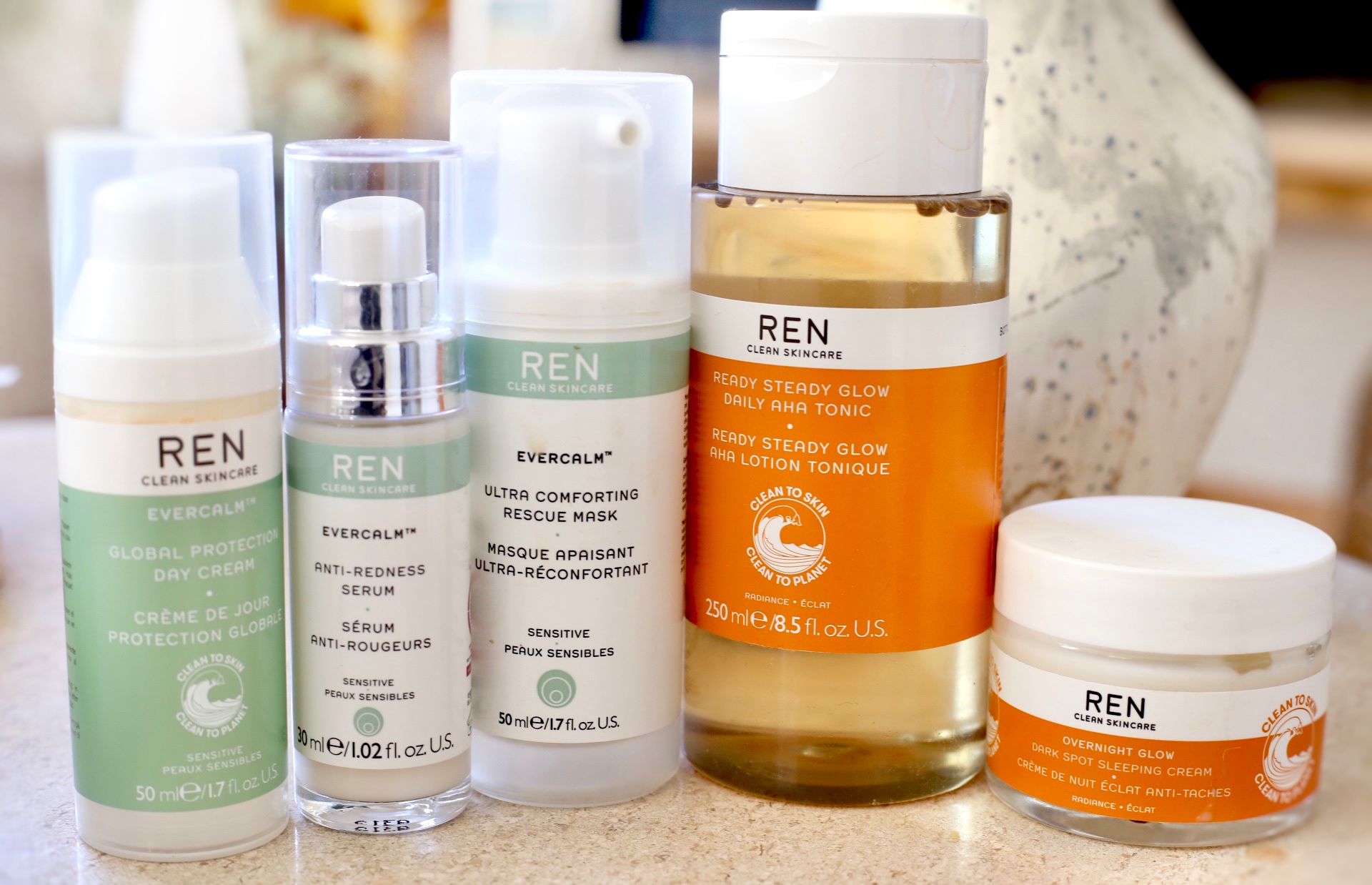 REN has five skincare collections:
Evercalm
Clearcalm
Radiance
Bio Retinoid
Perfect Canvas
There's a strong focus on sensitive skin throughout the line. While this may be a broken skin barrier's dream, REN is not a potent anti-aging skincare line.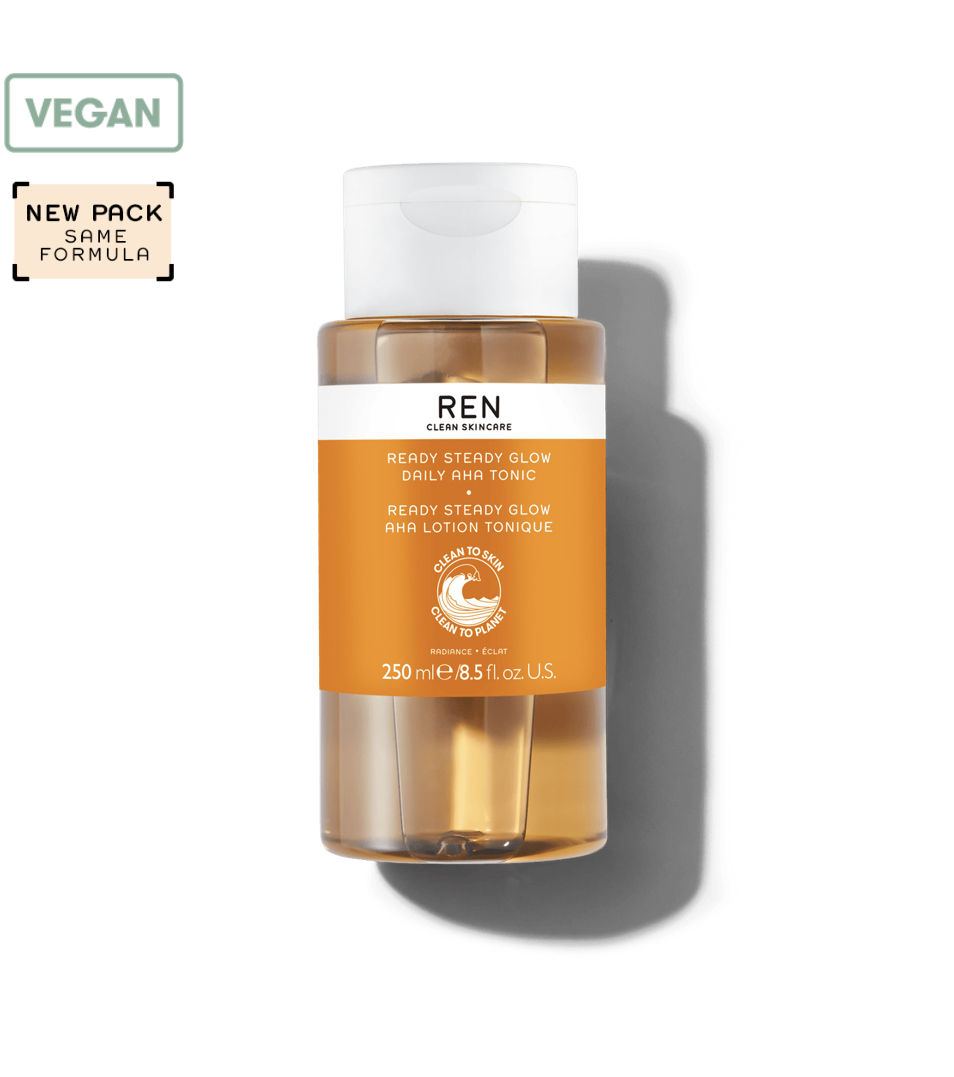 This is my favorite product from what I've tried in the REN line. It's a generously sized bottle that lasts forever for a very reasonable price, but most importantly, it works for me. REN's AHA Tonic contains:
Lactic Acid (AHA) from sugar cane

Salicin (BHA) from Willow Bark

Azelaic Acid Precursors from Olives
This product reminds me of Youth To The People's acid toner in that it's gentle yet still effective. I can use this product daily without irritating my skin and it works well at toning, smoothing out and exfoliating my skin.
I'm pleasantly surprised that REN decided to create a product inspired by the Korean skincare industry's popular sleeping mask product category. It's basically a face mask that you leave on all night so it works for 8 hours instead of the usual 20 minutes you'd leave a regular face mask on.
REN's Dark Spot Sleeping Cream is made with Encapsulated Algae Complex to reduce discoloration and Glycogen from corn to lock in corn. On its own I don't believe this cream can get rid of any hyperpigmentation, but I like it as part of a hyperpigmentation-fighting routine that involves plenty of corrective serums. This Sleeping Cream is a replacement for my regular moisturizers that basically just serve to lock in moisture when I'm trying to fade new sun damage.
I like the light silky texture, but it does have a strange smell.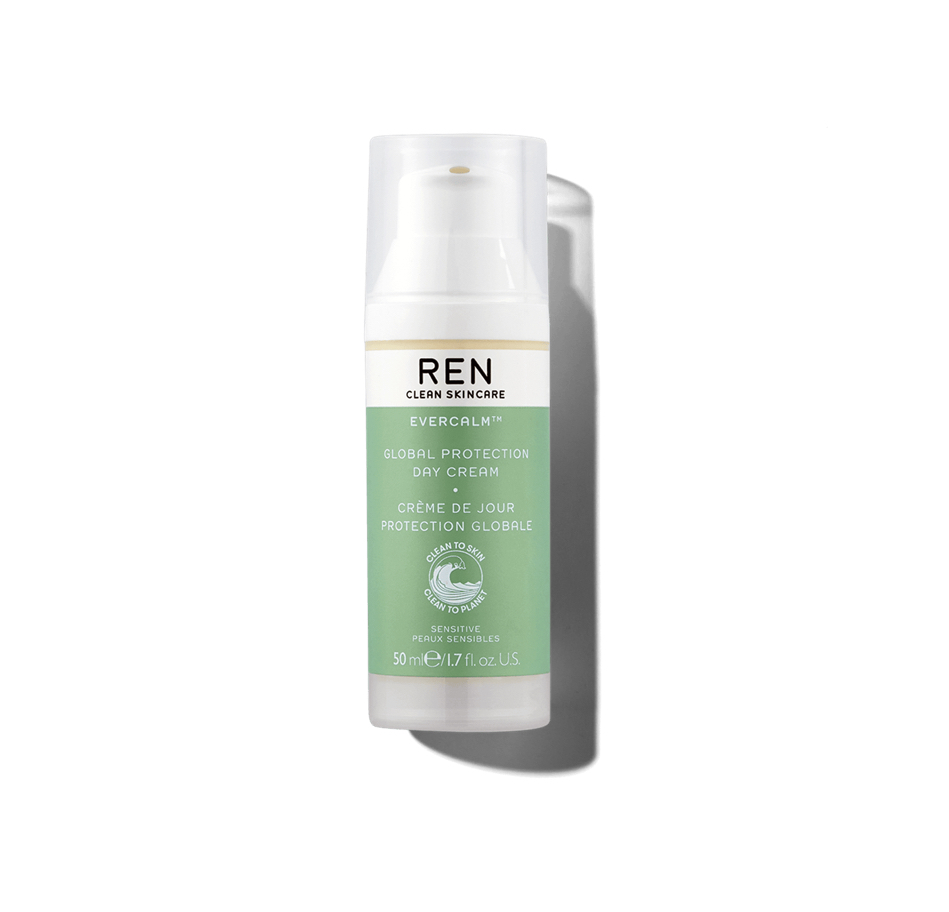 The REN Global Day Protection Cream is formulated as part of their Evercalm line and specifications for dry, sensitive, stressed skin and eczema-prone skin. It's made with a synergetic blend of antioxidants and free radical neutralisers along with hydrating Sea Buckthorn Oil, Camellia and Calendula Oils and REN's Global Protection Complex.

This is a medium weight cream with no scent and actually feels very nice applied. I don't feel that REN particularly excels at consistencies and textures (they all feel very generic to me).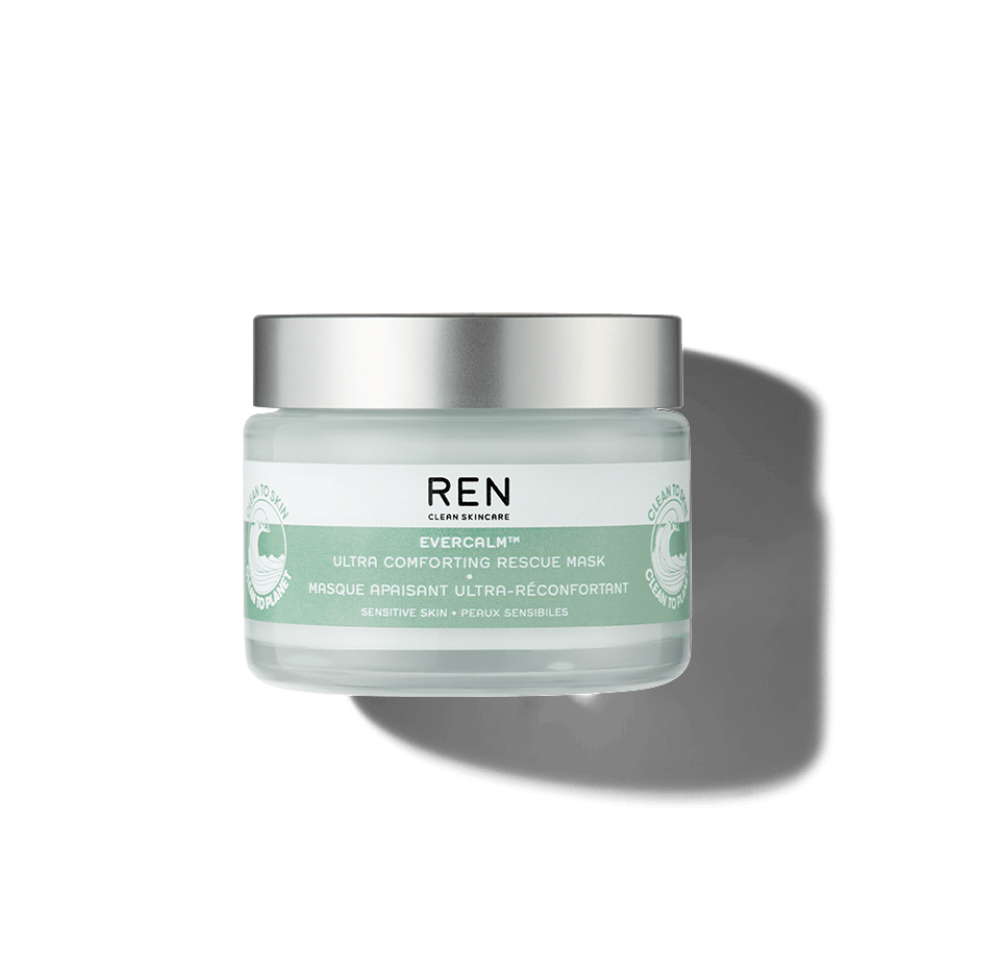 Creamt hydrating mask that helps soothe, calm and hydrate.
Beta Glucan from yeast White Mushroom Extract Arnica Extract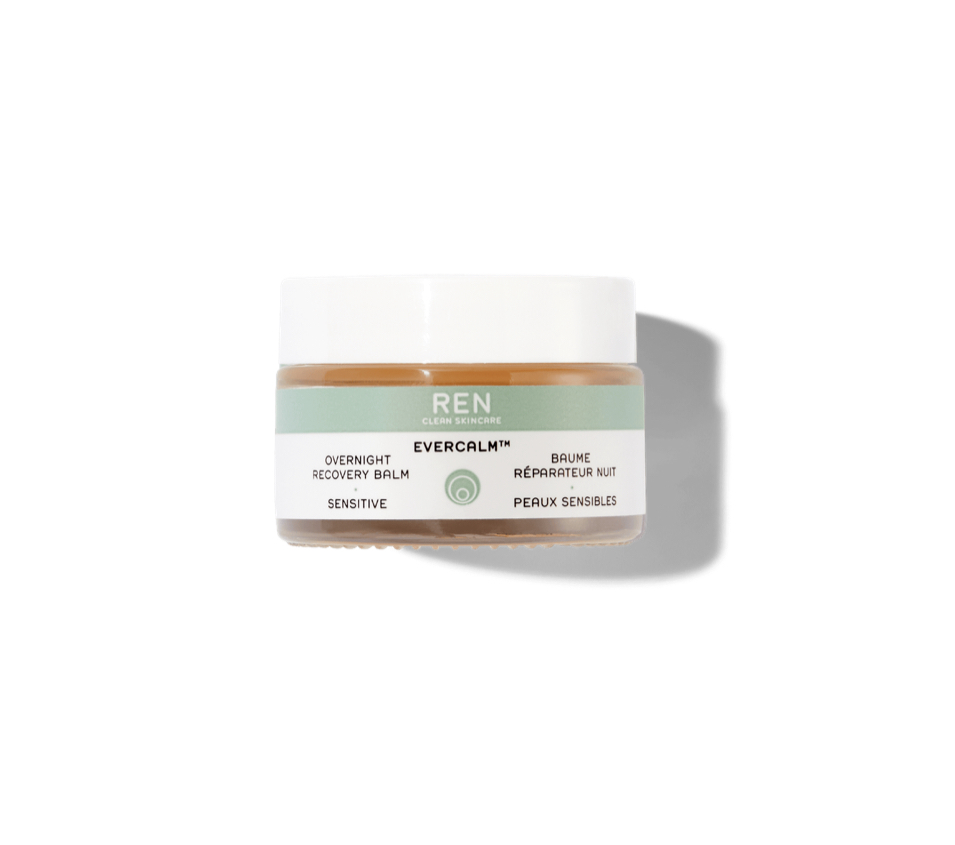 I like an exquisitely formulated face balm and REN's Recovery Balm falls short with its coco-caprylate base and waxy texture. It does have a handful of good ingredients like Enzymatically Activated Olive, Almond, Borage and Linseed Oils, Jojoba and Sunflower Oil and Beta-Glucan. But that's just about all that I like about this face balm. It has a strange texture that I don't find pleasant applied, almost like a plastic-y vaseline.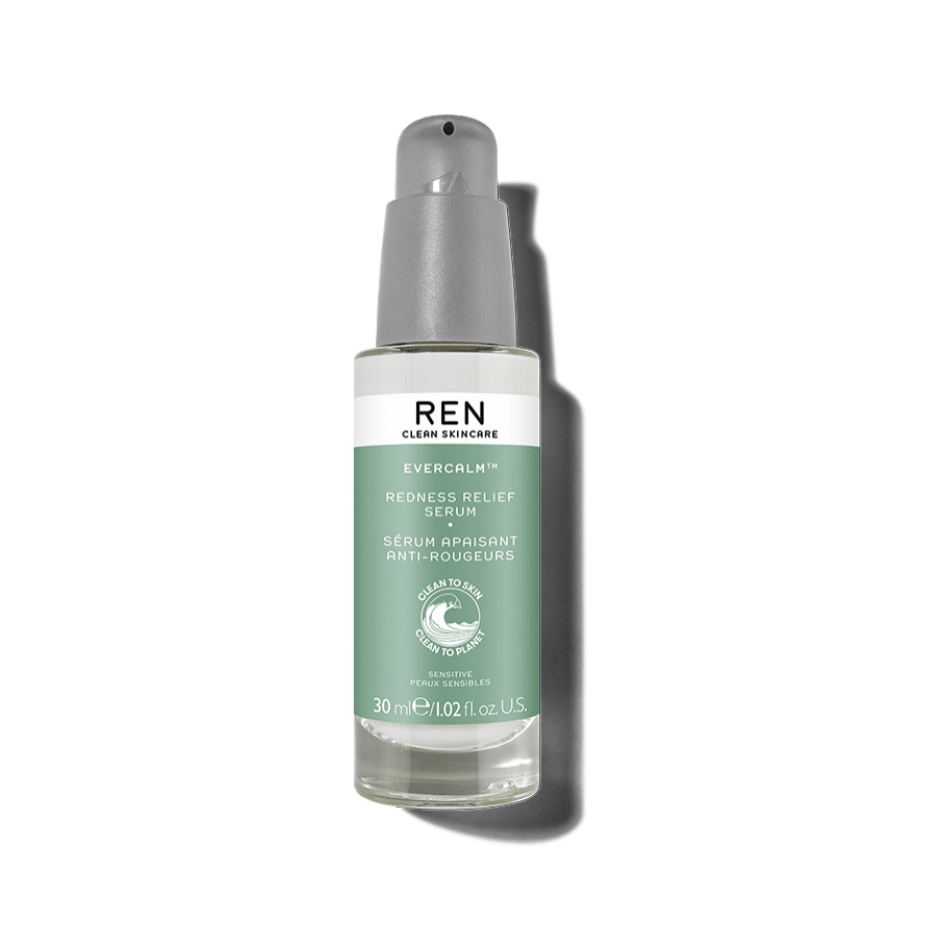 If your skin is feeling irritated or your skin barrier is broken, I think the REN Redness Relief Serum is a decent product for its soothing and calming properties. It contains fast-acting White Mushroom-powered, which was selected because it's clinically proven to reduce redness after just 30 minutes. This thin milky white serum is lightweight and provides some hydration along with protection using beta-carotene and biosaccharide.