Ursa Major is a premium natural skin care line I've used and loved for several years now. I have tried every Ursa Major product there is and am ready to share a full Ursa Major review on the "Patagonia of Natural Skincare." This gender-neutral line from Vermont offers skincare that appeals to both men and women, is accessibly priced and comes in generous sizes that you rarely find in clean beauty. Ursa Major is also B Corp certified, which means they are committed to redefining success beyond financial goals and using their business to make a positive impact on people and planet. Read on for my thoughts on all Ursa Major products, including my favorites, in this ultimate Ursa Major review and save 15% with discount code OBL15.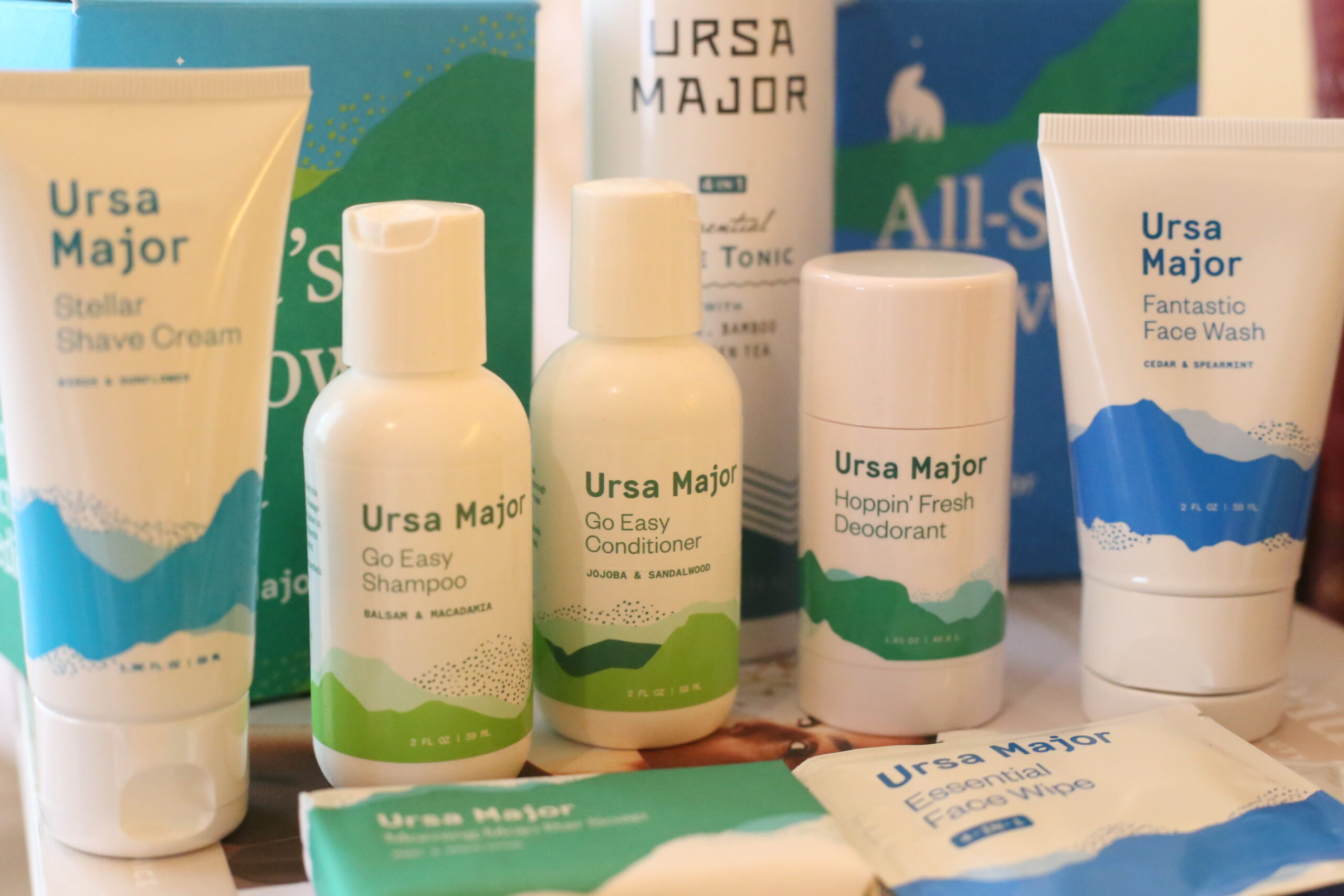 Having been around for nearly a decade, Ursa Major knows a thing or two about formulating quality skin care. Ursa Major founders Emily and Oliver wanted to create a universally appealing and superior natural line that would help both men and women solve their skin care needs. Ursa Major is the perfect option for those who want a low maintenance yet effective routine and are looking to try a line that's easy to understand, already well-loved and time-tested, and costs between $20 and $50.
So where can you buy Ursa Major skin care? They're sold on their website, Amazon and a number of online natural beauty stores like Credo, Follain, Goop and The Detox Market. And if you're not in the US, not to worry, they ship globally! Ursa Major shipping is completely hassle-free with free shipping for US orders and a flat rate of $9.95 for international orders via their website.
Be sure to check out my guide: 50 Natural Skincare & Grooming Brands for Men here.
Over the past 5 years I've been able to try almost every product from the Ursa Major line. The most popular Ursa Major products are their Fantastic Face Wash, Essential Face Wipes, Golden Hour Recovery Cream, Fortifying Face Balm and 4-in-1 Essential Face Tonic. Ursa Major also has a superb shave cream, deodorants, and a recently launched shampoo conditioner duo.
Check out the newest posts: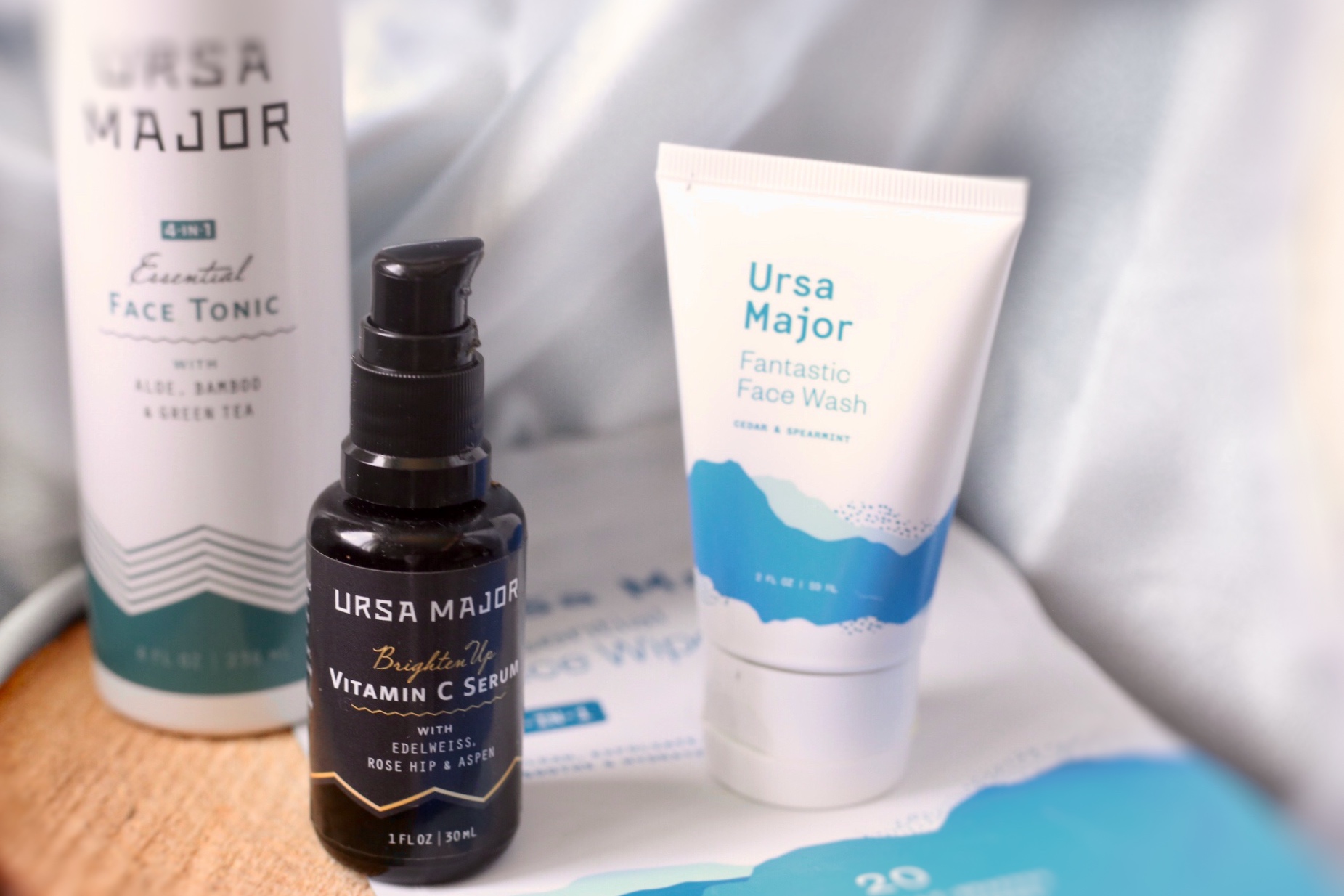 I'm going to start off this Ursa Major review with my favorite product from their line, the Brighten Up Vitamin C Serum. This is a 100% naturally-derived and 84.7% organic Vitamin C serum that uses ascorbic acid polypeptide, a relatively stable, water-soluble form of Vitamin C.
Vitamin C serum has been a must in my skincare routine since my early 20s because it is probably the singular most effective ingredient for healthy skin.
Ursa Major's Vitamin C serum works to:
Brighten and even skin's appearance
and tone
Provides instant hydration
Rich in antioxidants to help combat Free radical damage
Improves the appearance of skin's firmness and elasticity
Suitable for all skin types, including sensitive skin
The aforementioned benefits are all a basic given when it comes to any good Vitamin C serum, but what makes Ursa Major's Vitamin C serum great is its incredibly silky texture and weightless sensation when applied. Despite being lightweight and silky, the consistency is substantial enough to feel like you're actually applying real & well-formulated product on your skin.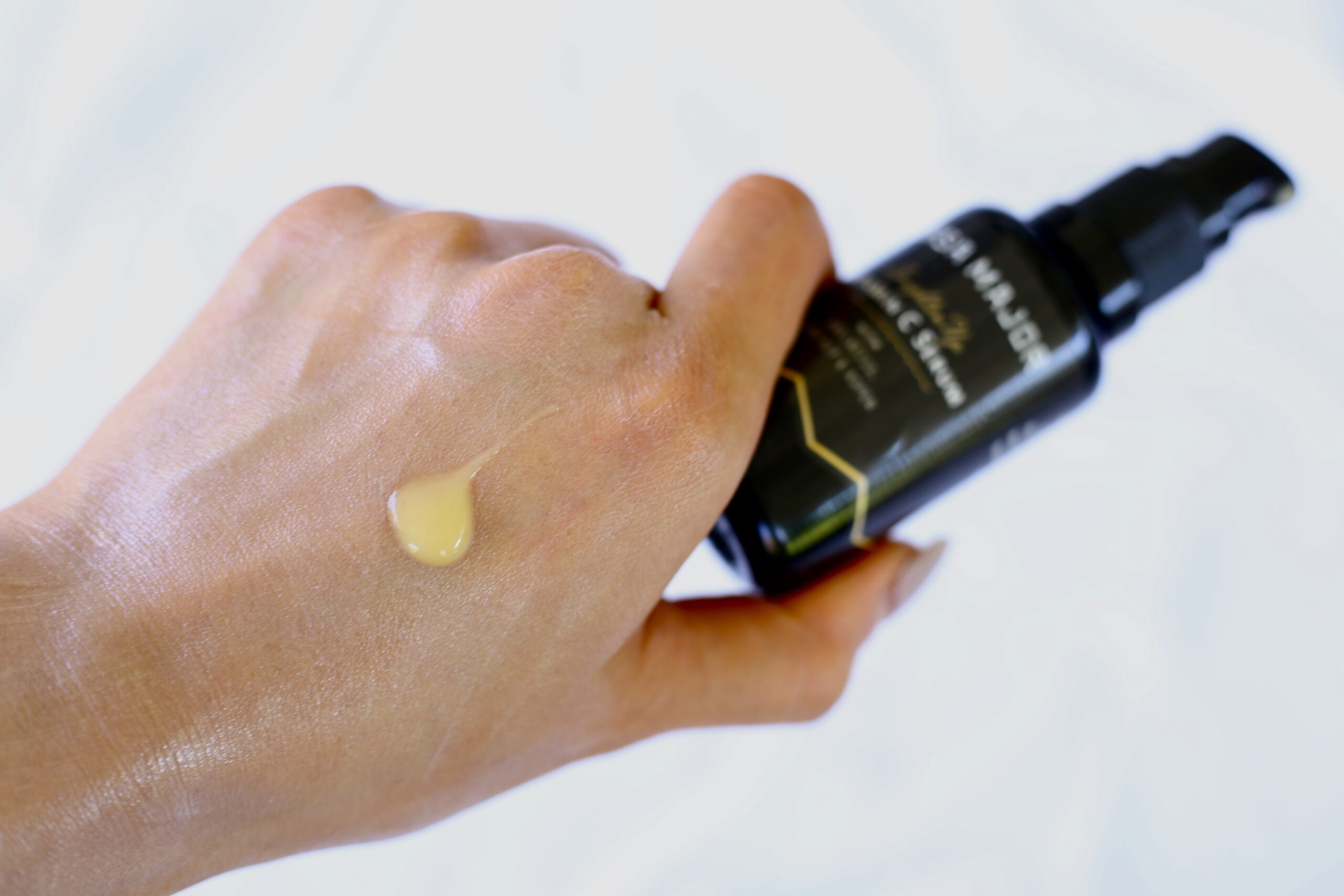 The nearly opaque yellow gel-like serum absorbs impeccably. I have never had an issue with pilling with this serum and I consider it light enough to be an ideal daytime Vitamin C serum and powerful enough for a nighttime skin care routine. I just need 2-3 pumps to cover my entire face. Be warned that if you use it both day and night, the product will run out fast.
Onto the other skin beneficial ingredients in this serum! It begins with an organic aloe vera leaf juice base and harnesses the benefits of rose hip seed extract, edelweiss meristem cell culture and aspen bark extract. I even feel a slight tightening effect when I use this serum.
But firmer skin aside, healthy skin is all about continuously getting rid of toxins and nourishing with nutrient-dense and skin-beneficial ingredients. Ursa Major's Vitamin C Serum works at reversing the daily damage done to our skin matrix from environmental pollution, digital pollution, UV radiation and all other free radical damage.
Ingredients: Aloe barbadensis (aloe vera) leaf juice*, helianthus annuus (sunflower) seed oil*, glycerin, cocoglucoside, coconut alcohol, populus tremuloides (aspen) bark extract, ascorbic acid/orange/citrus limon/citrus aurantifolia polypeptide, rosa canina (rose hip) seed extract*, butyrospermum parkii (shea) nut butter*, leontopodium alpinum (edelweiss) meristem cell culture, hydrogenated lecithin, glyceryl caprylate, sclerotium gum, rosa damascena (rose) flower oil*, citrus sinensis (blood orange) peel oil, rosmarinus officinalis (rosemary) leaf extract*, bisabolol, sodium anisate, lactic acid, xanthan gum (* denotes organic)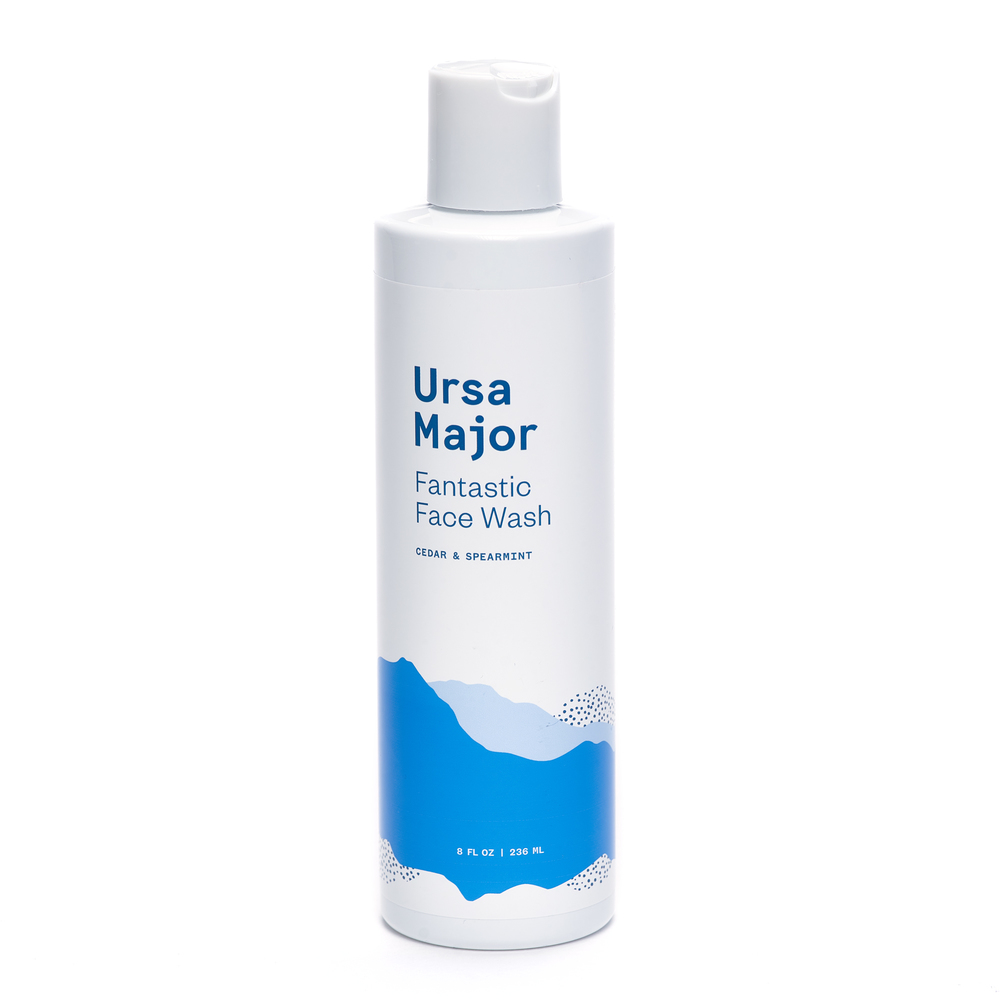 The Ursa Major Fantastic Face Wash is the next product I would wholeheartedly recommend for those looking for a straightforward, all-natural and effective cleanser.
Before I delve further, there is one huge plus and by huge I mean literally, huge. While most clean face cleansers are sold in bottles of 3.4 oz bottles, Ursa Major Fantastic Face Wash is an entire 8 oz bottle. And it's sold for just $28. It's hard to beat that kind of value.
There are so many innovative cleansers on the market to satisfy every whimsical desire, from balm-to-milky emulsion and powder-to-foam cleansers to charcoal gel and creamy milk cleansers. The Ursa Major Fantastic Face Wash is a no-frills traditional gel cleanser that comes out clear and lightly foams.
It leaves my skin feeling cleansed without feeling stripped or dry and the lingering, refreshing scent of cedar, spearmint, lime, lemon, rosemary, black spruce, vetiver, and lavender oils brings the cleansing experience full circle. The Fantastic Face Wash also has added AHA/BHA exfoliation benefits, which isn't anything major but shows the level of thought and care that went into formulating a product type that I consider least interesting in skin care.
Ingredients: Aloe Barbadensis (Aloe Vera) Leaf Juice, Aqua/Water/Eau, Lauryl Glucoside, Coco-Glucoside, Sodium Cocoyl Glutamate, Caprylyl/Capryl Glucoside, Inulin, Glyceryl Laurate, Sodium Lauroamphoacetate, Gluconolactone, Sodium Lauroyl Glutamate, Xylitylglucoside, Anhydroxylitol, Xylitol, Oryza Sativa (Rice) Extract, Camellia Sinensis Leaf Extract, Saccharum Officinarum (Sugarcane) Extract, Citrus Limon (Lemon) Fruit Oil, Citrus Aurantium Dulcis (Orange) Fruit Extract, Vaccinium Myrtillus Fruit Extract, Acer Saccharum (Sugar Maple) Extract, Picea Mariana Leaf Oil, Pseudotsuga Menziesii Branch/Leaf Oil, Rosmarinus Officinalis Leaf Water, Lavandula Angustifolia (Lavender) Flower Water, Citrus Paradisi Peel Oil, Citrus Aurantifolia Peel Oil, Artemisia Ludoviciana (Owyhee) Leaf Oil, Juniperus Virginiana Wood Oil, Tanacetum Annuum Flower Oil, Nardostachys Jatamansi Oil, Vetiveria Zizanoides Root Oil, Mentha Spicata Leaf Extract, Sodium Phytate, Pca Glyceryl Oleate, Citric Acid, Calcium Gluconate, Leuconostoc Ferment Filtrate, Sodium Benzoate, Soybean Peroxidase, Superoxide Dismutase, Limonene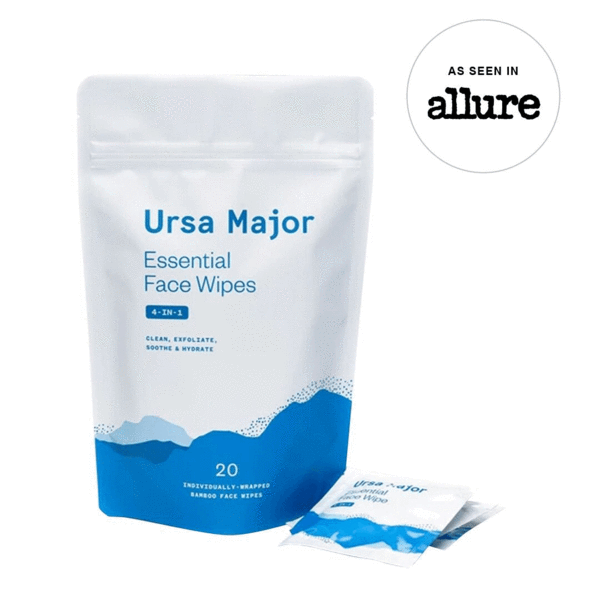 While not the most environmentally friendly packaging choice, these individually wrapped cleansing face wipes work so well and are super convenient when I'm traveling. These bamboo face wipes are soaked in their 4-in-1 Essential Tonic and are the juiciest face wipes I've ever tried. The bamboo wipe is also sturdy in construction, isn't flimsy and doesn't easily tear like others I've tried. The formula is designed to not only cleanse but also exfoliate, hydrate and soothe.
As someone who loves to travel and go on long weekend getaways, I fully appreciate being able to toss a few of these in my toiletry bag instead of having to pack an entire 30 count pack. For long-haul flights, which are a thing of the past now, I would cleanse my face with the Essential Face Wipe once I successfully boarded and reached my seat. Remember all that in-flight skincare routine content? So strange right. Anyways, some hand sanitizer to make sure my hands are clean, a juicy Ursa Major face wipe and a few spritzes of my favorite toner and my skin would be ready for 16 hours of Sahara-like airplane cabin dryness.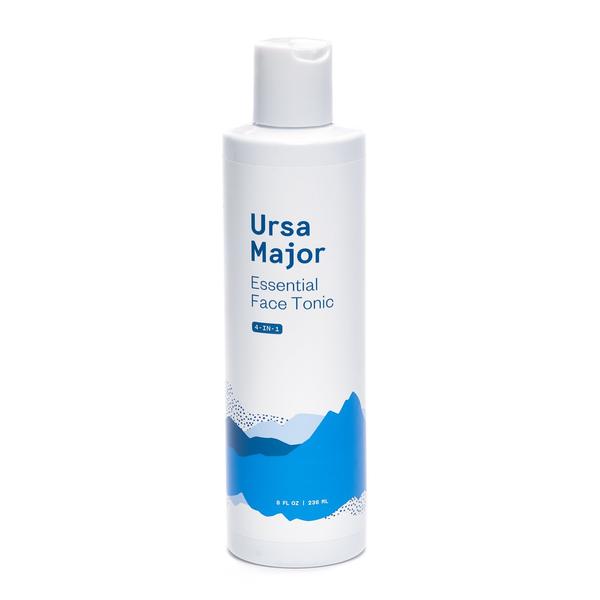 Like the Fantastic Face Wash, the Ursa Major 4-in-1 Essential Tonic is an ENTIRE 8 oz of clean, natural, organic and effective Tonic ingredients. For only $26. Again, very hard to find portions this generous in clean beauty.
This toner removes oil and grime, exfoliates gently and clarifies with a AHA/BHA complex and, of course, hydrates skin. The fresh yet grounding scent from Fir needle oil, frankincense, rosemary and lavender feels like a bath in the forest, even if you haven't left your house all day.
Ingredients: aloe vera leaf juice (aloe barbadensis)*, water/aqua/eau, witch hazel leaf water (hamamelis virginiana), willow bark extract (salix nigra), rosemary leaf/flower water (rosmarinus officinalis), leuconostoc/radish root ferment filtrate, sodium hyaluronate, glycerin*, sugar cane extract (saccharum officinarum), lemon extract (citrus medica limonum), orange fruit extract (citrus aurantium dulcis), apple fruit extract (pyrus malus), green tea leaf extract (camellia sinensis), rice seed extract (oryza sativa)*, birch sap (betula alba), lactobacillus, bamboo ferment filtrate (arundinaria gigantea), caprylyl/capryl wheat bran/straw glycosides, fusel wheat bran/straw glycosides, polyglyceryl-5 oleate, sodium cocoyl glutamate, glyceryl caprylate, olive leaf extract (olea europaea), fir needle oil (pseudotsuga menziesii), lavender flower oil (lavandula angustifolia)*, rosemary leaf oil (rosmarinus offinalis), geranium leaf/flower oil (pelargonium graveolens)*, frankincense resin extract (boswellia carterii), alcohol denatured*
For under $50, this face cream provides amazing value and is honestly better than many other MUCH more expensive face creams I've tried. This is a silky smooth moisturizer that is deeply hydrating and, unlike overly heavy creams, seems to penetrate well into my skin.
I wouldn't say this is packed with rarely-seen-before, unique or hard to find ingredients, but healthy and proven-to-be-effective ingredients that do the job. The consistency is medium lightweight, as in light but substantial enough in thickness, with a refreshing herbaceous scent. If your skin is parched, the no-frills Golden Hour Recovery Cream is sure to inject a good dose of hydration into your skin to bring it back to life.
The only con I find with this product is that it doesn't come in pump form. I prefer moisturizers that come with a sanitary pump dispenser so I can be sure I'm not contaminating the precious ingredients with water, bacteria or dirt.
Ingredients: aloe barbadensis (aloe vera) leaf juice, helianthus annuus (sunflower) seed oil, glyceryl stearate citrate, cetearyl alcohol, leuconostoc/radish root ferment filtrate, glycerin, limnanthes alba (meadowfoam) seed oil, galactoarabinan, cetyl palmitate, undecylenic glycerides, octyldodecanol, ribes nigrum (black currant) seed oil, helianthus annuus (sunflower) seed oil unsaponifiables, cardiospermum halicacabum flower/leaf/vine extract, tocopherol, rosmarinus officinalis (rosemary) leaf extract, hippophae rhamnoides (sea buckthorn) fruit extract, santalum spicatum (sandalwood) wood oil, rosa damascena (rose) flower oil, citrus aurantium amara (neroli) flower oil, cymbopogon martinii (palmarosa) leaf oil, calendula officinalis (calendula) flower extract, sodium phytate, sodium anisate, glyceryl caprylate, sclerotium gum, xanthan gum, alcohol, citric acid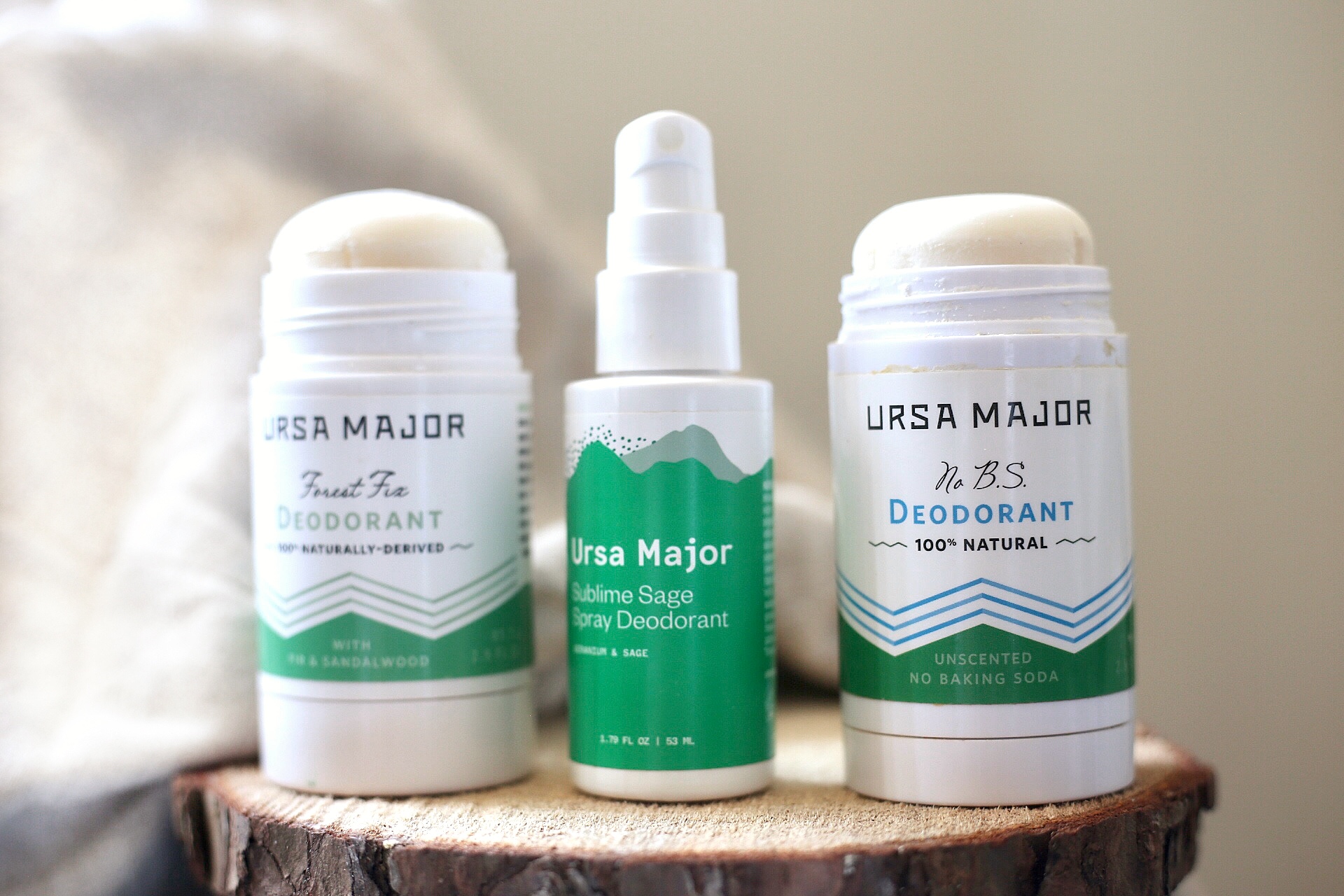 I love the new Ursa Major hassle-free Sublime Sage Deodorant! There's something so convenient about spraying on a deodorant rather than rubbing around a solid deo. It's scary how addicted we are to convenience nowadays. Call it lazy, call it whatever you want, but spray deodorants just make life easier.
Needless to say all Ursa Major deodorants are clean, non-toxic and free of aluminum and synthetic fragrance. The big question is well, does it work. I never feel like I'm the best candidate when it comes to testing deodorants because I don't deal with particularly bad body odor or sweaty armpits. I do get stinky from stress sweat and sitting at my computer clacking away for hours though.
Since I've been working from home for over a year now, I find myself forgetting to apply deodorant. I mean, there's no one I need to impress. So I've been finding myself applying the Ursa Major spray deodorant after I've noticed my own odor (it takes a while), and this deodorant really works when it comes to eliminating body odor that's already there. A few spritzes and my b.o. is completely gone. Not a funky mix of b.o. and deo, just the fresh scent of sublime sage.
The scent is actually an Uplifting blend of sage, geranium, sandalwood and lemon myrtle. It's herbal and forest-like yet not overly earthy or strong. Ursa Major's spray deodorant is also packed with plants, minerals and enzymes. It feels light and dries quickly with no sticky feeling or residue. I still sweat while wearing Ursa Major deodorants, so while these aren't anti-perspirants they do keep me smelling decent.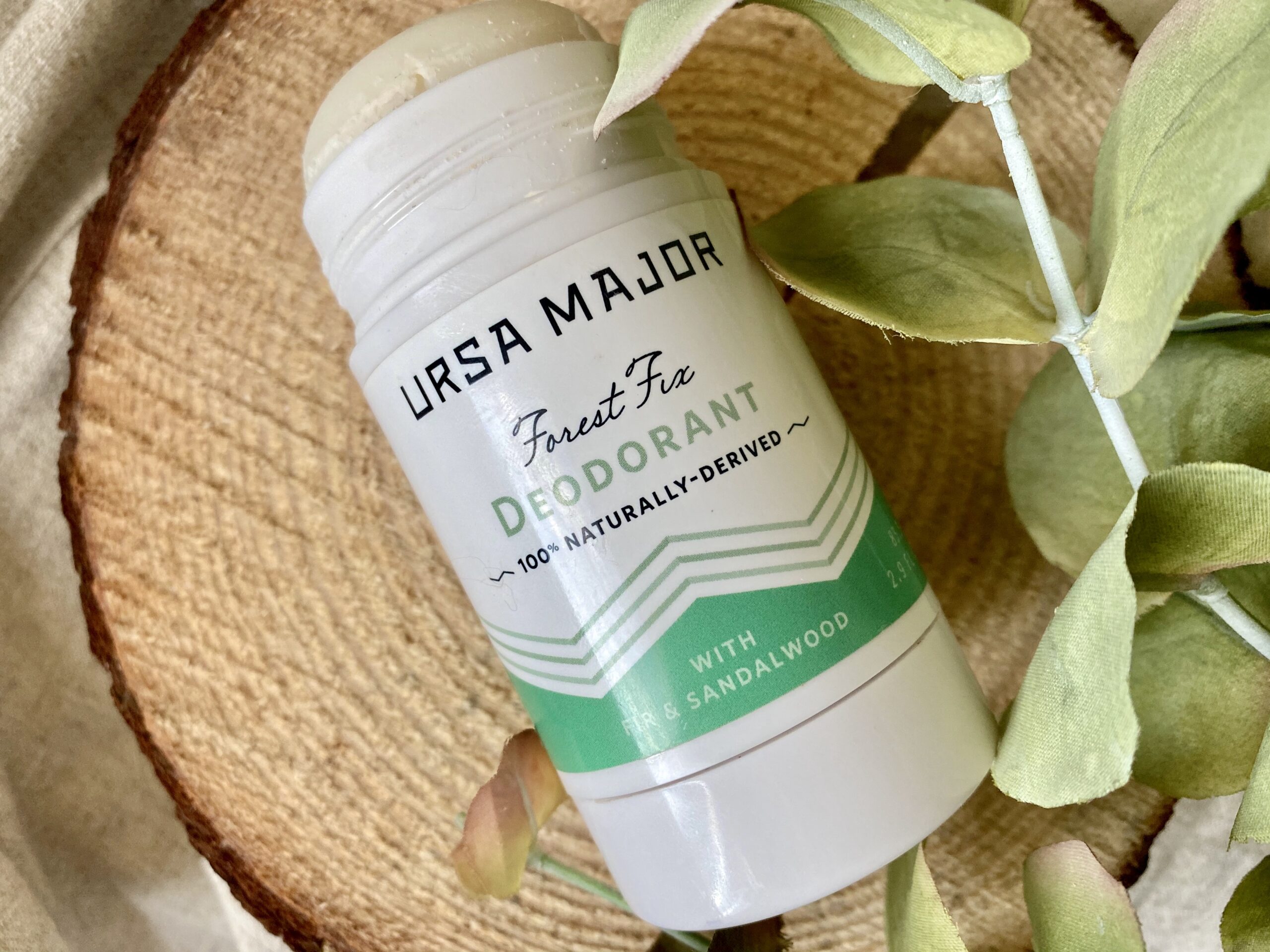 A fresh spin on the Hoppin Fresh deodorant, the Ursa Major Forest Fix deodorant is a solid deodorant that works to fight odor with hops and baking soda, absorb excess moisture with kaolin, soothe with aloe vera, and further eliminate odor with a probiotic enzyme called saccharonyces ferment.
The scent reminds me of the great outdoors and the scent of pinecones after a rainy day- earthy, woodsy and fresh – thanks to its blend of patchouli, bergamot, lemon peel, sandalwood, ginger and lavender.
The formula goes on silky smooth without feeling drying. I've used Ursa Major deodorants while wearing white shirts and have not had an issue with staining.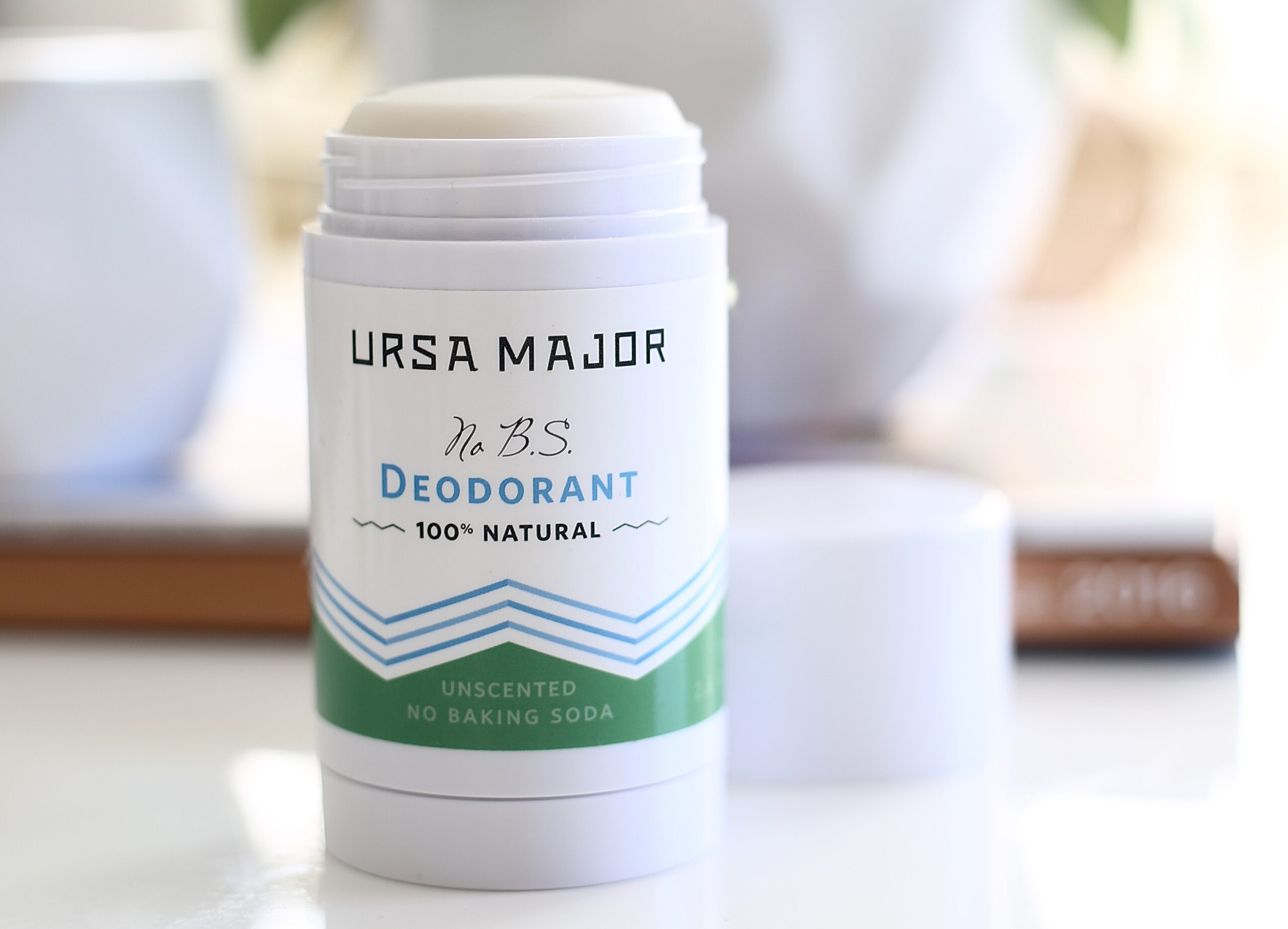 Formerly known as their No B.S. Deodorant, the Ursa Major Base Layer deodorant is fragrance free and baking soda free. If you are prone to armpit irritation, rashes or your current deodorant is leaving your pits feeling raw, the Base Layer Deodorant may be your ticket to non-irritated pits.
It has no detectable scent and feels the same going on as their Hoppin Fresh or Forest Fix deodorant. I couldn't tell any difference. Instead of baking soda, the Base Layer deodorant utilizes tapioca starch, kaolin and Probiotic enzymes to combat odor.
Ursa Major's shave cream is just that, a cream, and not the foam texture of conventional shave creams. It's super moisturizing and the concentrated, non-lathering formula minimizes nicks, cushions against razor burn and nourishes skin with aloe, oat protein, willow bark, shea and birch sap.
I'm not big into using shaving creams, but I have loved using this. This really elevates the entire shaving experience, and naturally, you get a good shave out of it. I've also had a number of men try it and they also liked it. Okay, just two men.
Ursa Major Shave Cream is not meant to be used with a face brush. Instead, you use just your hands and it will feel like you've applied a rich moisturizer rather than a foam. It has a woodsy aroma and leaves skin feeling hydrated and smooth.
I don't consider a non-toxic shaving cream a necessary product, because I find that using my body wash when shaving is enough. But if you're someone that needs a cream to shave or would like your man to switch to a natural and safe version, Ursa Major Stellar Shave Cream is, in my opinion, the best option available in the natural beauty industry.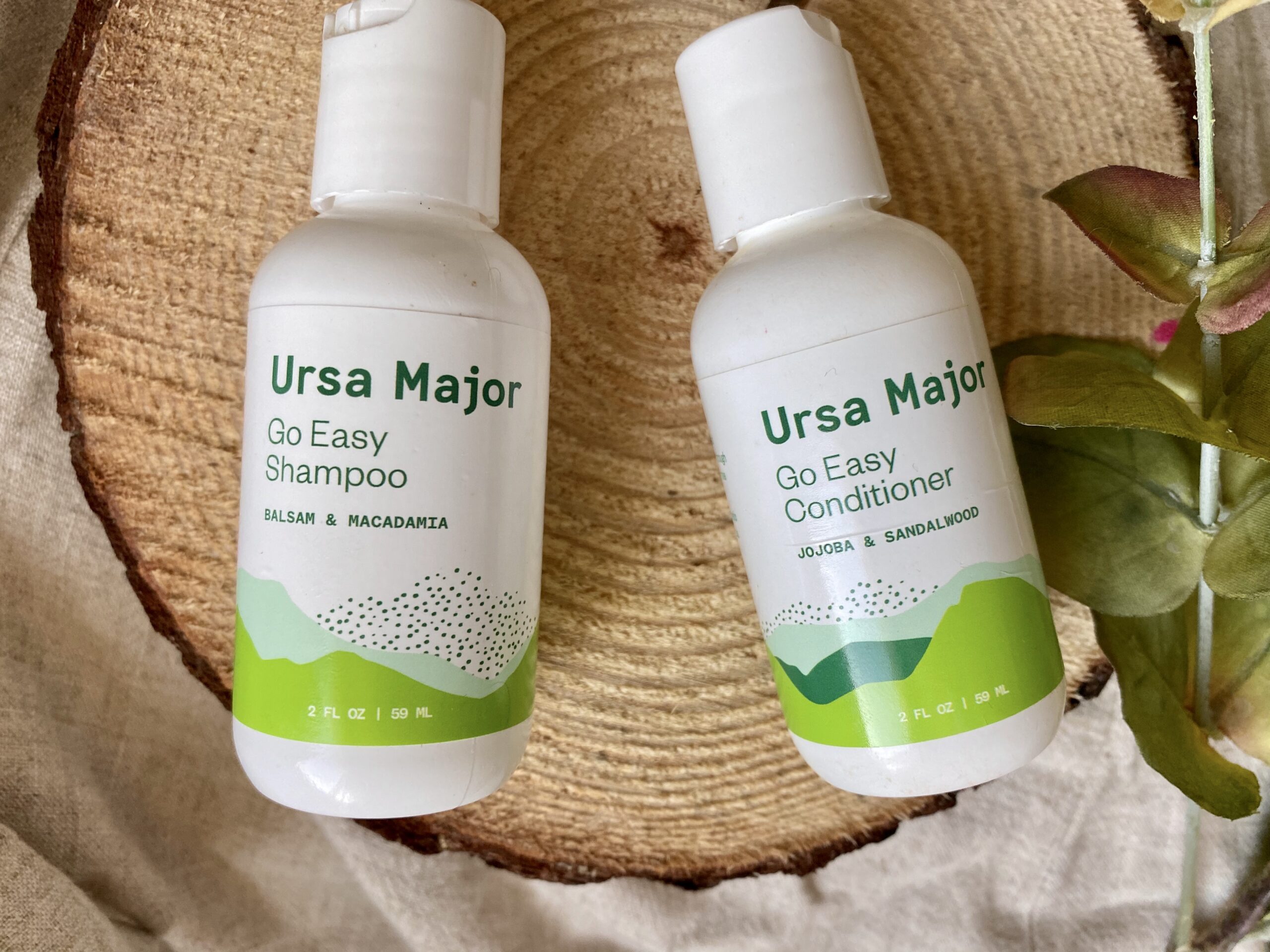 I was skeptical of Ursa Major's ability to create good hair care since I've always viewed them as a skincare company. Actually, I downright expected the shampoo and conditioner to be subpar. What I found was a well-formulated effective duo that smelled atypically mazing.
The Go Easy shampoo has a smooth gel texture and provides good lather and cleansing action. The formula thoughtfully begins with organic aloe leaf juice and is infused with macadamia, licorice, bergamot, hydrolyzed soy protein and gentle coconut-derived surfectants. It has an incredible woodsy uplifting scent that combined with the conditioner, leaves your hair smelling like a forest nymph.
I thought the Go Easy conditioner would be too lightweight and have no effect on my hair, but I was pleasantly surprised at how noticeably softer my hair was after it dried. I still feel like it isn't strong enough for regular use on my super dry and damaged hair, but I feel like this would work well with fine to normal hair. Because of the state of my hair I opt for masks in place of conditioner, but seeing as this conditioner wasn't a total flop on my hair I would love to see what kind of a hair mask Ursa Major could create in the future.
The great thing about purchasing directly from a brand's website is they usually offer travel sizes, samples and kits not available at third party online retailers. If you go directly to Ursa Major's website, you'll find they offer a Bestsellers Trial Kit containing their Fantastic Face Wash, Essential Face Wipes, 4-in-1 Essential Face Tonic, Fortifying Face Balm and Hoppin Fresh Deodorant in trial sizes – for just $25. So, you can get a feel for the line without having to purchase full sized products that might not work for you.
Again, Ursa Major offers free US shipping and International shipping for $9.95.
Ursa Major Discount Code – OBL15 saves 15%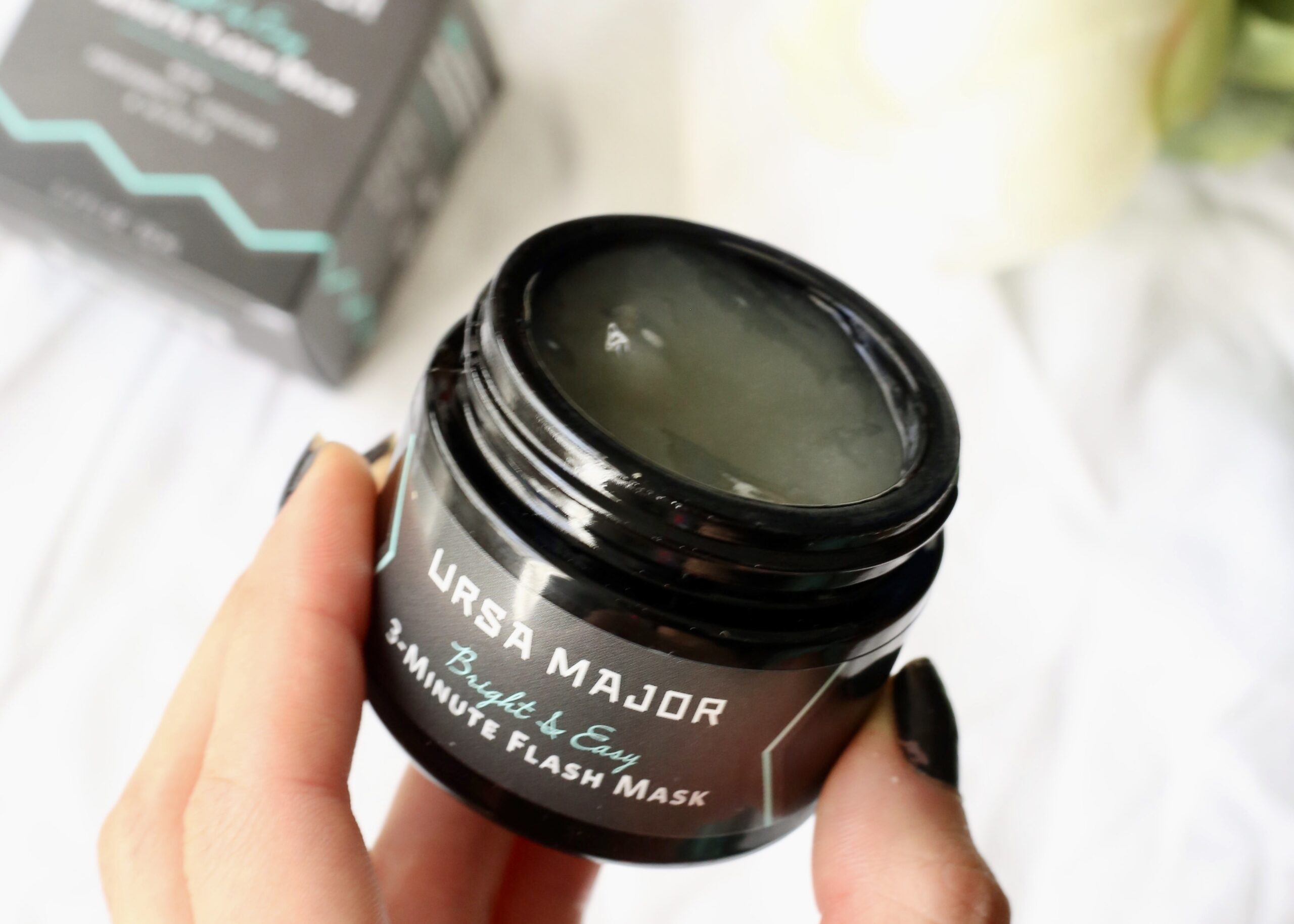 Ursa Major is now B Corp Certified
It's not everyday that a skincare brand that you've supported for years becomes B Corp certified. This is a major accomplishment and absolutely proves that a company is committed to bettering both people and planet. Besides the above accomplishments, Ursa Major is also continuously committed to sustainability. Most recently they've succeeded in:
Transitioning all 8 fl oz bottles to at least 50% PCR content

Launching new tubes containing 59.1% PCR plastic and 40.9% sugarcane bioresin

Moving to a more sustainable, FSC certified paper stock for the majority of our secondary packaging

Producing over 90% of cartons at a carbon neutral facility, with 100% renewable energy

Becoming plastic negative, meaning that we remove two plastic bottles from the environment for every bottle we sell