Hi My name is Aveeno 100% Mineral Daily Moisturizer and I'm made with 40 ingredients but I like to advertise my very last one – nourishing oat! I come recommended by some dermatologist somewhere! I'm also  almost entirely made up of water, c12-15 alkyl benzoate, silicones & Styrene/Acrylates Copolymer. 
Is Aveeno natural? The answer: no
Now that I have your attention, Aveeno is a brand that is notorious for greenwashing and misleading their customers into thinking they're all natural and full of pure goodness. This is far from the truth. Yet regular consumers unknowingly purchase assuming that Aveeno must be natural – it has the word Active Naturals in their name after all! This is what I find so frustrating. Aveeno has been around for so long and built so much brand trust and loyalty that even if someone were to tell longtime consumers the truth they would probably still purchase their products.
If you take a closer look at Aveeno's ingredients list you won't find any natural sounding ingredients in there. Okay maybe one or two in a sea of 40. The first few ingredients make up at least 70% or more of the product, and ingredients towards the bottom of the ingredients list likely make up less than 1%. Aveeno has an enormous range of shampoos, moisturizers, face wash, sunscreens, baby products and other personal care products – and most people don't bother to look at their ingredients.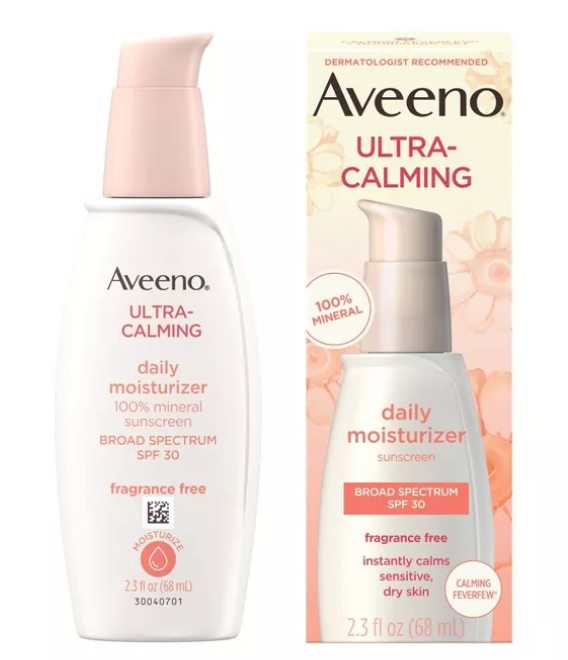 Aveeno Ultra-Calming Daily Facial Moisturizer SPF 30 sells for $14.99 on Target's website and these are its first ingredients: Water, C12-15 Alkyl Benzoate, Cyclopentasiloxane, Glycerin, Styrene/Acrylates Copolymer, Isopropyl Myristate, Cetyl Dimethicone, Octyldodecyl Neopentanoate, Glyceryl Behenate, Peg-100 Stearate, Glyceryl Stearate, Benzyl Alcohol, Aluminum Stearate, Arachidyl Alcohol, Ethylhexylglycerin, Polyhydroxystearic Acid, Caprylyl Glycol, Behenyl Alcohol, Alumina…
why you should avoid aveeno
The Campaign for Safe Cosmetics coalition, a project of Breast Cancer Prevention Partners advises consumers to avoid products with Styrene/Acrylates Copolymer because it may be contaminated with the carcinogen Styrene. Styrene is mainly used in the production of polystyrene plastics and resins and is a Category 1 endocrine disruptor, meaning evidence for endocrine disruption has been documented in humans and wildlife. It's also been been linked to increased risks for leukemia and lymphoma, genetic damage in the white blood cells, and long-term exposure can affect the Central Nervous System. It's deemed safe for use in cosmetics.. you decide!
Jokes aside,
Isopropyl Myristate is a synthetic oil made partly from a propane derivative & is used to help "fill in cracks" in the skin. It can clog pores because it's a penetration enhancer. People with rosacea or particularly sensitive skin should be extra cautious with products containing isopropyl myristate.
aluminum in skincare
You'll find aluminum in this product twice. A study done by scientists in Staffordshire looked into the aluminum content in sunscreens (ie aluminium hydroxide, aluminium oxide, aluminium silicate, aluminium stearate, aluminium starch octenylsuccinate). They asked manufacturers numerous times what the role of aluminum in their product was and only 1 answered saying it was to coat the surface. They found that a single application of some of the sunscreens would result in 200 mg of aluminium being applied to the skin. If you follow the WHO's guidelines of re-applying every few hours on beach day, you'd be applying up to 1g of aluminium on your skin.
These scientists state "Skin is permeable to aluminium salts when, for example, they are topically applied as antiperspirant formulations. It will accumulate in the skin and be transported to sites throughout the body. It is highly likely that the everyday use of sunscreens/sunblocks is an hitherto unrecognised contributor of aluminium to the human body burden of this non-essential metal. Perhaps of immediate significance is the potential for aluminium in the skin to act as a pro-oxidant (causing oxidative damage to the skin).
avoid PEG's
PEG's are another obvious one to avoid. PEG's may be contaminated with 1,4 Dioxane and Ethylene Oxide. The carcinogen 1,4-dioxane contaminates nearly 50% of personal care products tested (OCA 2008, EWG 2008).The U.S. National Toxicology Program concluded that 1,4-dioxane is 'reasonably anticipated to be a human carcinogen' and the U.S. Environmental Protection Agency (EPA) considers 1,4-dioxane a probable human carcinogen (EPA 2003). it's also linked to tumors of the liver, gallbladder, nasal cavity, lung, skin, and breast (IARC 1999; NTP 2005). Presence of 1,4-dioxane in cosmetics is of special concern, since it can be absorbed through the skin in toxic amounts.

Links to sources: bit.ly/2TjROgT, bit.ly/2TB0w9t