Getaway Cabin Review: A TINY CABIN RENTAL IN NATURE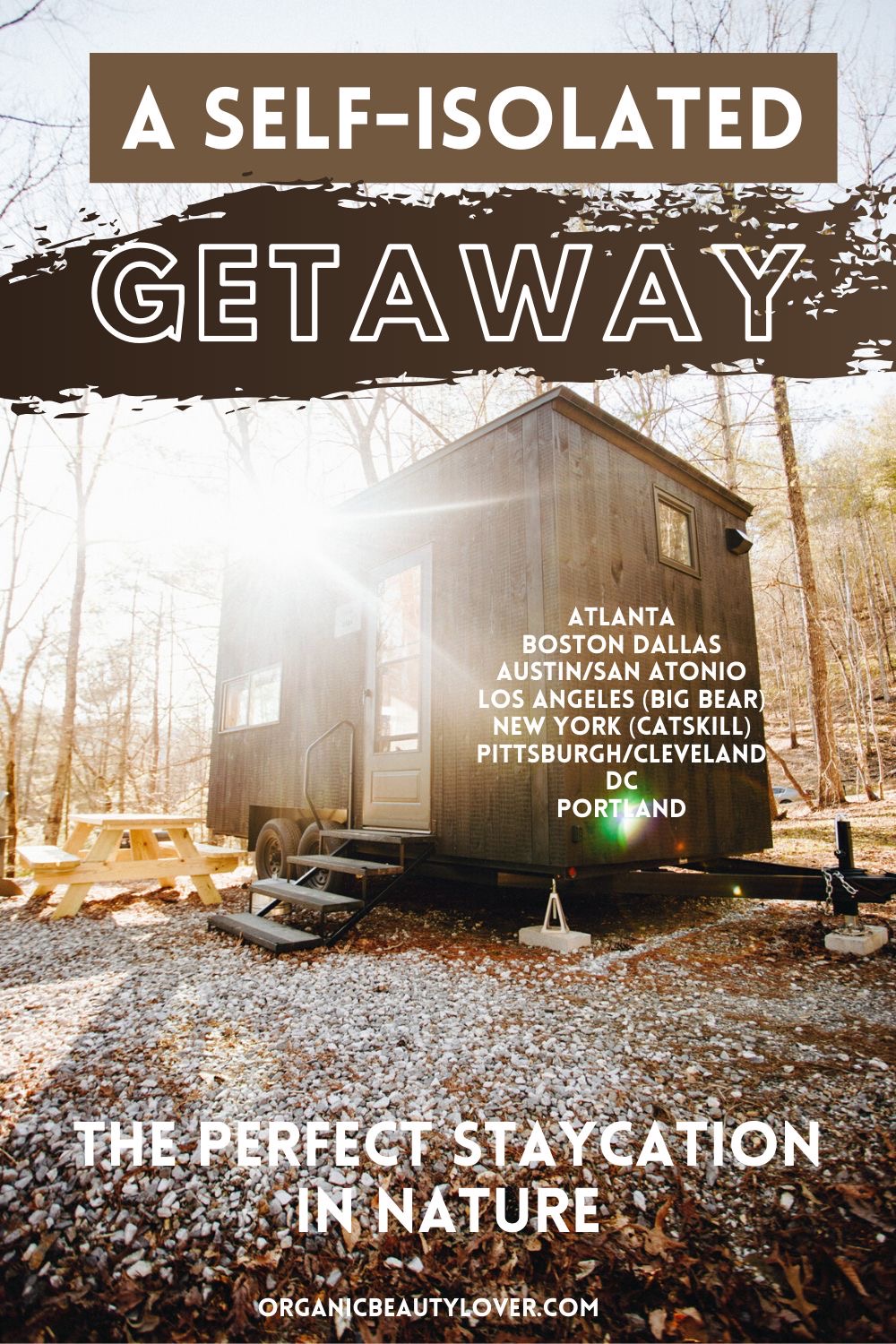 (Updated July 19, 2020 to compare Getaway House 1 bed vs 2 bed). My Getaway House Discount Code OBL saves $$.
As we all postpone and cancel our epic travel plans to go to faraway places, I was searching for interesting staycations in the Los Angeles area when I discovered Getaway House. As exciting as the city is, sometimes you just need to get away, but not too far because, money. I was specifically looking for places to get back in touch with nature, because the healing power of nature is very very real. Hello forest bathing!
Dr. Qing Li, a professor at the Nippon Medical School in Tokyo, discovered that trees and plants emit aromatic compounds called phytoncides that can instigate healthy biological changes similar to aromatherapy. Spending time in nature can also help with symptom relief for health issues like depression, anxiety, cancer and attention disorders. The health benefits of spending time outside are many, and if you're a city girl like me, it's very needed just on an emotional and psychological level.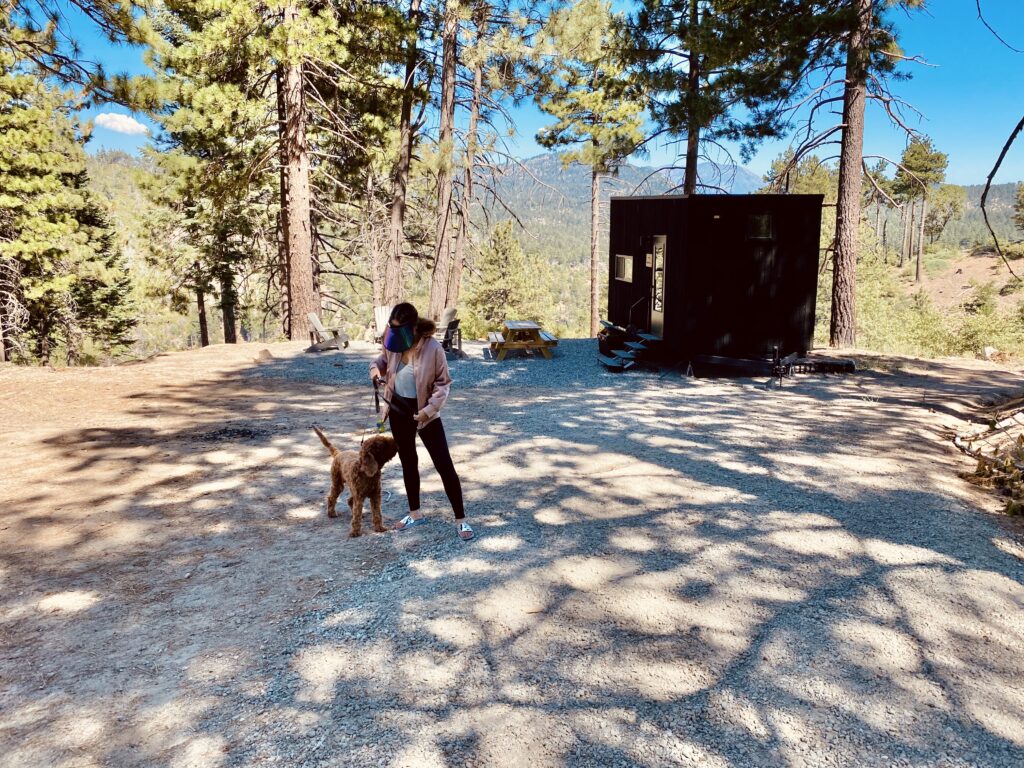 This is also the perfect way to enjoy the outdoors while not giving up the amenities you'd find at a hotel. If you're interested in a tiny cabin rental, read on to find out all about my Getaway House experience, my dog's review, and what to pack for Getaway House including a complete packing checklist for you to have the perfect Getaway.
I'll be diving into all the best tips and tricks to make the most out of your Getaway House stay. This is everything I wish I knew before I went! Plus my Getaway House promo code saves you $$.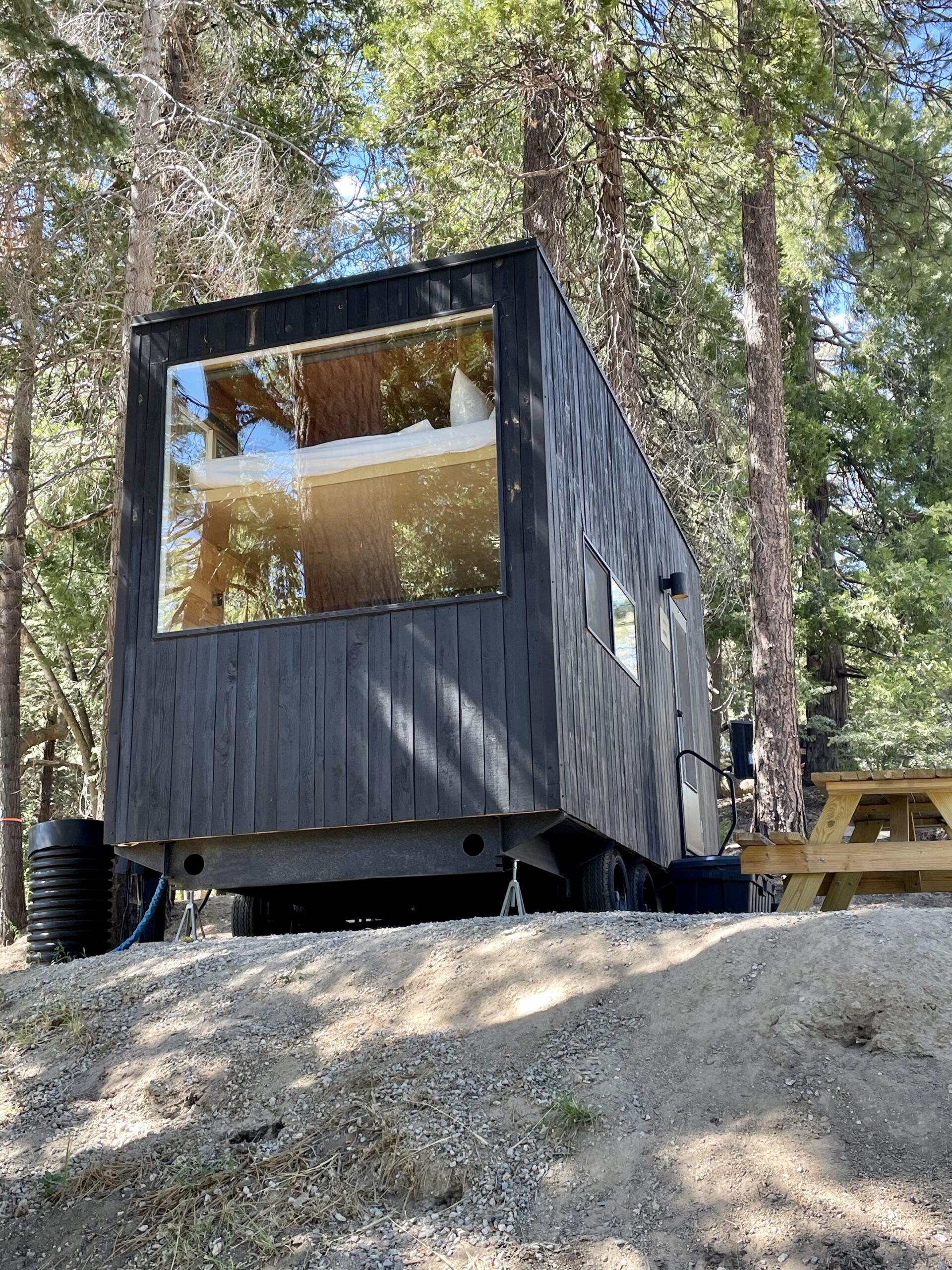 what is getaway
Getaway is a tiny cabin nestled in nature, just a few hours from the city. The mini escape promises to help you disconnect from your usual day-to-day routine and get back to nature, relax, rejuvenate and recharge. From start to end you don't have to interact with nary a soul. Getaway wants to be part of your wellness routine, and they make it so easy (and affordable) to do so!
Getaway House is all about life's simple pleasures:
Balance: Making cities better through nature, disconnection and rest
Simplicity: Doing nothing and embracing everything
Ritual: Creating the time and space your soul craves to explore and appreciate nature
Leisure: Entertaining the curiosity of a pioneer along with the solitude of a lone ranger
Quiet: Enjoying your own silent sanctuary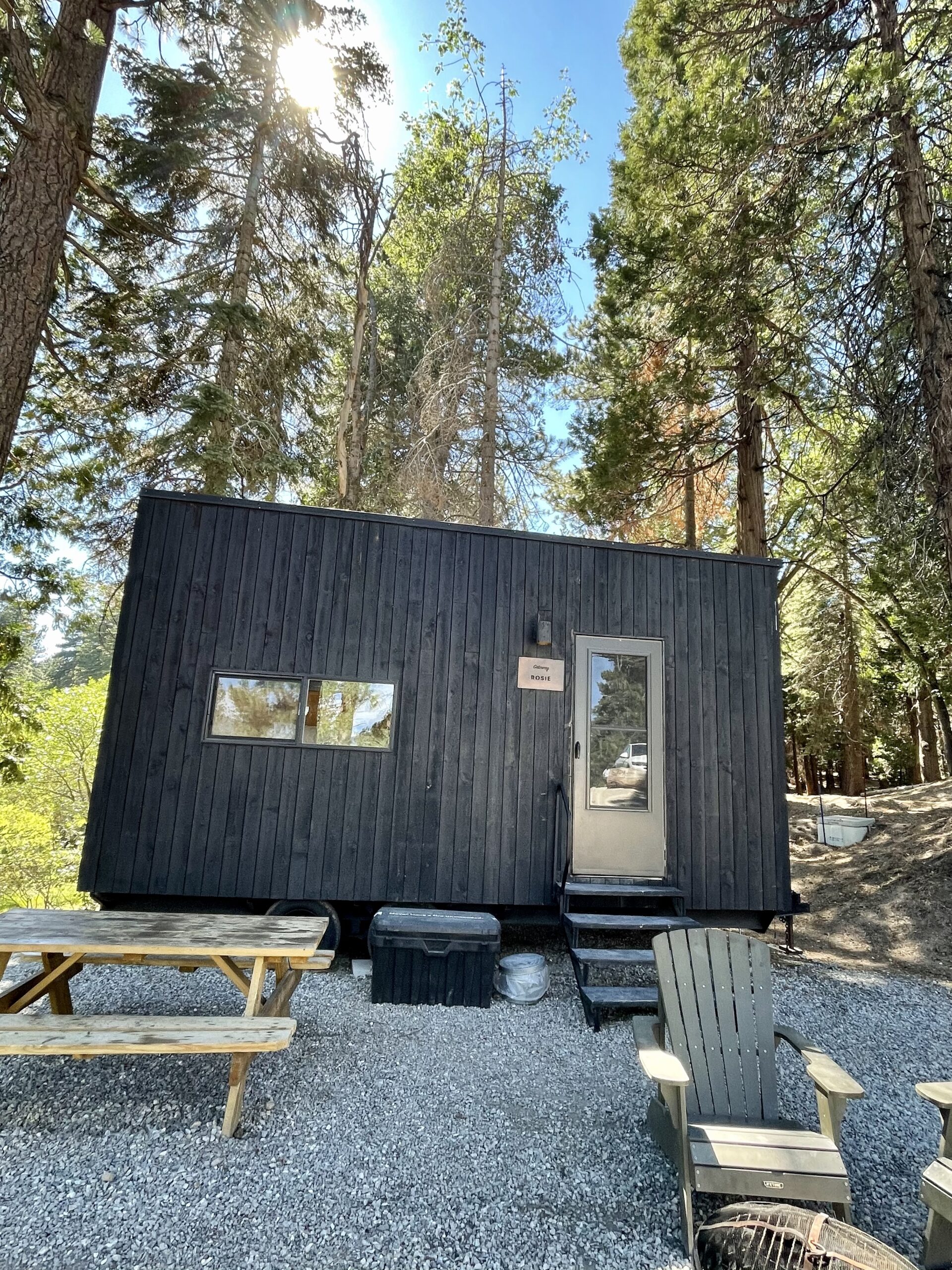 getaway locations (updated 2022)
Atlanta
Boston
Seattle
New Orleans
Minneapolis
Dallas
Austin/San Antonio
Houston
Kansas City
Charlotte + Raleigh
Los Angeles (Big Bear)
New York (Catskill)
Pittsburgh/Cleveland
DC
Portland
Nashville
Chicago
Machimoodus 
getaway booking and prices
I tinkered around with the online booking system and found that there's a big difference between weekend and weekday prices. It can be more than twice as expensive to go on a Saturday then Sunday through Thursday. For Los Angeles outpost, Weekday prices are around $199 with weekend prices usually at $399 during the spring and summer.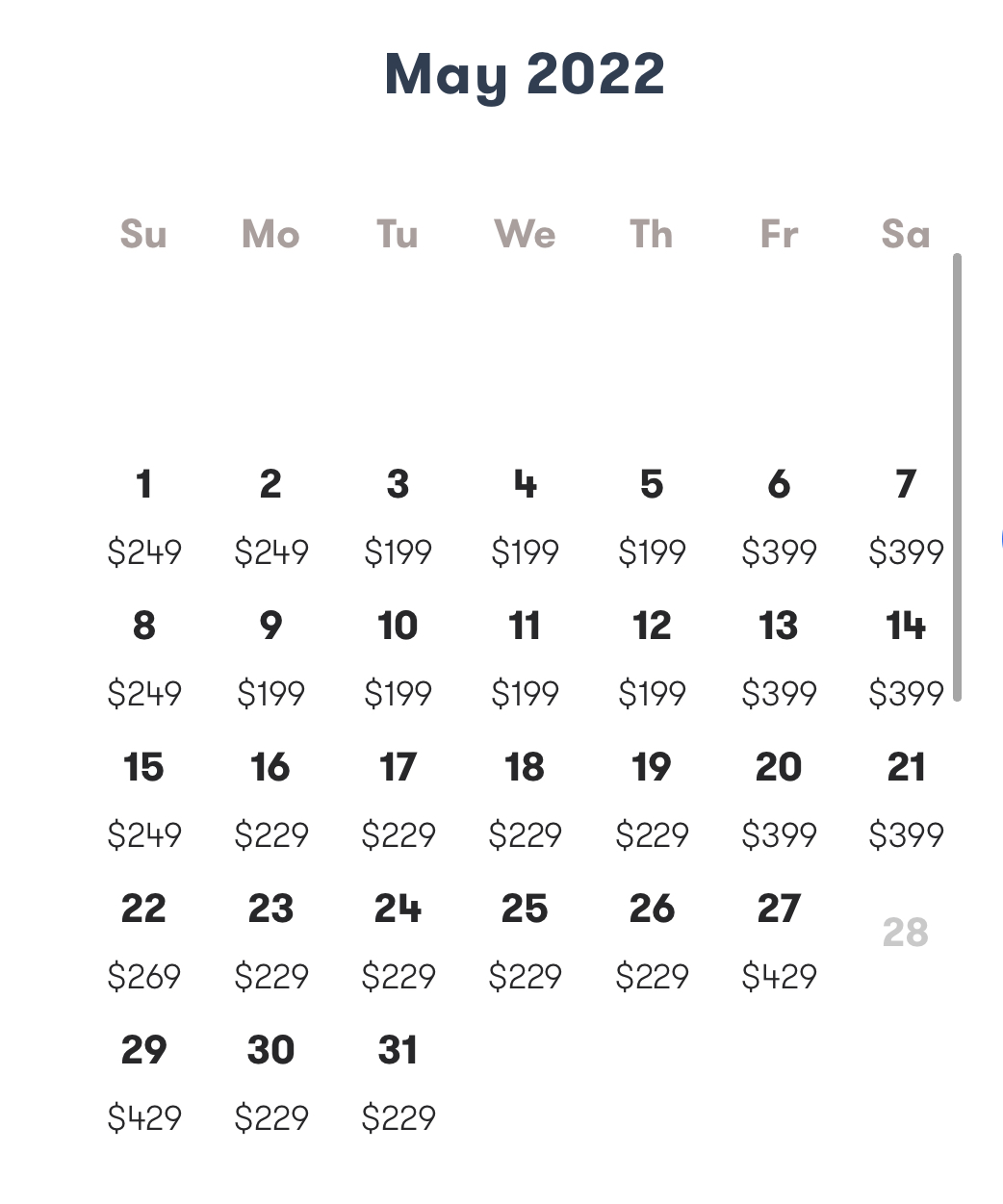 While Getaway New York has similar prices to LA, the other cities seem to be much more affordable. Maybe it's time for me to move? If you're not living in a super expensive city like LA or NY then booking prices can go much lower. Plus with my Getaway discount code OBL you can save $25 extra. I also appreciate that there is no minimum stay on the weekends. A lot of eco lodging places require a minimum 2 night stay on the weekends but you can book for Saturday and leave Sunday!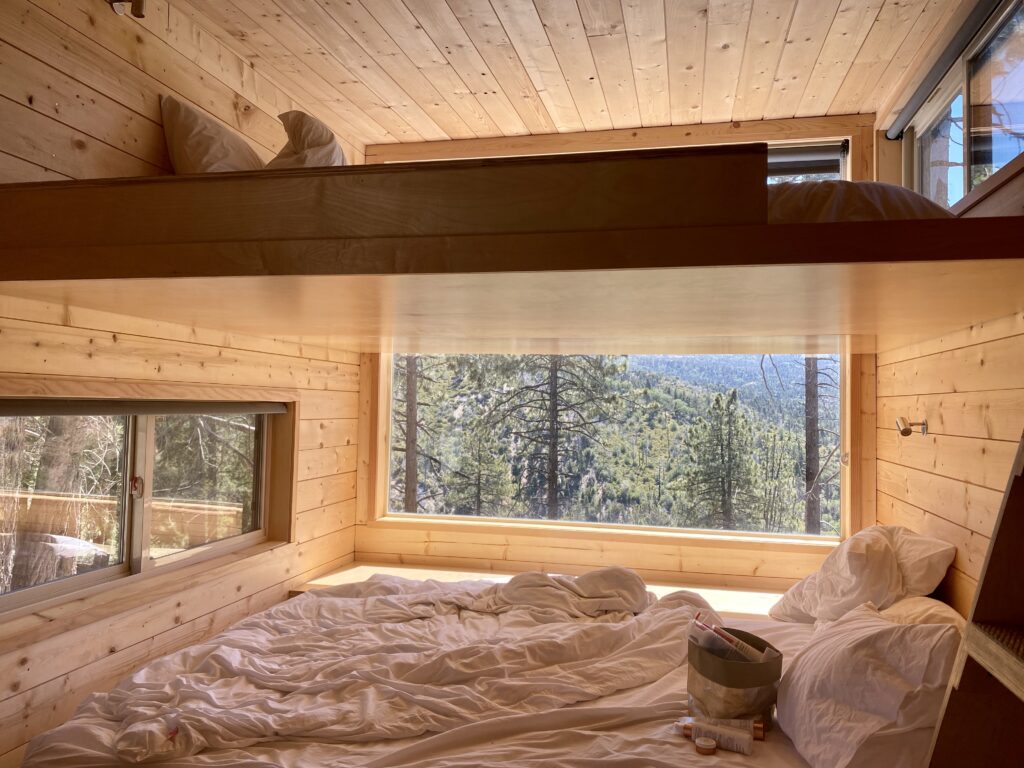 Getaway House offers one bed or two bed cabins. (UPDATE JULY 7, 2020: I had a second stay with Getaway in a 2 bed cabin and will be comparing the 1 bed vs 2 bed. Hint: I like the 2 bed more!) I stayed in a one bed cabin but the two bed cabins may be larger. The two bed cabins are bunk bed style so the view may be a little obstructed. They're perfect if you have kids traveling with you or are brave enough to do a tiny cabin stay with 3 of your friends.
They also have add-on kits for purchase when booking like intimacy kits, kids adventure kits, and celebration kits for birthdays, anniversaries and egagements.
pet fee
There is a $40 pet fee if you're bringing your dog along. This includes some dog snacks. My Getaway cabin also had a water and food bowl, so I didn't need to bring my own.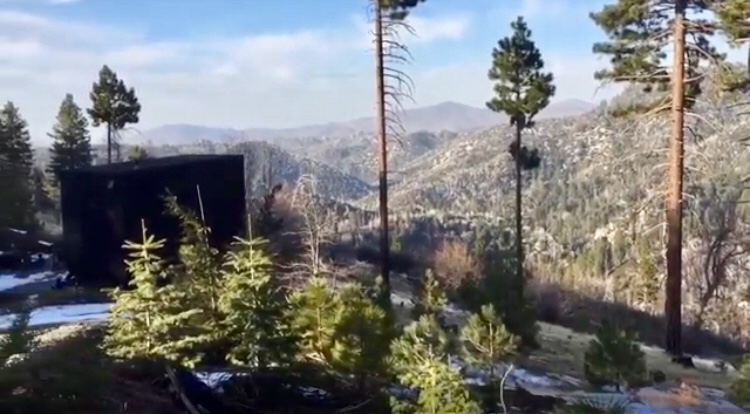 requesting specific cabins (with the best views)
The truth is some cabins have better views than others and some have waaay better views. I walked around looking at other Getaway cabins at the Big Bear outpost with a tinge of envy at the view some of these guests get to wake up to in the morning.
I emailed Getaway's customer service to check if it's possible to request specific cabins (each cabin is named after someone), and they said while they cannot guarantee cabin requests they will do the best they can to accomodate them.
SO, if you're going to the Los Angeles outpost, I recommend requesting cabin LATAINE, TOM or cabin RENATA. Make a note of those names. You'll get to wake to views like the above if you're lucky enough. The picture does not do it justice. Most of the cabins do have amazing panoramic views, but there are definitely some that don't.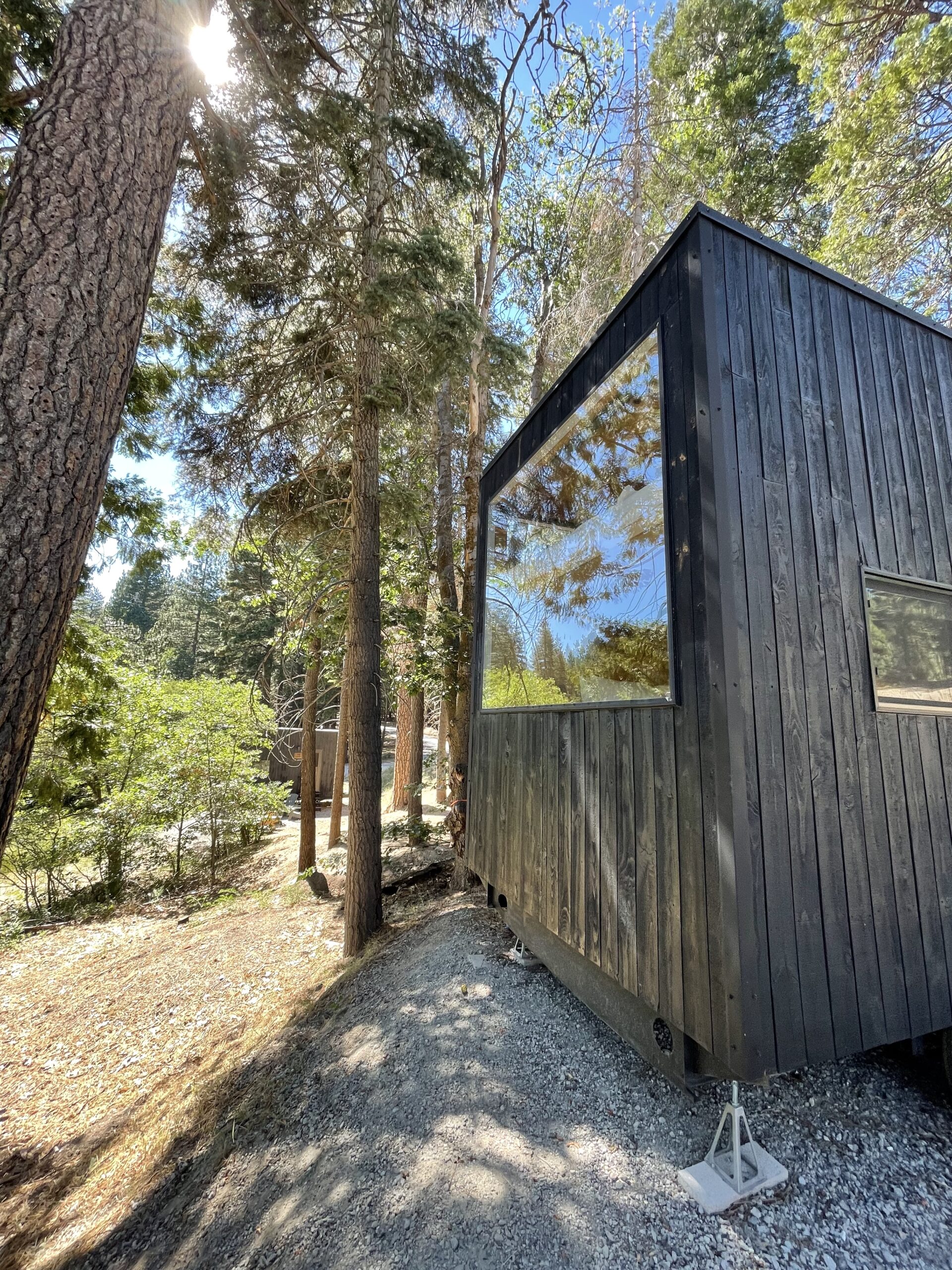 some interesting amenities I didn't expect
24/7 concierge service by text
Because this isn't a regular hotel with a reception and on-site employees, Getaway House provides service by text and 24 hours a day 7 days a week. Leading up to my travel date I got a few texts by friendly staff and I could ask any questions by text and they would respond almost immediately. This made me feel safer about going to a remote, secluded area. If some emergency would befall me during my stay, at least all I had to do was be near my phone and still have the ability to type. Just kidding, there's an emergency telephone available.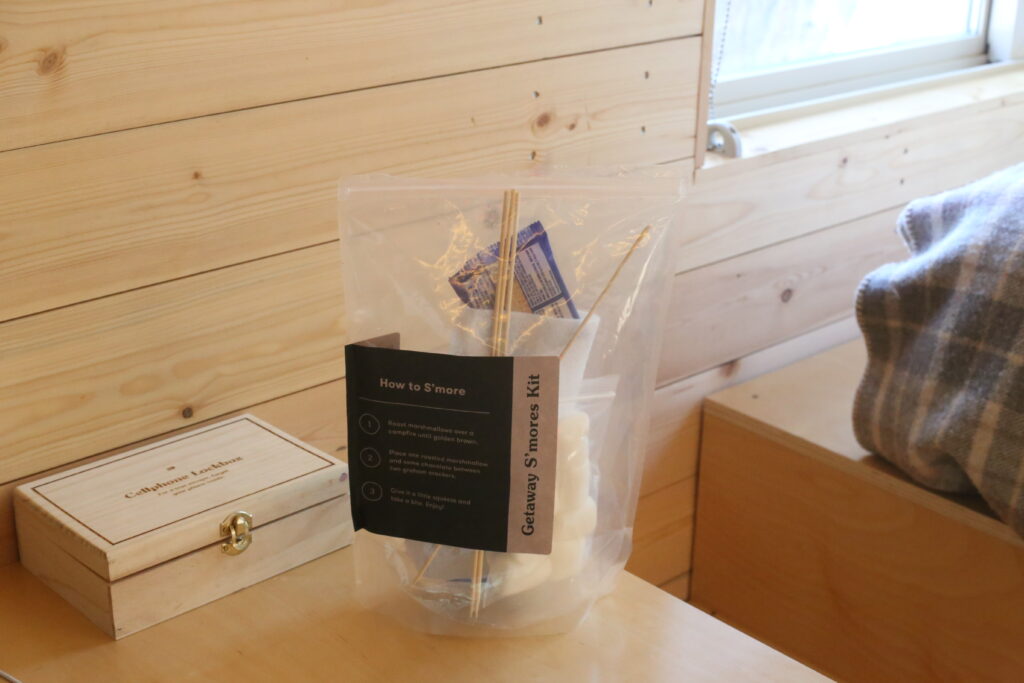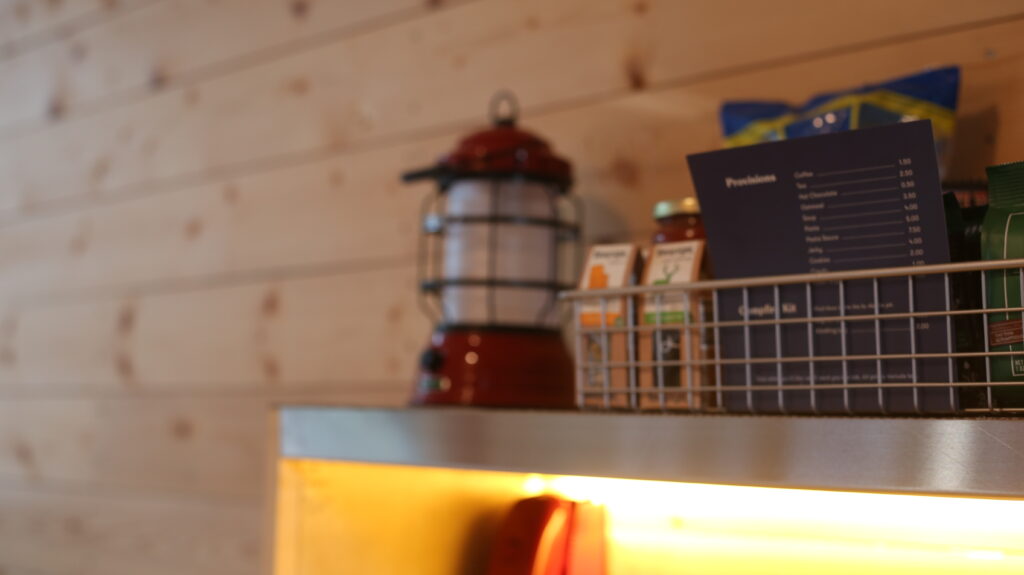 snacks and firewood are available for purchase in the cabin
The Getaway cabin has snacks and firewood available in case you forget them. The prices aren't over the top, but I would still recommend you bring your own snacks. There was also a s'mores kit for two waiting for me free of charge. It's a good thing I didn't go out of my way to buy marshmallows, graham crackers, chocolate and skewers!
the water is drinkable
I don't drink tap water if at all possible. The number of dangerous chemicals present in our tap water is very scary and I don't take the risk. BUT, if you're ok with tap water, the water that runs through the cabin's kitchen sink is entirely drinkable.
I packed my Travel Berkey Filter which I use everyday at home and it completely eliminates any need to buy plastic water bottles.
an electrical outlet is available
The cabin has an electrical outlet for you to not only charge your phone but also plug in devices. So if you really need to bring your hair straightener, curling wand, laptop, essential oil diffuser (moi), you CAN!
blackout shades
These aren't exactly blackout shades, because they don't blackout the room entirely, but I didn't expect there to be shades at all. I am so glad there were because I am a very light sleeper. Thanks to the impeccable attention to detail in this cabin I was able to get some decent shuteye.
basic condiments like salt, pepper and olive oil
When it was time to cook dinner, I panicked because I hadn't packed any salt or pepper. But the Getaway cabin had every basic cooking item I needed like salt, pepper, olive oil, cutlery, pots and pans, and knives.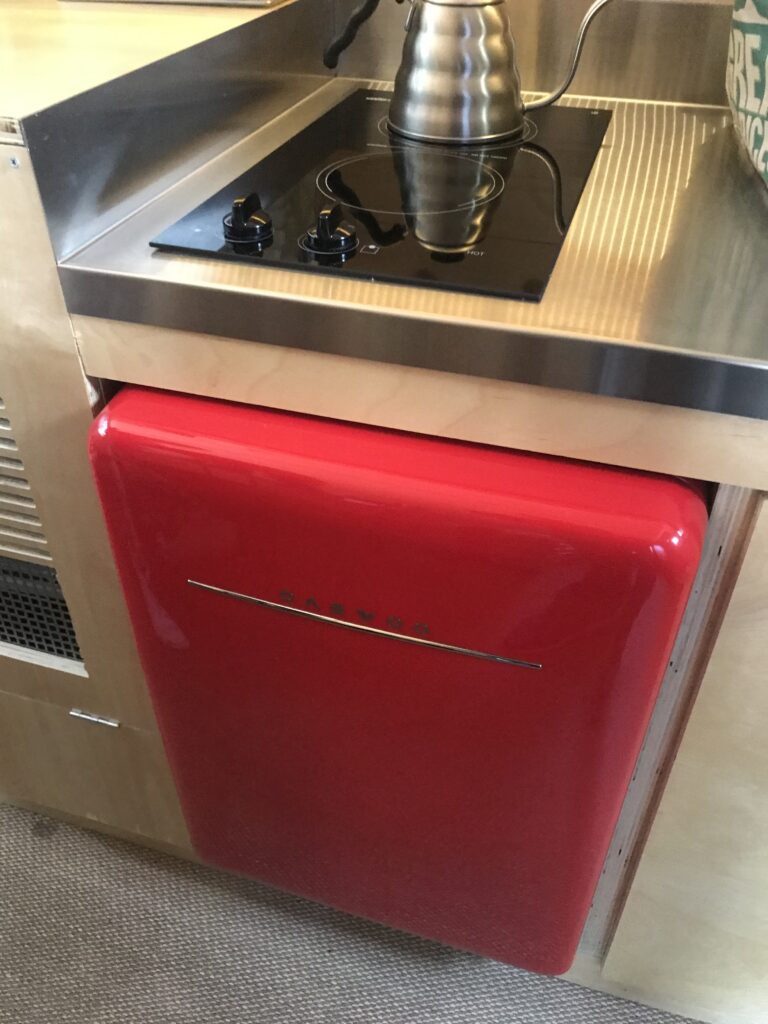 mini fridge with freezer
The kitchen is stocked with a decent sized mini fridge that also has a freezer. So if you want to bring ice cream or popsicles in the summer months, you can store these. The freezer part is small so don't bring jumbo size treats.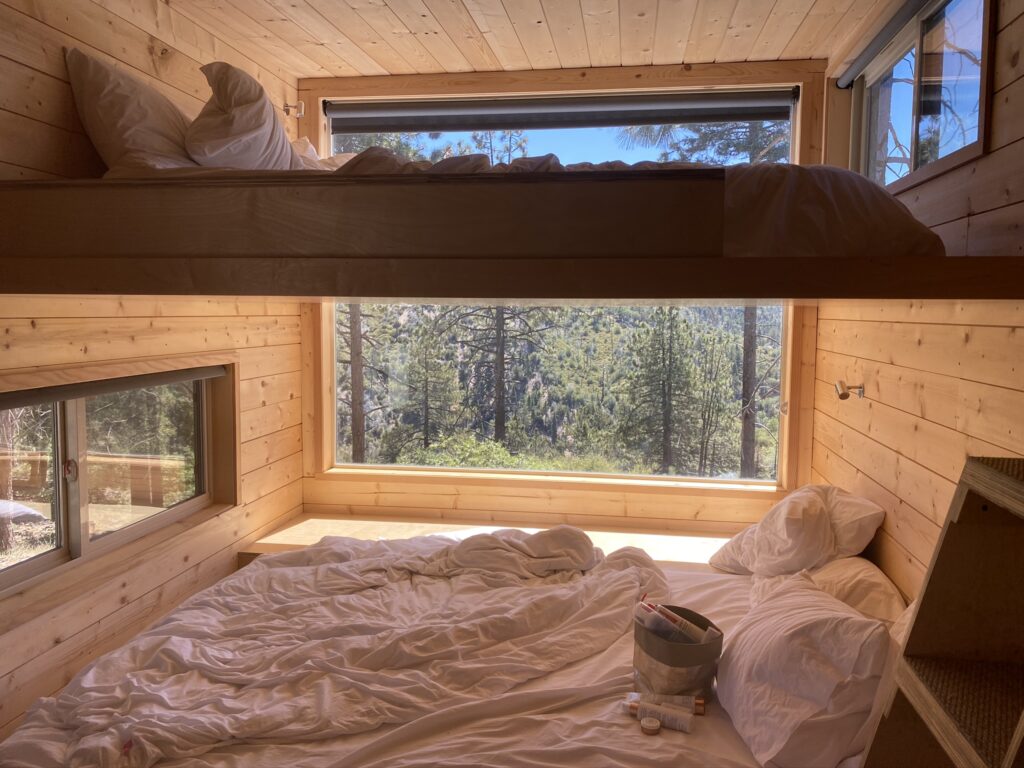 Getaway House 1 bed vs 2 bed
I stayed in a Getaway 1 bed cabin in March and a 2 bed cabin this weekend, and I much prefer the 2 bed cabin. Yes the 1 bed has a floor to ceiling style window and the 2 bed is a little obstructed from the top bunk. But it's only a minor obstruction. You still get an amazing view from the bottom bed and a different view from the top bed.
There are stairs leading up to the upper bunk bed and a metal railing handle for support. The top bed has 2 windows as well and the bed seems to be the same size. It's suitable for kids or shorter adults because there isn't much vertical space up at the top. I liked the different feeling you get on the top bed. The view is a little different and it feels like you're suspended in the middle of the forest!
In the summer, it does get hot on the upper bed and the AC doesn't do a good job of reaching that area. The 2 bed cabin felt much more spacious to me than the 1 bed. There is a large wooden panel between the bed and the window so it feels like the sleeping area is much bigger. The rest of the 2 bed cabin like the toilet and kitchen is about the same size as the 1 bed.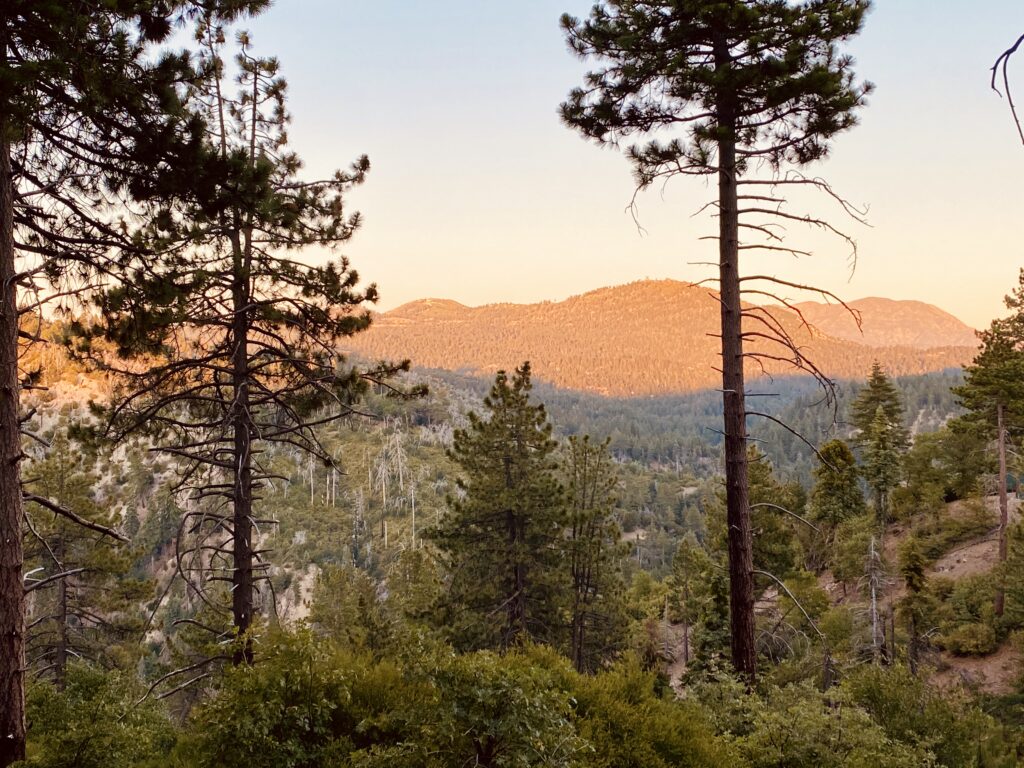 some items I wish I had brought
motion sickness pills
The drive up to Big Bear from LA is only about 2 hours, but once you're near you'll encounter neverending winding roads. I get BAD motion sickness. I completely forgot how mountain roads are and had to suffer through the last part of the drive. Getting to Big Bear Lake is also full of winding roads, and I dry heaved all the way there. If you get motion sick, don't forget your medicine!
warmer clothing (winter)
I understimated how cold it would be in March in Big Bear! It has been so warm in LA that I thought it would have warmed up in Big Bear too. I was wrong. I could barely last five minutes outside at night with a faux teddy coat on. I had to turn the heater on all night and taking the dog out to pee in the early morning was brutal too.
dog wipes
Technically dogs need to be on leash at all times, but I let Rufus off to play fetch directly outside our cabin among the trees. He LOVED it! He's never been in the woods before and quickly took to exploring.. This plus melting snow of course was not a good mix. I ended up with a dog whose fluffy legs and paws turned black. Giving him a shower inside a tiny cabin bathroom was not the highlight of my stay.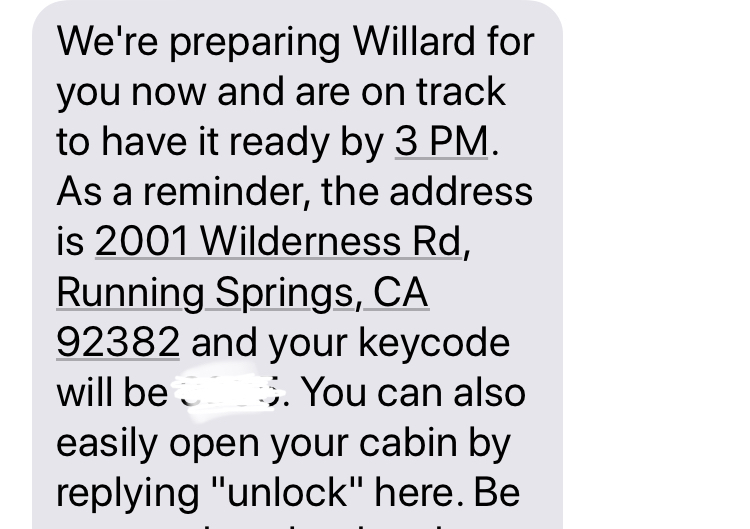 cabin check in
The Getaway text concierge guys sent me a text with the cabin name and keycode 2 hours before check-in (check-in is at 3 pm). I started panicking the night before because I didn't know which cabin to go to and how to get in. The protocol though is they send you a text a few hours before you're check-in time. They also sent me a map of the outpost and cabins, recomending that I download it because it's possible to lose service once in the area. I lost cellphone service for a bit here and there, but for the most part had connection when arriving and throughout my stay.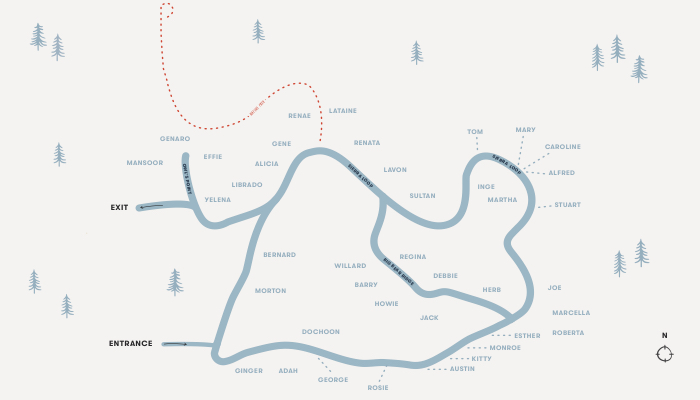 It was very easy to find my cabin based on the map. The have well-placed signs to guide you if you do forget to download the map and lose service. We drove up right to our cabin, unloaded our luggage, and proceeded to our cabin door. The cabins use an electronic keypad lock, but you can also text the concierge with the word "unlock" and they will remotely unlock it for you.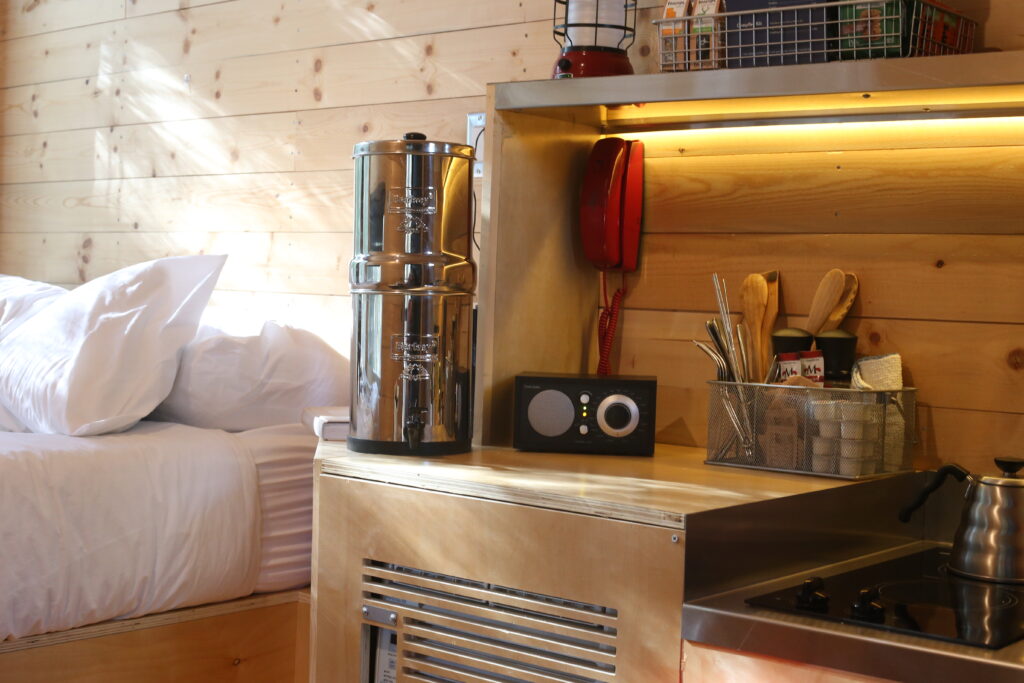 what's inside the tiny cabin
As tiny as the Getaway cabin is, I was impressed by how well stocked it was with everything I'd need and then some.
screen door
The screen door helps you feel less claustrophobic and allows a lot more natural light and that fresh forest air to come in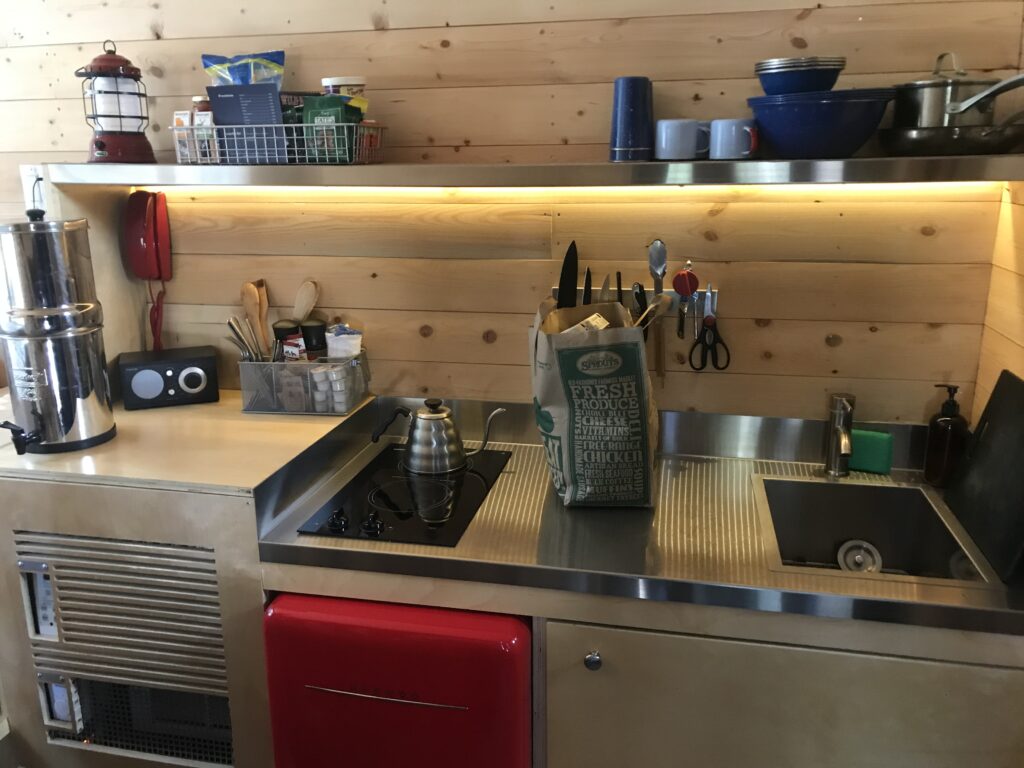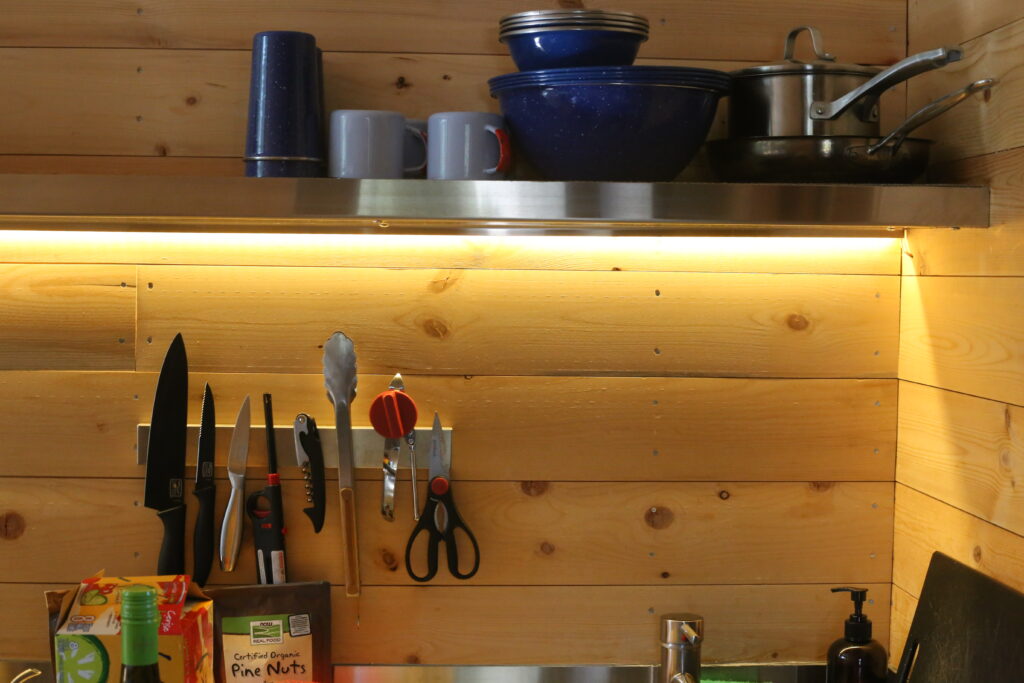 kitchen
The kitchen is stocked with forks, spoons, hand towels, bowls, cups, mugs, knives, lighter, can opener, bottle cap opener, pot, pan, kettle pot, and a cutting board. There's also a mini fridge with freezer, dish soap and sponge, cleaning supplies under the sink and a "minibar" with snacks available for purchase.
heater/AC
I am so glad there was a fully functioning heater because it was way colder than I thought in March.
dining table and chairs
There is a small dining table with a chair and a bench that's part of the bedframe. The table can double as a desk to play board games or journal. We had breakfast and dinner inside the cabin because it was too cold outside. There's an electrical outlet so if you do need to work on your laptop it's possible. On the table is a cellphone lockbox for you to lock away your phones and go off grid, get off social media, leave texts unaswered, leave emails piling up in your inbox..you get the idea!
card games, books and radio
They provide ways for you to relax, disconnect and have fun during your stay. The cabin had a set of books available to read by the bed and a deck of cards. There were no board games so if you're into Scrabble or Monopoly you'll have to bring them. There's also a radio so you can blast music. The cabin walls are well insulated and block out nearly all sound so I could play my music loud without having to worry about bothering anyone.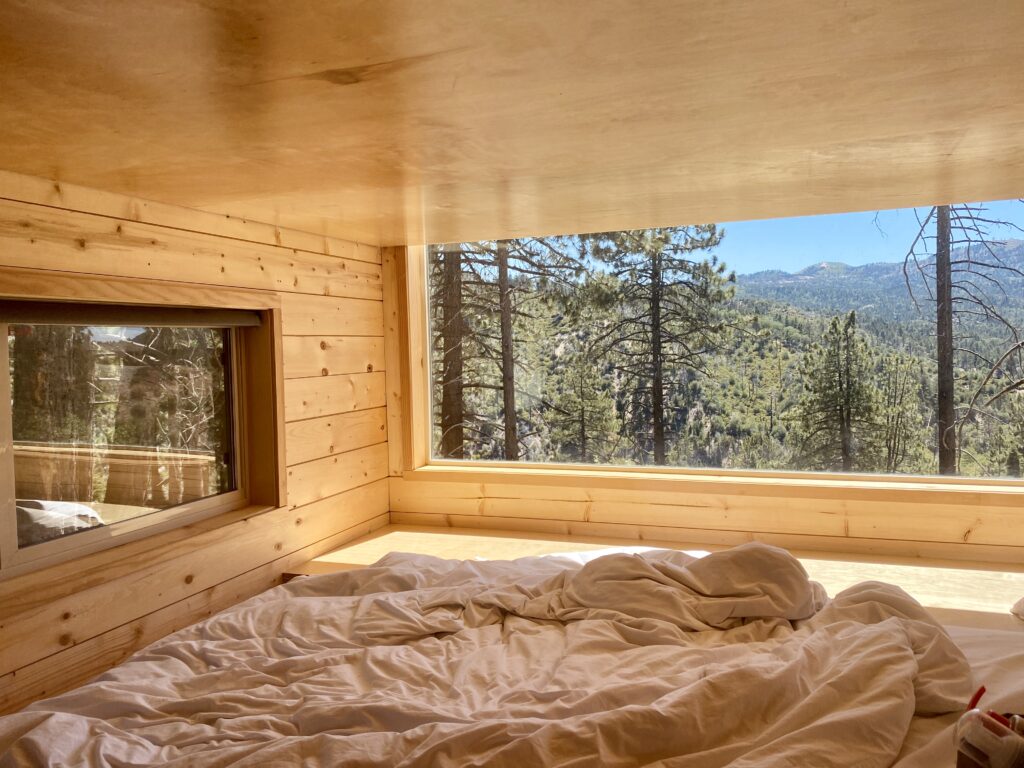 queen size bed
I want this to be the most honest Getaway House review out there, so I will have to say that the bed was not as comfortable as what I'm used to. If you prefer a mattress that's more on the firm side then your opinion may differ. My back is used to a softer mattress so I did wake up a little stiff in the morning.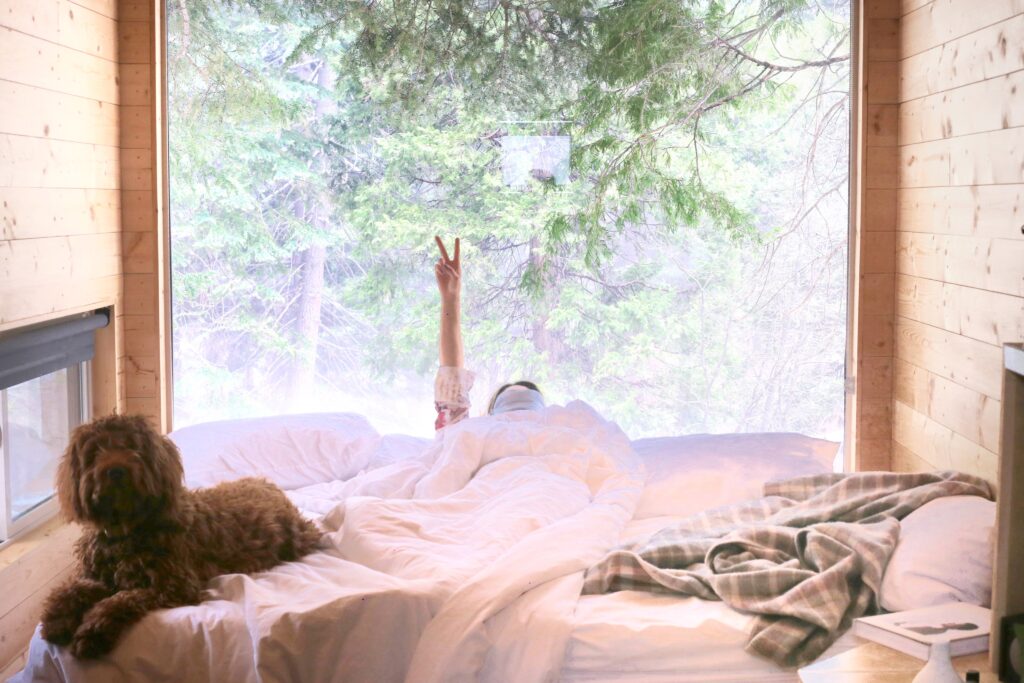 giant window plus small window
The window is undoubtedly the best part of the Getaway cabin experience. Is a room even worth it if it doesn't have a view? The huge window is what made me feel like I was still outside in the wilderness even though, technically, I was inside a tiny cabin. I don't often get to appreciate the beauty of nature (except the beach) living in Los Angeles, so I reveled in every moment I could.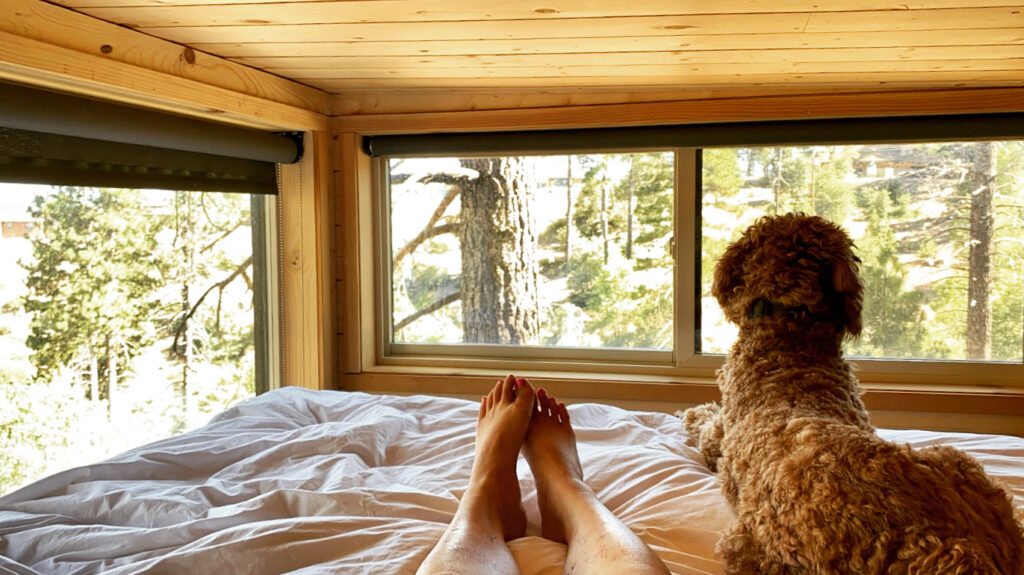 There is also a narrow horizontal window at the foot of the bed that gives you a secondary view of the firepit and picnic table. This is especially useful if you have food roasting on the firepit or if you want to check how the fire is burning without having to step outside.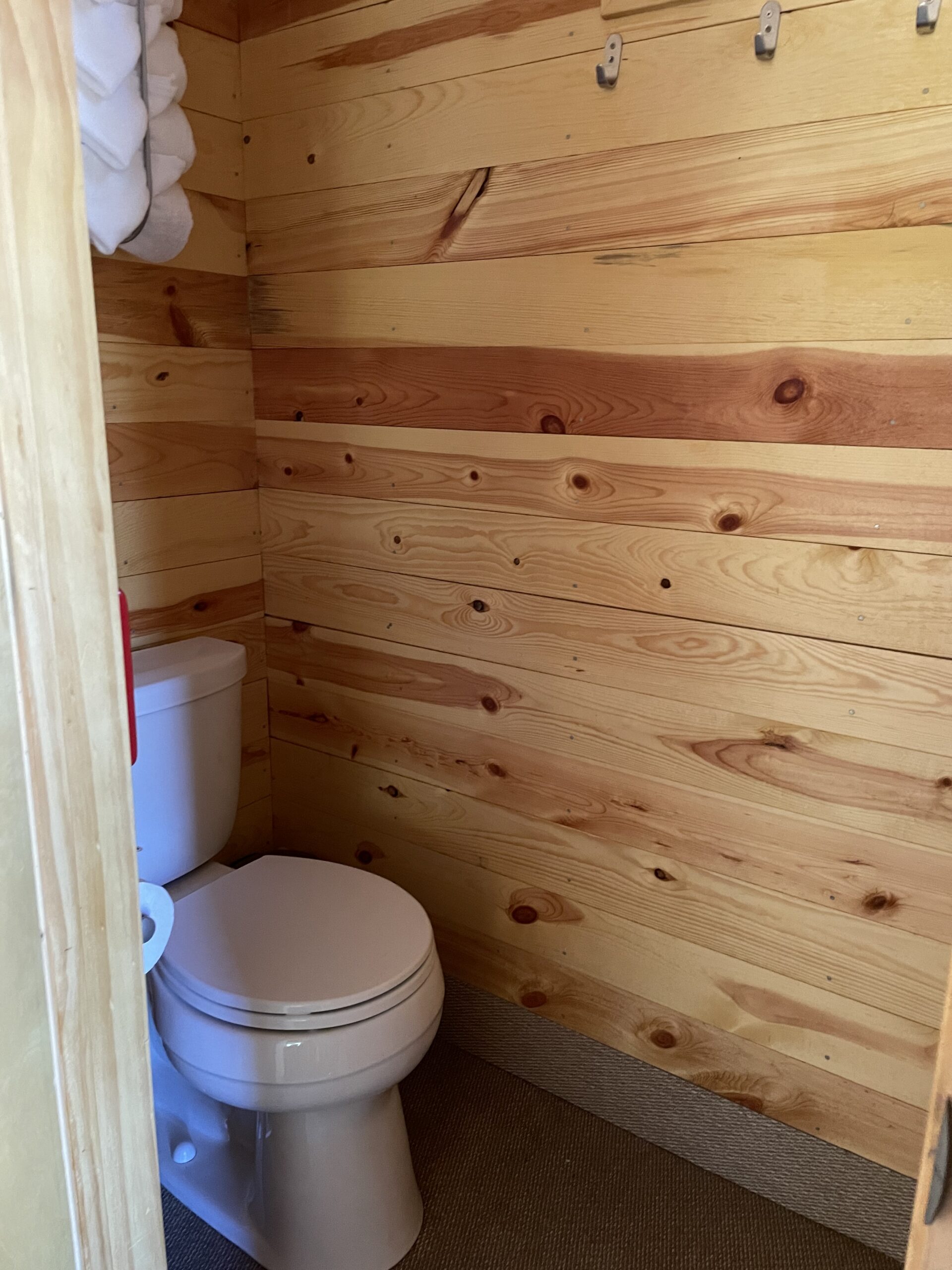 bathroom
This girl can't handle outhouses, public bathrooms or portapotties. The Getaway cabin thankfully has a tiny, clean bathroom equipped with towels, toilet paper, shower stall and biodegradable shampoo, body wash and conditioner.
The water turns nice and hot, but the shower head is fixed and isn't detachable. Not easy when you're trying to wash your dirty dog.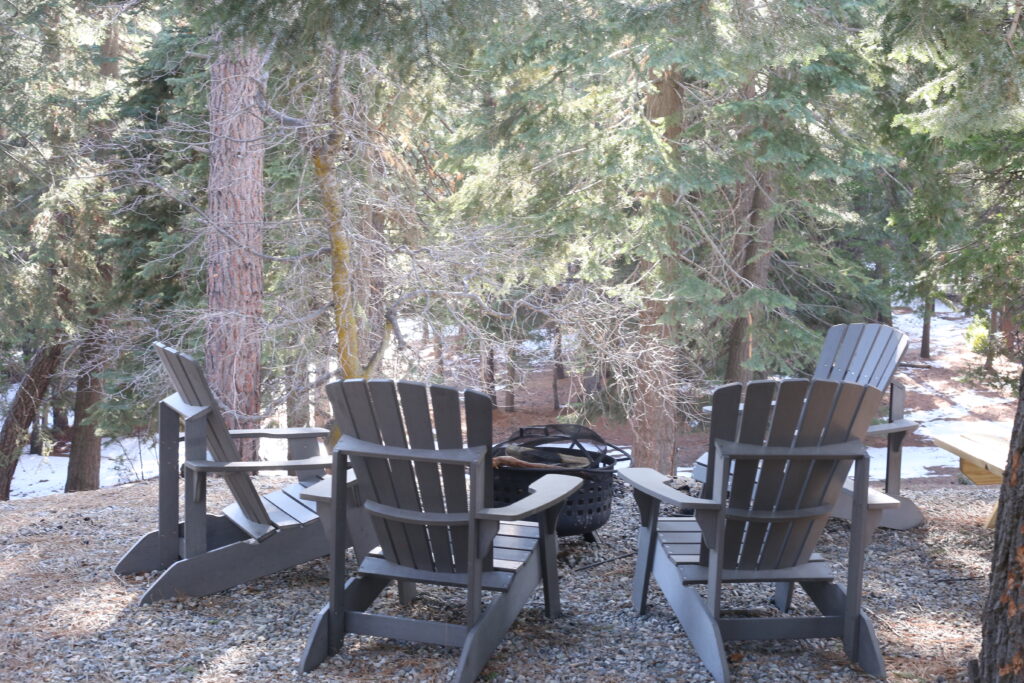 outdoor firepit and picnic table
Our outdoor firepit had four chairs and a large picnic table even though we didn't use the table. The firepit was perfect for grilling and roasting smores – one of my favorite parts of the Getaway! The last time I made s'mores was probably in my kitchen on a day I was feeling homesick in Switzerland circa 2012. There's a fire starter kit to help you if you don't know how.
you're not completely secluded
There are other Getaway cabins around you so you're not completely isolated. I had visions of a crazy ax man waiting for my arrival and coming to murder me with no one for miles around to help me. The entire time I spent at my Getaway cabin I only saw our nearest neighbor's dog roaming around. The only time I saw humans was once when I took strolls with Rufus on the roads within our outpost. They were also walking their pup.
In my cabin I felt secluded in nature, but I knew I was inside a Getaway outpost cabin community of at least a dozen cabins.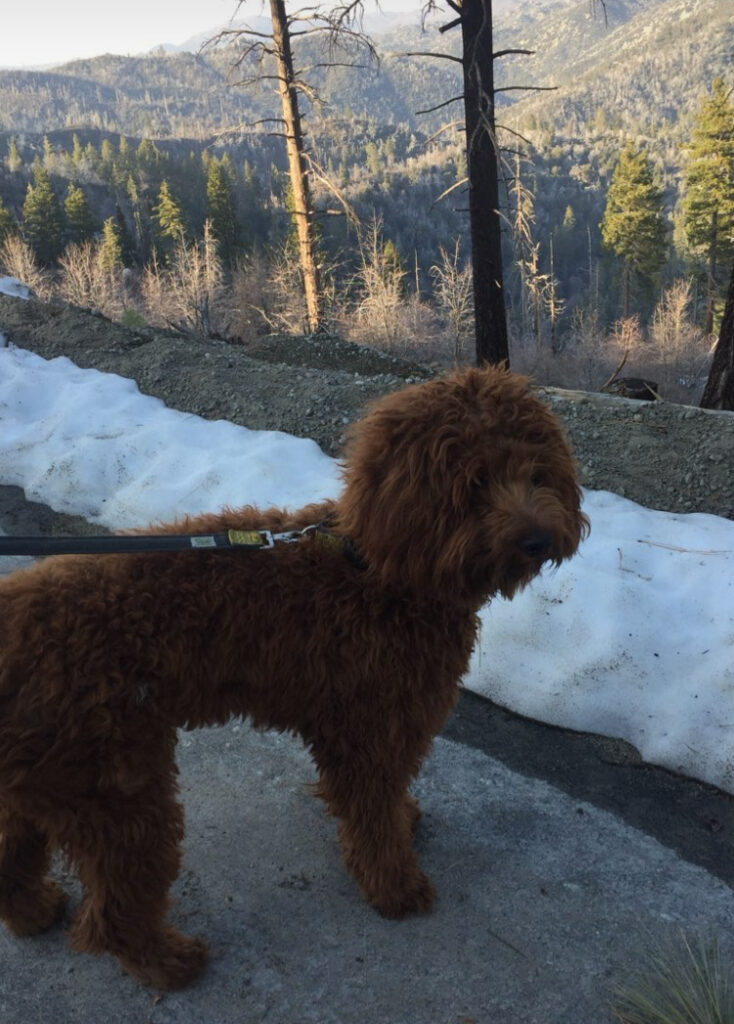 things to do in Big Bear
Big Bear Lake is about a 20 minute drive from the Los Angeles outpost. There's also Lake Arrowhead but we didn't end up visiting. Big Bear offers plenty of activities year round including skiing, snowboarding hiking, kayaking, jet skiing, lake touring, fishing and more. Check them out here.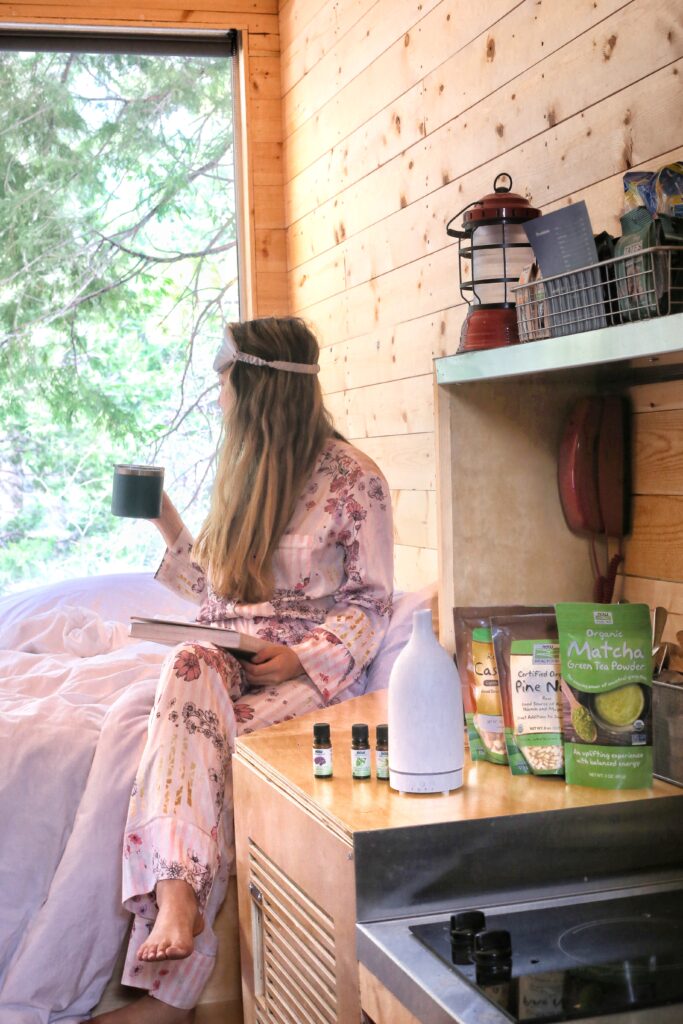 Getaway House Packing Checklist
I'm making it super easy for you to prepare everything you need for your Getaway House stay with this detailed packing checklist. I've also included what to pack for your dog. Some of these items you may not need depending on the weather. Here's what to pack for Getaway:
Clothing
Daytime outfits
Underwear
Socks
Coats, gloves, hats and layers for winter
Boots or sneakers for hiking
Workout clothes
Pajamas
Slippers to wear in the cabin
Food
Groceries for cooking breakfast, lunch and/or dinner
Snacks to munch on like a squirrel
Wine and more wine
Cocktail mix if you feel like getting your drink on (please drink responsibly and only if you're 21+. Same with the wine.)
Dessert
Favorite beverages
Coffee (it's available for purchase but it didn't taste great. I brought my matcha powder)
Ingredients for your coffee like oat milk and natural sweetener
Hot chocolate mix for the winter
Recreational Items
Games
Books
Self-care items (I brought my essential oil diffuser and essential oils. For you, this could be a journal, book, magazine, vibrator, sudoku, sound bath bowls, adult coloring book, red light therapy device, gua sha tool)
Condoms, massage oil, bedroom toys (if you want to get really romantic)
Personal Care Items
Skincare (don't forget those sheet masks)
Makeup (or go makeup-free!)
Hair brush
Sunscreen
Contacts, lens solution and glasses
Toothbrush
Toothpaste
Deodorant
Sleeping essentials if needed (Eye mask, ear plugs, white noise machine. I can't fall asleep without wearing ear plugs.)
Electronics
Cellphone charger
Laptop if necessary
Camera if you're into photography
Pet Packing List
Dog food
Dog wipes
Toys
Chewing bones
Leash and poop bags
Car seatbelt
Dog bed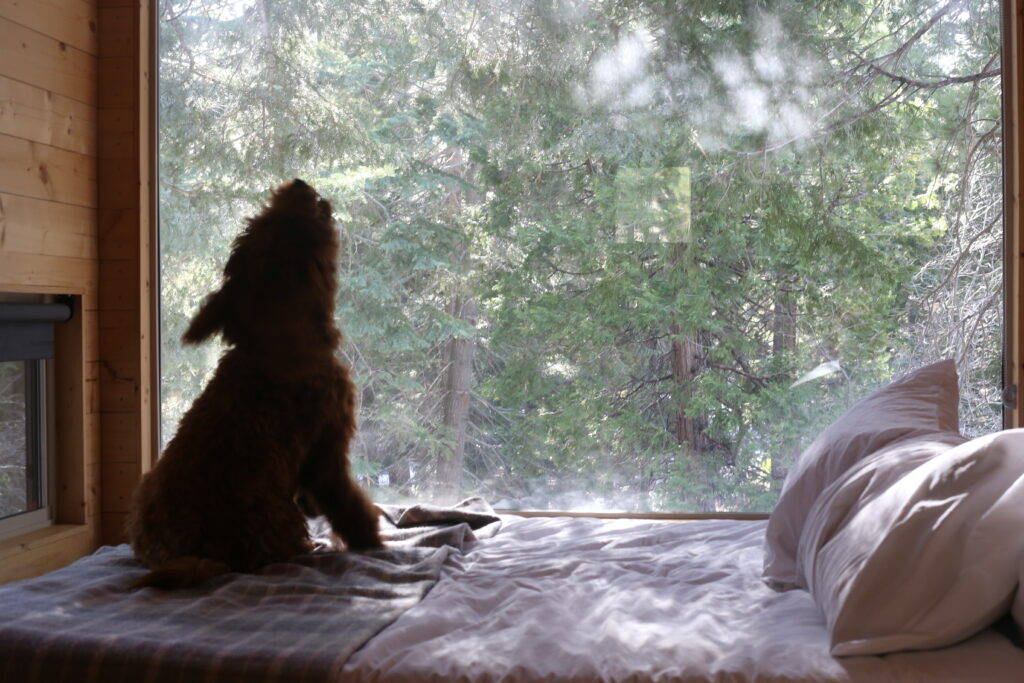 My Dog's Review of Getaway House
Rufus here. The drive to Getaway House Big Bear was horrible. I had no idea where I was going or why, but I could definitely feel SOMETHING was up. I barked all the way there to let my pawrents know that I KNEW something was about to happen. There was a brief period they opened up the backseat window for me so I could stick my head out. Pure bliss.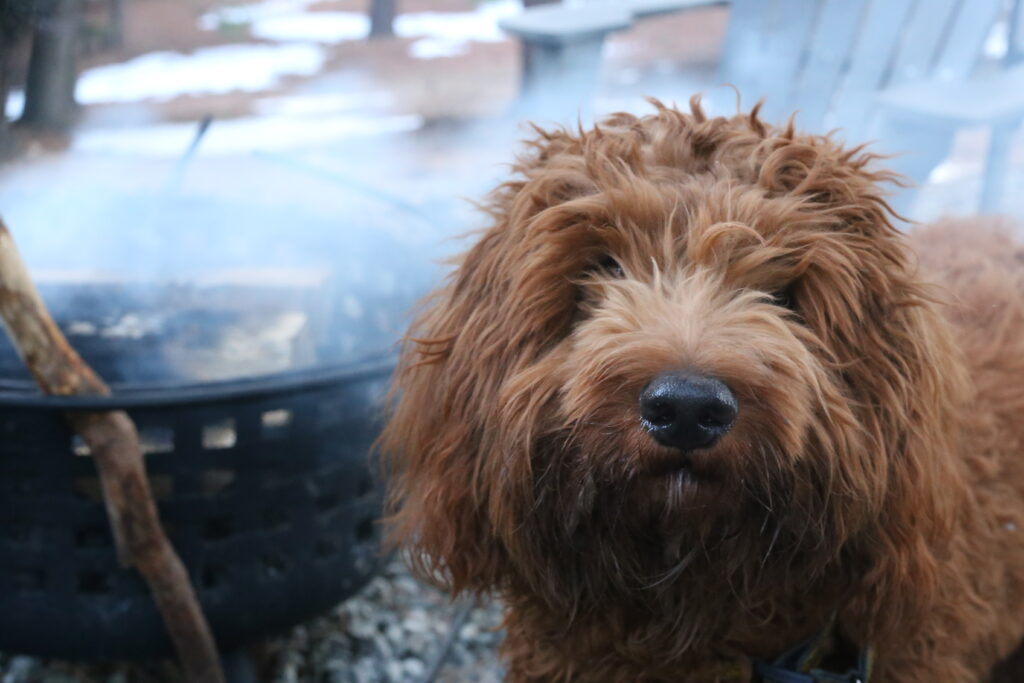 When I finally got out of the car I was lead to a tiny wooden structure propped on wheels surrounded by fun things like dirt, ice, puddles of melted ice, sticks, leaves and something I've never seen before. Mom called it a pine cone.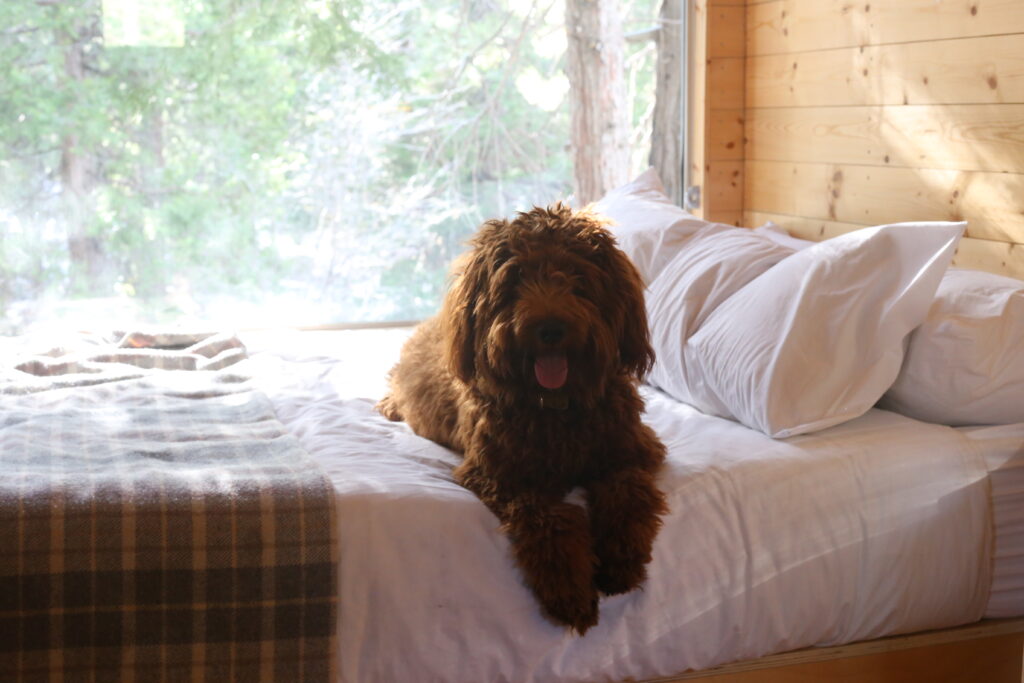 I got inside the tiny cabin and boy was it tiny. There was no space for me to walk around inside so I mostly stayed on the bed, either looking out at nature or lying down. My bed was nice and large, perfect for me to sprawl across and sleep. The Getaway cabin surprisingly came with dog bowls for my food and water.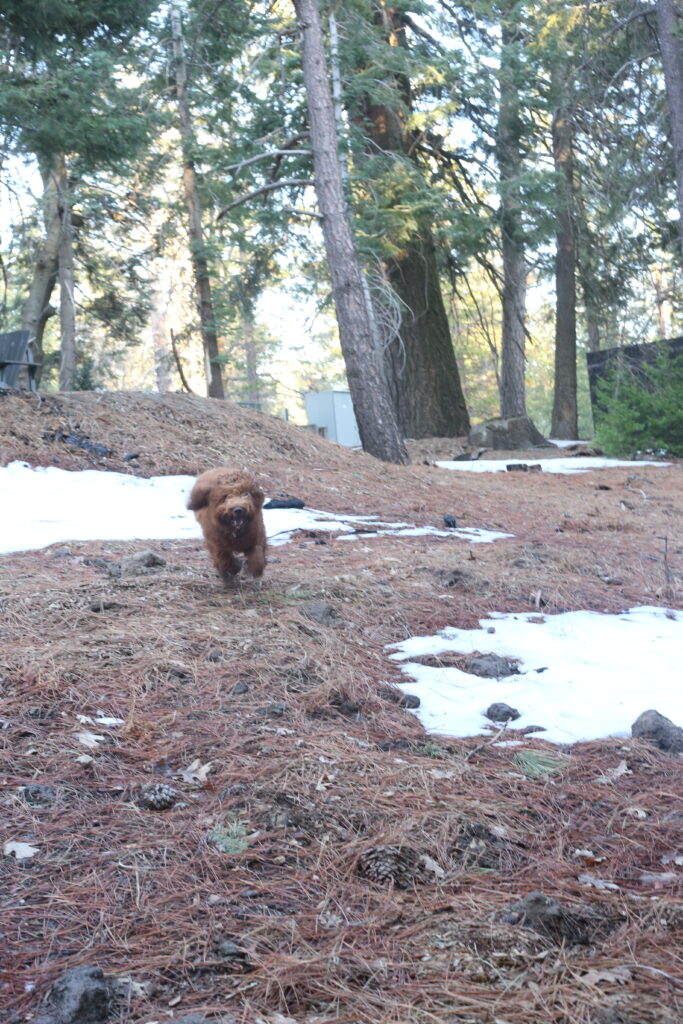 I got to play fetch with the biggest sticks I'd ever chomped on and roam around sniffing all sorts of new trees and logs. It seemed these were punishable acts because mom put me in the shower and used the body wash to scrub me down. I was too dead to fight back. Other than my pawrents forgetting my dog wipes, toys and bones, I had so much fun and would love to go back.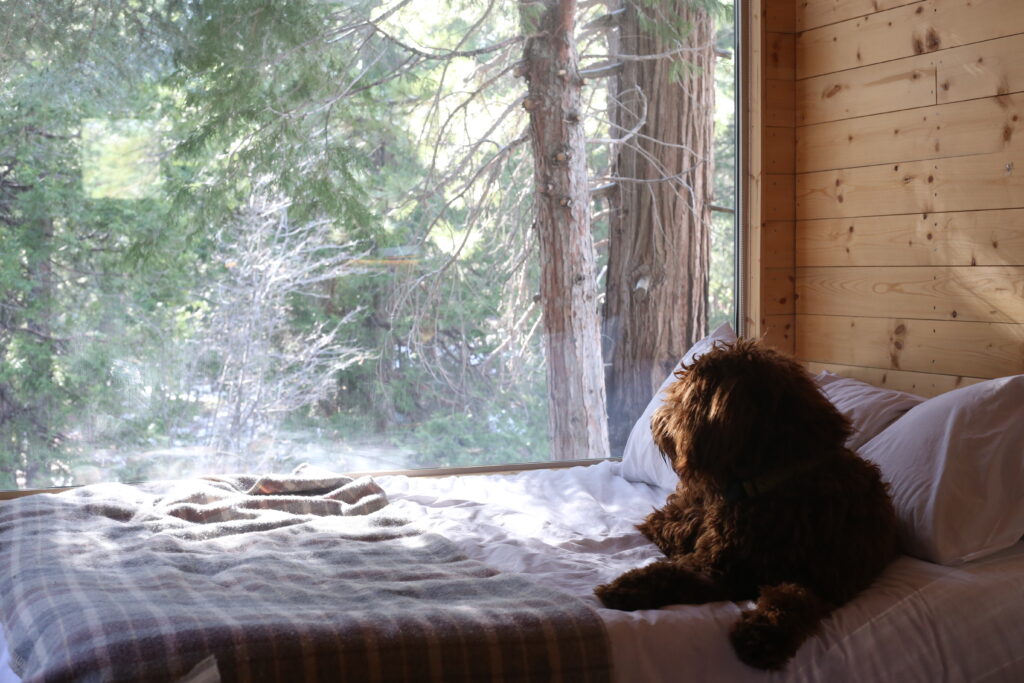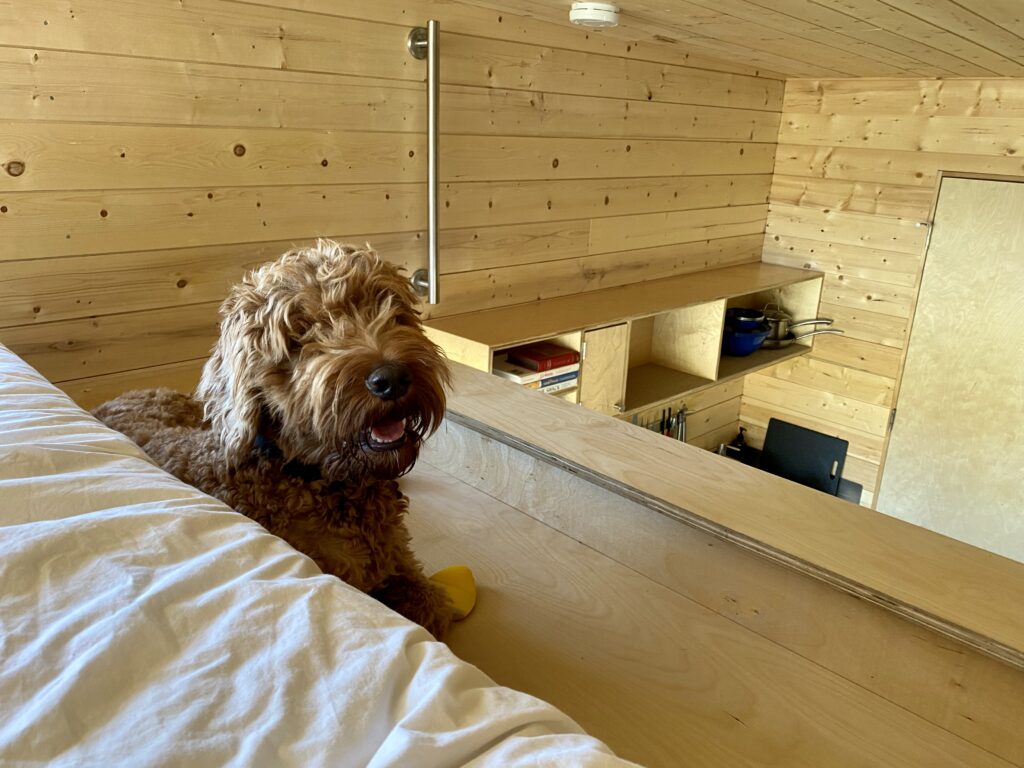 Conclusion
Getaway House is perfect if you're not into camping but still want the camping experience! Not having to deal with sleeping bags, setting up tents, public bathrooms, bugs and the elements is the only kind of camping this sort-of high maintenance gal can handle. I absolutely love glamping and I feel Getaway House has really taken tiny cabin rentals to a new level with the amount of detail they put into the entire experience from start to finish. There's all kinds of thoughtful little details they add to the experience, but I don't mention them in this post so I don't ruin the surprise.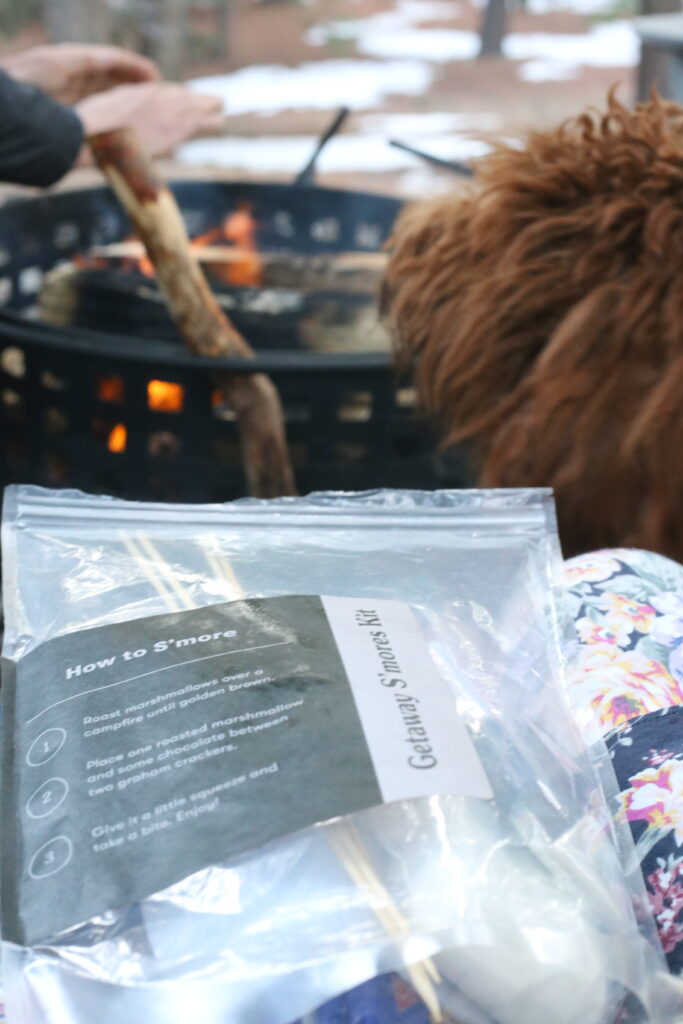 If you've been interested in a tiny cabin rental or wilderness stay, I have a promo code for you to save when booking your own Getaway. My usual code OBL saves $25 off your Getaway House booking on their website.
Check out my Getaway House Youtube video below for a tiny cabin tour!
organic beauty products I used during my Getaway
This wouldn't be an organic beauty lover post if I didn't do some organic product placement, so here are some of the items I've been using lately.