LetsGetChecked is an affordable at-home health test company offering over 30 health and wellness tests that can all be done without ever leaving your home. If you don't want to go through the hassle of making a doctor's appointment, trekking to the doctor's and waiting forever for results, LetsGetChecked is a convenient solution. You can check everything from Covid to testosterone, your vitamin deficiencies to STD's and fertility and hormone levels to certain cancers. They've helped 2.5 million people get tested and take charge of their health, with nearly 100,000 abnormal results detected to empower people to live longer, healthier lives. You never have to awkwardly wait in the Planned Parenthood lobby to check for an STD again. As someone who always tried to avoid going to the doctor (I know it's terrible!), I was looking into at home health testing to check my hormones and fertility when LetsGetChecked reached out. They're also offering my readers 30% off with discount code OBL30 at LetsGetChecked.com.
LetsGetChecked offers many benefits thanks to the fact that they:
Use robotics, barcoding and automation to process your sample in an anonymous way with results available within two to five business days.
Manufacture all sample collection kits at their accredited facility
Use the world's best accredited labs
Have a team of physicians review your orders and results
Have a team of nurses, available 24/7 to help with treatment options
Apple Health partner
Available to US, Canada and most European countries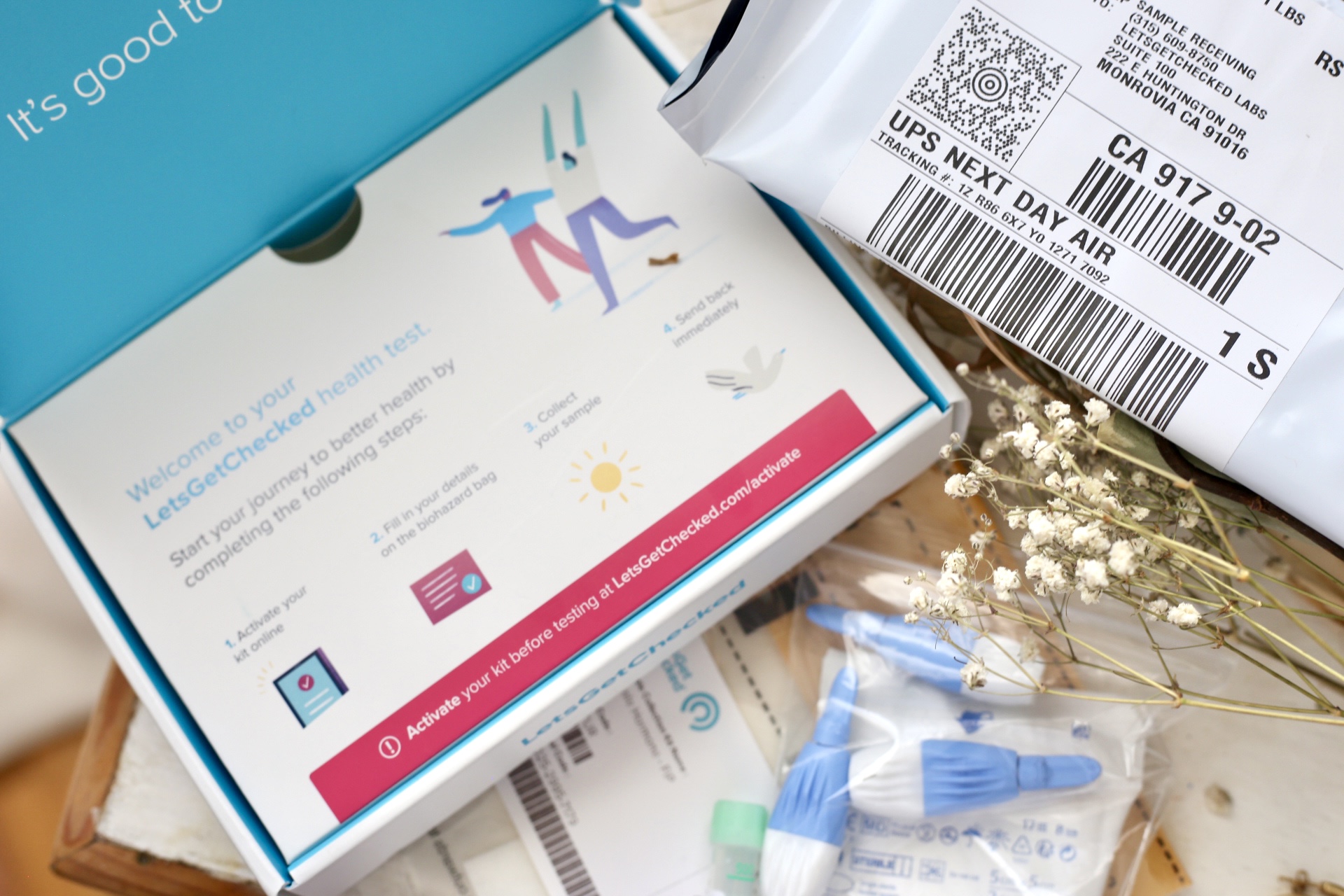 LetsGetChecked offers 34 tests within several categories. You can choose the level of comprehensiveness of the tests depending on how many biomarkers you want to test for. The more comprehensive the test the higher the cost.
Micronutrient test: checks for vitamin B12, D, E, Magnesium, Copper, Selenium & Zinc
Coronavirus tests
Male hormone tests: various tests that check for testosterone, sex hormone-binding globulin (SHBG), free androgen index (FAI), cortisol
Female hormone tests: checks for follicle-stimulating hormone (FSH), luteinizing hormone, prolactin, oestradiol, progesterone, ovarian reserve
Colon cancer screening test: fecal immunochemical test (FIT)
Thyroid tests;  checks thyroid-stimulating hormone (TSH), free thyroxine (FT4), and free triiodothyronine (FT3), TSH, FT4, and FT3, and also checks thyroglobulin antibodies, thyroid peroxidase antibodies
Diabetes and heart test: checks for total cholesterol, high-density lipoprotein (HDL), low-density lipoprotein (LDL), HDL percent of total cholesterol, triglycerides, hemoglobin A1c
Sexual health tests: checks for STI's chlamydia, gonorrhea, trichomoniasis, HIV, syphilis, Gardnerella, mycoplasma, ureaplasma
Cortisol test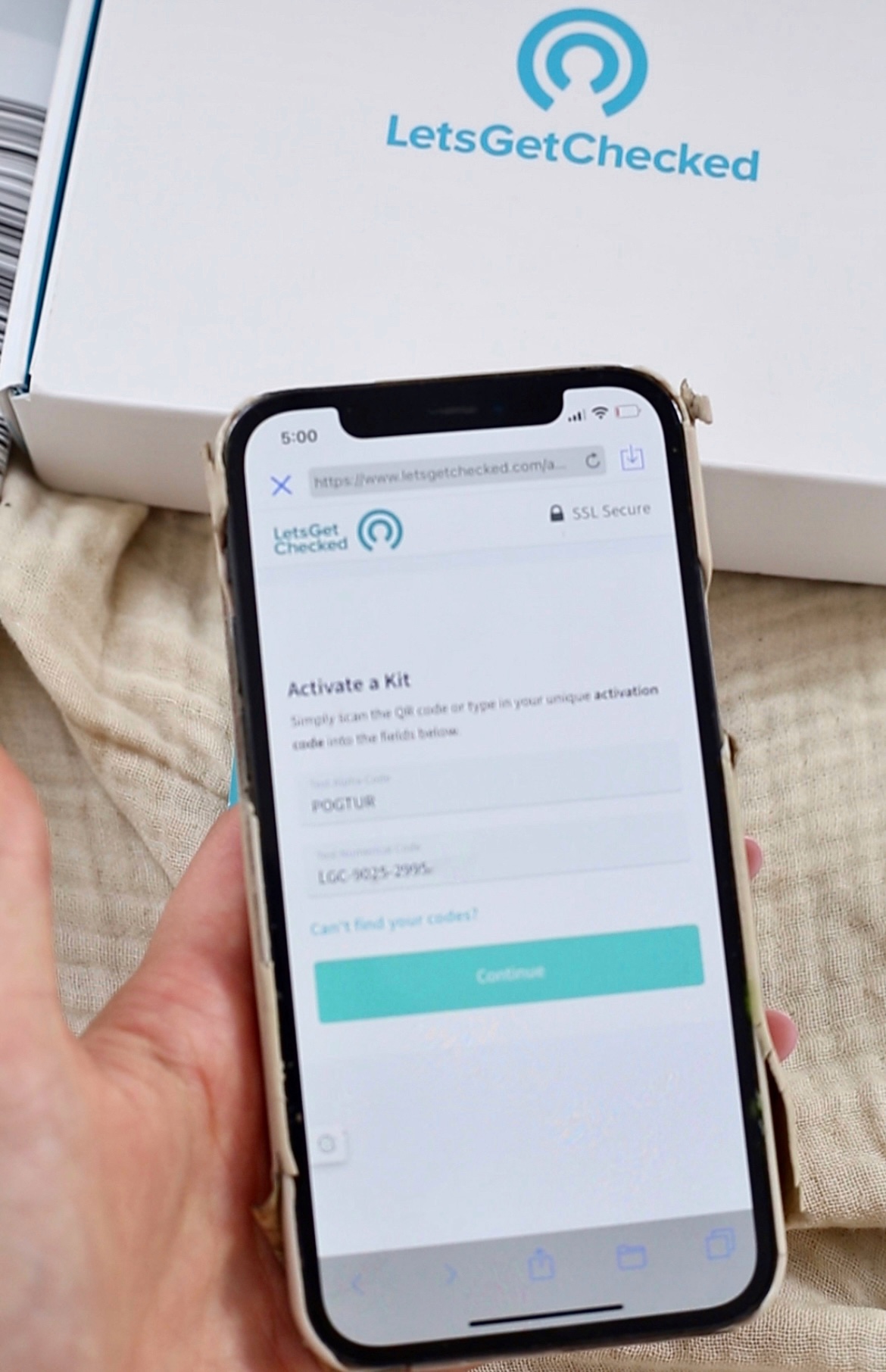 How to Take a Health Test at Home with LetsGetChecked
Registering Your Test
First, order a test from the LetsGetChecked Health and Wellness Tests
LetsGetChecked tests are anonymous and come in unmarked boxes. Each test contains a unique bar code that's tracked by the company.
To register your test kit, go to LetsGetChecked.con/activate or scan the QR code that's on the card in your kit.
Follow the steps on your screen to complete registration.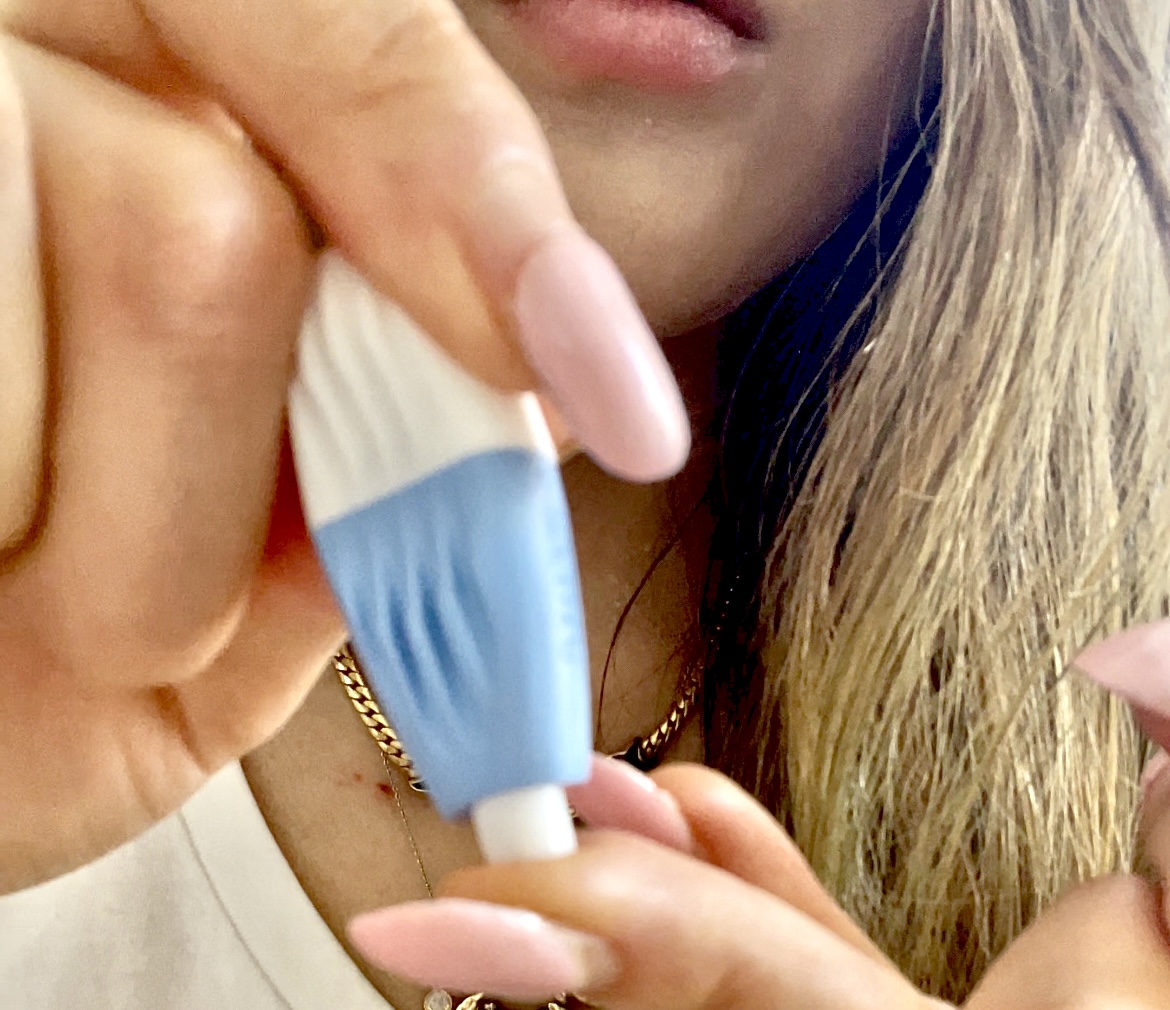 Taking Your Sample
Sample is taken either as swab, stool, blood, or urine depending on the test.
IMPORTANT! To ensure the results are accurate you need to follow the sample instructions carefully for each individual test. For example, the female hormone test should be taken on Day 3 of your menstrual cycle.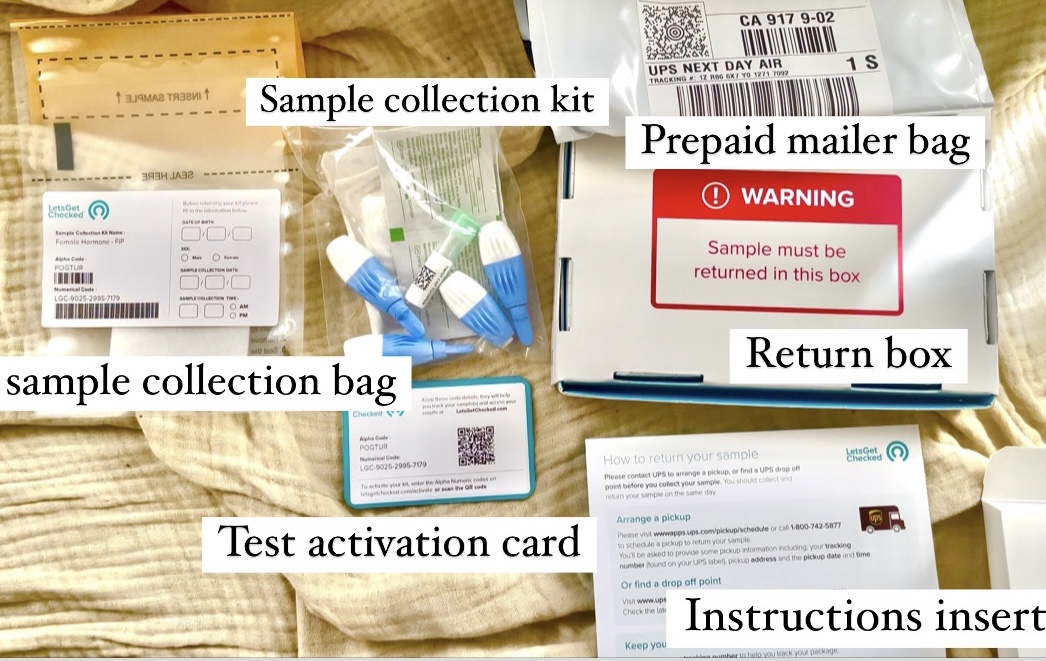 Returning the Sample
You place the sample in the provided biohazard bag and back in the box it came in, so it's protected during transit.
You place the box (which now contains your sample) in the prepaid shipping envelope provided and mail it back the same day. You can either drop it off at the post or schedule UPS to come pick it up.
Once LetsGetChecked receives it, they'll notify you and process the sample. The medical team will review the results, and you'll be notified of the results within 2 to 5 business days.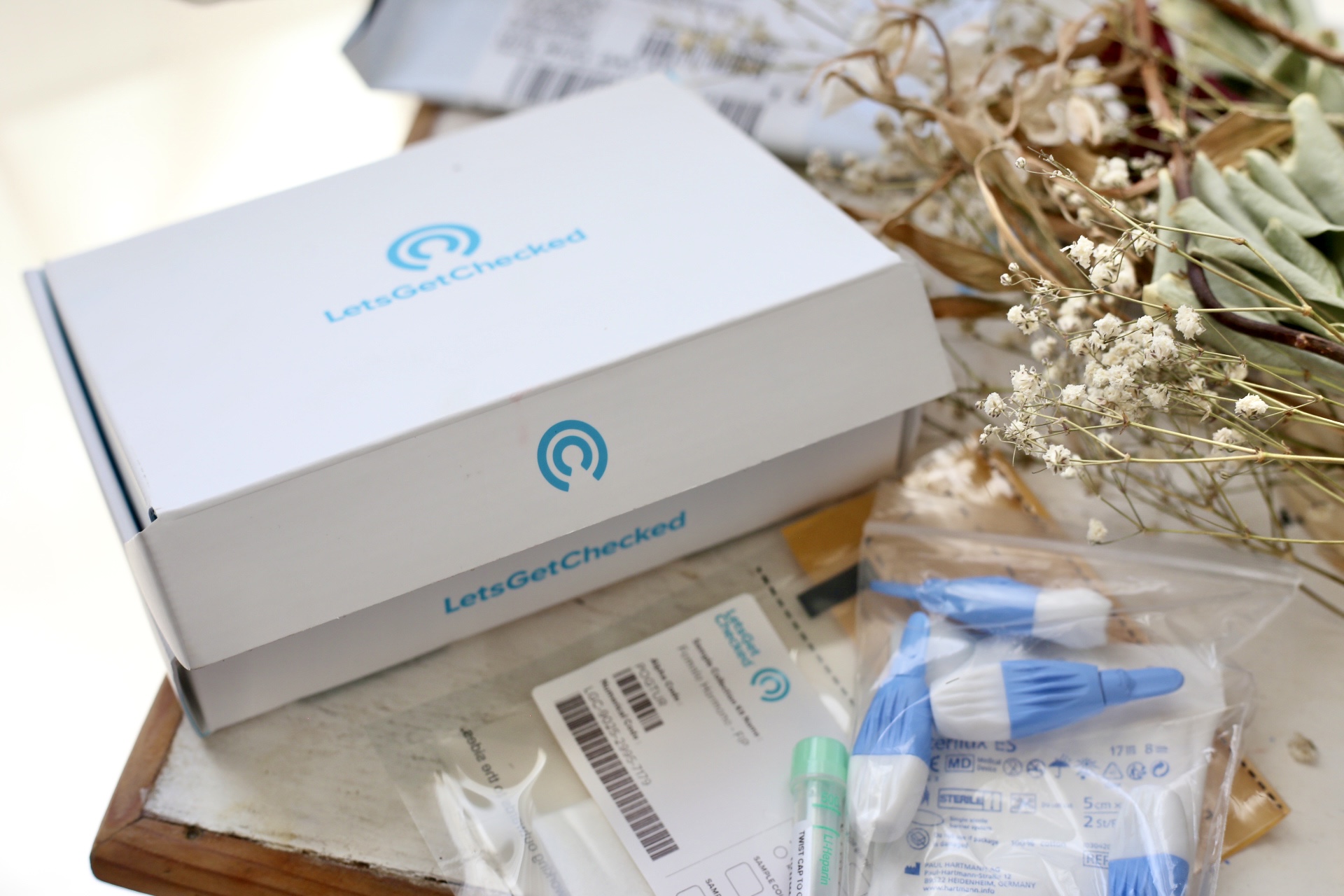 LetsGetChecked Review
The entire LetsGetChecked at home health test process is super fast. As soon as I ordered, it shipped out almost immediately and came expedited in discreet packaging.
The LetsGetChecked instructions are laid out clearly on paper with the kit (and you can always check online too). Activating the LetsGetChecked kit is also straightforward and fast thanks to the QR code I was able to conveniently scan using my phone.
The least enjoyable part in all this was actually collecting the blood sample, but even that turned out to be simple and fast, There were 4 lancets in my kit just in case, and all you have to do is simply press down to use the lancet. For my hormone test I had to wait until the third day of my menstrual cycle. If you're going to be doing this you might as well take the extra measures to ensure the test results are as accurate as possible.
Once that's done you drop the sample in the biohazard bag, then place the biohazard back in the little box, then place the box in the prepaid mailer that has the self addressed UPS label. You can then schedule for UPS to come pick it up, but I needed to go to the post office.
I was able to check my results online after 5 days. Didn't have to come into contact with anyone or deal with the hassle of physically going to the doctor's. And I now have peace of mind!
Use affiliate discount code OBL30 to save 30% on any and all LetsGetChecked health tests.
LetsGetChecked is available to the US, Canada and most European countries.
*I receive compensation from purchases made through this link