I first took Ora Organic supplements back in 2019 or so and recently tried some more of their organic supplements. Ora Organic only uses plant-based ingredients, sources organic wherever possible, and has the highest testing standards. Ora Organic has roots in New Zealand and the word 'Ora' comes from the New Zealand Māori greeting 'Kia Ora' which means 'be well'. third-party labs test our products for heavy metals, pathogens, and contaminants. I love Ora Organic's commitment to quality, purity and taste in all their products.

What kind of supplements does Ora Organic offer
Multivitamin
Gut health
Plant protein
Beauty
Sleep and stress
Feminine health
Immunity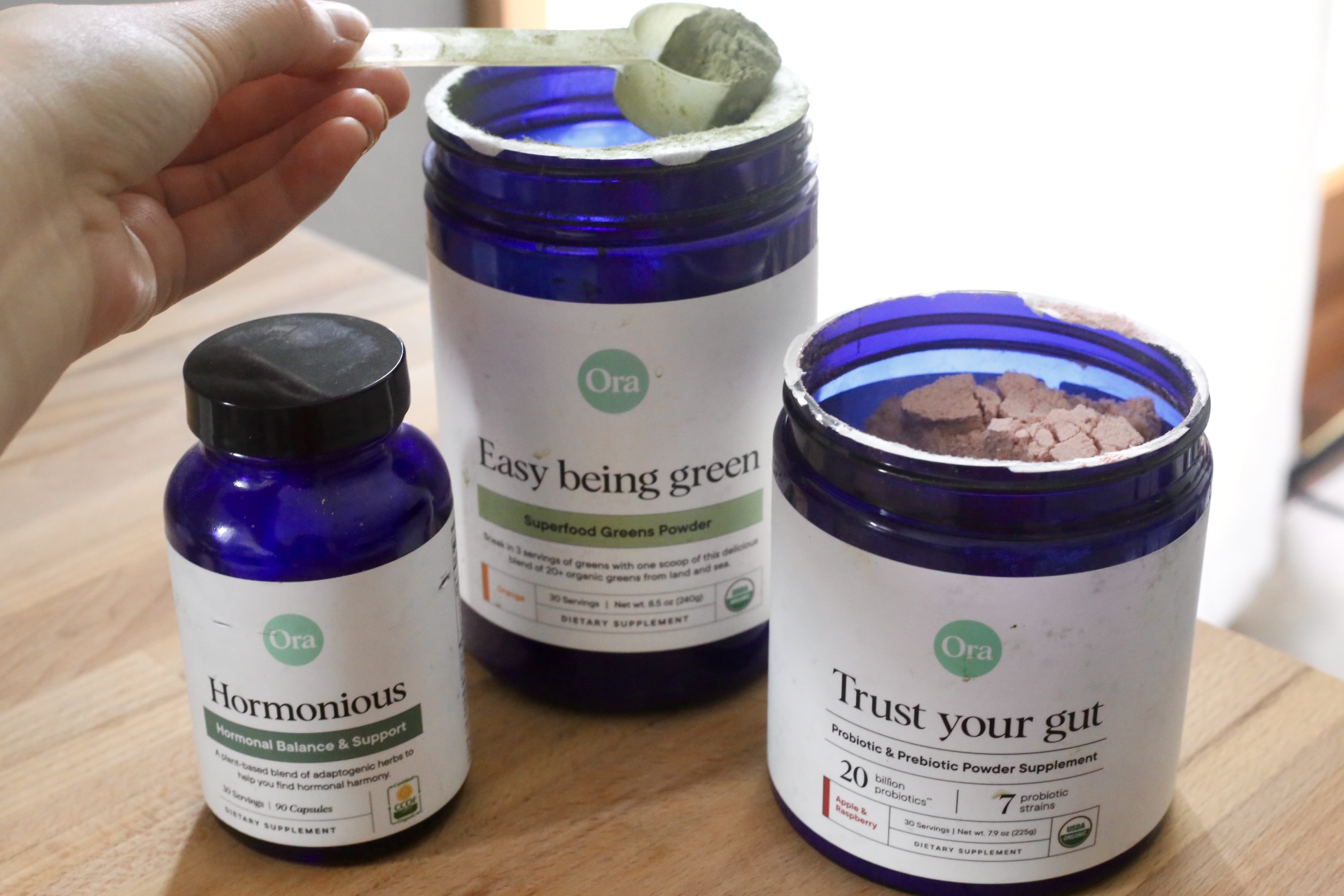 I'm using their hormone balance supplement, probiotics supplement and superfood greens powder.
Something I always try to make sure I'm taking is probiotics because of the importance of gut health. It's well known now that our gut is our 2nd brain and the brain-gut connection control so much our well-being. Ora Organic Trust Your Gut has 20 billion CFUs of dairy-free probiotics and organic prebiotics from 7 highly-studied Lactobacillus and Bifidobacterium strains. These strains have been researched for their potential to support:
digestion
immunity mood balance
essential nutrient creation
healthy inflammatory response
Trust Your Gut is boosted the effectiveness with organic prebiotics and no-added-sugar powder. The fruity taste is sweet and turns a glass of water into a delicious drink.
I definitely don't eat as many servings of greens daily as I should be as I live in a crazy expensive city. To make up for that I'm taking Ora Organic Greens Powder which is jam-packed with superfoods like Barley Grass Juice, Wheat Grass Juice, Alfalfa, Spinach, Kale, Cabbage Cilantro and so much more. This also tastes sweet and tastes just as good in a glass of water as it does a smoothie.
Organic Barley Grass Juice Powder, Organic Wheat Grass Juice Powder, Organic Alfalfa Leaf Powder, Organic Oat Grass Powder, Organic Spinach, Organic Kale, Organic Broccoli, Organic Cabbage, Organic Chlorella, Organic Spirulina, Organic Dandelion Leaf, Organic Parsley, Organic Cilantro, Organic Celery, Organic Green Bell Pepper, Organic Leek, Organic Dulse, Organic Sea Kelp, Organic Tapioca Starch Oligosaccharides, Organic Ashwagandha, Organic Triphala, Natural Lemon Flavor, Natural Orange Flavor, Organic Monk Fruit, Organic Lemon Juice Powder
This is the one capsule form supplement I'm taking by Ora Organic. Harmonious provides hormone support with: Organic Acerola Extract , Organic Burdock, Organic Gelatinized Maca, Organic Ashwagandha, Organic Cordyceps, Organic Holy Basil, These organic adaptogen capsules are formulated to aid with:
stable energy levels
hormonal acne relief
better moods
fewer PMS or menopausal symptoms