Prima is a premium CBD wellness and skincare brand that's B Corp certified and EWG Verified. Based in Santa Monica, Prima was founded by experts in the clean beauty industry, including the co-founder of The Honest Company. Prima is also the first CBD brand to be EWG verified, picking ingredients that are organic and cultivated using sustainable farming practices and fair labor standards. The entire Prima line is designed to fight stress and promote self-care — and it doesn't hurt the packaging is modern and luxe. Read on for my review of Prima hemp products.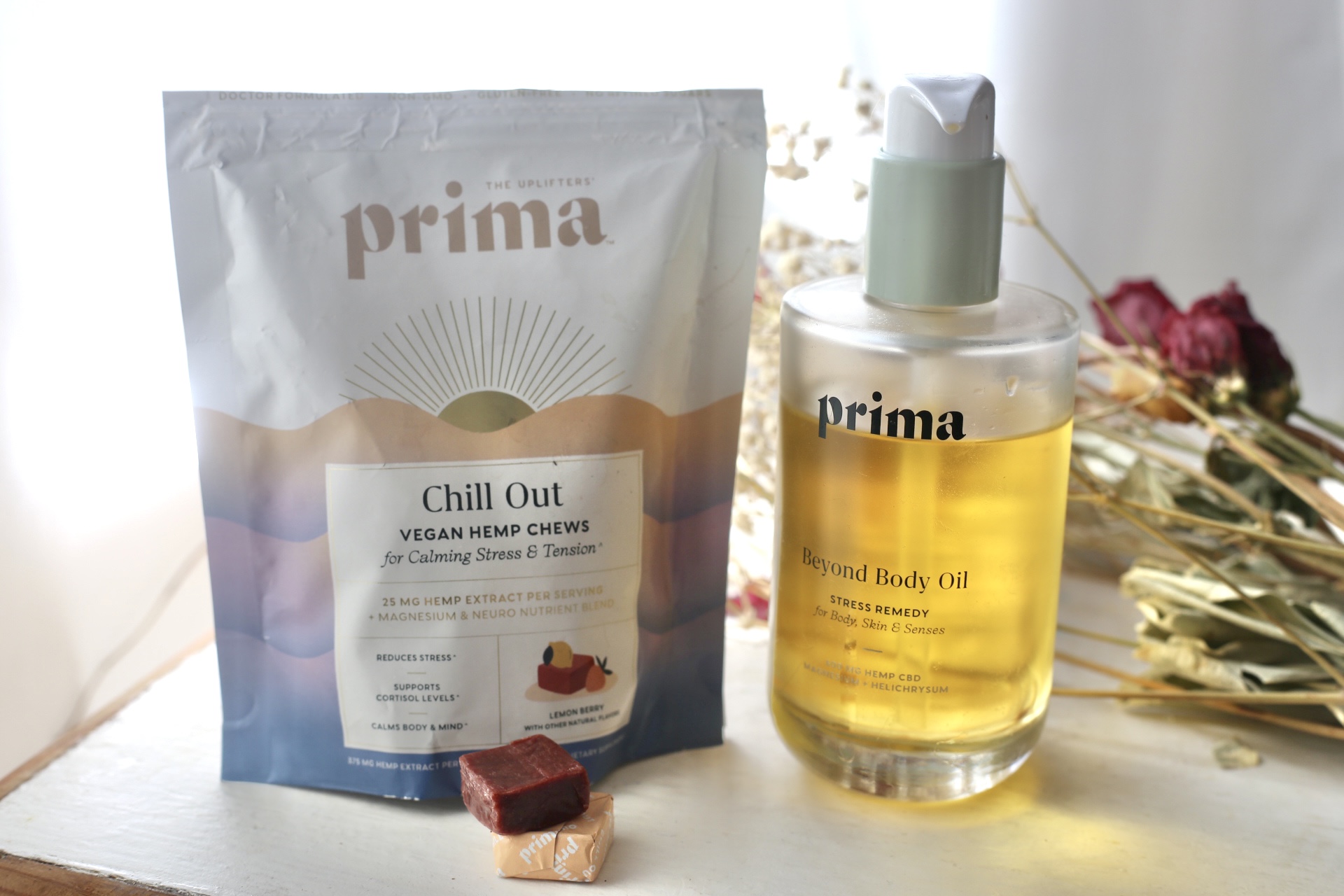 Here's a breakdown of Prima hemp products:
Vegan
Hemp sourced from Oregon farms
Prima products are tested for purity, potency and pollutants (cannabinoids, terpenes, heavy metals, pesticides (including glyphosate), solvents, mycotoxins and bacteria.
Test results on every batch accessible on the Prima website
Prima supplements cost: $35-$50
Prima Skincare cost: $30-$80
Why CBD?
Known for its ability to reduce inflammation (the root cause of all skin havoc) and neutralize free radical damage, CBD skincare has numerous studies pointing to its health, wellness and skin benefits.
CBD is a naturally-occurring chemical compound found in cannabis plants and is a potent antioxidant and anti-inflammatory. It has been shown in multiple studies to reduce overproduction of sebum. One study even found that CBD could prevent acne in multiple ways.
Benefits of CBD for Skin
Treat Inflammatory Acne: can help reduce redness, pain, and swelling associated with inflammatory acne.
Regulate Oil Production: helps regulate hormones involved in oil production, reducing excess sebum.
Reduce Breakouts
Calm Rosacea 
Neutralize Free Radical Damage
Soothe Eczema: fights irritation and inflammation caused by eczema + chronic skin conditions such as psoriasis and dermatitis
Decrease Hormonal Conditions: CBD is considered an adaptogen and can decrease the effects of hormones from stress
Hydration: has moisturizing properties to fight dryness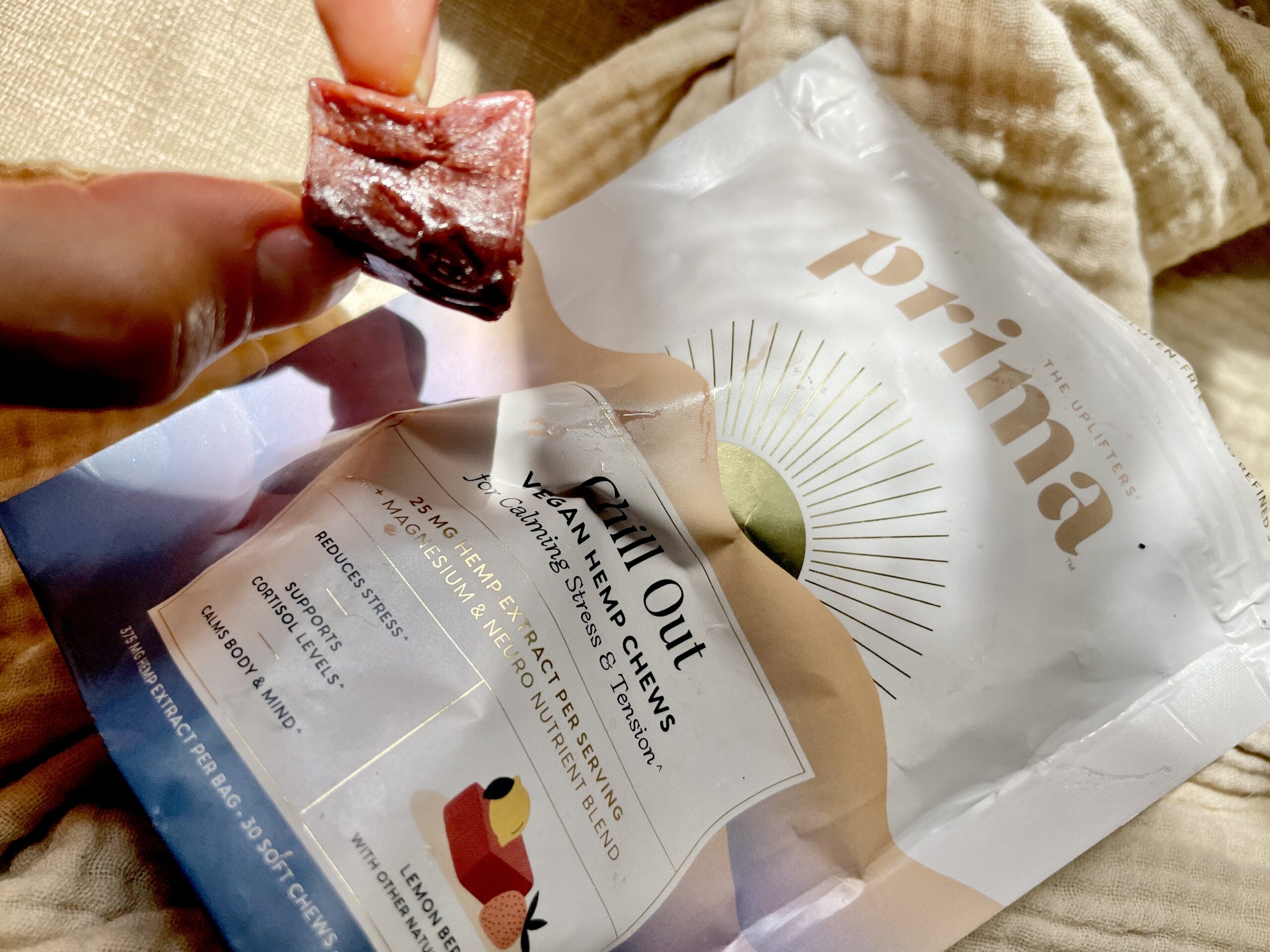 The Prima Chill Out Hemp Chews contain:
Bio-available Magnesium
20 mg of CBD
10 vitamins and minerals
Patent-Pending Delivery System and Formula Composition
I find the Prima hemp chews to actually ease tension and promote relaxation very quickly. BUT, they have a strong bitter taste that I can imagine is off-putting for some. Despite that, I'm very happy with my purchase of these. I was having a tension headache and a not-so-great day in general, and when I took three of the Prima Hemp Chews I felt the headache begin to melt away within an hour. It wasn't completely gone but I felt noticeably better and relaxed.
Ingredients: Magnesium (as malate/taurinate), Organic Broad Spectrum Hemp Extract (aerial parts), HempMag™ Neuro-Nutrient Blend [Ascorbyl Palmitate, Vitamin C (as ascorbic acid), Niacin (as niacinamide), Citrus Bioflavonoids, Pantothenic Acid (as calcium d-pantothenate), Pyridoxine (as hydrochloride), Riboflavin, Thiamine (as mononitrate), PABA, Chromium (as polynicotinate), Biotin]
Other Ingredients: Organic Tapioca Syrup, Organic Coconut Sugar, Organic Palm Fruit Oil†, Natural Flavor, Sunflower Lecithin, Citric Acid, Sea Salt.
† Sustainably sourced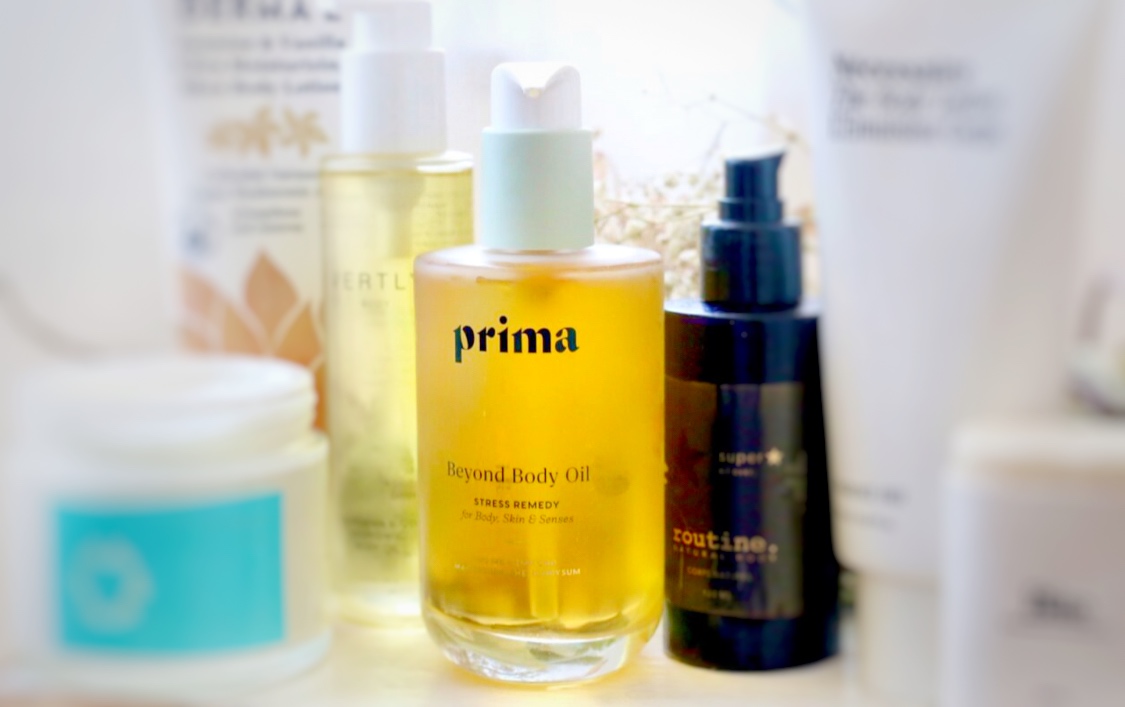 Packaged in a beautiful hefty glass bottle, the Prima Beyond Body Oil is a stress-fighting body oil containing magnesium, helichrysum, Squalane and a whopping 600 mg of CBD. This leans medium weight in consistency and feels very moisturizing. The hemp scent is very strong and feels incredibly grounding and calming. There's also rosehip and hemp seed oil along with a bevy of essential oils for more therapeutic benefits. Overall, this is a beautiful high-quality body oil product that's thoughtfully formulated with organic ingredients.