I've used ILIA for almost ten years and am sharing the best ILIA products (and worst)! Started by Canadian entrepreneur Sasha Plasvic, ILIA is a wildly popular clean makeup brand sold everywhere from Sephora to Nordstrom. ILIA started off a decade ago as an all-natural and organic makeup brand, but later switched to include synthetics so they could improve product performance and appeal to the masses. In 2022 ILIA Beauty was acquired by a major corporation, Clarins. Today, ILIA creates skincare-forward clean makeup that's innovative and sophisticated. Even though ILIA's makeup is no longer organic, I still enjoy some of their products. I recently tried the new ILIA C Beyond Triple Serum SPF 40 and am sharing my first impressions review. Read on for the best and worst ILIA products in my ILIA makeup review, plus save 20% on ILIA sitewide during Black Friday (code WONDERLAND until Nov 26, 2022).

Originally born in Vancouver where founder Sasha is from, ILIA is currently based in California. ILIA makeup is made in the US with the exception of a couple products being made in Italy.
ILIA is a luxe brand, so the price range is around $30-$70. In my opinion, the best ILIA products are the True Skin Serum Foundation, ILIA concealer, all their lip products including Multi-Stick Cream Blush Lip Tint and (if you're new to clean beauty) ILIA mascara. And keep in mind that this post is my personal opinion of what the best ILIA Beauty products are. Everyone has different tastes, preferences and skin types. Check out the 5 Best Natural Foundations that includes ILIA here.
One of my very first Instagram posts was the ILIA lipstick over seven years ago!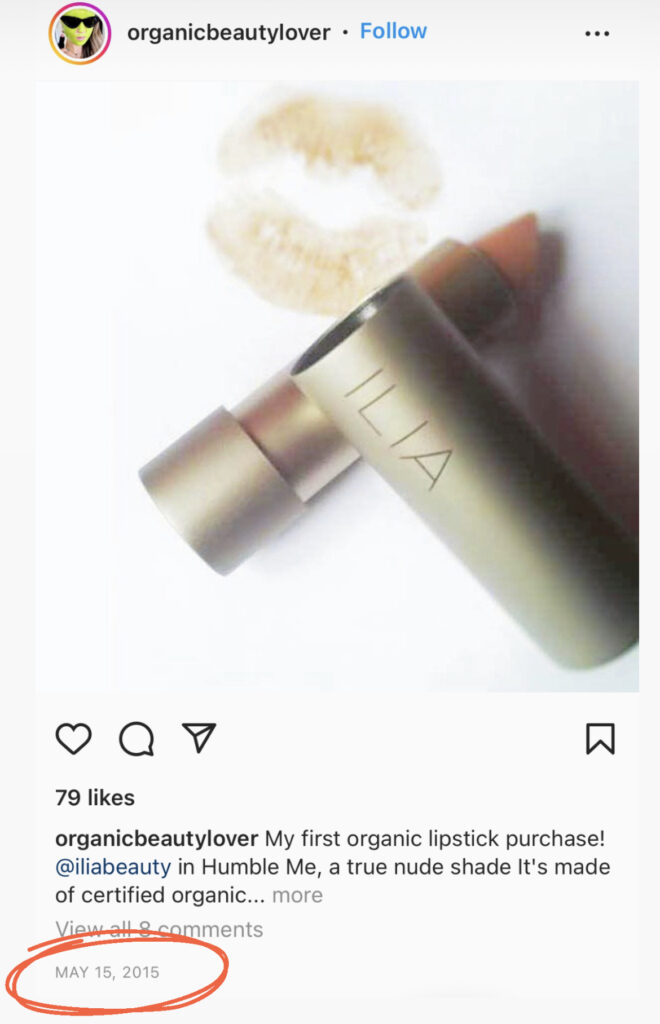 One more thing to note as I do try to make sure you're aware of all the info: ILIA is no longer an all natural or organic makeup brand. The term "clean beauty" gets thrown around so much, making it difficult for people to understand which makeup brands are truly clean and organic versus the brands that just fit within the very wide umbrella of clean beauty.
You will find synthetics included in all of ILIA's products, including dimethicone in some of their face products. But, all ILIA formulas are cruelty-free and gluten-free, and are made without talc, parabens, phthalates, petrolatum, mineral oil, synthetic fragrance, BHA/BHT, propylene glycol, PEG's, D4, D5, D6 and chemical screens.
For truly all natural makeup, check out this post.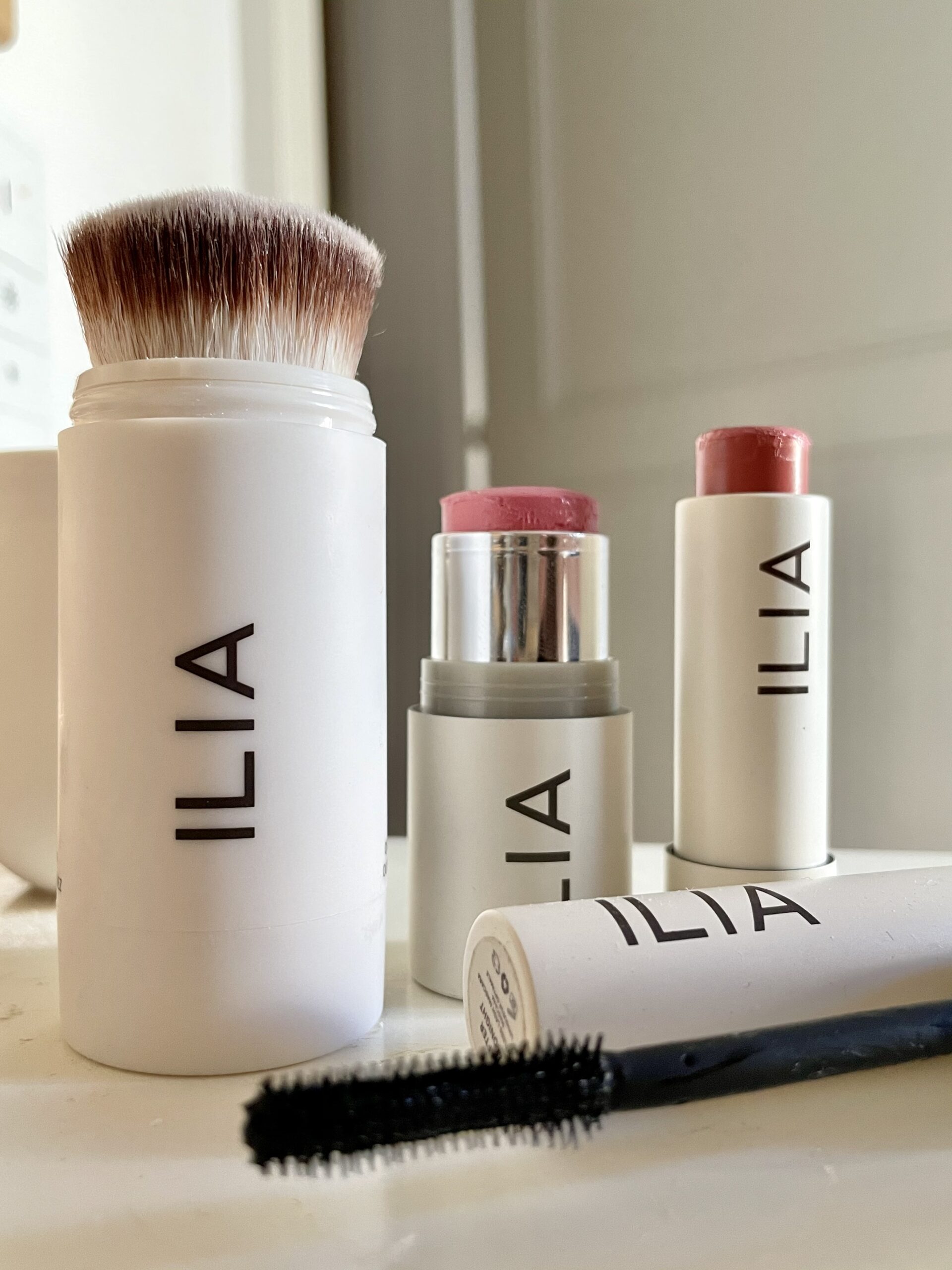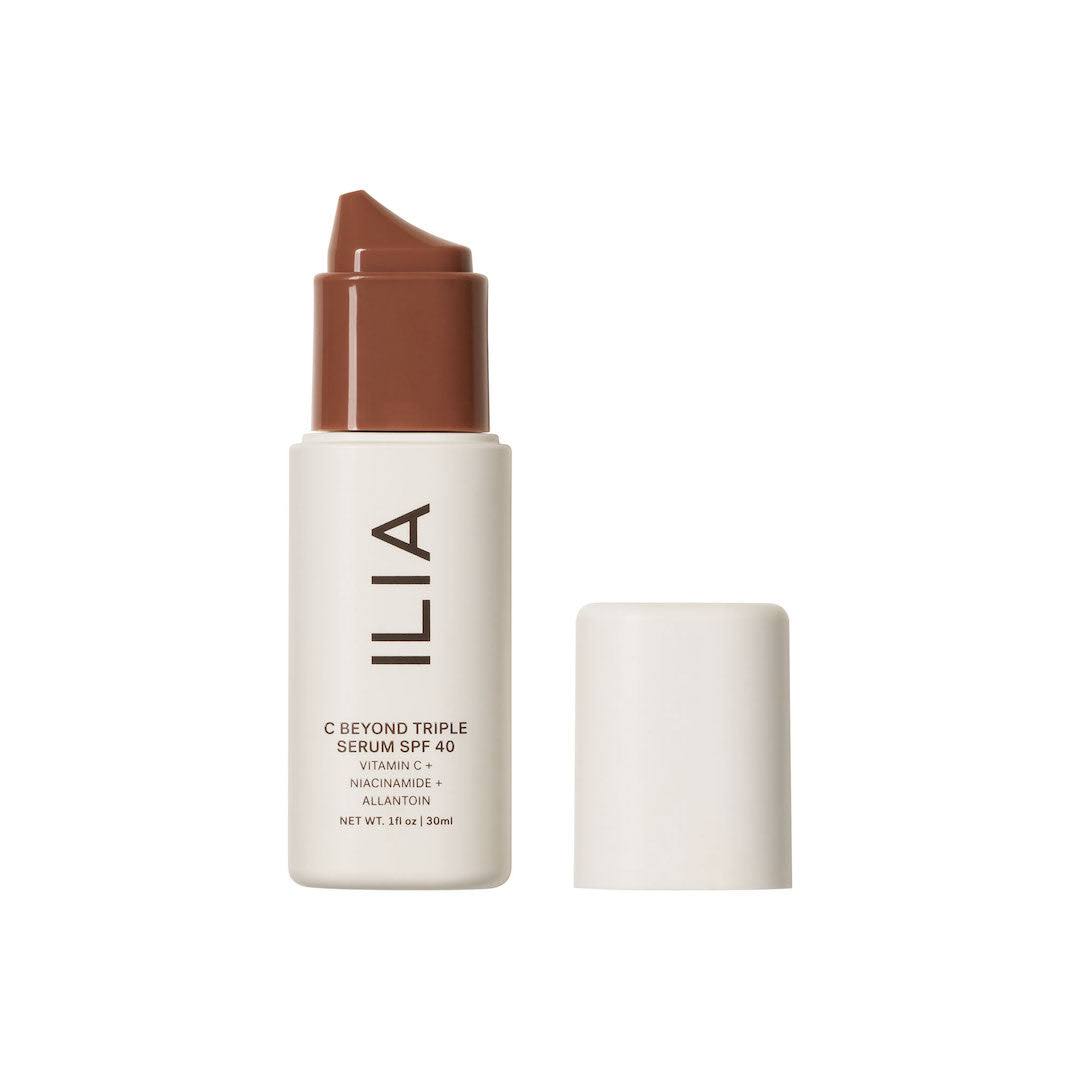 Considering C Beyond Triple Serum just launched, I'll be updating my ILIA C Beyond Triple Serum review after using it more. ILIA's newest makeup innovation is a waterless product that acts as a Vitamin C serum, sunscreen and makeup product simultaneously. Beyond C Triple Serum combines active levels of 10 percent vitamin C, niacinamide and broad-spectrum zinc oxide SPF 40 to protect skin against UVA and UVB rays. It comes in 3 sheer shades, Light, Medium and Deep.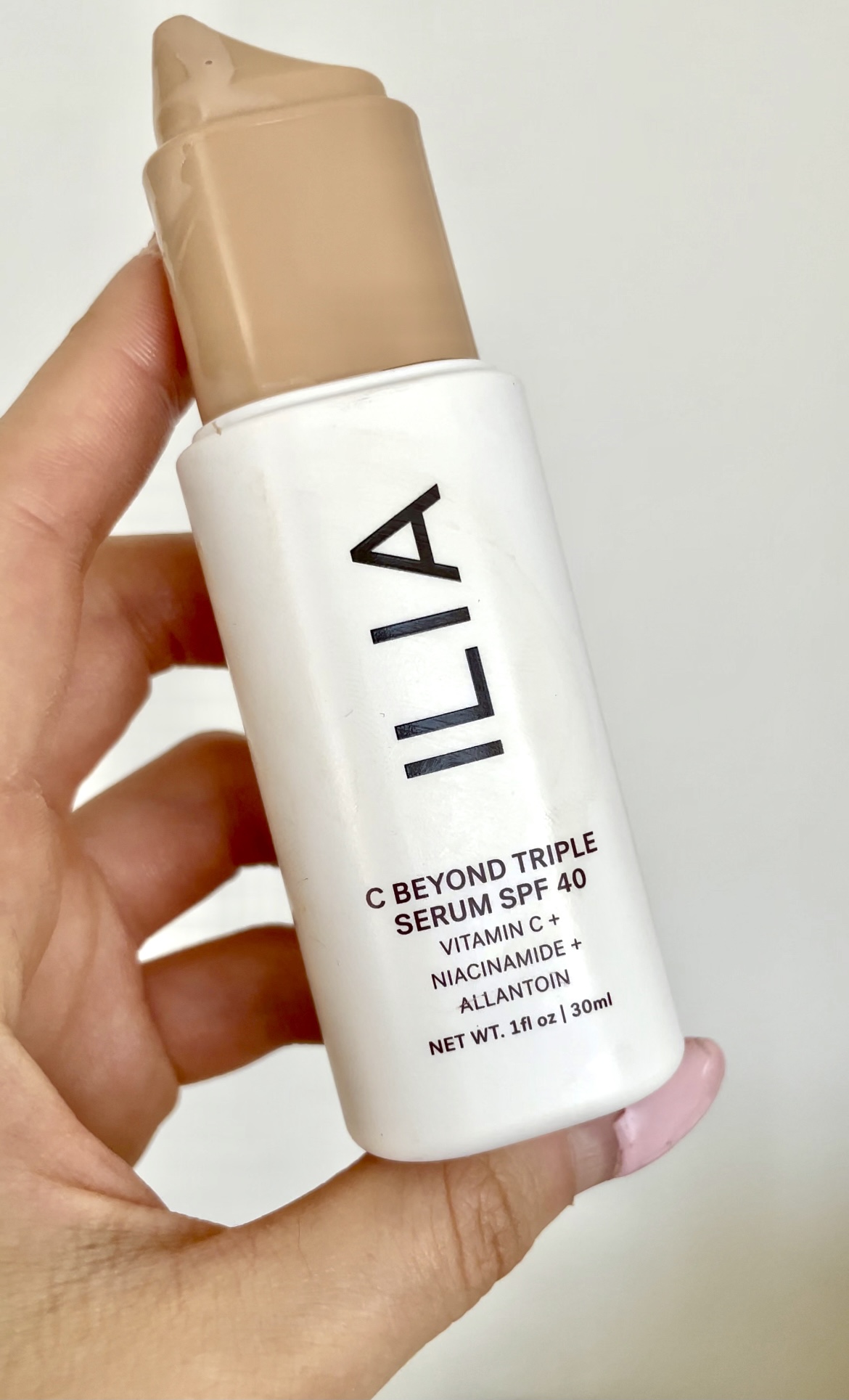 I bought C Beyond Triple Serum thinking it would be an aloe leaf juice based serum because they lead with "waterless serum." ILIA C Beyond Triple Serum is an oil-based serum. It feels and applies like an oil serum would. It's thinner in consistency than the ILIA Super Serum Skin Tint SPF 40 but definitely oilier.
ILIA C Beyond Triple Serum SPF 40 is designed to streamline your skincare, so it theoretically replaces your Vitamin C serum, tinted moisturizer, and sunscreen. Hence, why it's named Triple Serum.
There is no added scent other than the natural result of the ingredients. While dry skin types may enjoy the new ILIA sunscreen serum, I feel like it would be too greasy for oily and acne-prone skin types. Even with my dry skin, I don't love it.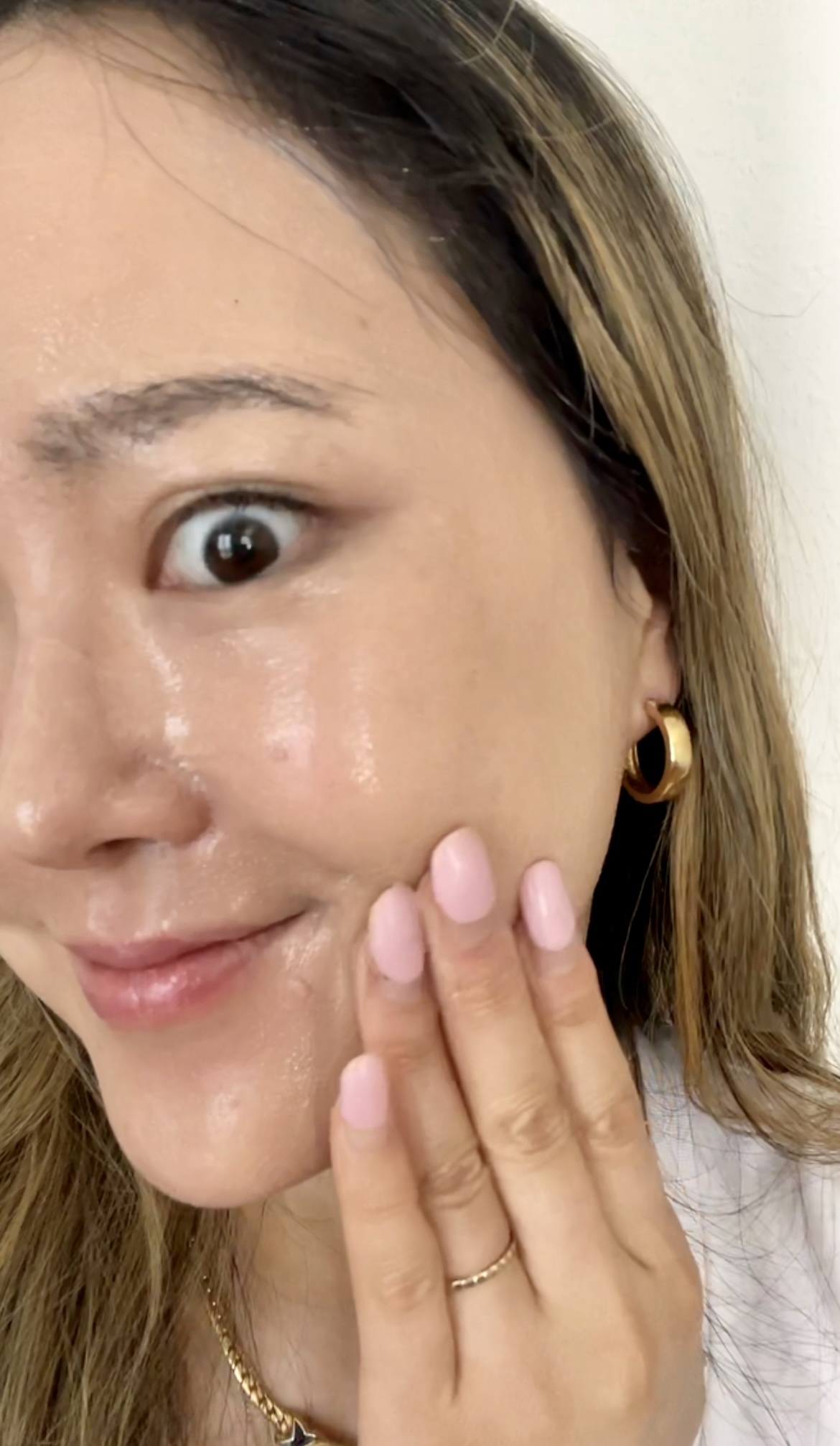 Don't expect coverage with this product. The tint is very sheer and there is no coverage, though there's a subtle blurring effect. I have to say I do like the sheer factor, because it allows your skin to look like your skin just enhanced.
The glow is STRONG. You're basically getting the glazed donut look that you would get after doing your nighttime skincare routine. Not exactly my favorite look during the day, but I can see how some people who obsess over the glow effect might like it.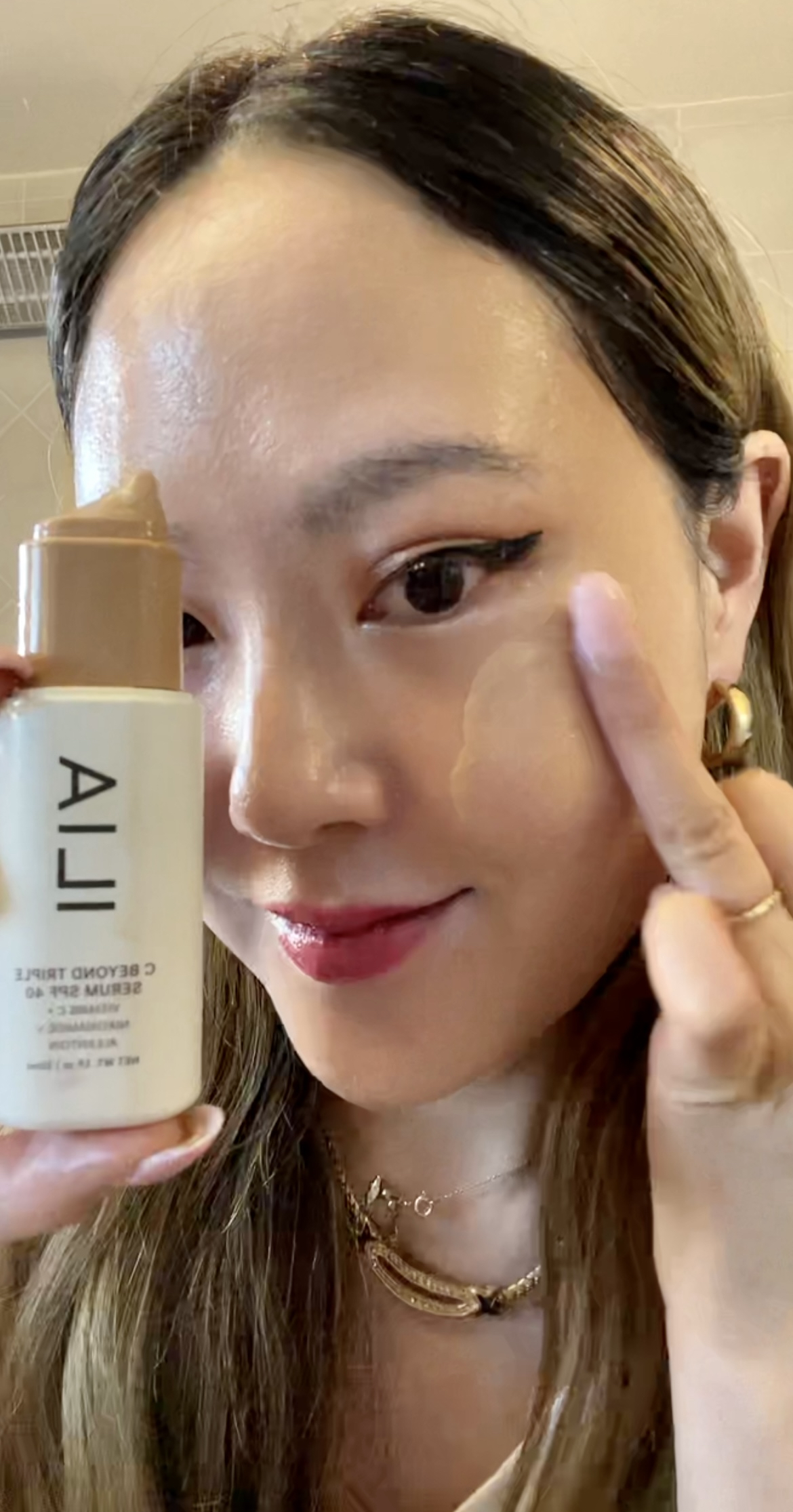 I have to say I really dislike the packaging. The pump is so difficult to use unless you flip the bottle upside and push it down at that angle.
C Beyond Triple Serum Pros:
Multi-tasking of skincare + tint + sunscreen
Lightweight and intensely moisturizing
100% mineral (zinc oxide)
C Beyond Triple Serum Cons:
Expensive at $64
Poor packaging and difficult pump
Too oily
Not buildable unless you want your skin to look and feel greasy
I can see people applying a small amount to avoid looking overly dewy and thinking they're protecting their skin from UV rays when they're actually leaving their skin under protected.
To see ILIA C Beyond Triple C Serum Sunscreen, jump to the 1:27 mark in my YouTube video below:
Check out the latest: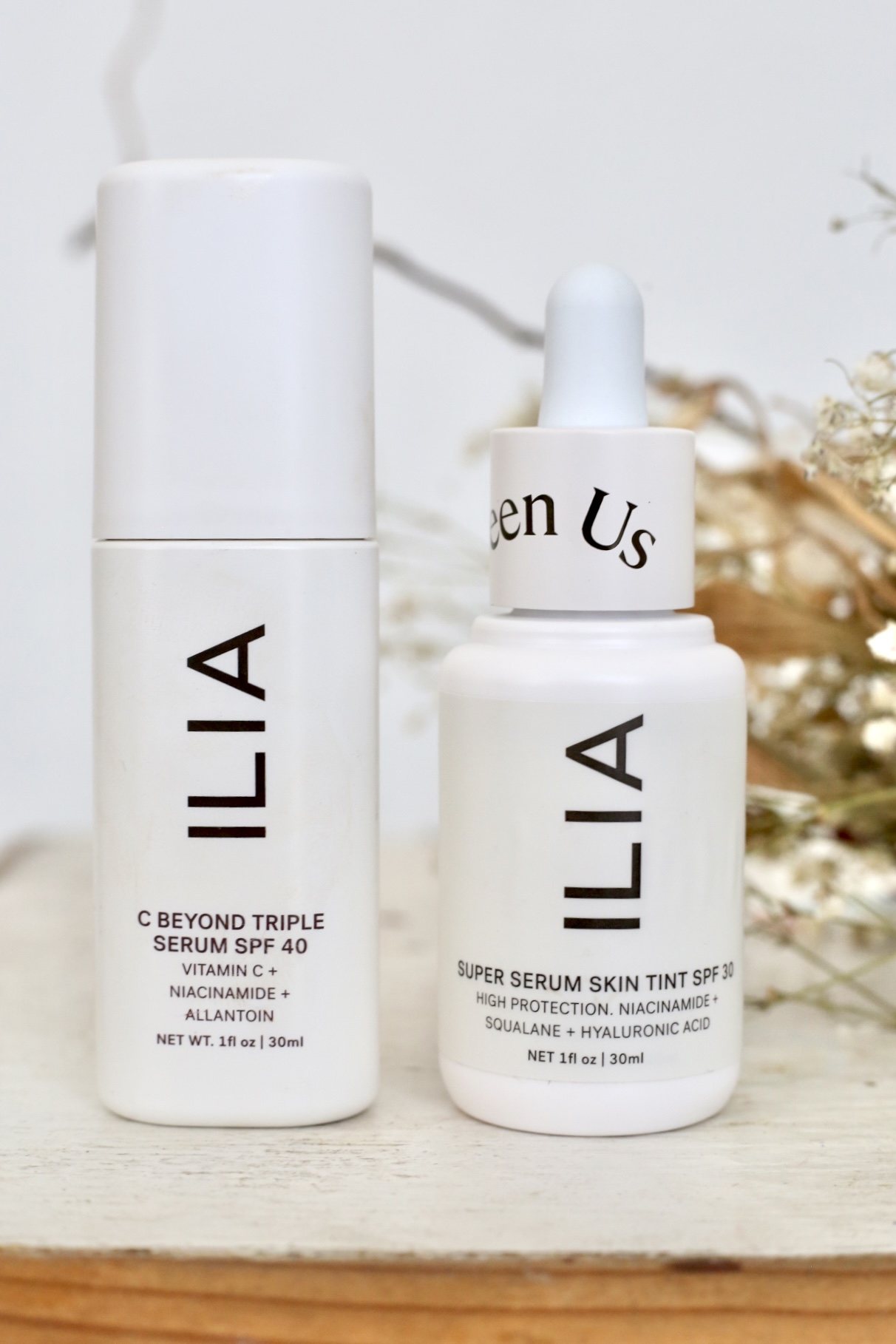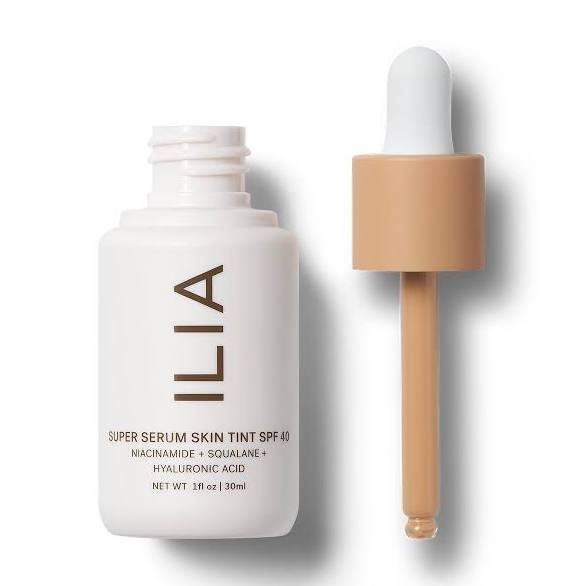 I have a brutal in-depth review on the ILIA Super Serum Skin Tint SPF 40 here. Similar to the C Beyond Triple Serum, the Super Serum Skin Tint also provide SPF 40, acts as a tinted moisturizer and provides skincare benefits. There seems to be no middle ground with this product – you're either going to love it or hate it.
ILIA Super Serum Skin Tint provides light coverage and comes in 18 different shades. I have a similar issue with this product being too dewy for my personal liking. ILIA certainly loves chasing after infinite dewiness. The Super Serum Skin Tint is not buildable either unless you want to start looking oily.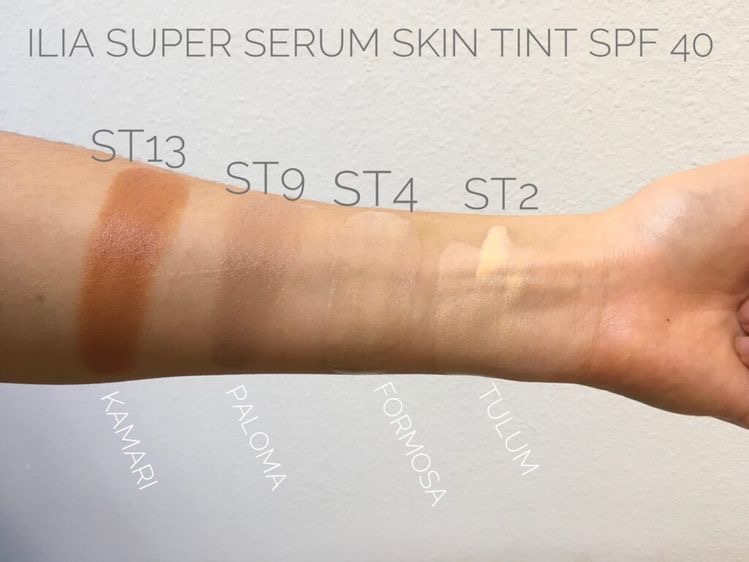 I appreciate that ILIA Super Serum Skin Tint's vegan formula uses non-nano Zinc Oxide and contains no silicones, fragrance, or oils making it great for all skin types including sensitive. But I wish that ILIA would formulate for a more natural or satin finish.
While I know that this ILIA Skin Tint has a large fan base, it seems that there's an equally large number of people who aren't fans.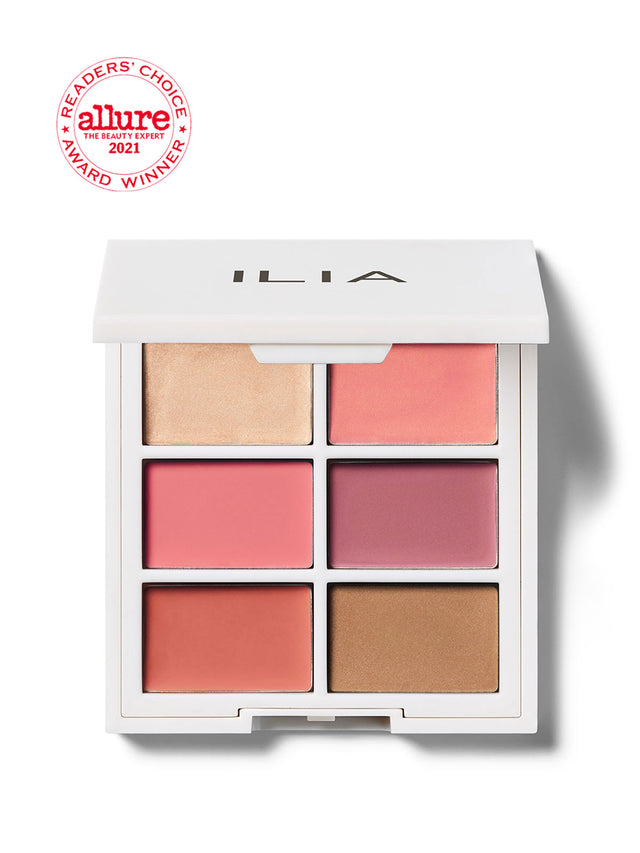 The ILIA Multi Stick Cream Blush + Lip Tint was one of my original favorites from the ILIA line. I remember when it was made with over 70% organic ingredients back in the day. I love that they recently launched a Multi Stick Palette featuring six of their Multi Stick shades (and I think this is one of the best ILIA products you can get, even though you don't get the nice twist up packaging of a full sized Multi-Stick). It's an eco-friendly and cost effective way to use six multi-sticks without having to get each one individually at $34.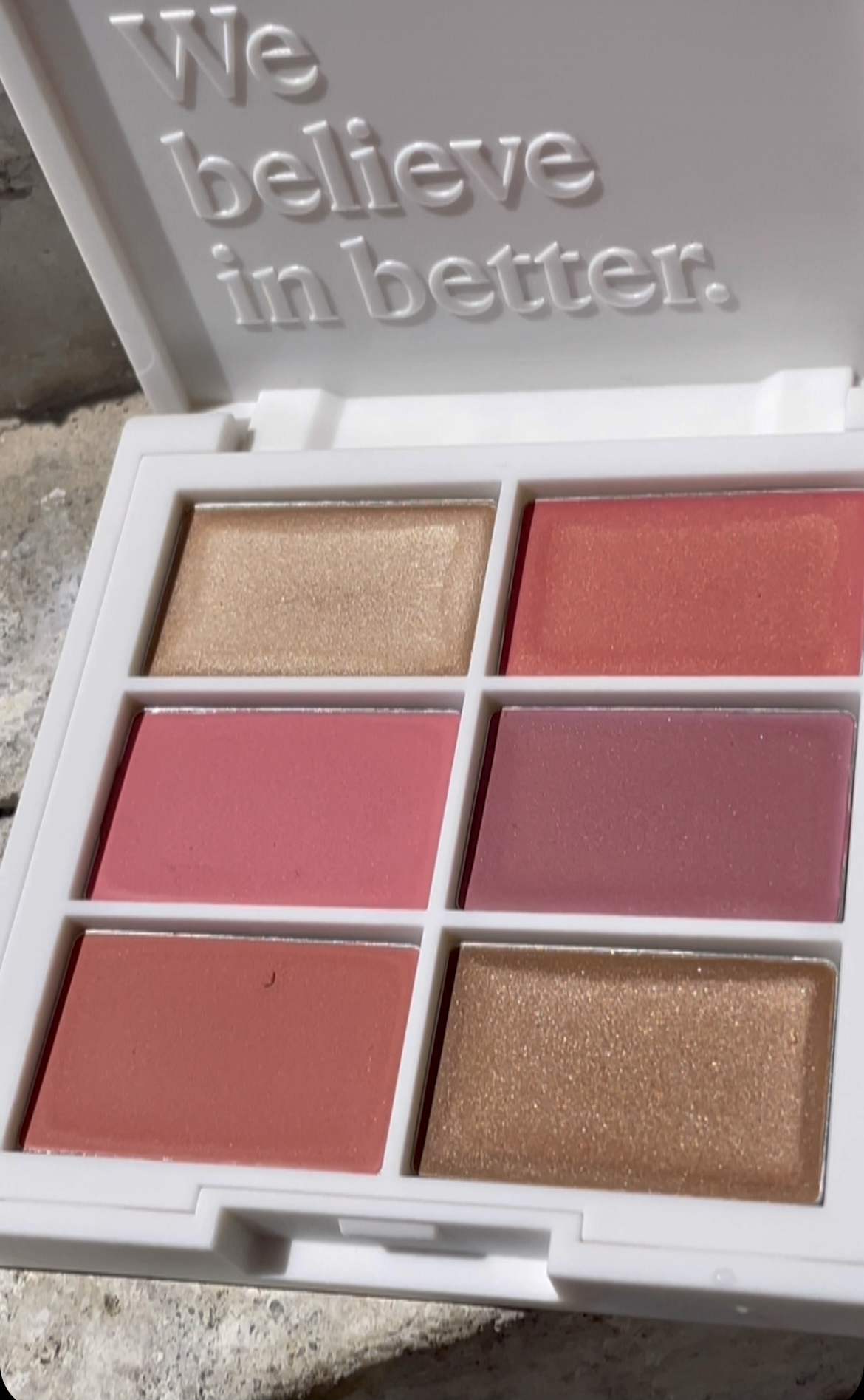 You get three new and three bestselling Multi-Stick shades for cheeks and lips. ILIA Multi sticks have the ideal amount of creaminess, not overly creamy (I'm looking at you Honest Beauty) and not too dry, plus the right amount of pigment that's buildable. They can be used as a lip tint, blush or eyeshadow though I only use Multi-Sticks as a blush.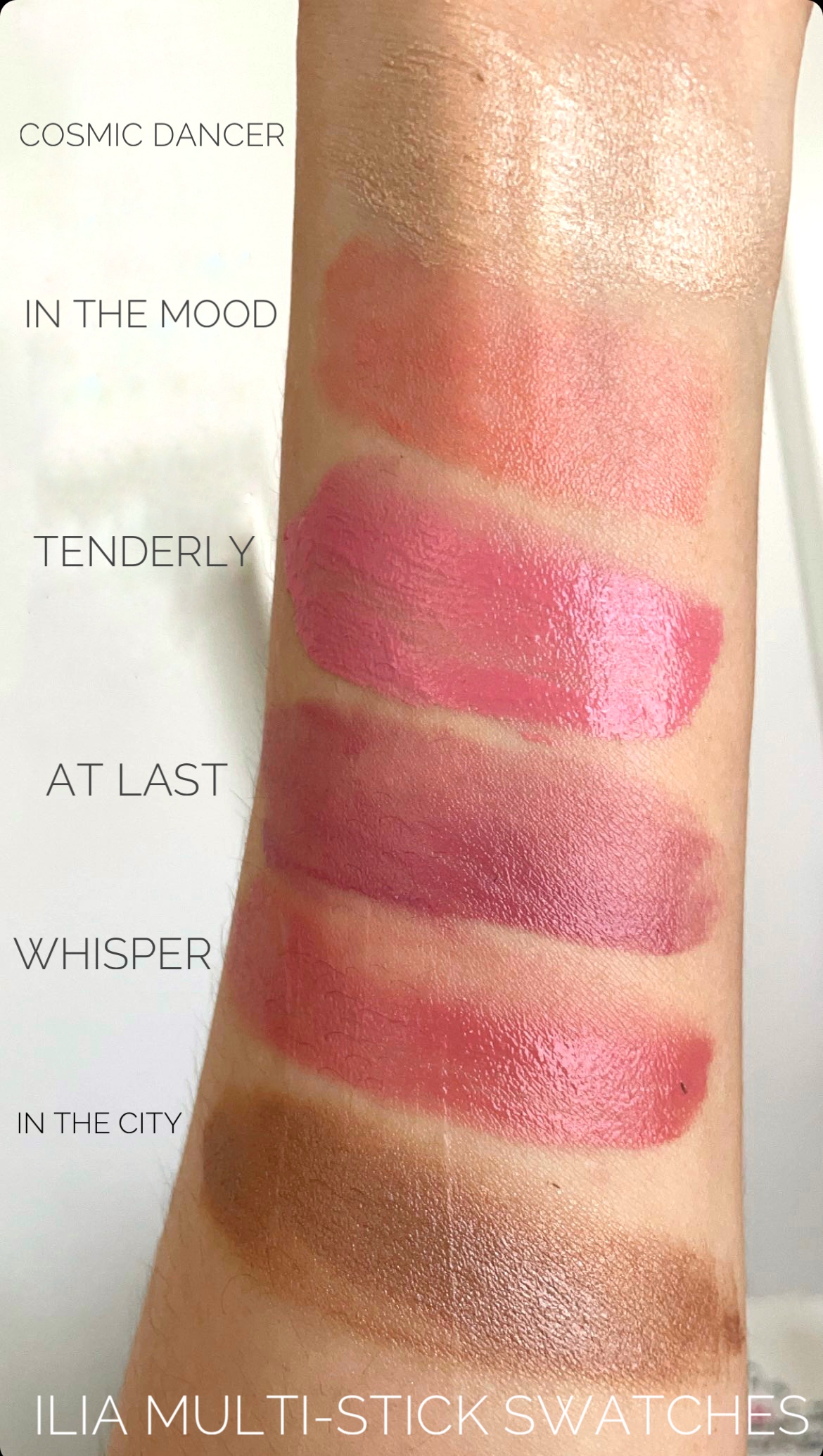 Here are swatches of the ILIA Multi Sticks in indoor natural light. It's simply a gorgeous palette that's so multi-functional. Plus, every shade is actually wearable.
This is multiple layers of product for you to see how the shades build.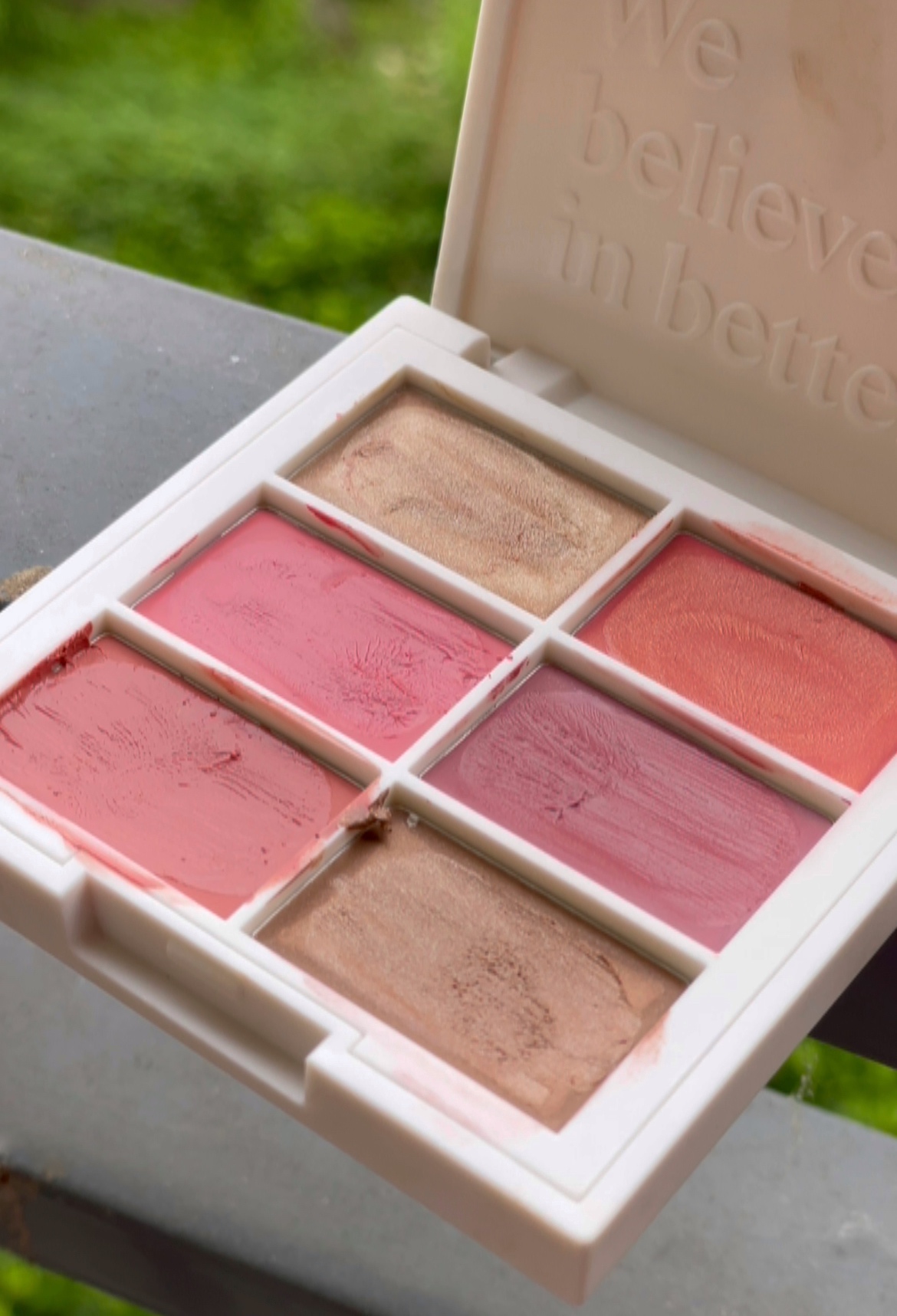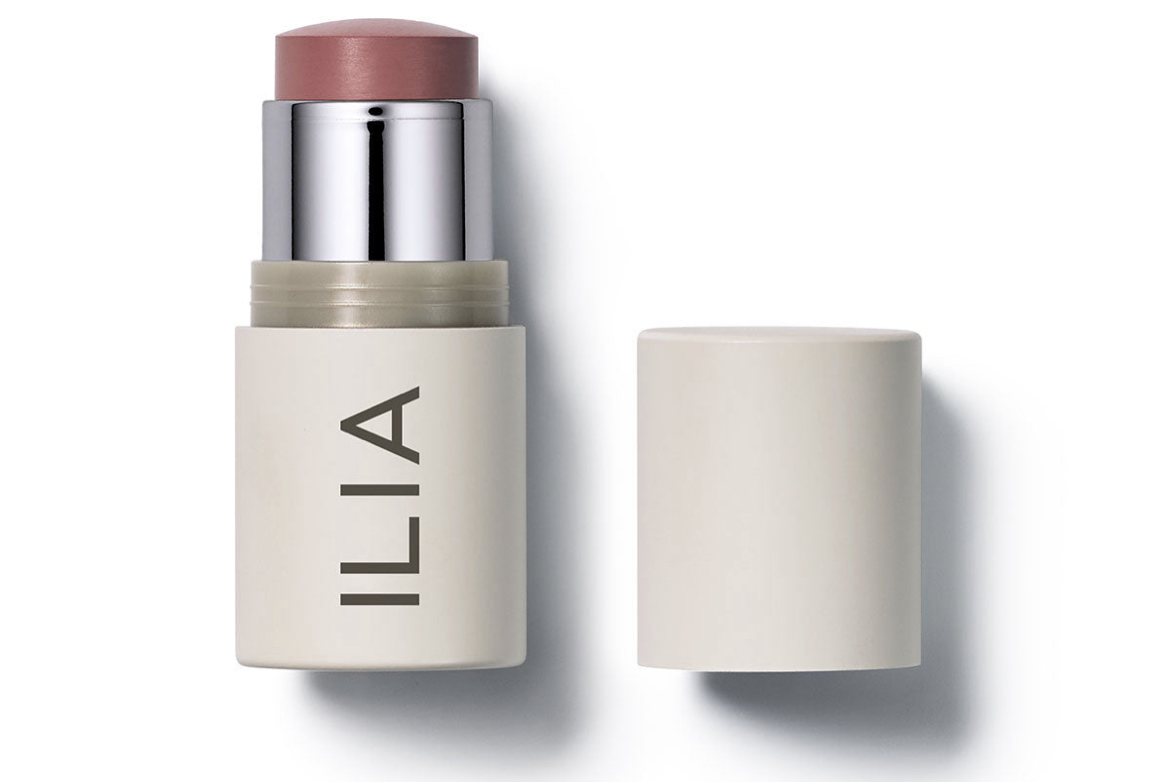 The ILIA Multi-Sticks come in a twist-up stick for easy, hands-free application and 12 different shades. The Multi-Sticks do not have any shimmer whatsoever except for the highlighter and bronzer shades. If you know me, you could probably guess that my favorite Multi-Stick shade is Tenderly.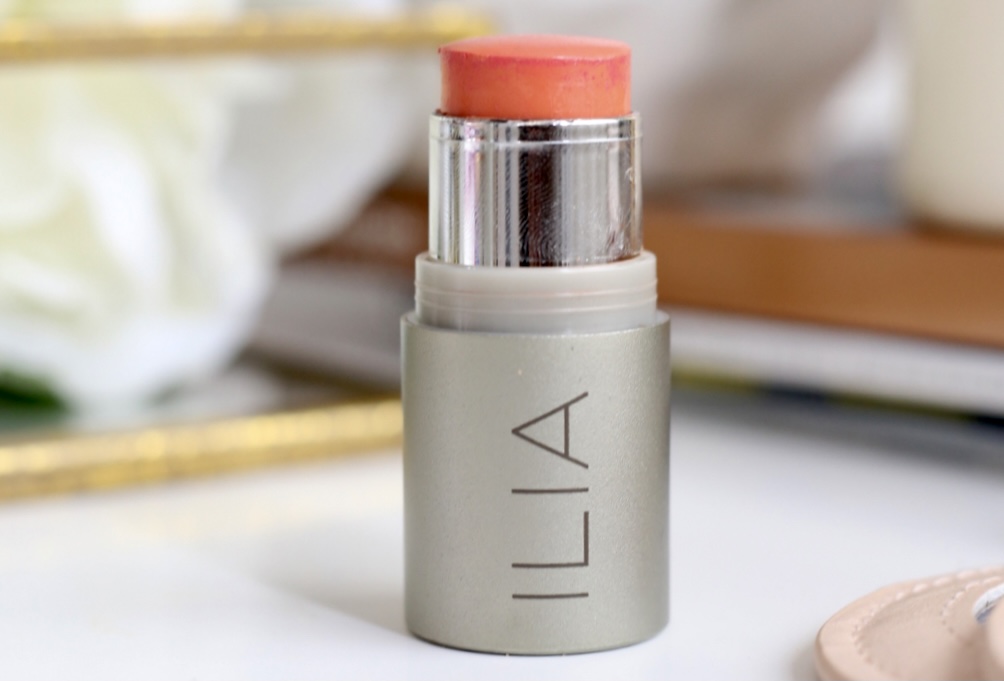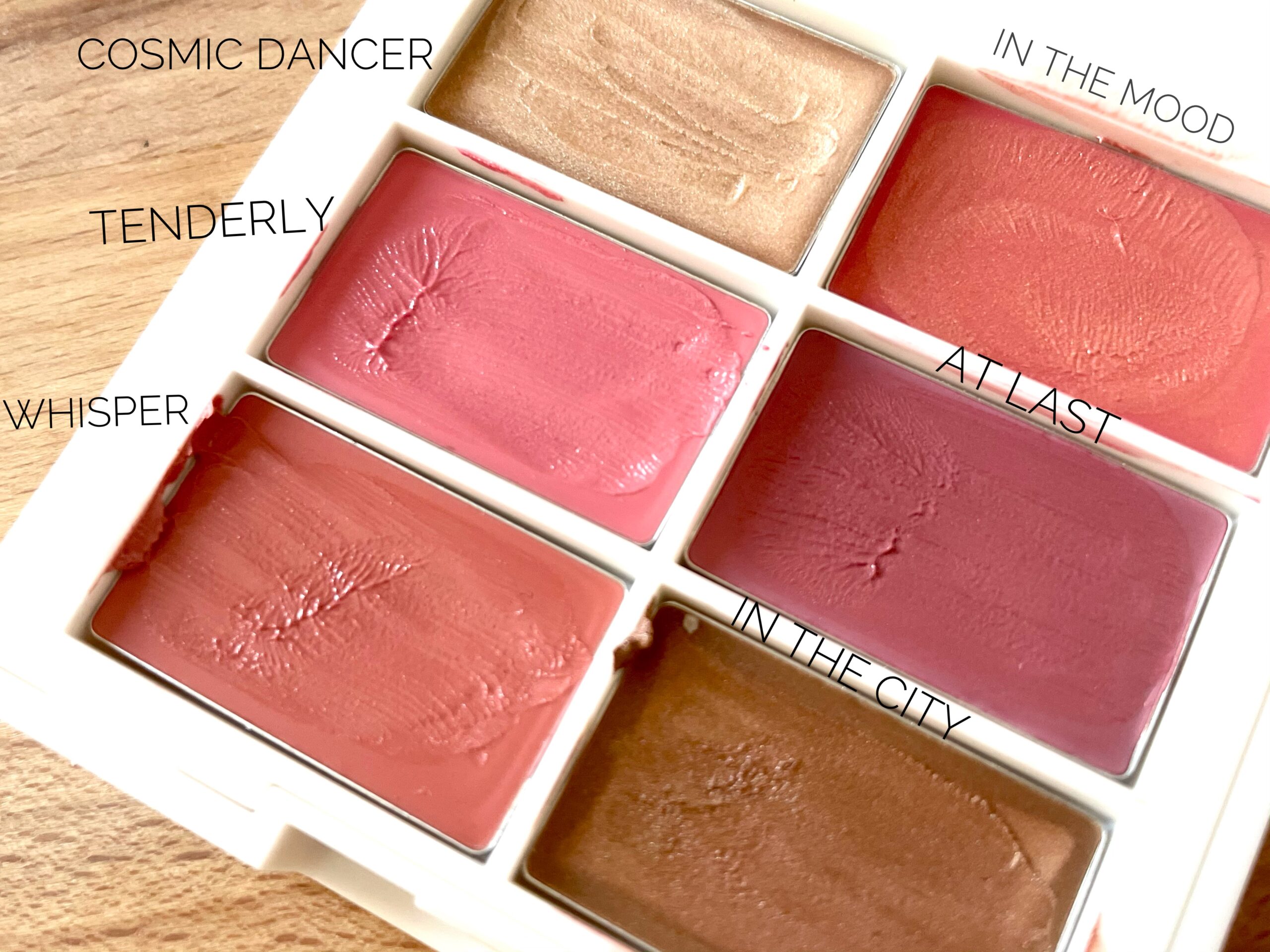 ILIA Multi-sticks glide on easily and blend well while feeling buttery (but not overly creamy or greasy) thanks to the base of butters and oils like Sunflower Seed Oil, Castor Seed Oil, Avocado Oil, Cocoa Butter and Shea Butter. The highlighter Cosmic Dancer is a bit drier/less creamy than the other shades.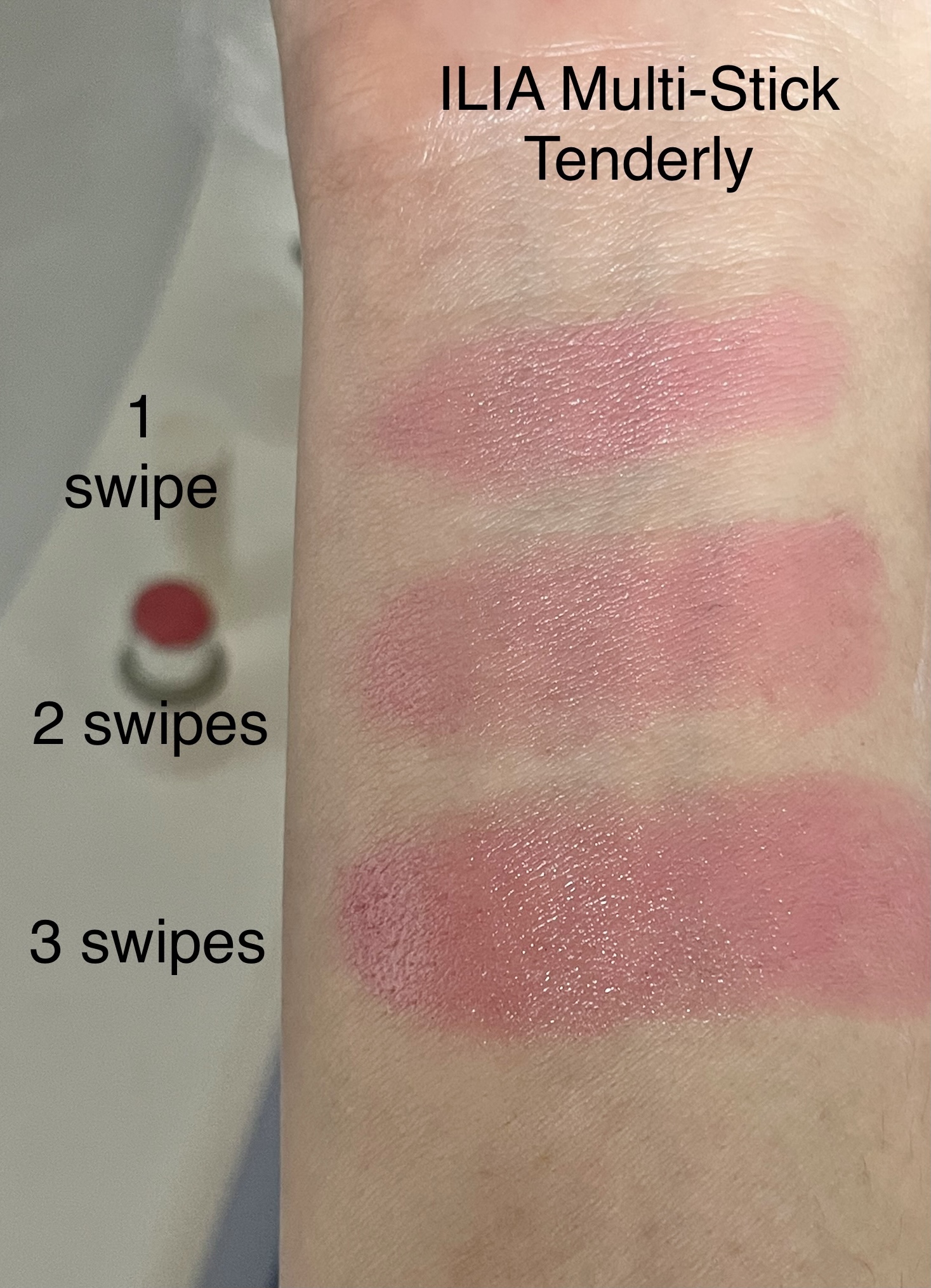 With one swipe, the ILIA Multi-Sticks provide a sheer hint of color that looks like a natural flush and can be built for a more dramatic look.
Here's what the Multi-Sticks look like in both cheeks and lips.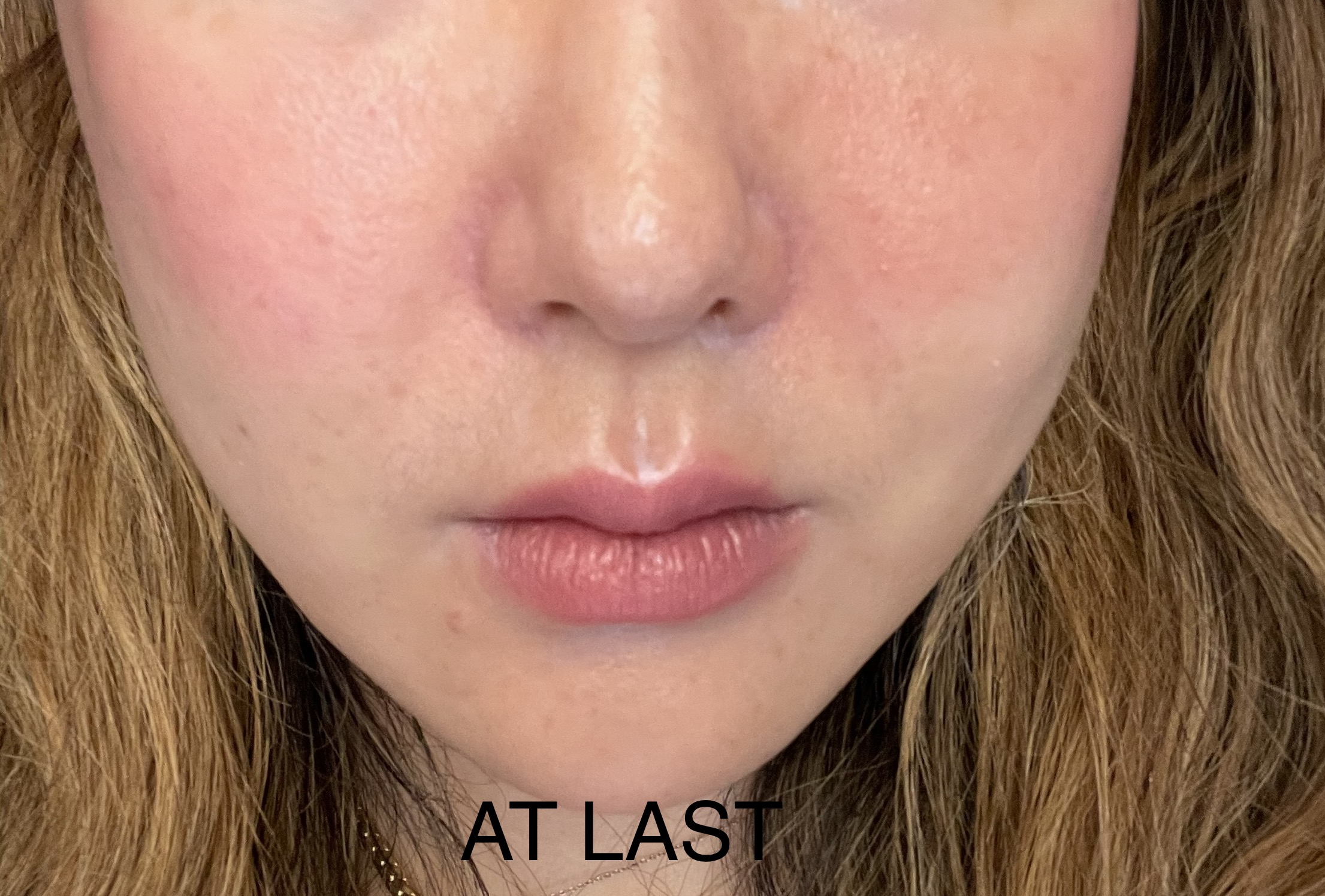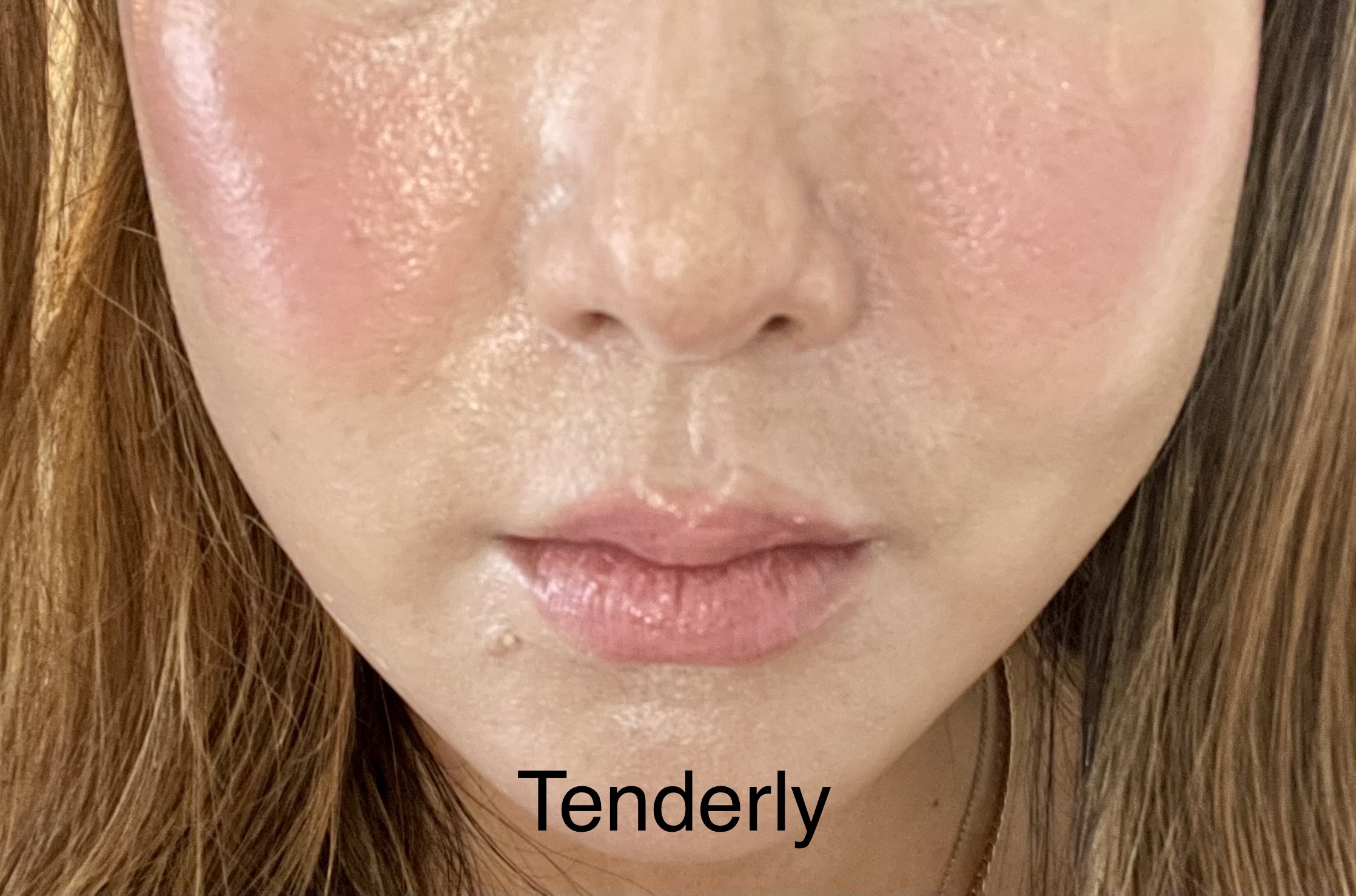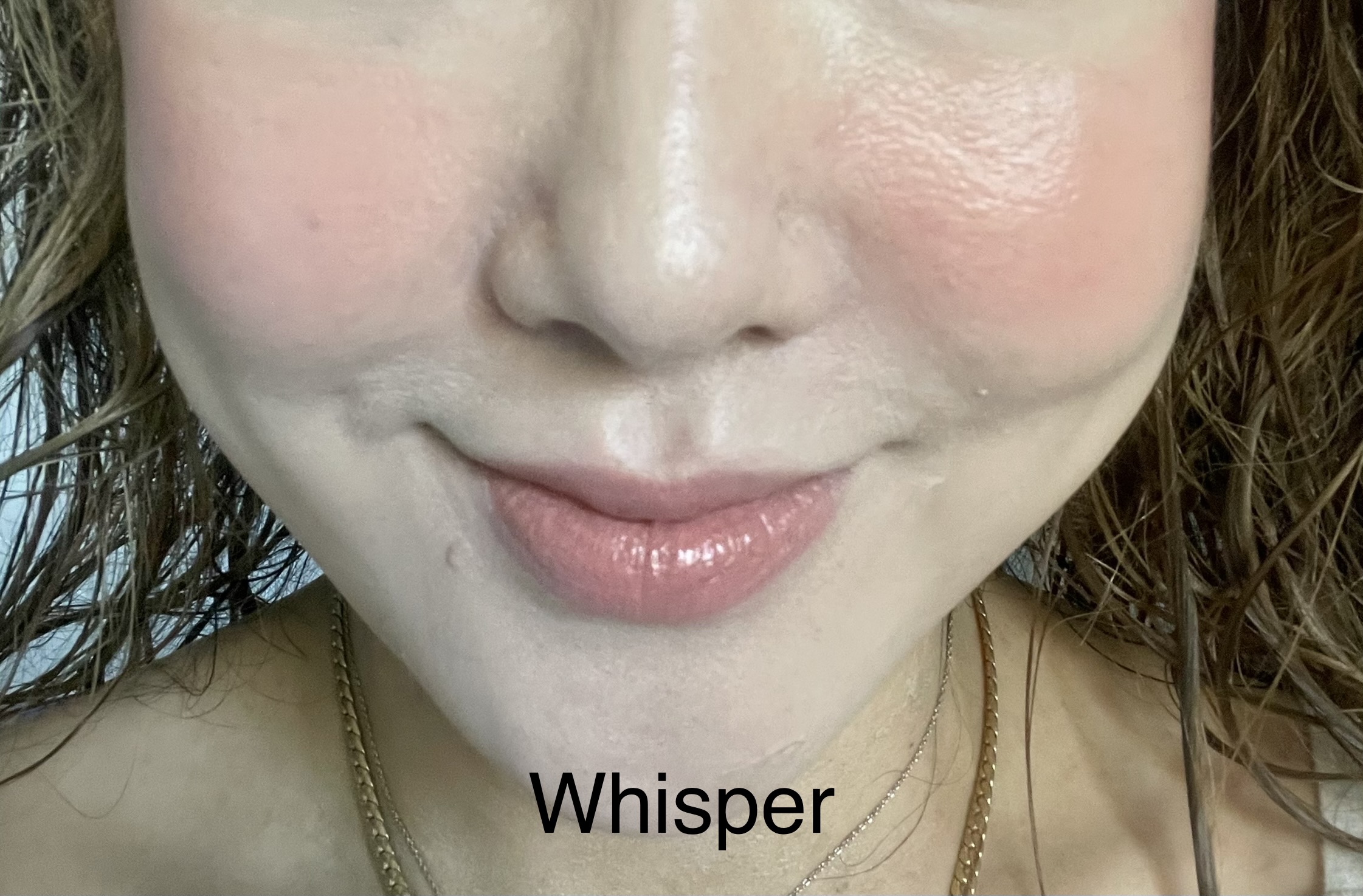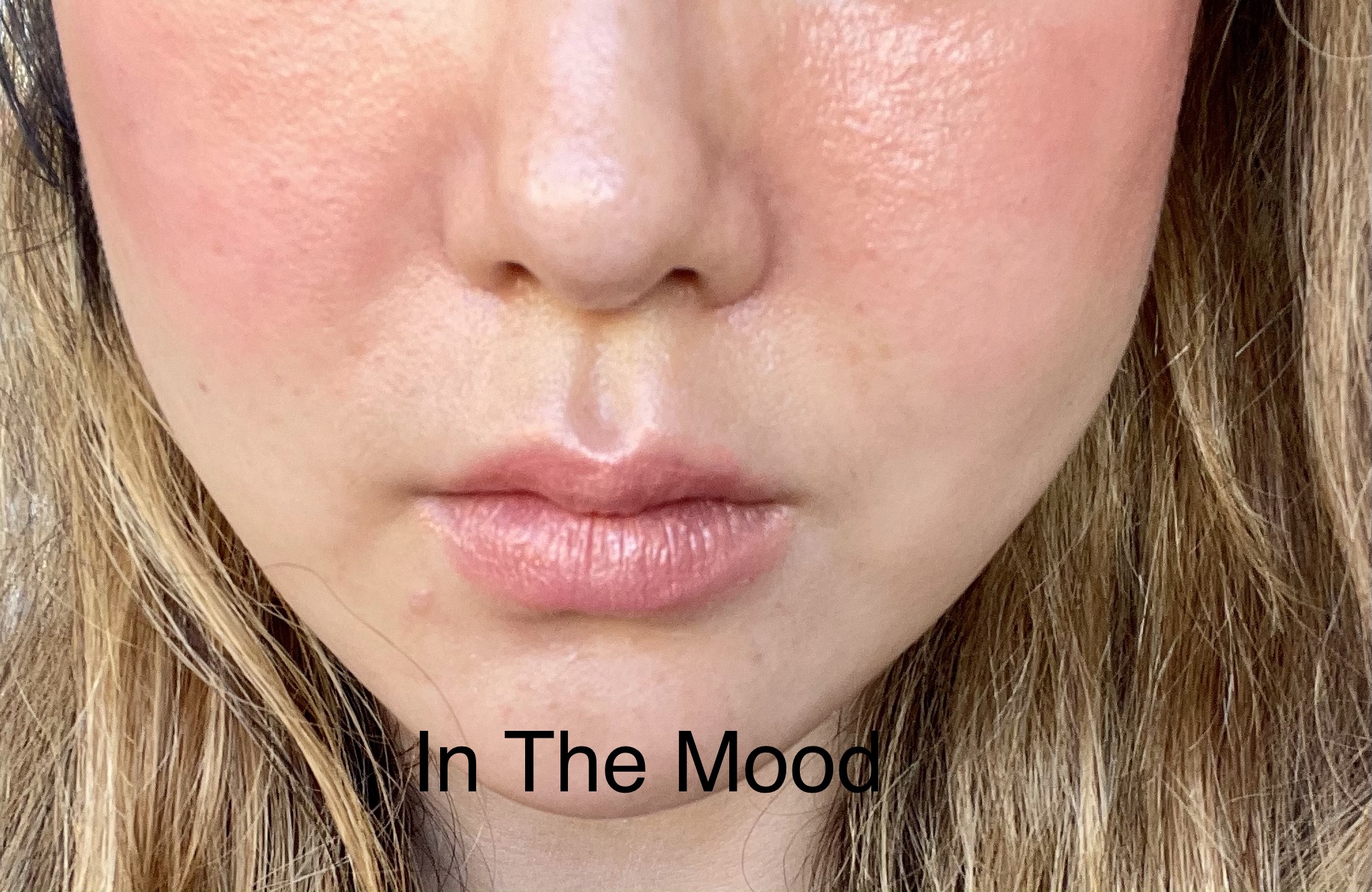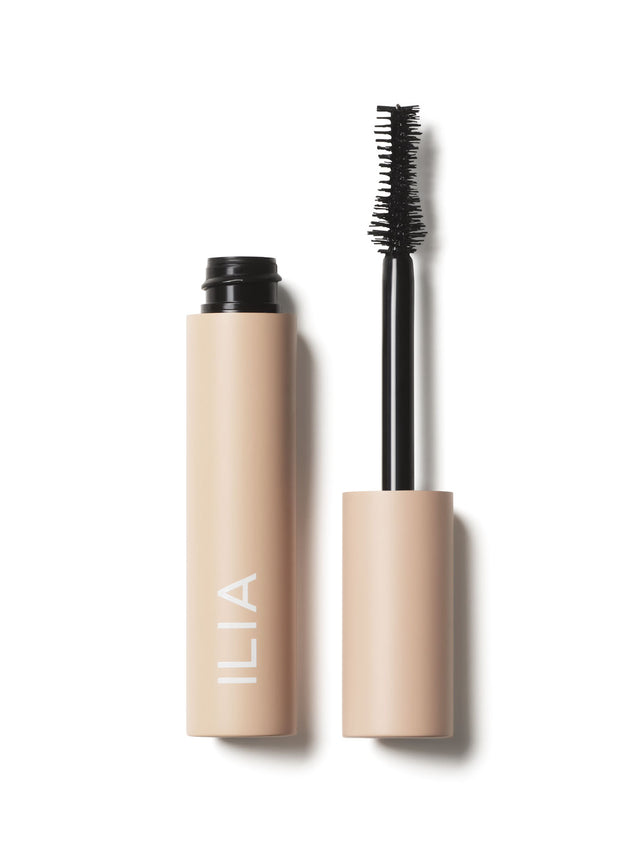 ILIA Fullest Volumizing Mascara is a clean mascara that adds thickness and volume to lashes. It's made of nylon micro-bristles in a violin shape a with a smudge-free and flake-free formula.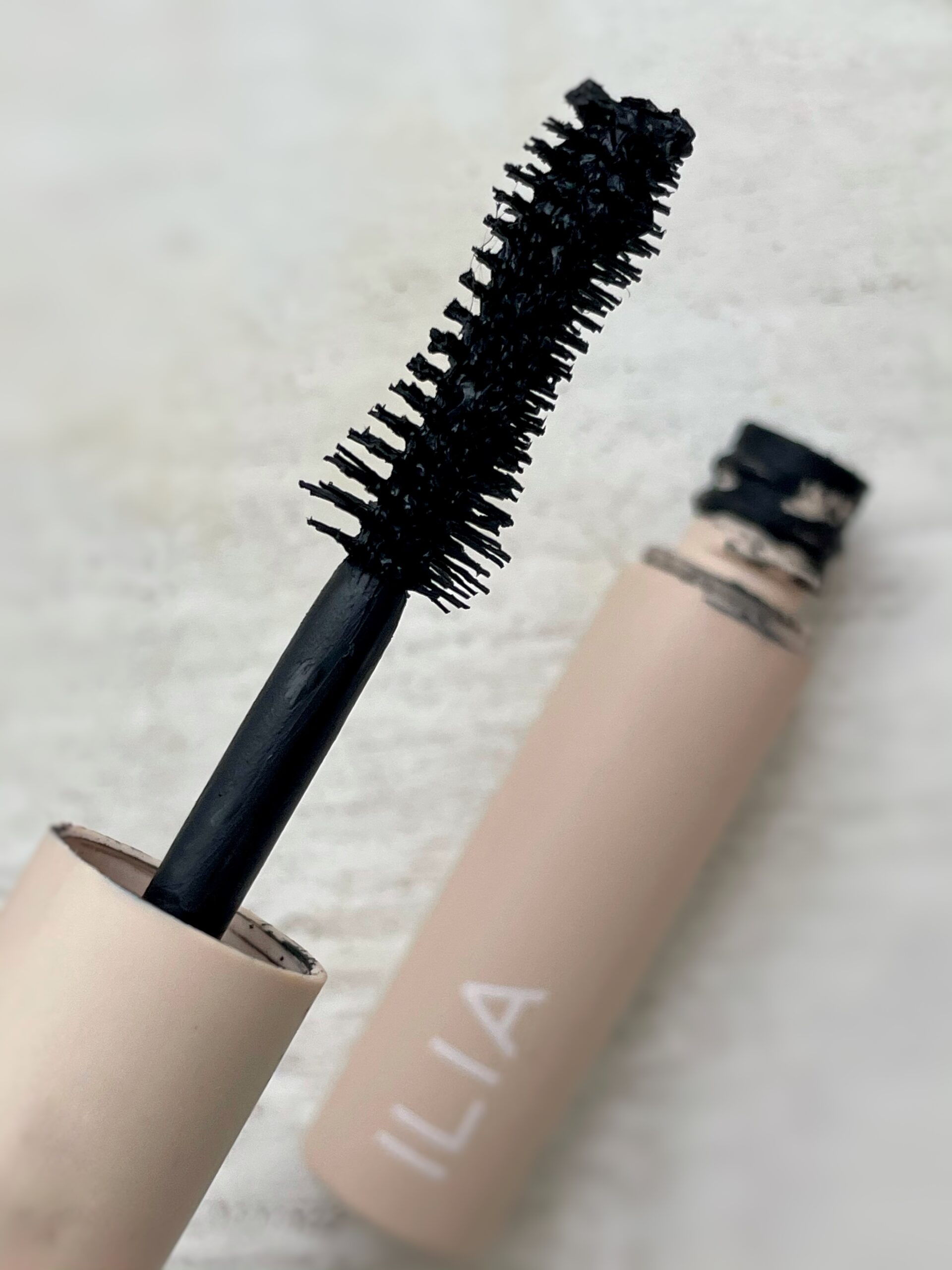 At first I wasn't impressed by the new ILIA mascara, especially since I have my go-to favorites for clean mascara that work for my sparse, short lashes. But once the formula aired out, the mascara performed better with adding volume. I haven't had any smudging or flaking issues either. While ILIA Fullest Volumizing Mascara hasn't beaten my absolute favorite clean mascara, it is a decent product.
ILIA Limitless Lash Mascara
I know this is one of the most raved about ILIA products, but for me it's just averagely decent? I don't love it or hate it. Limitless Lash is a slicker wetter formula than Volumizing Lash mascara and helps lengthen and separate (I don't experience any lifting action).
Product transfers onto my lashes in an average way, as in the way most mascaras do for my barely existent lashes, and wasn't impressive in any way to me. Formula builds well, performs decently and wears well throughout the day. Limitless Lash is an okay to good mascara, but not impressively so.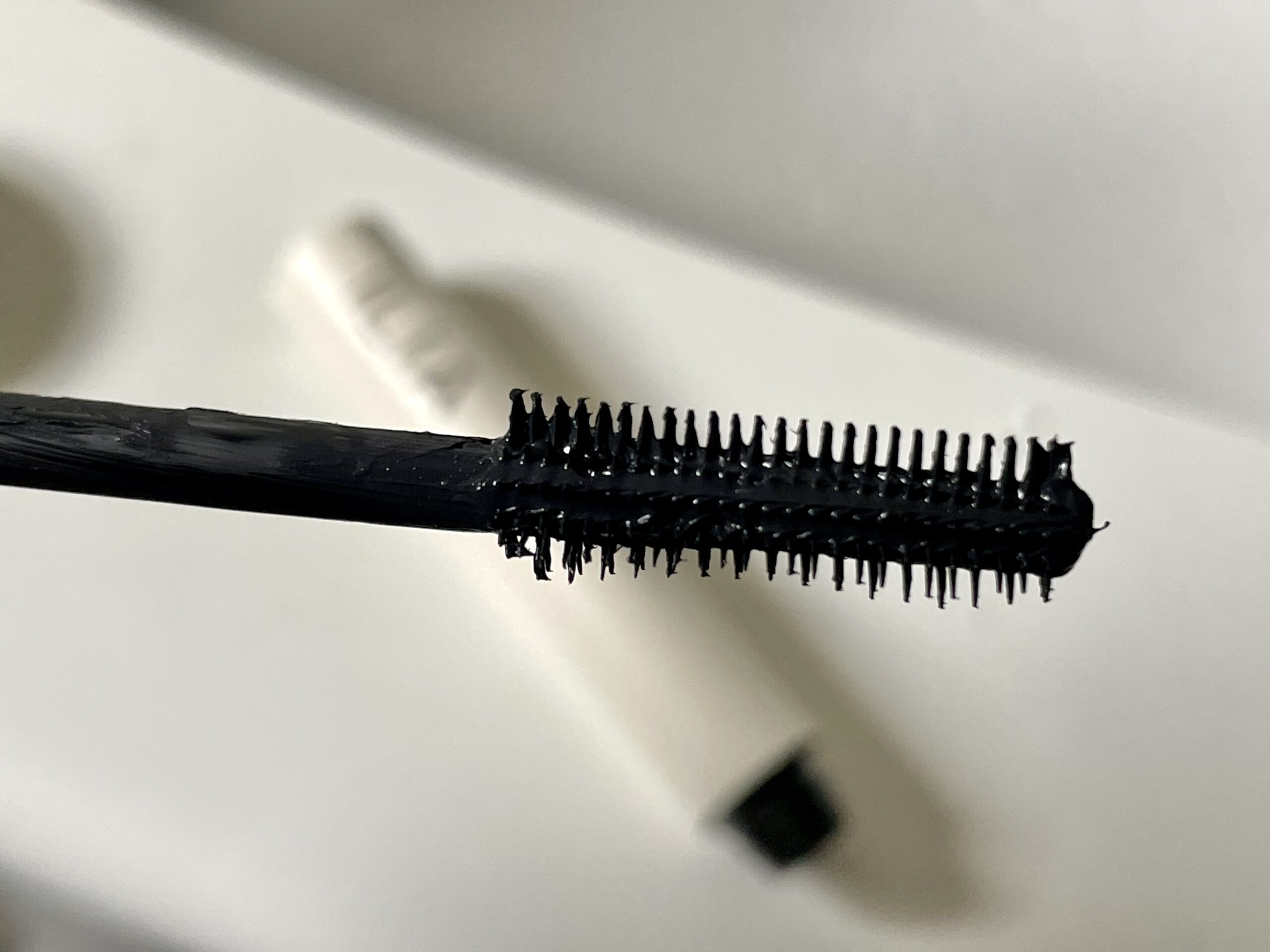 Limitless Lash does have an interesting brush design you don't see often, or maybe ever. ILIA says they tested over 100 mascara wands, before choosing a patented dual-sided brush for a perfectly natural application. There's a shorter side to curl and create volume, and a longer side that looks like a comb to lengthen and separate. It's almost as if the mascara performs just okay for each function because half the brush is designed for one purpose and the other a different.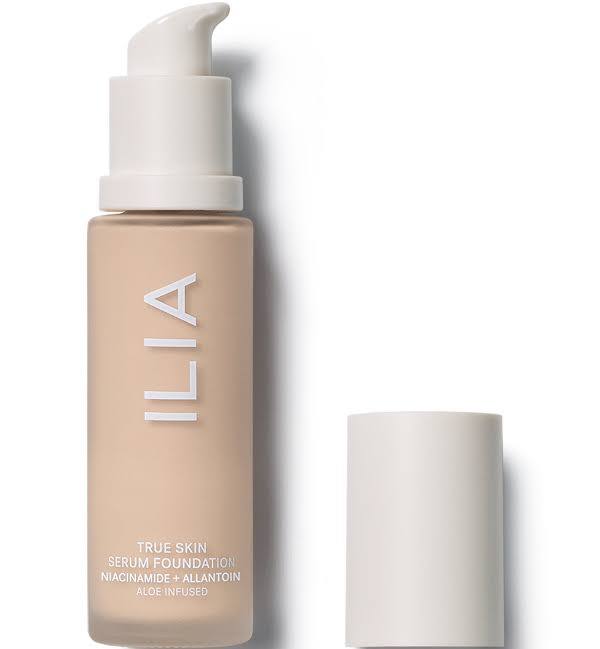 The new ILIA True Skin Serum Foundation is an improved version of their original True Skin Foundation and comes in 40 inclusive shades. It performs identically providing light to medium coverage and a natural, satin finish but True Skin Serum Foundation is supercharged with more skin-beneficial ingredients. The new formula has added mastic gum, which helps fight oil production, and active levels of Niacinamide and Allantoin to improve skin barrier health, soothe inflammation and increase your skin's ability to retain moisture.
Just like the True Skin Foundation, True Skin Serum Foundation is silky and smooth, feels lightweight and wears well throughout the day. Note that ILIA True Skin Serum Foundation does contain the silicone Dimethicone, which lends to its silkiness factor. If silicones cause you to break out I would proceed with caution.
True Skin Serum Foundation leaves a beautiful natural, satin-y finish that gives skin a filtered look. Depending on the condition of your skin, True Skin Serum Foundation may give you somewhere between light to medium coverage.
Unlike the Super Serum Skin Tint and C Beyond Triple Serum, ILIA's foundation does not have a greasy or cakey factor to it.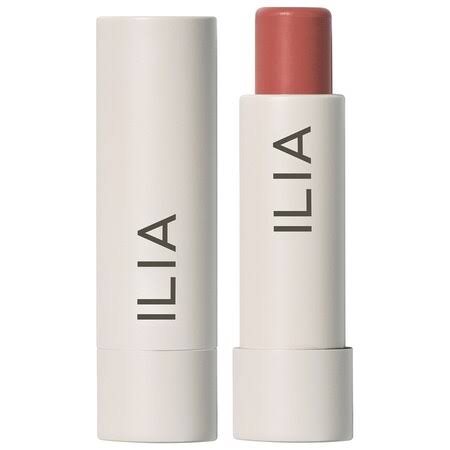 Lip products are ILIA's specialty. It's what started it all. ILIA's lip conditioners were their first product ever and the brand was known for creating natural, high-performance lip products in their early days. The cult favorite lip conditioner is now the Balmy Tint Hydrating Lip Balm, which is just a fancy way of saying "tinted lip balm."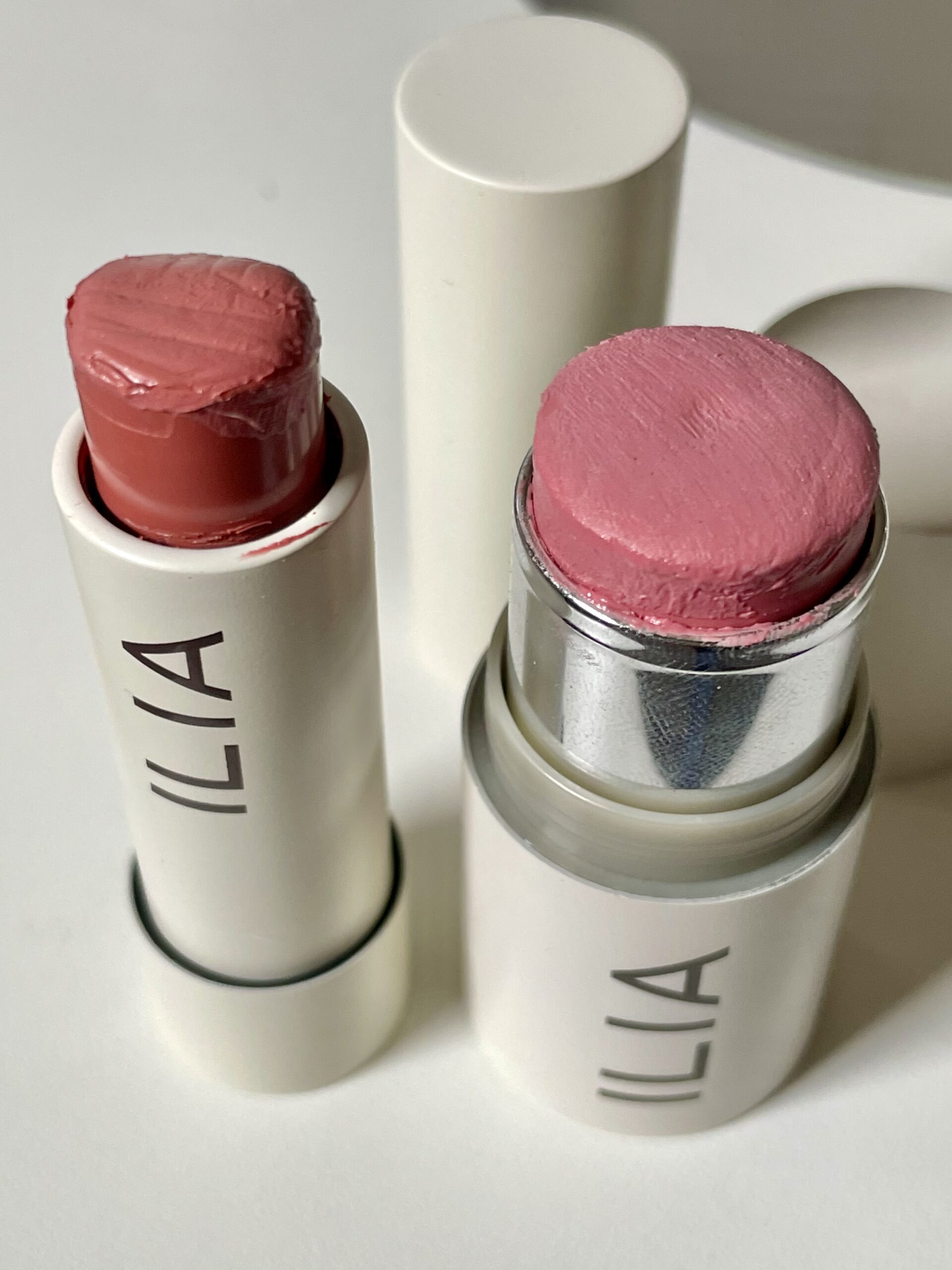 Offered in 8 shades and made with tons of natural good-for-your lips ingredient (but also artificial dyes to achieve their color), ILIA tinted lip conditioners (now Balmy Tint Hydrating Lip Balm) moisturize lips with Sea Succulent, Rosehip Seed Oil, Castor Seed Oil, Shea Butter and more.
They are semi-sheer so one swipe of ILIA tinted lip balm will provide just a subtle hint of color with your natural lip color still dominant. If you want more pigment then you'll need to do multiple swipes. ILIA Balmy Tint Hydrating Lip Balm is a buttery balm that feels very moisturizing without being over the top greasy. If you prefer a drier tinted lip balm (luxury) then check out Henne Organics.
Even though the ILIA tinted lip balms are more buttery than the ILIA Multi-Sticks, I sometimes use them as a cream blush for a monochrome look (or from pure laziness).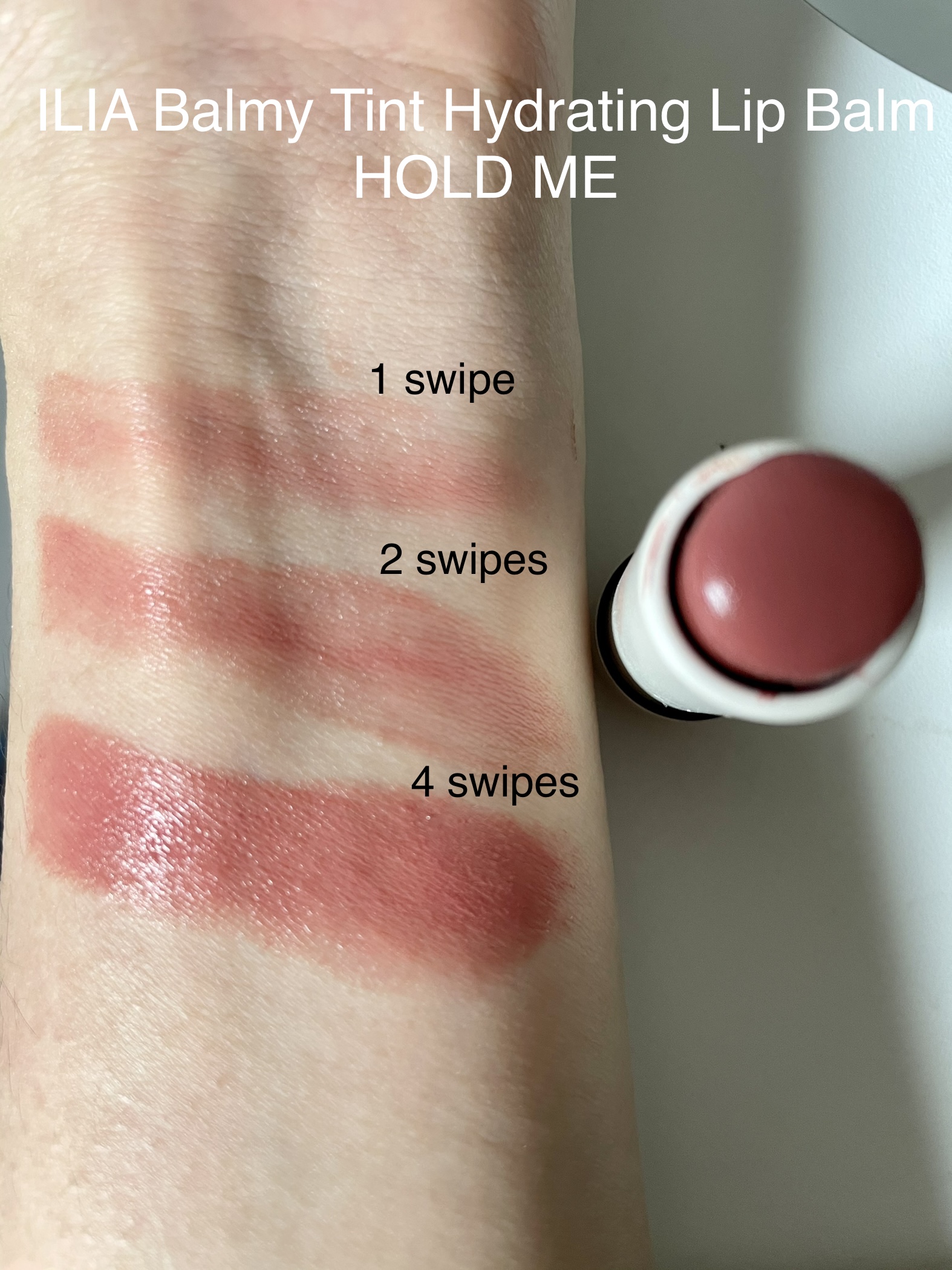 ILIA has changed out some colors and changed the names of the most popular colors they kept.
Nobody's Baby is now Hold Me, Bang Bang is Heartbeats, and Arabian Nights is now Wanderlust.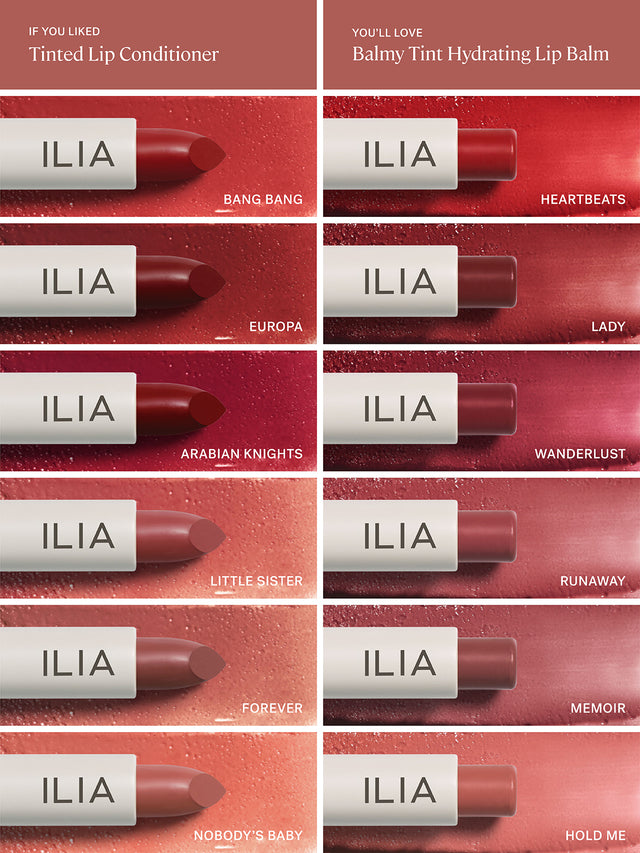 ILIA's tinted lip balms are buildable so you can apply once for sheer color or multiple layers for more of a bold lip. The original formula was more thin/dense, but the newer version feels more creamy. I wish ILIA would create more shades in the nude and pink range.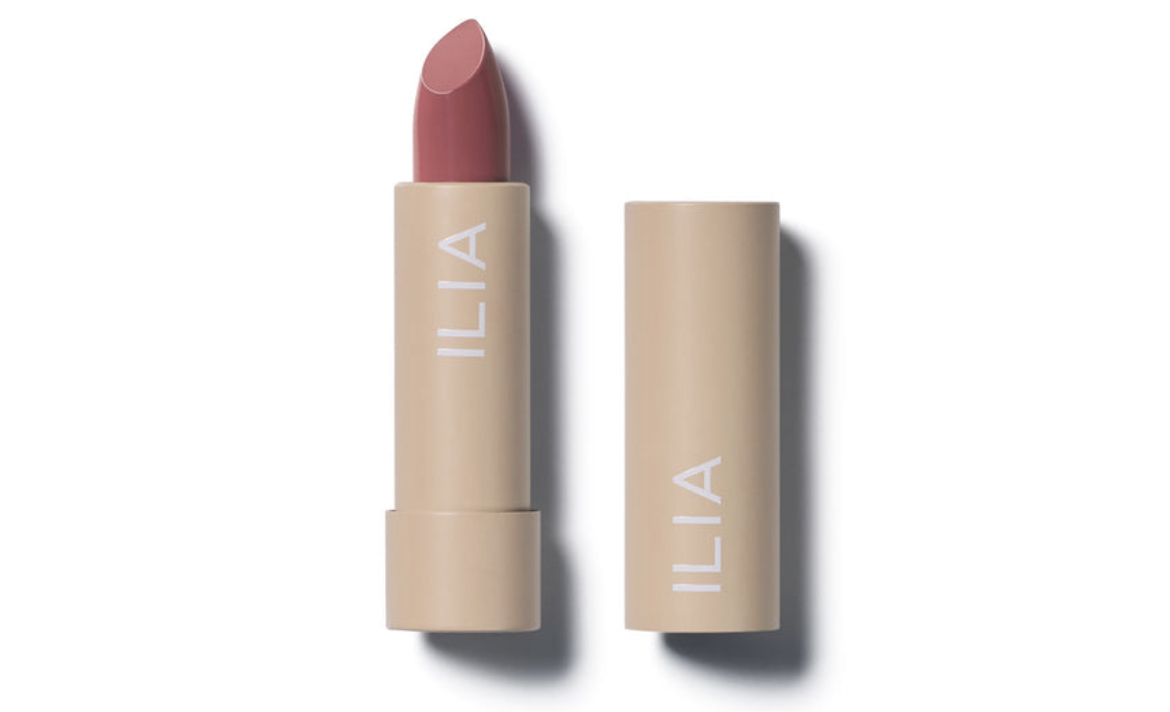 I really liked their Color Block Lipstick, but ILIA discontinued their Humble Me nude shade and only offer a ton of shades that are all too deep for me.
All of ILIA's lipsticks have a natural finish with no shimmer. They're formulated to provide intense pigment power and long lasting wear while moisturizing lips with a vegan formula of castor seed oil, jojoba oil, apricot kernel oil and Shea butter.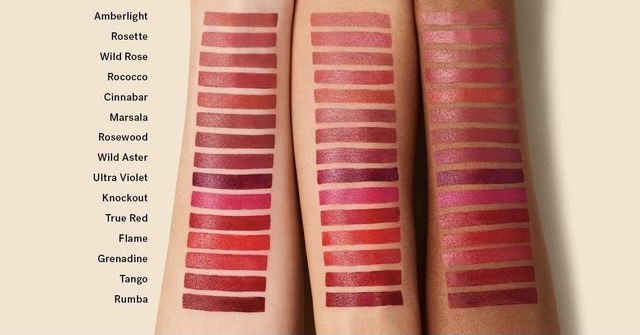 I think it's crazy that there isn't a single light nude or light pink shade. Knockout looks like a fun, bright lipstick shade, but I wouldn't be able to use it for an everyday look.
Nevertheless, ILIA lipsticks are high-performance, highly pigmented lipsticks.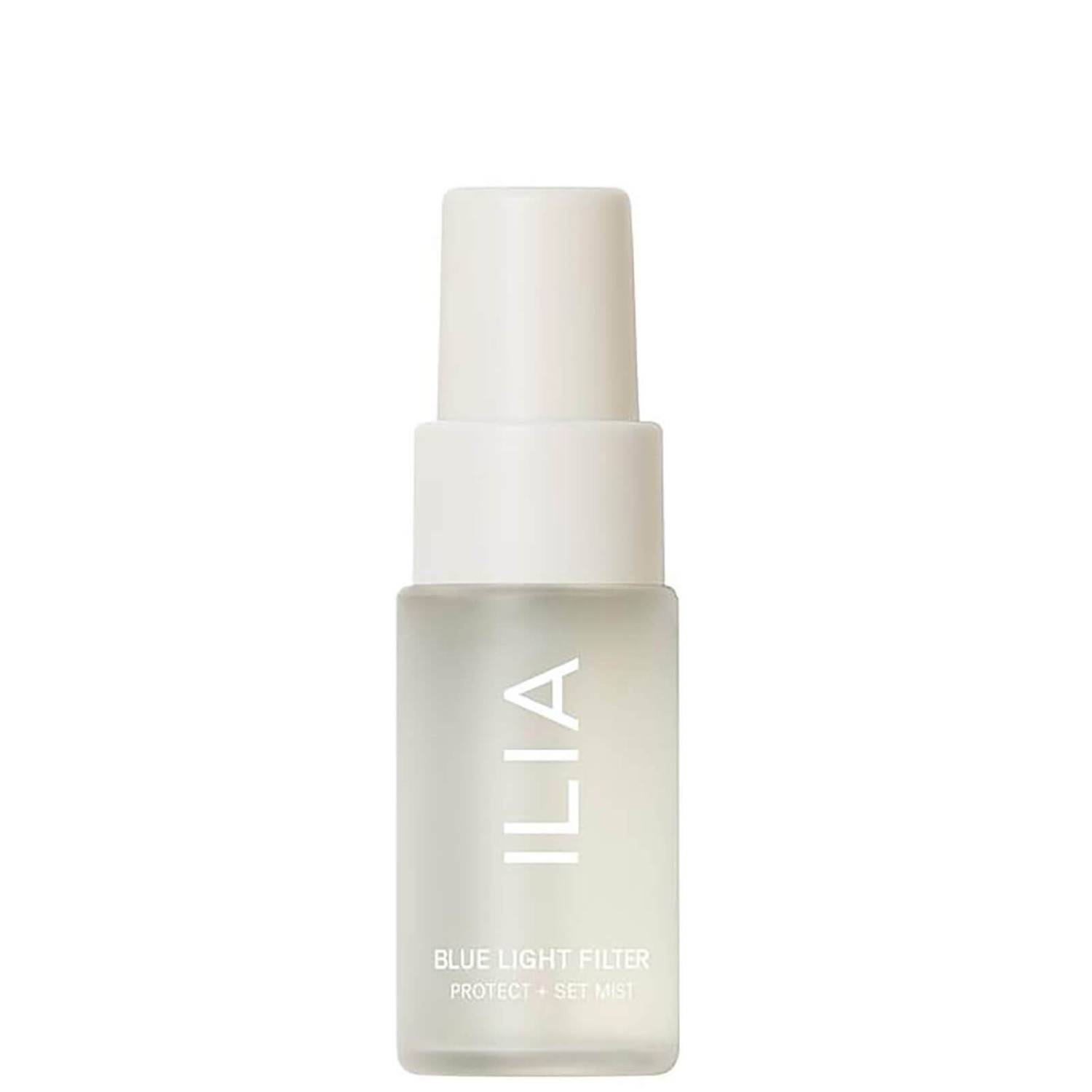 The ILIA Beauty Blue Light Mist is a multi-tasking product that acts as a makeup setting mist, hydrating mist and blue light/pollution fighting mist.
I don't think the ILIA blue light mist is worth the nearly $40 it costs. It doesn't set makeup in the way that a chemical-laden product like Urban Decay's would. There are much more affordable  options that exist in clean beauty. If you take a look at the full ingredients list of ILIA's Blue Light Mist you'll find water, pentylene glycol and propanediol as the first three ingredients. That's a lot of money to pay for water and synthetic humectants. Pentylene glycol has been shown by studies to be a skin irritant that causes contact dermatitis.
I would suggest checking out a very similar dupe in clean beauty made by Gen Z brand INNBEAUTY Project that costs $22 called Innbeauty Project Power Up 3-in-1 Face Mist. Just like ILIA it's a mist and setting spray in one, and just like ILIA, it hydrates more than it actually sets makeup. You don't get the luxe, glass packaging of ILIA, but you do get better ingredients.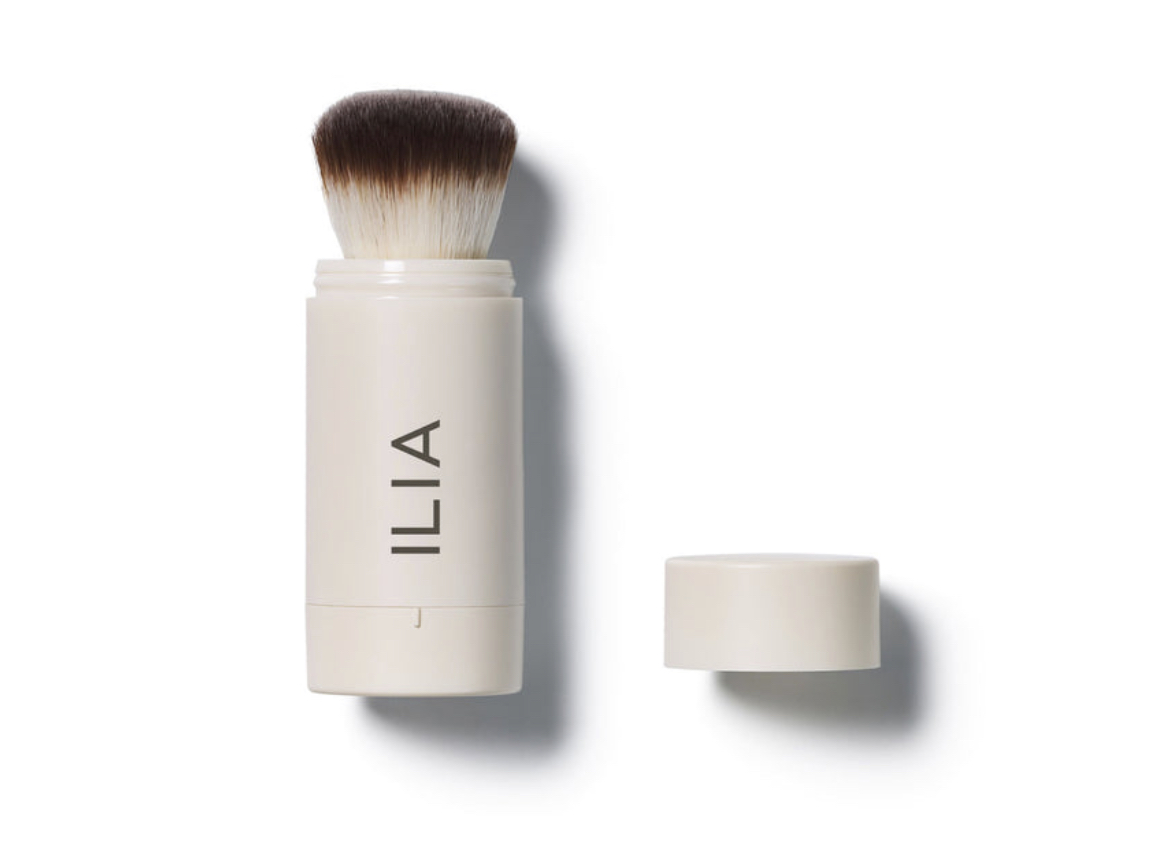 I always love a brush-on spf powder for reapplication when I'm out and about, and while there are many pros to the ILIA SPF 20 powder, there's also some major drawbacks.
This talc free powder is a white shade but goes on translucent.
It's a super fine and soft powder that gives skin a beautiful airbrushed look, and the brush bristles are high quality. The major downfall of this product is that SPF 20 is too low for me to use on its own and the bottom container of powder comes easily undone, which means wasted spillage if you're not making sure that it's screwed on tightly. I also couldn't figure out how to buy a replacement jar on its own without having to buy the entire packaging.
For a similar product that's higher quality and higher SPF I recommend the Jane Iredale Powder Me SPF 30
More "Best Of" Organic Beauty: