Beekman 1802 Review: Is Goat Milk Skincare Worth It?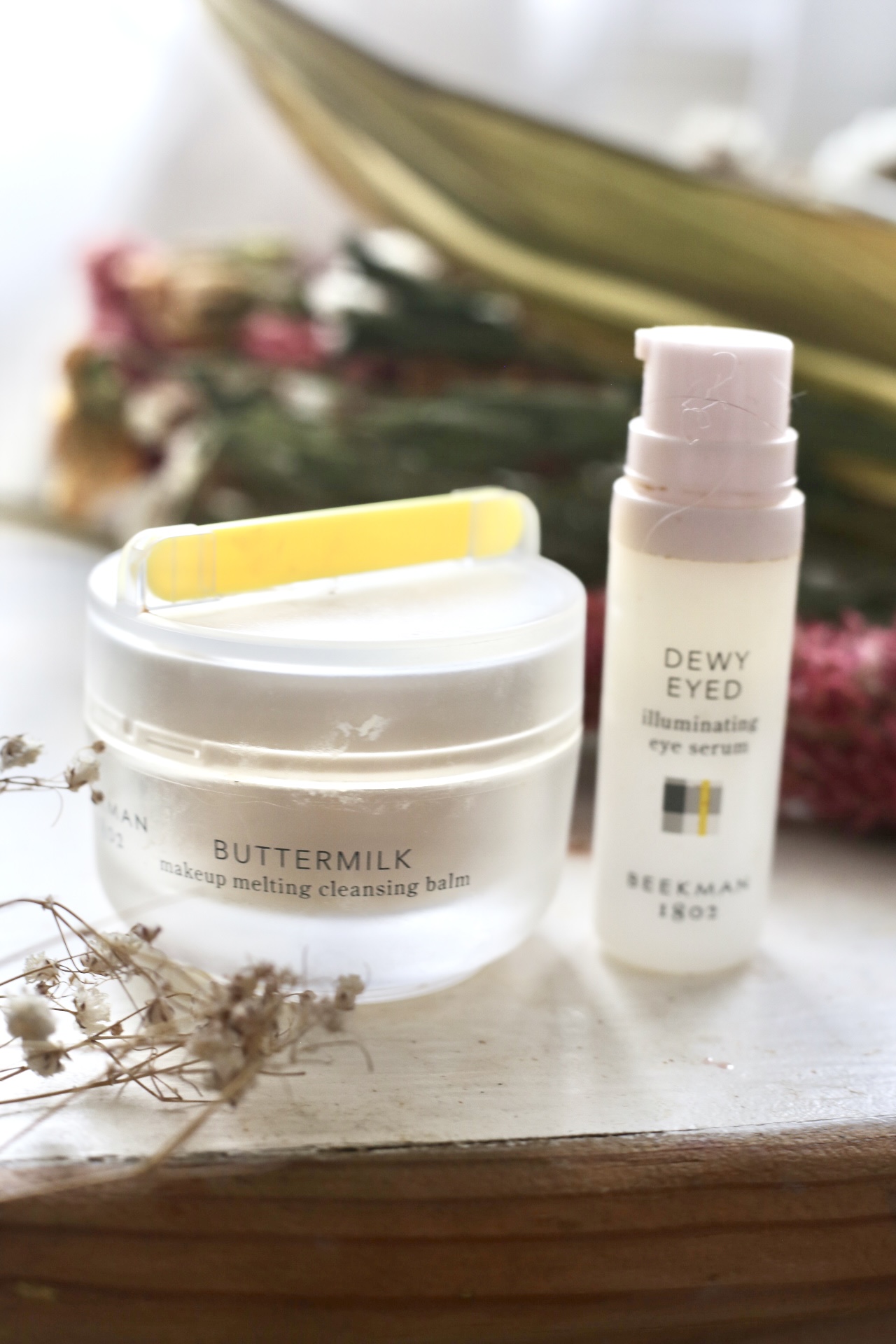 This isn't the first time I've tried out a goat milk product, but they've mostly been limited to usage in soap bars. Beekman 1802 has defied all odds by turning a a company making one bar of goat milk soap to one that's now the biggest goat milk skincare company in the world. But is goat milk skincare worth the hype? Milk Drops, Milk Shake, Midnight Milk, Mega Milk, Milk Scrub – there's hardly a product without the word milk. After trying out the popular brand found in ULTA stores, I'm sharing my thoughts in the Beekman 1802 review.
Beekman 1802 is a skincare line for those of you who:
skin responds well to milk
sensitive skin types
like purchasing products from ULTA
I initially thought Beekman 1802 was a budget brand because the packaging wasn't screaming luxury to me. So, I was surprised to find that these are actually not all that affordable, with the popular Bloom Cream priced at over $50 and face mist at $34.
I used to not bother reviewing products that I didn't fall in love with (or worse, hated), but I found readers were still interested in these types of reviews. AND..I'm so sick of online magazines claiming that every product "changed their skin" or "is a miracle worker," because how is it that everything you've tried has done that?!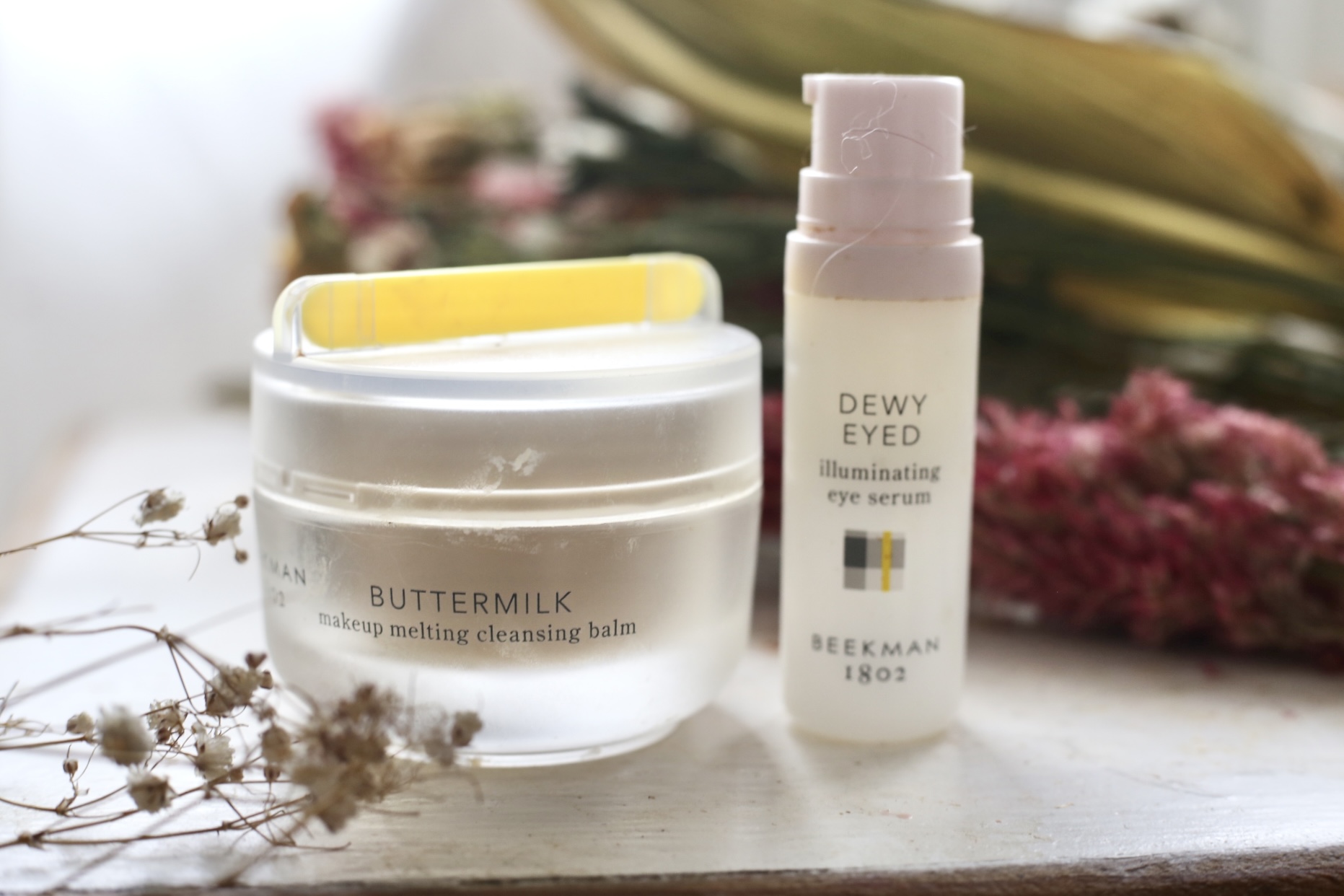 Beekman 1802 Buttermilk Cleansing Balm
The Beekman 1802 cleansing balm is currently on sale for $11 (normally $29) and here's why I'm not at all surprised this is slashed to clearance prices. I just did not enjoy this cleansing balm, and frankly am surprised that it has a 4.5 rating out of 250+ reviews. Judging by the fact that it's on clearance, I have a feeling they're trying to get rid of the product from their line? Either way, I can't recommend this product unless you enjoy a waxy non-scented cleansing balm. Of course, this is my deep personal preference to have my cleansers be a sensorial treat worthy of being part of my precious nightly ritual. I get that some people don't want a scent and this product would be suited to them.
I also didn't love the texture and consistency. I love a soft, silky balm and the Beekman 1802 one was quite dense and waxy. While I can forgive this quality that's found in budget cleansing balms that are under $20, the Beekman 1802 Buttermilk Cleansing Balm costs nearly $30.
As far as taking off makeup and sunscreen goes, it does a fine job. I'm not sure about the whole "turns from a balm into a milk" marketing – yes it emulsifies but it doesn't turn into flowing milk.
Beekman 1802 Dewy Eyed Illuminating Eye Serum
I'm on the fence about this eye serum as I wasn't falling in love with it but I also don't have anything bad to say about it either. It's a lightweight serum consistency that sinks in and absorbs nicely – no scent. The formula includes a blend of silk tree extract, goat milk prebiotic, and botanical extracts but I wouldn't consider this a powerful anti-aging product if you have any actual eye area concerns.
Ingredients
Water (Aqua), Glycerin, Propanediol, Hydroxyethylcellulose, Caprae Lac (Goat Milk), Colostrum, Bifida Ferment Lysate, Lactose, Milk Protein, Sodium Hyaluronate, Darutoside, Cucumis Sativus (Cucumber) Fruit Extract, Aloe Barbadensis Leaf Juice, Chamomilla Recutita (Matricaria) Flower Extract, Eryngium Alpinum (Blue Thistle) Flower Extract, Albizia Julibrissin (Silk Tree) Bark Extract, Honey, Linum Usitatissimum (Flax) Seed Extract, Symphytum Officinale (Comfrey) Leaf Extract, Whey Protein, Sodium Levulinate, Sodium Anisate, Citric Acid, Panthenol, Sodium Phytate, C10-18 Triglycerides, Lecithin, Potassium Sorbate, Sodium Benzoate
Skincare Benefits of Goat Milk
Reduces Inflammation and Irritation
One of the main benefits of using goat milk for your skin is its ability to reduce inflammation and irritation. This makes it a great option for those with sensitive skin or those who suffer from conditions such as eczema or psoriasis. Goat milk is rich in alpha-hydroxy acids (AHAs) which are known for their ability to break down dead skin cells and reduce inflammation. AHAs are also found in many skincare products, but with goat milk, you're getting a natural source that won't cause any harsh reactions on your skin.
Inflammation can lead to a variety of skin issues, including redness, itching, and acne, so reducing it can help improve the overall appearance and health of your skin. Goat milk also contains lactoferrin, which has anti-inflammatory properties and can further help to soothe and calm irritated skin.
Gentle Exfoliation for Smoother Skin
Goat milk is known for its many skin benefits, including reducing inflammation and promoting hydration. However, did you know that it can also offer gentle exfoliation for smoother, healthier skin? Goat milk contains alpha-hydroxy acids (AHAs) that help to gently remove dead skin cells, revealing a brighter, more radiant complexion.
These AHAs work by breaking down the bonds between dead skin cells, making them easier to slough off. This not only helps to smooth out rough, uneven skin texture but also allows for better absorption of other skincare products. Additionally, regular exfoliation can help to stimulate cell turnover and boost collagen production, leading to firmer, more youthful-looking skin.
When it comes to exfoliation, it's important to choose a gentle method that won't damage or irritate the skin. Goat milk is a great option because it is naturally gentle and hydrating. You can find goat milk exfoliating products in the form of cleansers, scrubs, and masks, or you can make your own using simple, natural ingredients.
Boosts Collagen Production for Firmer Skin
Goat milk is also highly effective at boosting collagen production. Collagen is a protein that is responsible for giving skin its firmness and elasticity. However, collagen production naturally declines with age, which is why our skin becomes less firm and more prone to wrinkles.
Fortunately, goat milk contains high levels of vitamins A and C, both of which are essential for collagen production. Vitamin A helps to increase skin cell turnover, which in turn promotes collagen synthesis. Meanwhile, vitamin C is a powerful antioxidant that helps to protect the skin from oxidative stress and damage. By using goat milk-based skincare products regularly, you can help to stimulate collagen production and maintain firmer, more youthful-looking skin.
But that's not all—goat milk also contains lactic acid, a type of alpha-hydroxy acid (AHA) that helps to exfoliate and brighten the skin. By combining the exfoliating and collagen-boosting properties of goat milk, you can achieve an even more radiant complexion.
Provides Nourishing Hydration
When it comes to keeping skin supple and healthy, hydration is key. Fortunately, goat milk has a unique composition that allows it to provide your skin with moisture and hydration that lasts.
Goat milk is naturally rich in caprylic acid, which has been shown to help maintain the skin's natural moisture barrier. When your skin's moisture barrier is intact, it's better able to retain hydration, which can help to prevent dryness, flakiness, and irritation. Additionally, goat milk is packed with fatty acids, which help to keep the skin plump and hydrated, reducing the appearance of fine lines and wrinkles.
Beekman 1802 Amazon Store