Siam Seas Review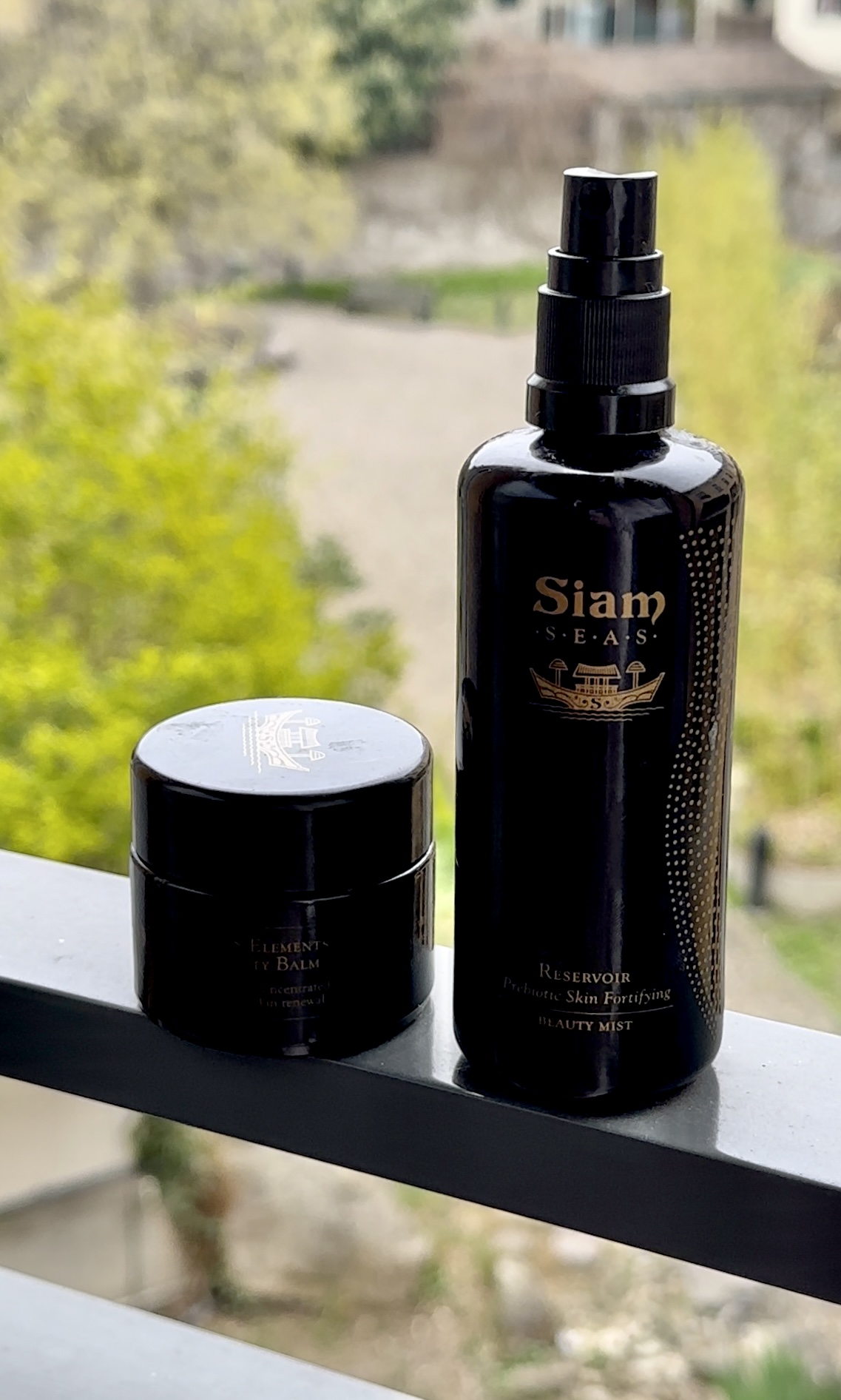 I'm so excited to share Siam Seas with you today – it's a green beauty brand that embodies everything I fell in love with about this niche. It is soo tough for a small, indie beauty brand to succeed in today's landscape where every brand is now "clean beauty," and I want brands like Siam Seas, that are the pioneers for what clean beauty was meant to be, to continue to thrive. This is where my true passion lives. Each Siam Seas product is infused with the ancestral healing methods of Southeast Asia, where both Chinese and Ayurveda traditions collide.  This curious blend of ancient Eastern medicine and wisdom is a secret few have the privilege of experiencing, and while I'd love the world to take notice, I also love that this treasure still feels like a well-kept precious secret.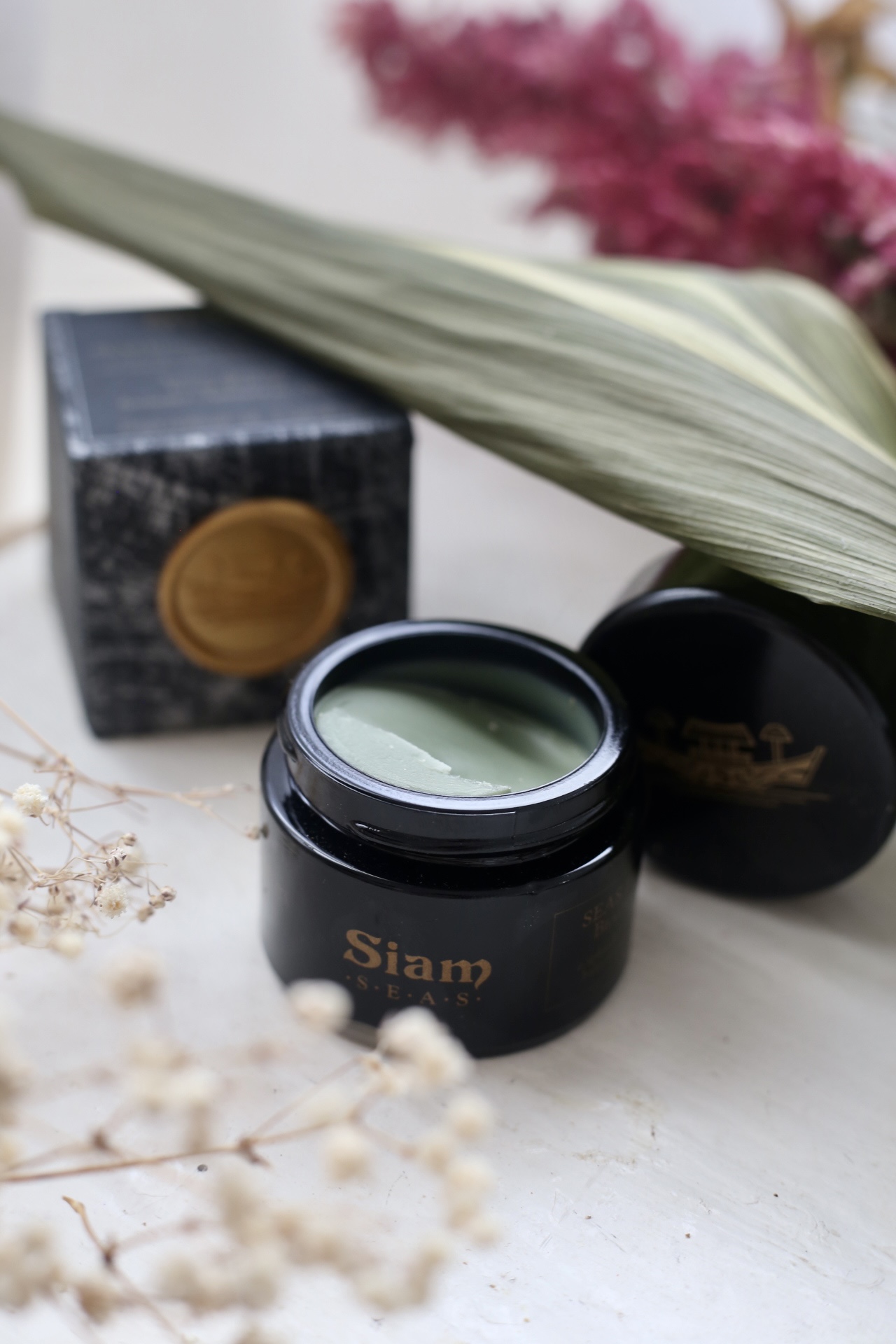 First off, this is not a 80% water mist nor an 85% aloe juice mist. This is an organic Linden and Roman Chamomile flower Hydrosol mist with colloidal copper, colloidal silver, bee propolis, turmeric and N-Acetyl-glucosamine. Sacral-sounding ingredients like White Oak extract, Amurcork Tree extract, Golden Seal extract, Chinese Gallnut extract and Black Atractylodes dxtract provide skin healing and collagen stimulating benefits.
It has a beautiful sweet herbal scent thanks to the addition of Blue Tansy. Much more than a skin-beneficial face mist, Reservoir Mist also feels like an energy healer.
Linden Hydrosol* (synergistically with other ingredients in the formula to calm irritated skin), Roman Chamomile Flower Hydrosol* (anti-itch, reduces redness), Aloe Inner Fillet Gel* ( heals wound, hydrates skin), Spearmint Hydrosol* (supports skin's elasticity, softens fine lines), Peppermint Hydrosol* (releases heat, soothes itch and redness), Rose Flower Hydrosol* (softens fine lines, soothes redness/irritations), Witch Hazel Hydrosol* (antibacterial, reduces swelling), Colloidal Copper (stimulates collagen for better elasticity and wound healing ability), Turmeric Hydrosol* (reduces inflammation), Colloidal Silver (strong antibacterial properties, heals infection), Bee Propolis (kills bacteria, heals wounds, strong antioxidants), Caprylic/Capric Triglyceride (increase skin's moisture retention, smooths skin texture), N-Acetyl-glucosamine** (increase collagen production, moisture content and elasticity in the skin), Lactobacillus Ferment, Lactobacillus, Coconut Fruit Extract(probiotic based preservatives against bacteria, yeast and mold), Phospholipids & Panthenol (encapsulated vitamin B5 for higher skin penetration rate, soothes sensitivity and irritation), Clove Basil Extract* (prevents acne, reduces active inflammation in active acne), White Oak Extract* (astringent, balances oily skin), Sodium PCA (draws and secures moisture into the skin, anti-allergens), Caprylyl Capryl Glucoside (solvent for essential oils), Xylitol, Xylitylglucoside, Anhydroxylitol(instant hydration and provides immediate glow on the skin), Saccharide Isomerate(deeper and more lasting hydration and skin plumping effect), Amurcork Tree Extract*(expedites skin healing process for trauma induced skin condition such as acne, eczema and rosacea), Golden Seal Extract* (soothes eczema, anti-itch and heals wound), Coptis Extract* (reduces flush and swelling, expedites skin healing)), Oregon Grape Extract*(known to treat scaliness, and soothes sensitivity such as psoriasis, rosacea, eczema) Barberry Extract*(kills acne-causing bacteria), Ginger Extract*(stimulate circulation, antioxidants), Babchi Extract*(stimulates cell-renewal, evens overall skin tone), Boswellia Extract*(tones and limits damages from UV rays), Chinese Gallnut Extract* (treats fungal infection), Black Atractylodes Extract* (spot lightener for post-trauma hyperpigmentation), Licorice Extract* (skin brightener), Geranium Rose oil* (tightens the skin and balances oil production), Ylang Ylang Extra Oil*(boosts regenerative process of the outer skin layers), Cedar Wood Oil* (antiseptic, soothes stressed skin), Bergamot Peel Oil***(FCF)(balances oil production, cleanses pores), Cardamom Oil*(antioxidants, fights infection), Blue Tansy Oil*(reduces redness, irritation and inflammation).   *Organic ** Vegan ***Organic and FCF which means furocoumarin (a phototoxin constituent) free.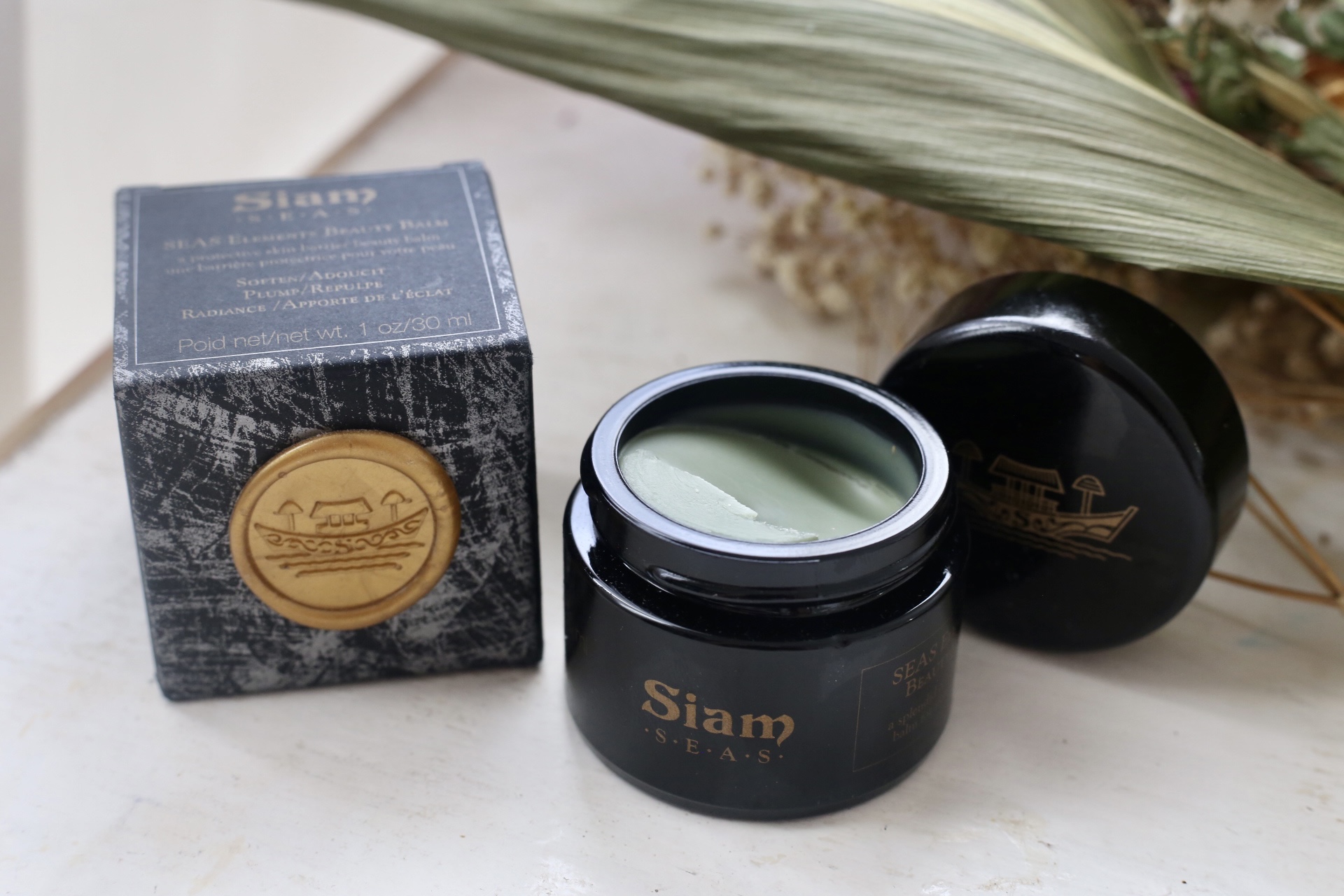 Seas Elements was originally created for one of the founder's closest life-long friends who has dealt with dry skin, eczema and other skin issues. Each ingredient was researched and carefully selected for its fatty acid profile and healing ability. It was also important that the balm be suitable for those with acne prone skin and oily skin.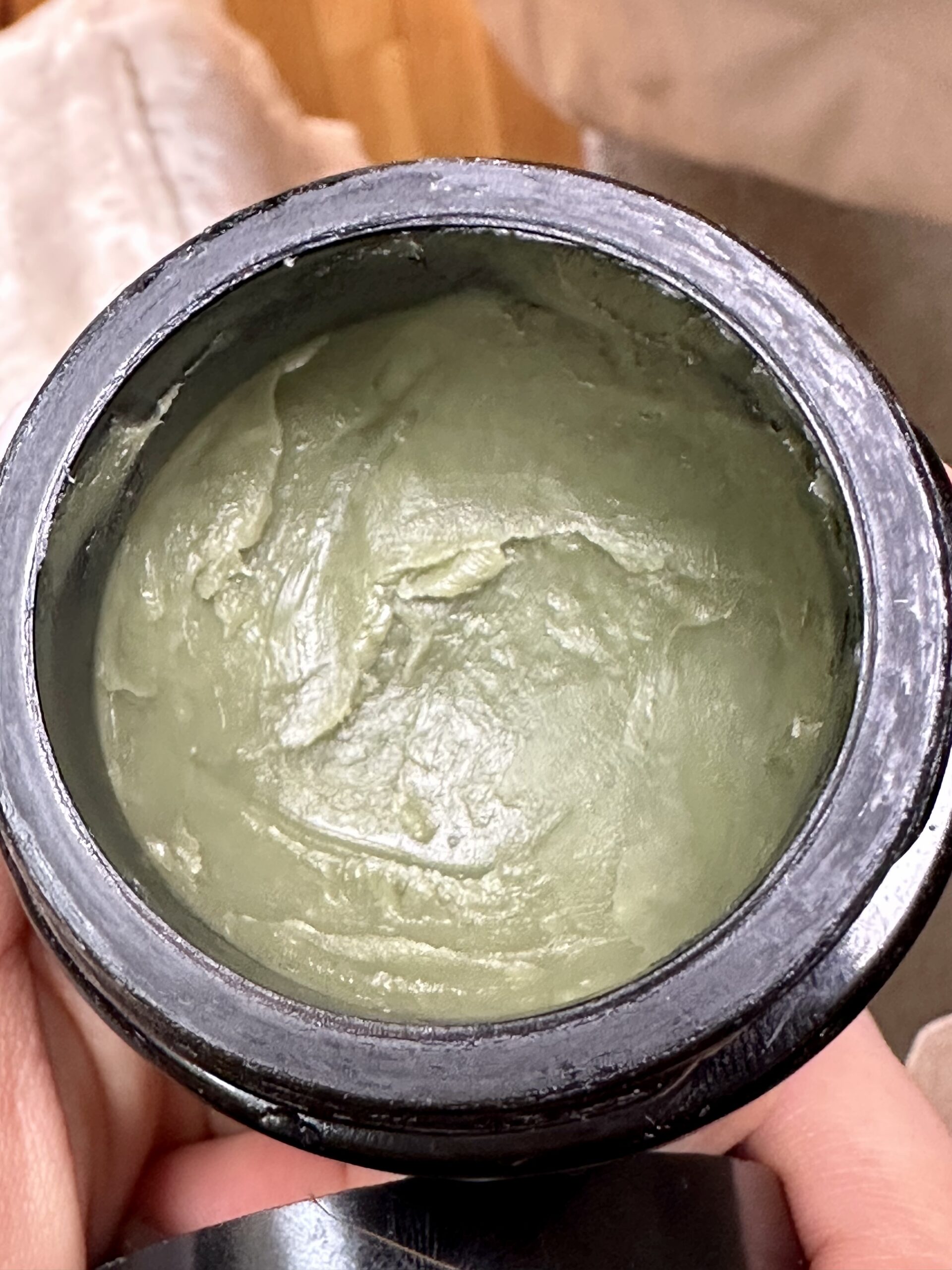 I can tell this was formulated for oily skin as it's on the dense and drier side. Instead of a rich salve, Elements Beauty Balm is a solid balm that still melts in contact with skin.
It smells beautiful of fragrant jasmine gardens with a delectable sweetness thanks to blue tansy. The beautiful deep green hue reminds you of lush forests carrying old world secrets.
I hate to use the word slugging for a brand of this caliber, but instead of slugging with petroleum jelly try using a product like Elements Beauty Balm which is filled with skin barrier protecting and antioxidant boosting ingredients.
A rich source of tetrahexyldecyl ascorbate, the most skin-penetrable form of Vitamin C to restore brightness and balance skin tone, while Bakuchiol, Yananag, Gotu kola work synergistically with vitamin C to regenerate cells and defense against UV damage, free radicals and collagen breakdowns.