Sunwarrior plant-based proteins and superfood supplements are clean, science backed and third party lab tested. I like their beauty-focused supplements and find that their collagen products don't give me the ick. But is Sunwarrior protein safe? More on that soon. Sunwarrior's proprietary Protein Blend is made of Organic Pea Protein, Organic Goji Berry, Organic Vanilla Flavor, Organic Medium-chain Triglycerides Oil (Coconut Oil, Acacia Gum), Sea Salt, and sweetened with Organic Stevia Extract.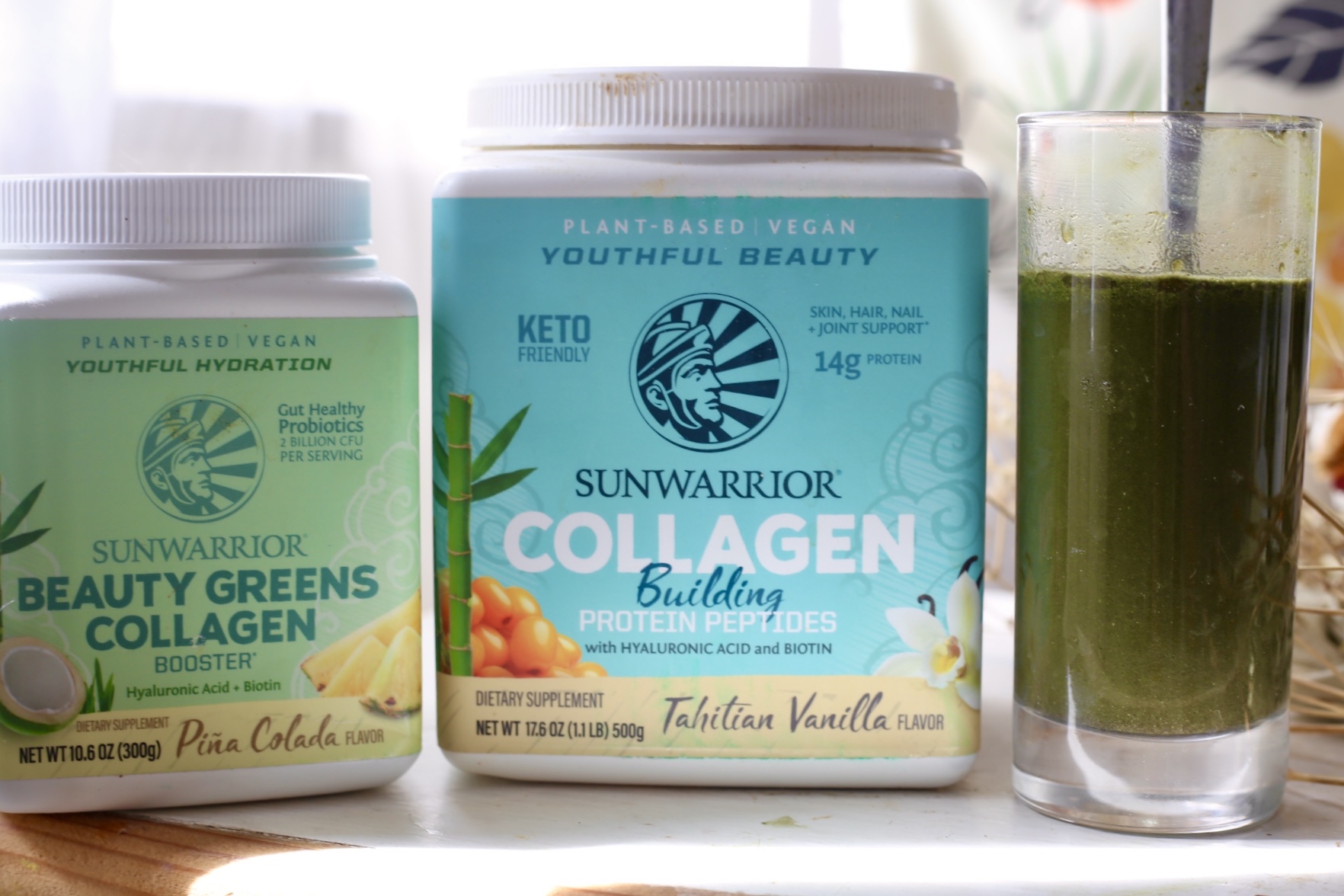 You always need to be careful when taking protein powder as it can do more harm to your health than good. I know people who have ended up in the hospital from their protein powder.
In one study, researchers screened 134 products for 130 types of toxins and found that many protein powders contained heavy metals (lead, arsenic, cadmium, and mercury), bisphenol-A (BPA, which is used to make plastic), pesticides, or other contaminants with links to cancer and other health conditions.
I'm more at ease knowing their proteins are Certified Organic, non-GMO, and consistently meet EU, WHO, and FDA safety standards. Because heavy metals are found in everything grown in soil, I understand that plant based proteins won't be entirely without them so I don't overdo it with these types of supplements. Sunwarrior utilizes ARL Bio Pharma, an ISO-Certified, third-party lab to conduct all their heavy metals and micros testing.
The Sunwarrior Protein Peptides contains vitamin C, trace minerals, leafy greens, silica, and biotin, hydrating compounds such as hyaluronic acid and tremella mushroom extract to attract and retain skin moisture.
This vegan powder helps boost your inherent collagen production and I really like the taste.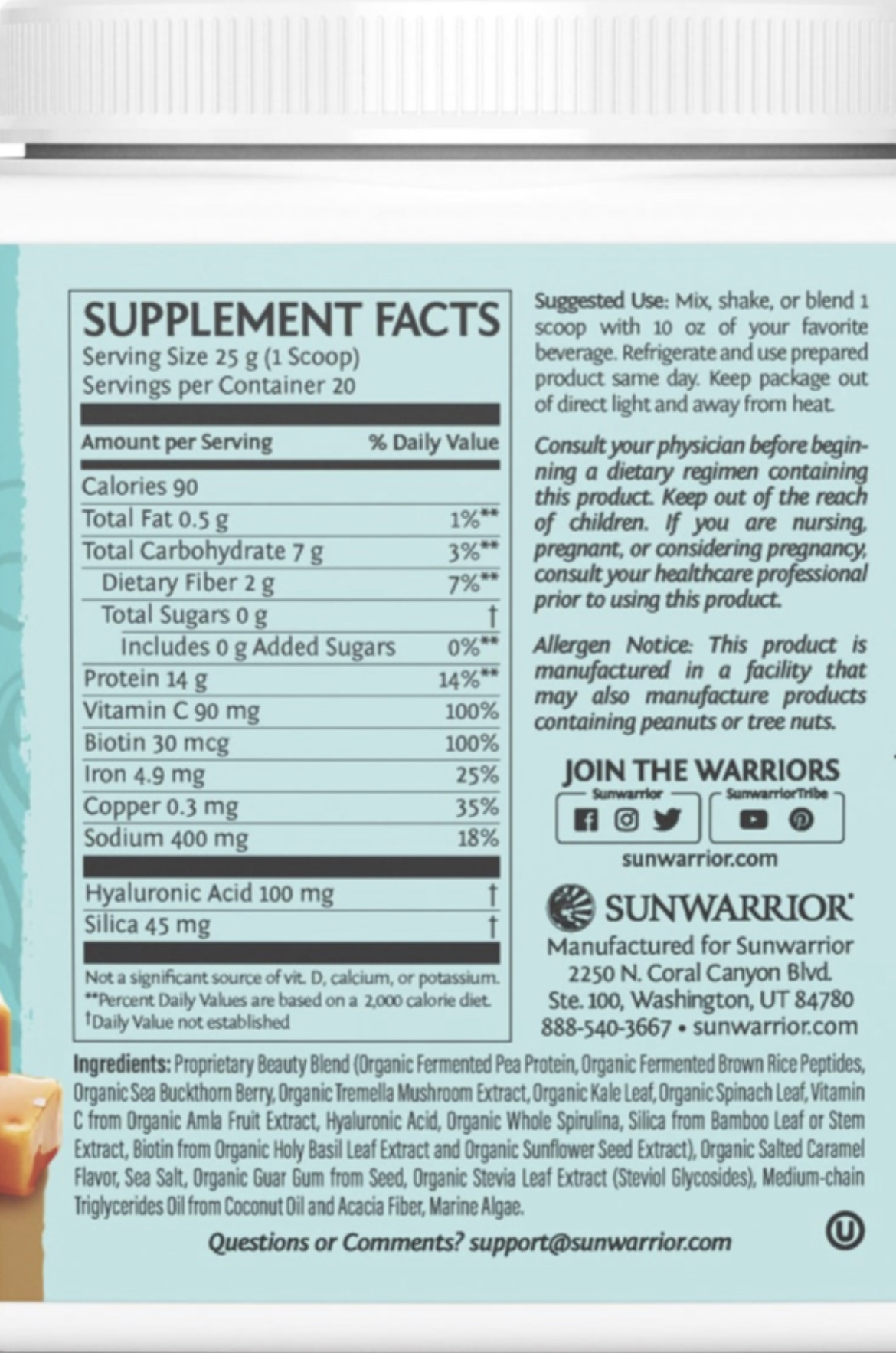 Organic Brown Rice Peptides
Sourced from brown rice, this complete amino acid protein has been broken into small peptide chains (di & tri-peptides) through hydrolysis. Rice peptides are used for strengthening cell hydration due to their concentration of glutamine and alanine. These nutrients assist the skin to provide moisture retention and environmental protection.
Sourced from bamboo, silica is a key co-nutrient for collagen and elastin production. It also boosts calcium absorption to strengthen bones, hair, skin, and nails.
Organic Pea Protein (fermented)
Complete amino acid complex, including collagen and elastin-building aminos: glycine, proline, arginine, alanine, valine, and lysine
Organic Spirulina
Containing iron and rich with amino acids, spirulina is one of the most nutrient-dense foods on the planet.
Organic Leafy Green Blend
Organic kale and spinach are beautiful greens that contain vitamins and antioxidants, which fight against free radicals that destroy collagen and elastin.
Organic Vitamin C
Sourced from organic amla. Vitamin C is a necessary cofactor in collagen and elastin synthesis.
Organic Sea Buckthorn
These superfood berries are extremely high in vitamin C (10x more than oranges) and also provide vitamins, folate, carotenoids, essential fatty acids, and antioxidants. These nutrients are essential in building collagen and elastin.
Organic Biotin
Sourced from sesbania and part of the vitamin B family, biotin promotes strong hair, skin, and nails.
Hyaluronic Acid (HA)
HA is sourced from gluten-free, fermented grain. Hyaluronic acid is naturally occurring in our body but decreases as we age. HA attracts and retains moisture in our skin and aids in the lubrication of joints.
Organic Tremella Mushroom
A polysaccharide which holds 500x its weight in water and naturally promotes water retention in cells.
Trace Minerals
Trace minerals are essential for collagen and elastin formation and slow the degeneration of collagen in our body.